As an Amazon Associate we earn from qualifying purchases.
There's a lot that the United States can offer if you're interested in guns More notably, Americans enjoy a lot of liberty when it comes to gun ownership. That's why there are a lot of gun ranges in the United States. 
Each state has a great number of gun ranges open to the public. So many that, in fact, it's hard to choose just one. That's why we've reviewed the best gun ranges in the United States to help you have enjoyable and safe shooting experience.
Top Gun Ranges in the United States
Below are some of the best and most popular gun ranges in the United States. They are listed as the best of each state. Factors such as facilities and service are why they made it on the list.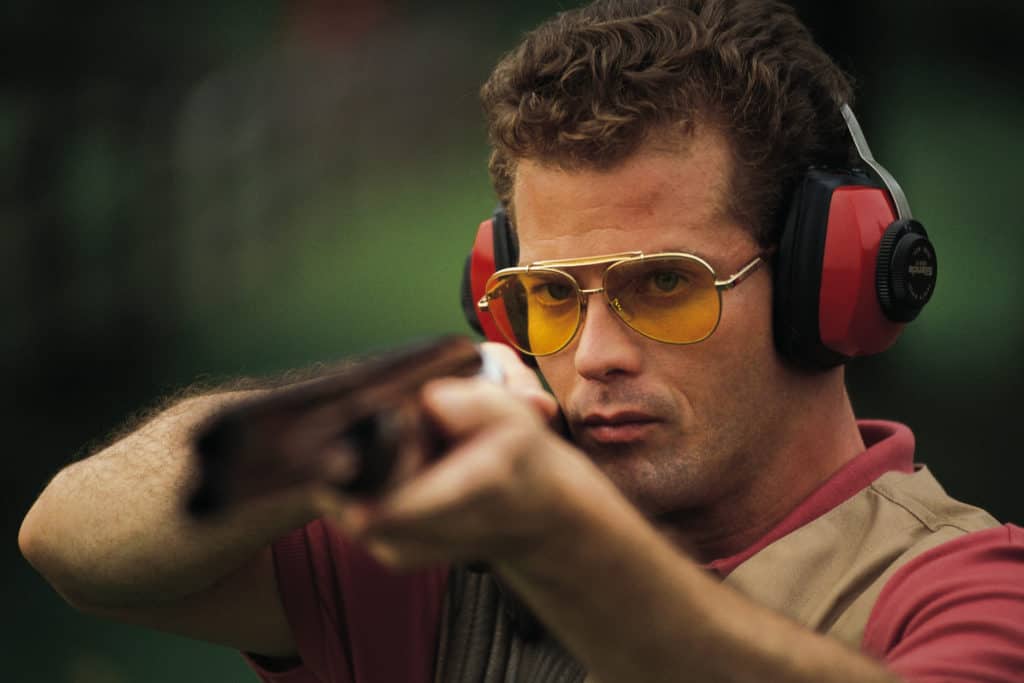 Alabama: Central Alabama Gun Club
The Central Alabama Gun Club is located roughly 14 miles east of Montgomery, near Shorter, Alabama. Their facilities include 14 pistol bays, 100 & 300-yard rifle ranges, a falling plate pistol bay, an archery range and an air-conditioned clubhouse with 4 restrooms.
This shooting range in Alabama hosts various events, training, and matches like the IDPA, F-Class, CMP, USPSA, GSSF, and Steel Matches. The Central Alabama Gun Club is a great community and gun range if you happen to live in Alabama or is just visiting.
Alaska: Birchwood Recreation & Shooting Park
The Birchwood Recreation & Shooting Park or BRSP for short was established in 1964. BRSP is the largest (72 acres) and one of the oldest shooting facilities in the State of Alaska.
The club includes 8 rifle and pistol ranges with a length between 7 yards and 984 feet. Two ranges have heat and lighting for night shooting. They also have 12 shotgun ranges with different add-ons like traps, skeets, sporting clay, and walk-through course. They also have a 25 target 3D archery course.
In order to use their facilities, you need to apply for membership and learn the BRSP safety and range rules.
Arizona: Ben Avery Shooting Facility
The Ben Avery Shooting Facility was formerly known as the Black Canyon Shooting Range and was founded in 1957. It's one of the largest publicly operated shooting facility in the United States.
This Arizona shooting range is located in North Phoenix with a size of 1650 acres. The facility consists of a wide array of target shooting opportunities. It's even the place for a number of regional and national class competitions and other major events. It has a five-star rating from the National Association of Shooting Ranges.
Arkansas: Arkansas Armory Inc.
One of the best shooting range in Arkansas is the Arkansas Armory Inc. which is located in Landers Road, Sherwood, Arkansas. It's an indoor gun range by action target. It consists of 6 lanes with a range of 25 yards. It has easy to operate electronic target retrievers.
The area is brightly lit and climate-controlled with heating and air conditioning with an H-VAC Ventilation system. It's also environmentally friendly with its recycled rubber backstop. They also offer gun rentals and offer a "try before you buy" program.
California: Angeles Shooting Range
Angeles Shooting Range offers various amenities like renting a private range. Their range includes a rifle range with berms at 100, 200, 300, 400, 500, and 600 yards. The pistol range has steel swinging targets at 35, 50, 75, and 100 yards. A shotgun range with 5 clay throwers.
If you are looking for a shooting range in California that also hosts different matches and events, then Angeles Shooting Range is the one for you. If you're still learning about marksmanship, they offer California Hunters Education classes and Bow Hunting Education classes.
Colorado: Bristlecone Shooting, Training, & Retail Center
Bristlecone offers many services compared to other traditional shooting ranges in Colorado. The indoor shooting range consists of 14 indoor lanes, each at 25 yards with a variety of firearms you can use.
The lanes are separated into 2 range bays. The first is reserved for standard pistol target shooting practice. The second bay has eight lanes for tactical shooting practice and training.
They also offer women's only and family-focused events. They host monthly competitions, TI outdoors virtual shooting simulator, and bristlecone shoot house.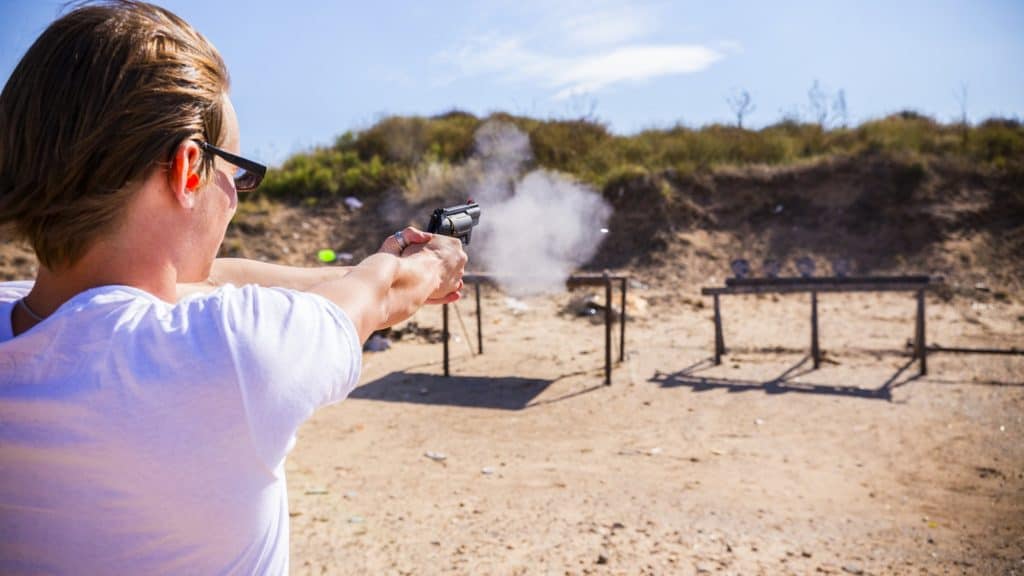 Connecticut: Blue Trail Range
Blue Trail Range has been in operation since 1945 and provides the best recreational shooting range experience in Connecticut. They offer an outdoor shooting range, indoor shooting range, private shooting range, and a shotgun field.
They also have a gun store and offer gun rentals. They also offer classes conducted by NRA certified instructors and a range cafe to lounge at for taking a break during your shooting session.
Delaware: Target Shooting Solutions
Target Shooting Solutions offers state-of-the-art indoor gun range featuring 20 lanes with a 25-yard maximum distance. What's great about this Delaware gun range is that they can accommodate for large caliber shooting practice. There are even heavy-caliber rentals for you to try out.
They organize steel night every Tuesday where you will have the opportunity to rent time with reactive steel targets. Range officers are always on standby to help you out.
Florida: Lock & Load Miami: Machine Gun Experience & Range
Lock & Load Miami is South Florida's renowned machine gun experience and state-of-the-art shooting range. This Florida shooting range is located in Wynwood District, Miami.
They have over 25 different fully automatic firearms and a number of extremely rare machine guns you can rent. It's a 14,000 square feet facility with 24 air-conditioned lanes and offers space for group events. They also have trained firearms professionals ready to assist you.
If you plan to become a member, you get access to exclusive amenities like workshops, 13 member-dedicated lanes, reactive steel targets, and facility access.
Georgia: Georgia Gun Club
Georgia Gun Club is Southeast's indoor rifle and premier shooting range in Georgia. Its a range consisting of recreational practice, state-of-the-art training, and high-quality firearms.
The 38,000 square foot facility features 28 lanes with a high-tech training simulator. It's an ADA compliant facility with certified firearm instructors providing you with a challenging instructional environment.
Hawaii: Maui Trap & Gun Club
The Maui Trap & Gun Club outdoor shooting range was established in 1965 in the Haliimaile area.
They're known for their beginner-friendly environment and teach new shooters useful tips for shooting. The owner is hands-on with the gun range and you can see him within the vicinity. You can feel the outdoor vibe as there are ducks and chickens within the gun range.
If you want to practice hitting clay targets, sporting trap, or double targets then the Maui Trap & Gun Club is the best gun range to go in Hawaii.
Idaho: Independence Indoor Shooting
Independence Indoor Shooting is a premier gun range located in Idaho. It has 3 indoor ranges equipped with modern indoor range equipment complete with climate-controlled clean air, HEPA filtered, and ventilation systems. Their facilities include:
25-yard Tapered Range: adjustable LED lighting, private stalls, and wheelchair accessible.
25-yard Tactical Range: advanced, programmable, turning target retrievers.
100 yard Range: Cameras to see your target. You can also add lead sleds, sandbags, and prone mats.
Illinois: Midwest Guns & Pistol Range
With just $20, you can practice shooting at Midwest Guns & Pistol Range all day. It's an indoor gun range in Illinois with 13 positions indoor range. There's ammo, targets, and shooting supplies available if you ever run out.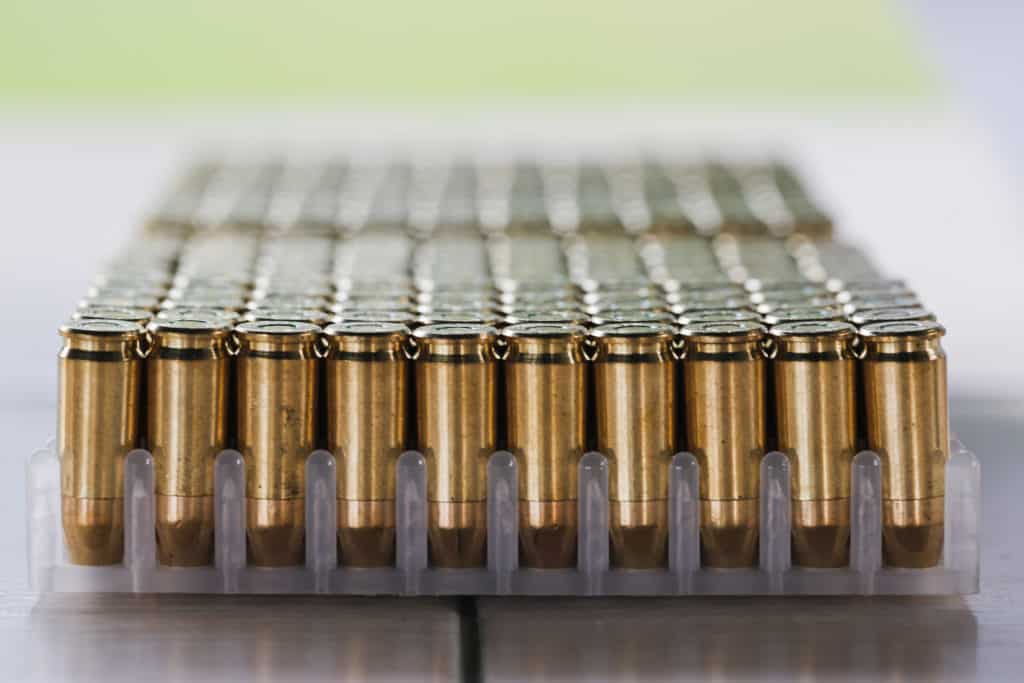 You need to have a FOID (Firearms Owner Identification card) card in order to enter the gun range. They also conduct Intro classes, Firearm Safety classes, and personal classes.
Indiana: Shoot Point Blank Indy North
Shoot Point Blank was founded in 2012 but they now have multiple gun ranges all over the country. Their gun range in Indiana has multiple shooting lanes that are 25 yards long.
They can accommodate handguns and long guns. They also host events and various classes. They also have various firearms that you can rent. 
Iowa: Central Iowa Impact
Central Iowa Impact is founded by Matt Halsrud, a Marine Corps so you are guaranteed expertise in guns and tactical equipment in this shooting range. This shooting range in Iowa, not only offer indoor shooting range but also training, coaching, firearm sales, and gunsmith services.
Kansas: Frontier Justice
Frontier Justice is Kansas City's premier firearms, fashion, and shooting range destination. They're the only gun range in Kansas that offers live range simulators & 50-yard lanes.
The simulator in this range is a training tool that uses laser light instead of live ammunition for a zero-risk environment, especially for beginners. The gun range features climate-controlled, well-lit range, air ventilation system, and excellent shooting acoustics.
Kentucky: Knob Creek Gun Range
Knob Creek Gun Range is a premier outdoor shooting range in Kentucky. It's a 350-yard outdoor range suitable for pistols, rifles, and shotguns. It's located just 20 miles south of Louisville and 12 miles north of Fort Knox.
They host various events like a cowboy shootout, machine gun shoot, and firearms certification classes. You have to sign up at Kentucky Fish and Wildlife to avail classes. They're known for hosting competitions such as KCR shotgun, assault rifle, and other firearms competition.
Louisiana: St. Bernard Indoor Shooting Center
St. Bernard Indoor Shooting Center is a gun store and shooting range in Louisiana. They have a 10-lane bay and a 3-lane VIP bay and can accommodate most handguns, shotguns, and rifles.
The indoor range is a safe and convenient way for people to have fun with firearms as well as train for self-defense. They have full air conditioning and heat in the range and plenty of light for a clean and safe shooting experience.
Your friends and family can watch you from the lobby safely thanks to the full-size bulletproof windows.
Maine: Windham Indoor Shooting Range & Retail Store
Windham Indoor Shooting Range & Retail Store is a gun range located in Maine. This range features 12 lanes, and 2 six-lane bays, with a range of 75 feet, and can accommodate rifles rated up to .50 BMG.
Range safety officers are always present and will coach you if requested. Windham is a public range so walk-ins are more than welcome. They are also rent handguns, shotguns, and rifles.
Maryland: FreeState Gun Range
FreeState offers a 12-lane, state-of-the-art indoor shooting range in Maryland. Every lane features electronic controls giving you the ability to select the exact distance you want to shoot your target. You also can turn targets for increased difficulty.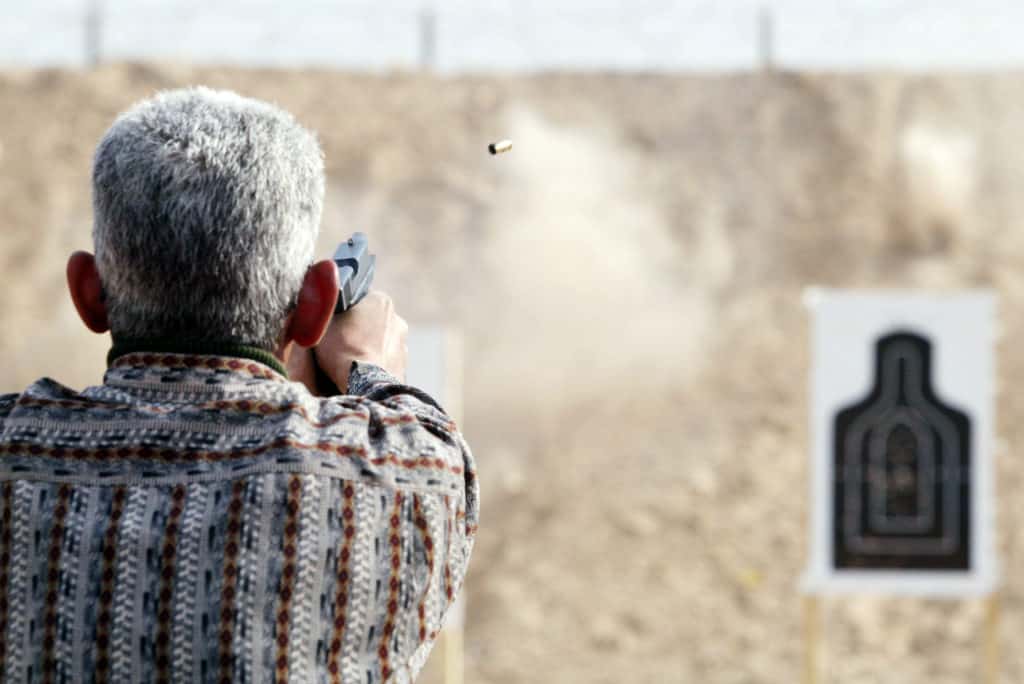 You can also avail of private training and book the gun range for parties and social gatherings.
Massachusetts: Mass Firearms
Mass Firearms is an indoor shooting range in Massachusetts. They have 2 indoor ranges and a total of 17 shooting lanes. Members and non-members can enjoy using the gun range. They have firearms rental worth over $100,000 so you can choose from a variety of them.
Michigan: Bald Mountain Shooting Range
The Michigan Shooting Centers is a family-owned and operated company that manages Michigan's most trafficked public shooting ranges including the Bald Mountain Shooting Range.
In this shooting range, you can have a taste of outdoor gun range with your pistol, rifle, or shotgun. They have over 50 years of shooting experience.
The grounds are well-maintained and cleaned with experienced and professional staff on standby ready to assist you. You also don't need a membership to use their facilities.
Minnesota: Firing Line Indoor Range Training and Sporting Gear
Firing Line is Saint Cloud Area's popular state of the art 25-yard indoor gun range. They also offer firearm rentals, retail, and training facility. The facility has well-experienced staff for assistance.
This Minnesota gun range also have highly skilled instructors that can provide you with training experience in Permit to Carry classes, Pistol 101 classes, and Advanced Firearm Skills classes.
Mississippi: Brothers N Arms Gun Range
Brothers N Arms is a shooting range in Mississippi famous for its firearms training courses. You'll be under the tutelage of top-rated MS Enhanced Carry Permit instructors.
Their range consists of 200 yards Precision Rifle line which can accommodate 10 shooters at a time. Targets can be situated at 25, 50, 100, and 200 yards. They also AR15/Sporting rifle bays and 12 large pistol bays with a variety of steel targets.
Missouri: Sharp Shooters St. Louis Shooting Range
Sharp Shooters St. Louis Shooting Range is a world-class indoor shooting range in Missouri. Its state of the art facility features 20 four-foot-wide shooting lanes with ballistic protective stalls and digital retrieval systems. The lanes are divided into 4 5-lane bays, each is 25 yards in length.
It's rated 5-star range by National Shooting Sports Foundation. Thanks to their modern technology, the air quality and ventilation inside the gun range exceed OSHA clean air quality standards.
Montana: Zero In Indoor Shooting Center
Zero In Indoor Shooting Center is a modern shooting center in Montana. They offer 20 firing lanes divided into 3 individual bays. The first 10 lanes are 25 yards, the second 5 lanes are at 25 yards and the last 5 are 100 yards.
They also offer simulation range and combat studio if you want a different environment. They also offer services like training, as well as firearm cleaning, and law enforcement training.
Nebraska: 88 Tactical Group
88 Tactical group is an organization that offers top-level training courses for civilians, law enforcement, and military personnel. Their shooting facility in Nebraska include public and private shooting lanes, classrooms, event and meeting spaces, a pro shop, cafe, exclusive member lounge with a bar and patio, rappelling tower and many more services.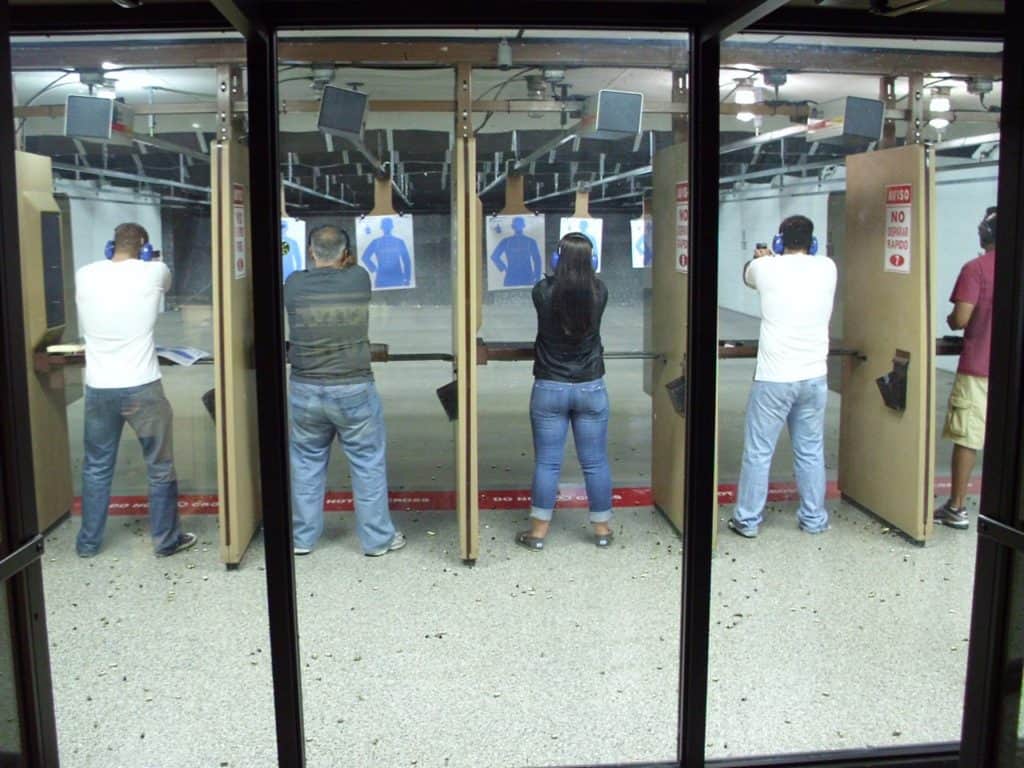 88 Tactical offers a variety of training courses in firearms, self-defense, anti-bullying, martial arts, survival, field medicine, and more.
Nevada: Battlefield Vegas
Battlefield Vegas is the best realistic first-person shooting experience you'll get in Nevada. They have 2 areas, the 5-acre military-style complex and the off-site outdoor training areas.
In this Nevada shooting range, you can get into a realistic military setting and shoot the largest collection of U.S. and foreign weapons in the United States. If you're a fan of old guns then they have a collection of them dating back from World War I up to the Iraq and Afghanistan war. They also feature 25 military vehicles and aircraft for you to take pictures at. 
New Hampshire: Granite State Indoor Range and Gun Shop
The Granite State Indoor Range and Gun Shop is an environmentally friendly and modern indoor gun range in New Hampshire.
Their facilities include:
15 individual 25-yard, rifle-rated shooting lanes
Customized high-volume HEPA air filtration system which removes almost all airborne particles
Full-view and bulletproof shooting stalls to provide the range officer unobstructed view of the firing line as well as to the guests
360' turning target retrieval system
Large selection of handguns, shotguns, rifles, and full-auto machine guns
Handicap accessible lane
They also host the Pin Shoot League and live fire simulators. 
New Jersey: Gun for Hire at The Woodland Park Range
Gun for Hire is the only 6-star shooting range in New Jersey. It has 625 points in the NSSF awards rating point system which exceeds the 5-star mark.
They have 2 ranges, a 13 port 25-yard and a public 6-port indoor, 50-yard shooting range. Both of their ranges have a modern programmable turning target system. The system is easy to use thanks to a digital keypad located in each lane.
There are also Range Safety Officers that will help you select an appropriate, pre-programmed scenario for a bit of challenge.
New Mexico: Sidney Paul Gordon Shooting Range
Sidney Paul Gordon Shooting Range is located north of La Luz, New Mexico. This is a supervised range so hearing and eye protection are required at all times in the range. They are available in the gun range for a price.
This New Mexico gun range has a 360-yard rifle range, 200-yard rifle range, 50-yard pistol range, 60-yard archery, and four 45 yard general purpose ranges.
New York: Westside Rifle & Pistol Range
Westside Rifle & Pistol Range has served New York since 1964. Westside is a full-service shooting range in New York is available for hobbyists, hunters, civilians, and members of the law enforcement community.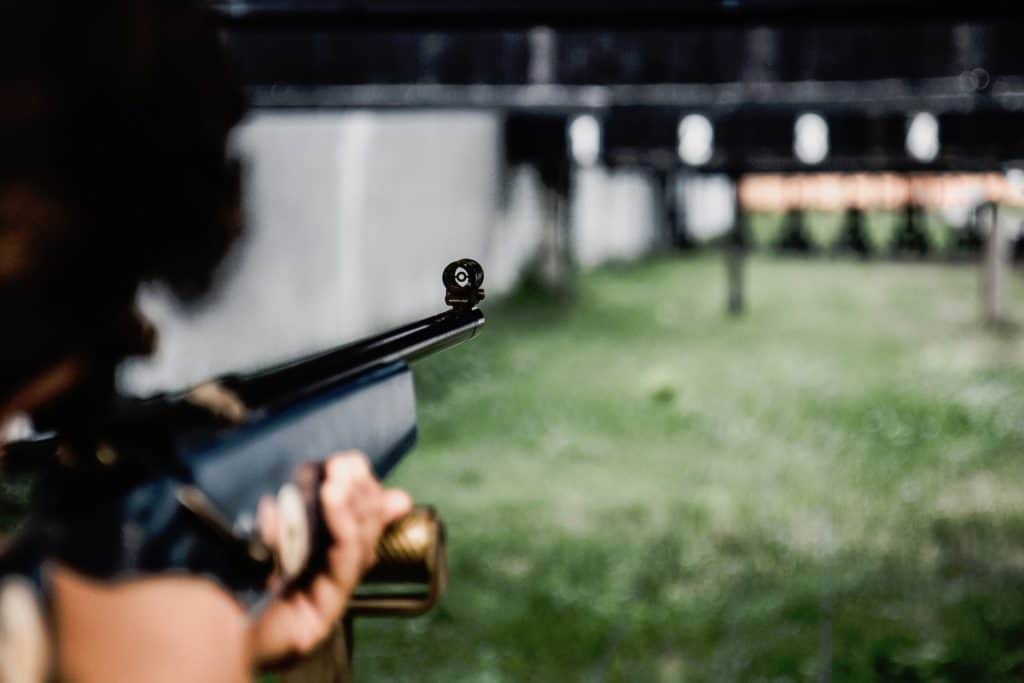 They're known for offering various training courses like LEOSA certification, NYS Armed Guard Classes, Utah Multi-State Concealed Carry classes, and many more.
North Carolina: Foothills Public Shooting Complex of Cleveland County
Foothills Public Shooting Complex of Cleveland County is the largest public outdoor shooting complex in the Southeastern United States. This shooting range in North Carolina is 85-acres wide.
They have eight ranges in total:
Range 1–250-yd Precision Rifle 10 lanes with Targets at 100-, 150-, 200- and 250-yards
Range 2–20-yd Handgun 12 lanes
Range 3–50-yd Rifle & Handgun 18 lanes
Range 4–Steel Target range for handgun caliber only
Range 5–Multi-Purpose/Skeet/Trap-  50 x 50 yards
Range 6–Skeet/Trap- 50 x 50 yards
Range 7–3D Archery
Range 8–Archery Practice- 20 x 50 yards
North Dakota: MacLean Bottoms Shooting Range
MacLean Bottoms Shooting Range is managed by North Dakota Game and Fish Department along with 4 other public shooting range. It's a wide public shooting range in North Dakota that is able to accommodate anything below .50 caliber.
You can also do some fishing, hunting, and learn about animal conservation which is available in seasons.
Ohio: Shoot Point Blank Dayton
Expect to see similarities between this and the Indiana branch. Shoot Point Blank Dayton gun range in Ohio has multiple shooting lanes that are 25 yards long. They can accommodate handguns and long guns. 
They also host events and various classes. They also have various firearms that you can rent.
Oklahoma: Big Boy's Guns, Ammo & Range
Big Boy's Guns, Ammo & Range is located on the west side of Oklahoma City near Mustang. They are the first state of the art, climate-controlled indoor gun range in Oklahoma.
The facility is 33,000 square feet wide and offers 24 shooting lanes at 25 yards each. They also have 2 training classrooms, and a clean and organized retail space complete with stocks of firearms, ammunition, and accessories.
Oregon: Tritac Shooting Range
The Tritac Shooting Range specializes in handgun training courses. They allow pistols, rifles, and shotguns in their facility of calibers up to .308. They offer various handgun classes starting with level 1 – basic handgun class. This Oregon gun range boasts competent instructors and offer security consultations.
Pennsylvania: Dingmans Shooting Range
Dingmans Shooting Range or DSR is Pike County, Pennsylvania's popular indoor shooting facility. It's regarded as an international destination of choice in Pennsylvania and Times Herald-Record Reader's Choice Award Winner.
This Pennsylvania gun range is a state of the art indoor range facility consisting of climate-controlled six-bay, 25-yard shooting facility with the automated target system.
Rhode Island: Elite Indoor Gun Range
Elite Indoor Gun Range is one of the largest indoor shooting range in Rhode Island. They offer 2 shooting bays each containing 8 firing lanes. All 16 of the lanes are wide enough to fit comfortably even with an instructor in it.
Each lane contains individual lighting for a better shooting experience. Every lane is also equipped with touch screen target control for exact distance and adds a bit of difficulty. There are over 50 preset programs that will give your shooting skills a challenge.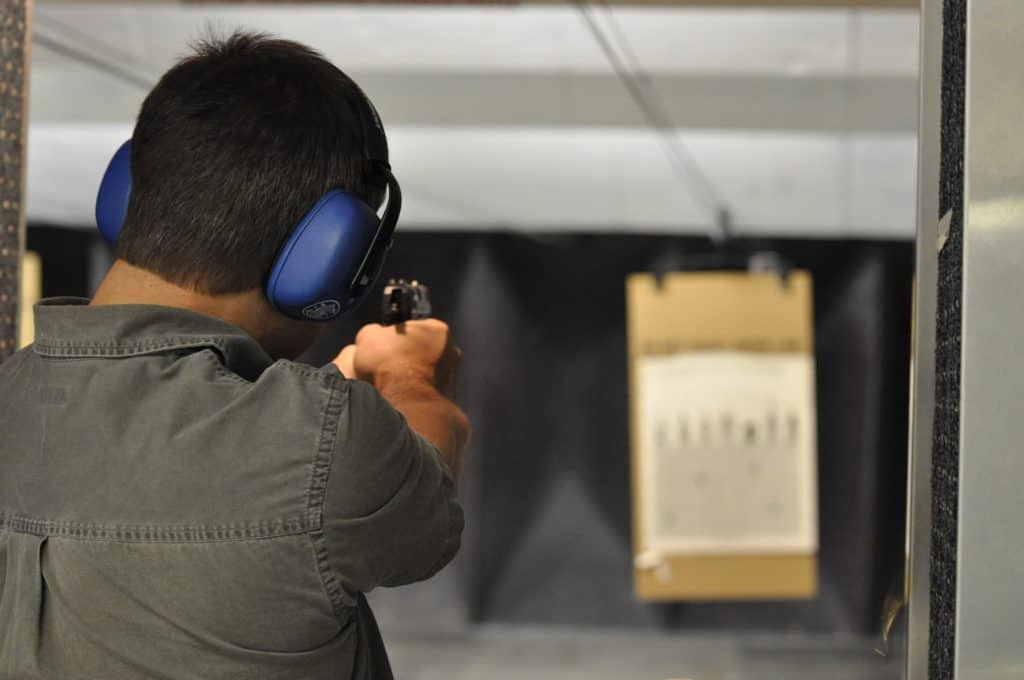 South Carolina: 707 Indoor Shooting Range
707 Indoor Shooting Range is South Carolina's popular family-oriented gun range. It has a climate-controlled ventilation system so that the environment is clean and healthy for the family. The ventilation system meets EPA and OSHA standards.
This South Carolina shooting range features 5 lanes, 25 yards long with Range Officer available at all times. There are also hearing and eye protection available to rent. You can choose from a wide variety of targets like zombies, paper, and many more.
South Dakota: Smoking Gun Indoor Range & Training Center
The Smoking Gun Indoor Range is conveniently located off of I-90. They have 12 lanes available for handguns, rifles, and shotguns.
You can bring your own firearm or rent from their large selection of rental firearms. You can even try renting out their machine guns. This South Dakota shooting range also offers a special discount for veterans.
Tennessee: Royal Range USA
The Royal Range USA is Tennessee's top gun range. They are rated as a 5-star range by the National Shooting Sports Foundation. They have a modern indoor gun range suitable for a variety of firearms.
They also have 3 modern indoor shooting ranges with a 15-yard pistol bay, 20-yard tactical bay, and a 57-yard rifle bay rated up to 50 BMG. Each range has its own ventilation and a multi-stage filtration system. 
Perhaps their best feature is their 15,000 square feet allocated for indoor scenarios. You'll be experiencing real-life scenario simulators to get you better equipped when it happens to you.
Texas: Eagle Gun Range
The Eagle Gun Range is located in Lewisville, Texas. They have 24 lanes with state of the art facilities like their filtered ventilation system that pass the air quality standards of NIOSH, NRA, and OSHA. They also have a Firearms Safety and Training Center.
All shooting lanes are 25 yards long and cater to every type of shooter. You can also get training for Texas LTC and other certifications in this Texas shooting range.
Utah: Doug's Shoot'n Sports
Doug's Shoot'n Sports is located in Salt Lake City and has one of the largest selection of firearms in Utah. Their indoor shooting range has 12 individual lanes, each having their own target system. You can place targets as far as 25 yards. 
This shooting range in Utah was remodeled in 2015. It has new target carriers, lane dividers, lighting, and distance markers.
Vermont: Laberge's Farm
If you want to experience living in the countryside then Laberge's Farm is a great gun range in Vermont plus outdoor adventure for you. They also make really great beef varieties.
Their ranges are great for everyone. You can use the gun range for free. All you have to do is ask permission from the landowners. However, they also have a donation box, and it's better to donate to help them with improvements.
Virginia: Elite Shooting Sports
Elite Shooting Sports is heralded as the Nation's most advanced indoor shooting range in Virginia. Located in Prince William County, Virginia, they have four separate ranges; two 25-yard 12-lane ranges, one 50-yard 10-lane range, and one 100-yard 8-lane range. The shooting lanes are wide enough to fit a shooter and the instructor.
Their air-handling system is government approved and maintains the temperature around 71 degrees. Each range also features TargetWorx range equipment.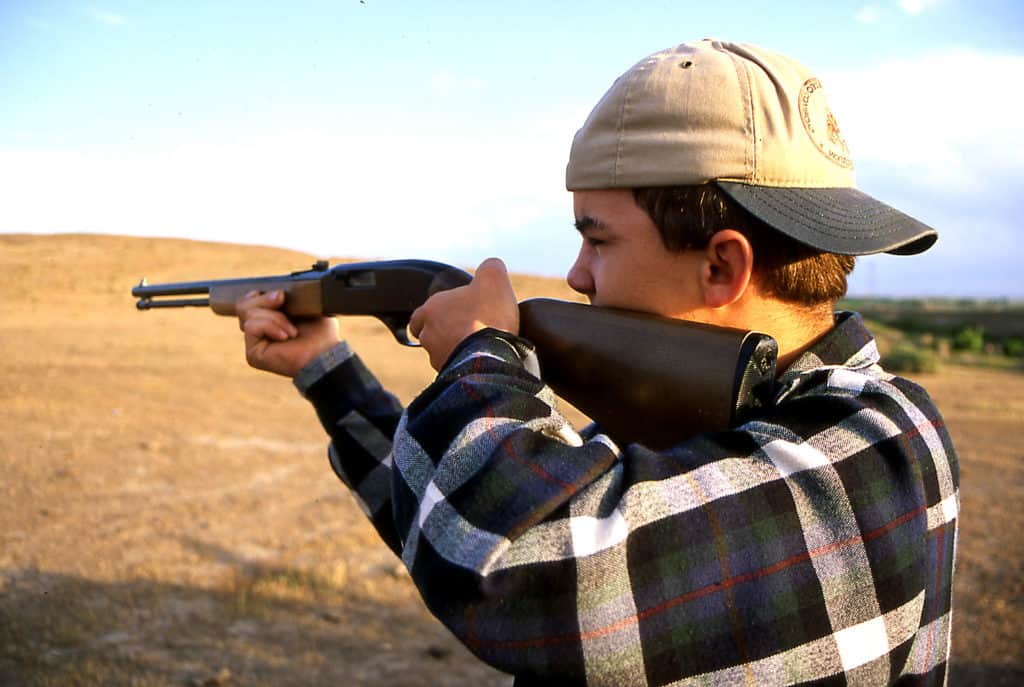 Washington: West Coast Armory Indoor Range
West Coast Armory Indoor Range is one of Washington's popular indoor gun range. It's one of the largest indoor gun range with an area of 31,000 square feet. It's rated five-star by the NSSF. 
Their facilities include:
On-site gunsmith
Fully equipped gun cleaning room
Virtual marksmanship simulator
Secure storage locker rentals
Conference rooms
Multiple shooting bays
West Virginia: Cross Hairs Indoor Gun Range
Cross Hairs Indoor Gun Range was founded by Betsy Delozier, an avid gun enthusiast. It's the only indoor live-fire shooting range in West Virginia. They have six 75-foot lanes with climate-controlled settings.
You can also avail of their classes like NRA basic pistol training, taser defense, and virtual reality training course.
Wisconsin: McMiller Sports Center
McMiller Sports Center is one of the most popular gun range in Wisconsin. Their facilities include various outdoor shooting activities like several targets ranges from 6 yards to 300 yards, a novice trap range, heated 5-stand, and a changing Sporting Clays course.
They have 25-yard range, 50-yard range, 100-yard range, and 300-yard range. Their range is handicap accessible. They have a Pro Shop and a comfortable clubhouse.
Wyoming: Wyoming Gun Company
Wyoming Gun Company is an indoor training and shooting center in Wyoming. They have 9 lanes at 25 yards, and 7 lanes at 100 yards. Every lane features a retrieval system operated by a touchscreen.
The range is climate controlled with an excellent air handling filtration system. The air runs through a series of HEPA filters to ensure the environment is clean to breathe.
Conclusion
These are the best gun ranges in the United States classified by every state. You can make this a bucket list and visit every one of these gun ranges. Each of them will give you a different experience.