As an Amazon Associate we earn from qualifying purchases.
The State of Illinois has one of the highest homicide rates in all 50 states. That's one of the reasons why self-defense is more important here than in any other state. One of the best ways to do it by practicing your shooting skills at the best gun ranges in Illinois.
The Best Gun Ranges in Illinois
We've arranged these gun ranges according to rank and it all depends on user preference. While not all gun ranges may offer you the features that you want, you can rest assured each of them has great facilities and excellent quality of service.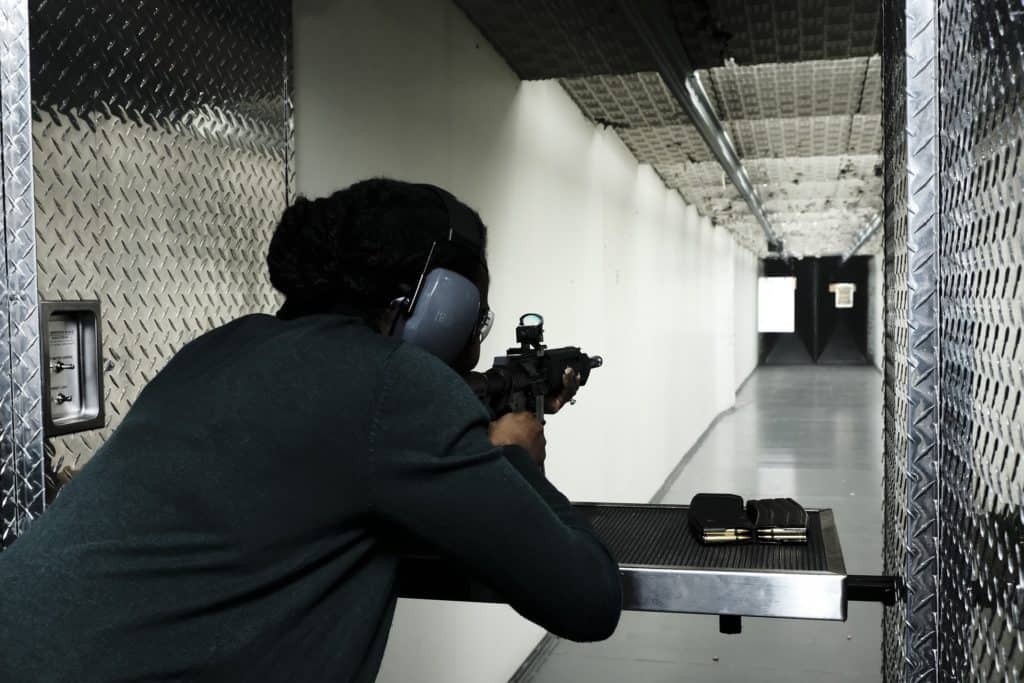 Shoot Point Blank – Chicago
One of the fastest-growing gun retail and indoor shooting range in Chicago is Shoot Point Blank. They already have multiple shops all across the States of America and they only started in 2012. Shoot Point Blank was born out of the name of Tom Willingham from the frustration of gun enthusiasts to how gun stores treat their customers.
Shoot Point Blank has excellent customer service and top of the line facilities. They mostly have an indoor gun range with shooting lanes that are typically 25 yards long. The lanes can accommodate both handgun and long guns.
Their facilities also have a gun store for services like firearm transfers, as well as regular firearm cleaning services. They also host training and classroom sessions for licensing or just improving at marksmanship in general.
Buffalo Range Shooting Park – Ottawa
Buffalo Range Shooting Park is a family-owned gun range established in 1970. This gun range provides a family-friendly environment for safe handling and use of firearms and promotes recreational shooting sports. 
The gun range consists of the following:
28 position 100 yard rifle range
17 position 50 yard rifle range
18 position pistol range
14 position trap range
Private Training Range
Plinking Pit
The pit is an abandoned strip mine converted into a shooting range. It has a distance of 40 to 75 yards, comparable to the gun ranges in Washington. You can also check out their training range to practice tactical operations or double deuce full of steel spinners, knockdowns, and gons, for the wild west experience.
Darnall's Gun Works – Bloomington
If you're looking to experience both indoor and outdoor shooting then Darnall's Gun Works have what you need. They are the only Indoor and Outdoor gun range with trap, skeet, and 5-standing sporting clays in Central Illinois.
Their indoor gun range offers a 25-yard indoor rifle and pistol range. It has 5 lanes that are fully heated, lighted, and well-ventilated. Similar to the gun ranges in Texas, their lanes are also handicap accessible.
The outdoor range covers a wide variety of shooting activities. They have 5, 7, and 10 yards covered pistol range with extended 30 lanes with wood floor deck. There are 8 lanes of 100 yards and 6 lanes of 50 yards for a covered rifle range. The longest they have is the 300-yard uncovered rifle range which is accessible at select times only.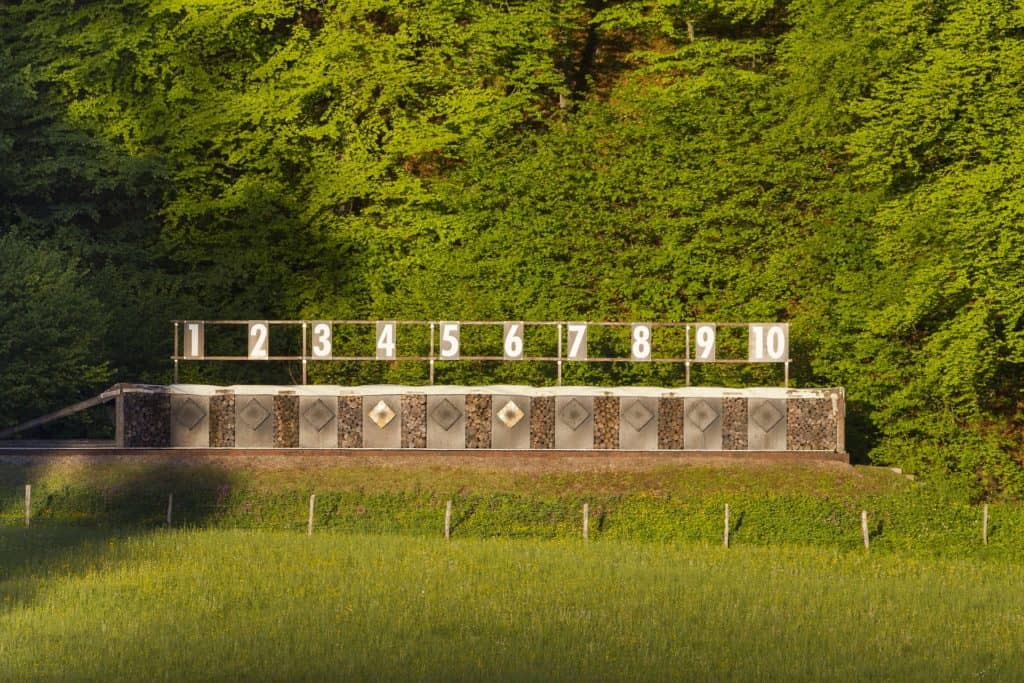 They host a variety of events like the SASS Cowboy Action Shooting, 3-Gun, IDPA, and trap and skeets leagues. They also train NRA Youth Shooting and Hunting Camp and the Central Illinois Precision Shooter's facility for Olympic level training.
Midwest Guns and Range – Lyons
If you want a safe indoor shooting experience for you and your kids, then Midwest Guns and Range fits your needs. Every 3rd Sunday of the month from 4 pm to 5 pm, the gun range hosts Kids Range Night. The gun range consists of 13 position indoor lanes so there's plenty of space for a lot of users.
The range features exclusive times for kids so it's a great place to share your hobby with your child. The gun range is also strict regarding safety as they don't allow anyone in their range without a valid FOID card. Each kid needs to be with a parent or guardian at all times.
Fox Valley Shooting Range – Elgin
Fox Valley Shooting Range is a premier gun range facility offering twelve 75 foot lanes and two private 45-foot lanes. Their team consists of NRA Certified Range Safety Officers so you're guaranteed to learn a thing or two from them, similar to the gun ranges in West Virginia where certified shooting instructors are employed.
Other perks of the gun range are the full digital touch screen controlled 360 turning targets and a cutting-edge ventilation system for a healthy shooting environment. While children under 16 years of age can shoot for free, they're limited to 1 child per adult.
If you want some privacy, then you can use their private suits where you'll be able to enjoy a comfortable space where you can relax. You can bring a maximum of 4 people so it's great for friends, family, and couples.
Maxon Shooter's Supplies and Indoor Range – Des Plaines
Maxon Shooter's Supplies and Indoor Range is one of the finest indoor shooting range in Chicagoland for more than 60 years. Their facility offers eighteen 75 feet shooting lanes.
They have a variety of well-stocked and modern guns available for rent or purchase, similar to the options offered in some gun ranges in Virginia. They also have experienced instructors and offer various firearms classes.
Maxon is the first NSSF Certified Five Star Range in Illinois. They were granted the title in 2013 where they opened their new facility and has demonstrated excellence in all aspects of management and operations. With 60 years of operations, you can be sure Maxon is one of the most reliable gun ranges in Illinois.
Caliber Gun Range – Waukegan
If you're looking for a gun range with a great, clean, and comfortable facility to host indoor range parties then Caliber Gun Range might be for you. The facility features three shooting bays with a total of 22 lanes enough for a large range party. It also has an exceptional ventilation system.
They have a large lounge with 5 big screens, food & bar, and great LED range lighting and safety officers on the range in case you need assistance. If there are kids with you then worry not as they also have video game stations with big screens so your kids can have fun while you have fun shooting at the gun range.
The Range at 355 – Bolingbrook
Range 355 is a locally owned gun range great for both beginners and veteran shooters. They have great coaching and training. Their 2nd floor is dedicated to education where they conduct concealed carry courses, first aid, and firearms safety training.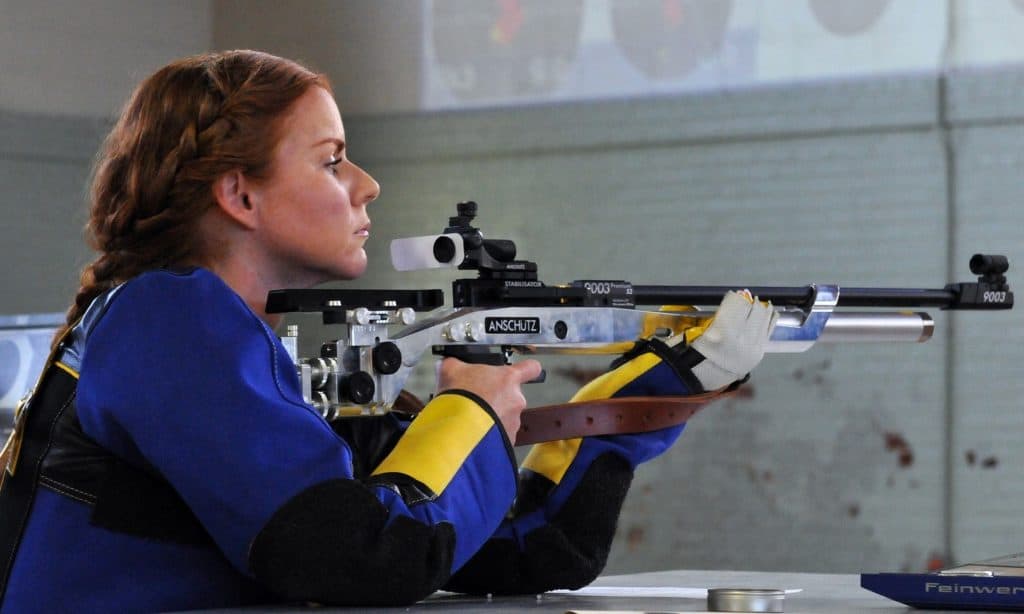 They have 2 separate ranges the premium range, and the tactical range. Both ranges contain the state of the start Triple HEPA filter range ventilation system. The tactical range features the Action Target Mancom Touch Plus system. The range also has blast defenders to minimize the noise in neighboring lanes.
Shooter's Firearms and Indoor Range – Columbia
Shooter's Firearms is one of Southern Illinois' largest stocking gun dealers with an indoor range. They are especially experts when it comes to Smith & Wesson revolvers.
They have two 6-lane indoor ranges and have a large collection of pistols and revolvers you can check out. They also hold a lot of shooting competitions like the Bulls-eye Pistol League, Defensive Pistol Matches, and Youth Rimfire League.
Gat Guns – East Dundee
Gat Guns serves North Eastern Illinois communities for sports shooters and hunters. They have a large selection of firearms, ammunition, and accessories. They have been in operation since 1989.
They have the largest private indoor shooting facility in the United States boasting of a total of 63 lanes, most gun ranges in Wisconsin also offers private indoor shooting ranges. They also have a rifle range complete with ventilation equipment and target carriers. They provide over 180 guns for rental including pistols, revolvers, and rifles.
Conclusion
These are the top gun ranges in Illinois. Each of them has its own unique features that will make you want to choose them. If you live in the State of Illinois it might be a great idea to visit each one of them if you have the chance.