As an Amazon Associate we earn from qualifying purchases.
One of the most crucial elements of shooting is choosing the right ammunition. Although a number of great manufacturers support the market, there is still a large segment of shooters who prefer to custom load their own ammo with a reloading press. There are many benefits to doing so, and lots of options for shooters when it comes to the best reloading press.
Our Top Picks for Reloading Presses
​If you're in a rush, we have three of the best reloading presses from our list:
Brand
​RCBS Rock Chucker Supreme
Product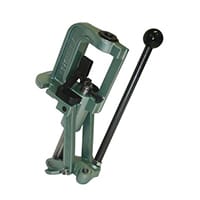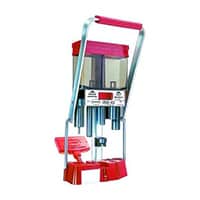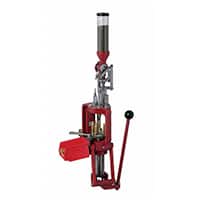 Key Feature
​Accurate, powerful machine
Brand
​RCBS Rock Chucker Supreme
Product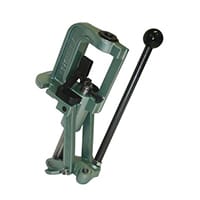 Product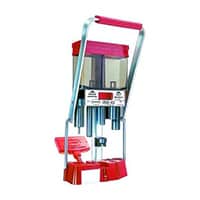 Key Feature
​Accurate, powerful machine
Product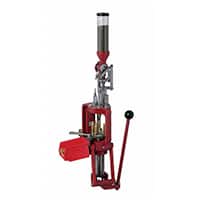 is a
press comes with quick-change bushings to quickly change out a die, and a number of other dies features to greatly increase output.
With its simple-to-use operation, superior strength, and ambidextrous handle, the RCBS Supreme Press is ideal for all consumers, regardless of skill level. The RCBS Press is highly reinforced and has several safety features, making it our top pick as one of the best reloading presses.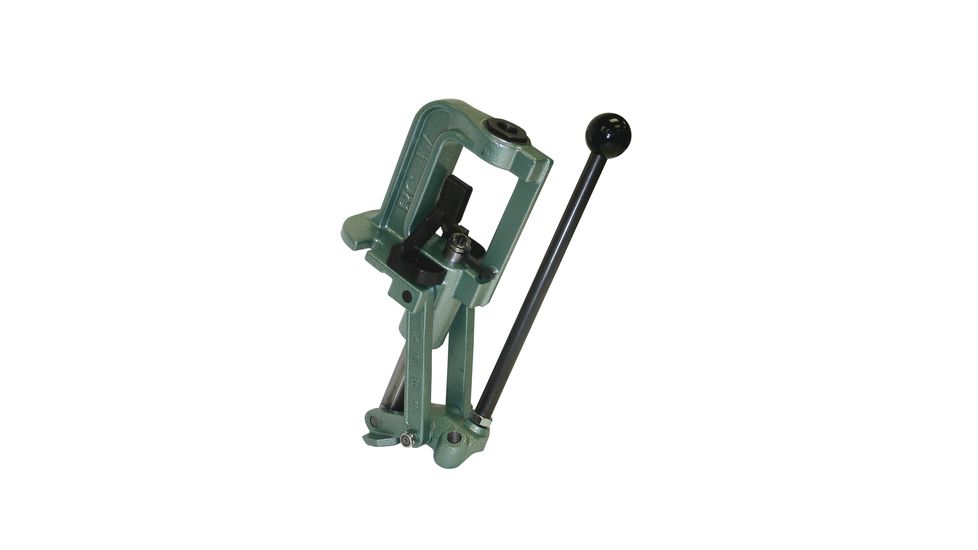 Our Top Reloading Press Recommendations
​We've covered a lot of information already about best reloading presses to help you pick the one that's best for you. We've also identified 7 of our favorite reloading presses for different needs. Let's take a look!
Best Single Stage Reloading Press: RCBS Supreme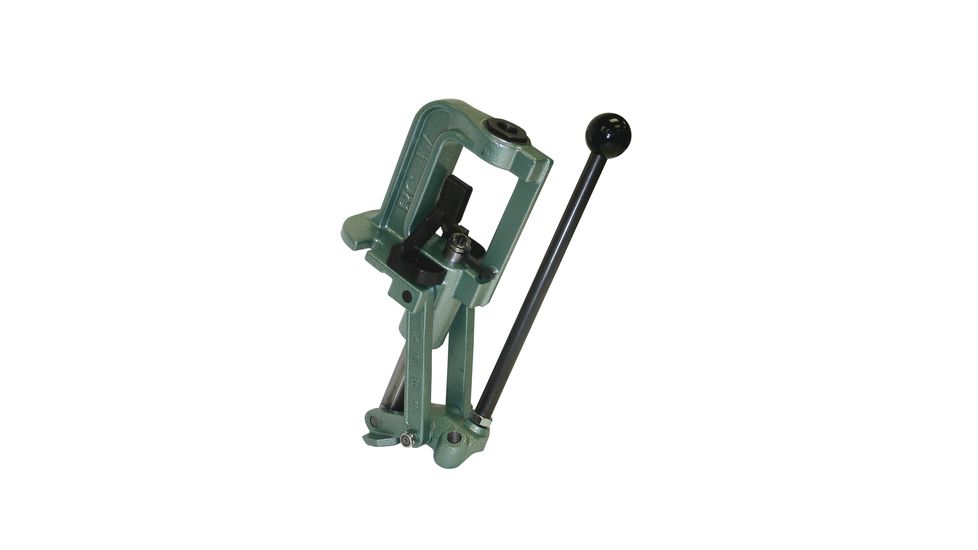 ​The best reloading press is the one that will get the job done without fail and produce the best result. For this reason, we've selected the Rock Chucker Supreme by RCBS as the best single stage reloading press.
With an iron construction, this single stage press is easily one of the heaviest reloading presses you can pick up, and you can feel the quality immediately. After 1,000 rounds, it's not hard to compare this single stage reloading press to a tank.
Operation on this press is smooth and comfortable, with an ambidextrous handle and no grittiness in the press operation.
While being a press may appear to present a problem for the high-batch loader, this is not really the target market for this press. However, RCBS does sell attachments that convert the RCBS Supreme to a progressive reloading press, giving the reloader the best of both worlds.
Obviously, the best reloading press has a number of very strong selling points. Let's wrap them up into a list of the pros:
Strong and durable progressive press
Solid construction
Ambidextrous handle
​Plenty of room for long magnum-length cartridges
​Comfortable and smooth operation
​Supports different attachments such as quick-change dies
However, as with any choice, there are some drawbacks with a press like this one. In this case, this reloading press is heavy and difficult to move.
So, who is this progressive press for? As our choice for one of the best reloading presses, we're recommending this reloading press to anybody who wants to start reloading and wants to invest in a good quality press that will last for years to come.
Because it's a single stage press, it's great for learning the ropes and will continue being great for reloading accurate ammunition for nearly any firearm imaginable.
Against some of our other picks, we see that the high quality of this single stage press is very high and it is a press that can be counted on. However, it doesn't feature a lot of the additional features that presses in the price range offer, such as the progressive press we'll look at or one of the complete reloading kits.
Why Buy?
​​Durable, versatile, and powerful, this press is one you can count on for years and years to come.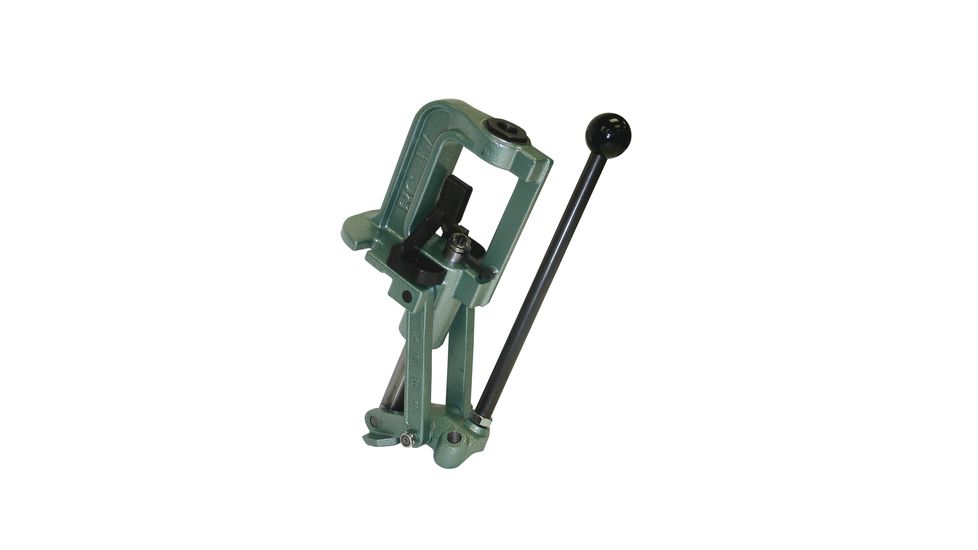 Best Progressive Reloading Press: Hornady Lock-N-Load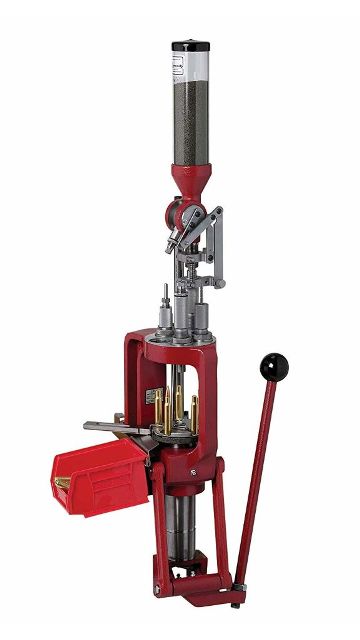 ​The best progressive reloading press greatly increases the speed of production. In this category, we like the Hornady Progressive Reloading press. The Hornady is a 5 station progressive reloading press with plenty of features to make sure you produce faster.
One of the features that make this the best progressive reloading press is the quick-change bushing system for replacing dies. With the dies bushing system locked in place, the reloader installs and sets one die as would normally be done to a batch of ammo. However, the bushing (with one die attached) quickly removes and stays set.
The beauty of this progressive reloading press is in the ability to pre-set all of your bushings and have them ready to go at any time. To change to a different caliber, simply swap in your other group of bushings and get ready to load which only takes 5 minutes.
The automated de-priming and priming system removes one annoying part of case prep, further automating the whole process. This progressive reloading press also features a priming system that makes sure you can quickly change from a large primer to a small primer to speed up the caliber transition process.
This progressive reloading press also works on an auto indexing feature with a two-part operation, half a movement on the downstroke, half on the upstroke, which reduces necessary energy. With an active spring retention system, the shell holder and shell plate can be easily removed or you can load the shell holders for inspection or manual adjustment at any time.
This progressive reloading press is able to produce more than 500 rounds per hour with a shell plate and shell holder alignment which is a lot compared to a single stage press which can average around 100 to 200.
These are some of the products most notable features:
​5 station automated turret
​Smooth and powerful operation
​Quick change bushing, priming, and powder drop system
Wonderful shell holders alignment
500 rounds in an hour output
One thing you should know is that this press is highly recommended as one of the best progressive reloading presses. If you don't need this capability, though, you might be incurring extra fee and complication when it could be better served elsewhere.
Why Buy?
​​An accurate, and complex press for the sophisticated bullet reloader that gets the job done.
Hornady Lock-N-Load
Weighs 30.85 Lbs
Features a 5-station quick change bushing system
Allows a seamless switch from one powder to the next
Best Turret Reloading Press: Lee Precision Classic Turret Press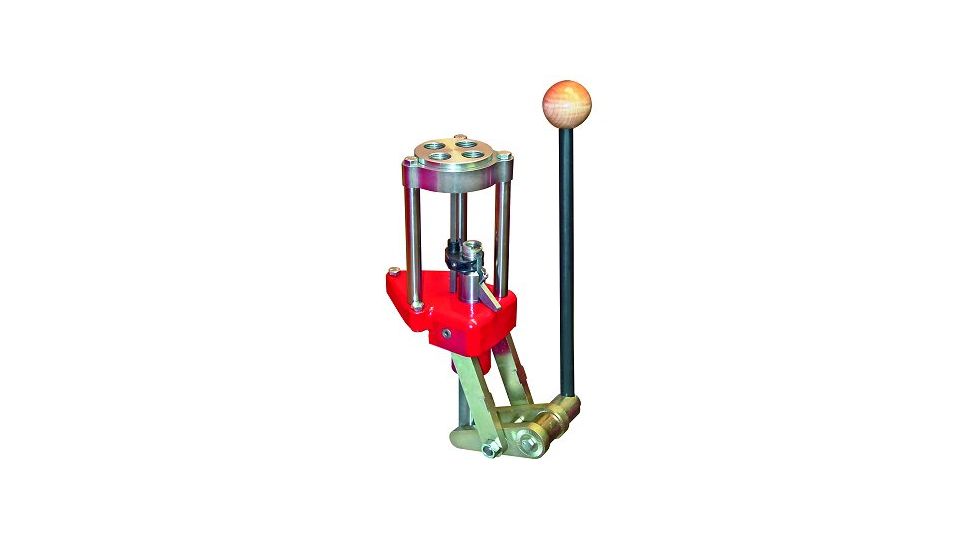 The Lee Precision Classic Turret Press is a fantastic way to start reloading. ​A turret reloading press splits the difference between a single stage reloading press and progressive presses in terms of bullet production capability. Although less rigid than a stout single stage press, turret reloading presses contain all operations of the reloading process in one setup.
Recommended for both pistols and rifles, the Lee Precision Classic Press can handle rounds up to 3.3 inches in length, enough for most non-magnum rounds.
Although it won't have the rock-solid construction of a heavy press like the RCBS Supreme we looked at, it doesn't fill the same need and instead focuses on bullet production capacity.
What the Lee Classic Turret Press does have for affordability is a solid base. Besides the base, it also features a solid steel linkage for solid transfer of power and long-term durability, making it the best reloading turret press.
Designed to handle a wide range of consumers' needs, this press offers a solid value for a good number of features. Some of the pros of this press are:
​Guaranteed primer catcher
Solid cast iron frame
​Interchangeable turrets
Smooth Operation
This press does a lot of things reasonably for the value and is a good, do-all press for the average person, but there are some trade-offs:
​Less rigid than other options
​Some longer cartridges not easily supported
Because of the compact, quick-change turret system, the press allows you to tool up for several calibers without too much additional storage space.
The ideal buyer for this press reloading kit is the one who needs a general-use reloading machine press, and wants something versatile with a good return on their investment. It provides great utility for the sport competitor who wants flexibility to reload for different kinds of target shooting, rounds per hour, sport competitions, and hunting with one unit.
Of course, a reloading machine involves more than just a press. So, if you're looking to get an all-inclusive kit with these kinds of features, keep reading to find out what else we cover!
Why Buy?
​Flexible, and efficient with different types of reloading ammunition for your general usage.​
No products found.
Best Single Stage Press Kit: RCBS Supreme Master Reloading Kit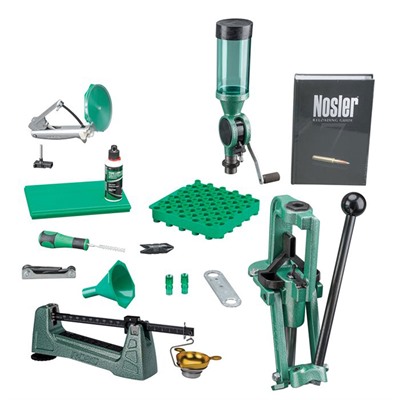 ​Our favorite single stage reloading press kit is back – and with a few extras to begin reloading. Let's take a look at the RCBS Supreme Master Reloading Kit!
The RCBS Supreme Master Kit is full of great accessories to get you started reloading. If you're the kind of person who's looking for a complete kit with recommended accessories, this RCBS Supreme Master Kit has been built to get you started in the right direction.
Some of the important tools that are included in the best reloading kit are the following:
Nosler Reloading Manual: Arguably the most important piece of any kit! A reloading manual provides necessary information on safe and uniform cartridge loads and development to keep consumers within safe and established pressures and dimensions.
​Universal Case Block: Holds each case and aligns each case for the loading process.
Case Lube Kit: Necessary for smooth operation. A properly lubed case move and re-size freely and help prevent binding, jamming, and other damage with the die.
Hand Prime Tool: A simple hand tool for primer case, allowing you to perform this operation away from the reloading bench.
Mechanical Scale: Allows the reloader to accurately powder measure using a reliable mechanical system. Sensitive to within 0.1 grains of powder, and taking advantage of anti-magnetic properties, the scale offers a high degree of accuracy, making it the best reloading press for accuracy.
Uniflow Powder Measure: Dispenses a consistent amount of powder and eliminates issues with powder "clumping" and releasing in large quantities.
Although this RCBS kit is almost everything needed to get started, it's important to know that it doesn't get quite there. Dies and a shell holder are required for your caliber of choice to get you started on your reloading journey.
While this kit does provide a great amount of convenience and help a shooter get started in the right way, there are some potential disadvantages.
​Large upfront investment
​Still requires a die and a shell holder (separate purchase for each caliber)
Doesn't give the flexibility to piece together desired products
The completed kit is highly recommended for shooters who are interested in investing and high quality and want to get started to save funds and effort buying a pre-assembled kit.
Why Buy?
​A great reloading press kit with all the accessories you're ever going to need.​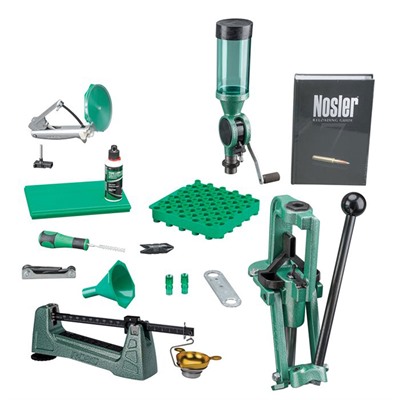 Best Turret Press Kit: Lee Classic Turret Press Kit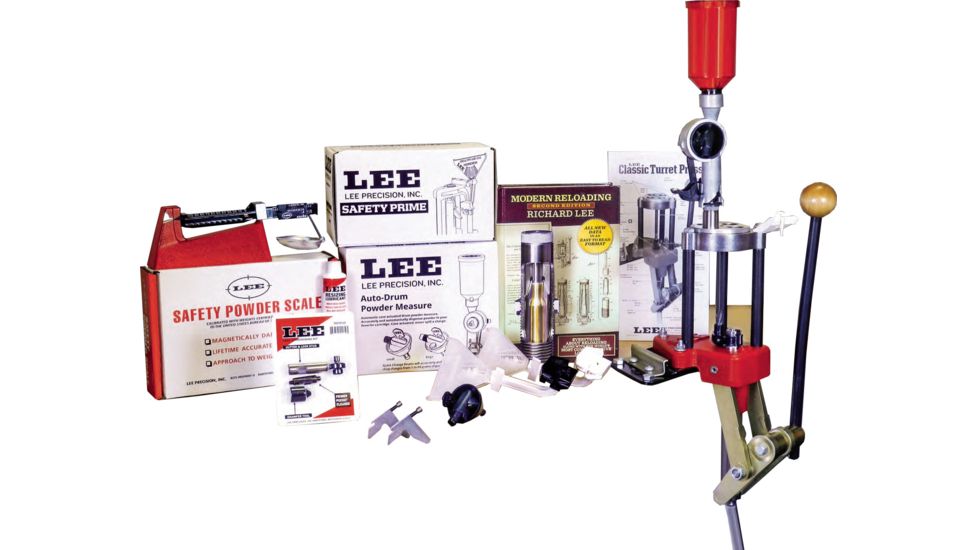 ​Our favorite turret press has also come back in kit form, with the Lee Classic Turret Press Kit. Like the RCBS Rock Chucker kit, this kit takes a solid, highly-recommended reloading press and builds a full kit around it.
The press is a 4-station turret press, which allows turrets to be organized individually for several calibers and swapped out as a whole. This is great for producing batches of handgun and small rifle ammunition. However, the auto-rotation can also be disabled for manual reloading and operation of larger rifle rounds.
In addition to the press, it includes such items as:
Case Prep Tools​: Case resizing lube and a variety of case prep tools – including cutter, chamfer tool, and cleaners for both small and large rifle primer.
​Powder Scale​: Mechanically measure the amount of powder dispensed to an accurate level. The Powder scale is also magnetically resistant and guaranteed accurate for life.
​​​Powder Measure​:  Auto drum powder measure to dispense accurate and consistent amounts of powder. Also comes with the required riser to create the appropriate clearance.
Reloading Manual​:​​​​​​ As we stated earlier, the reloading manual is a crucial part of a reloading system to keep the reloader operating in known and safe territory. The included manual covers 167 different rounds.
This kit is aimed at getting reloading capabilities in the hands of an interested shooter with basic, quality tools at a very competitive amount. Let's take a look at some of the pros to this kit:
Affordable amount to get into
​Ready to go with the addition of caliber-specific dies
​Quick-change turret system to easily hold several calibers
For what it does, the Lee Classic Turret Kit offers a lot of value. Some of the downsides are:
​Less rigid press
​Automatic rotation must be disabled for some longer rifle rounds
Is not capable of handling the longer end of rifle rounds
As far as bullet production speed, it sits in the middle of the road. The auto-indexing turret provides a bullet production capability of 250 rounds per hour, faster than our single stage reloading presses, yet easily eclipsed by Hornady Progressive reloading presses with Ezject system we looked at early.
In terms of value, reloading presses like this are easy to use, and a highly suggested item for somebody who wants to be practical to cover the whole process.
Why Buy?
​​A complete set coupled with a high-capacity ​production press.
Best Shotshell Reloading Press: Lee Precision II Shotshell Press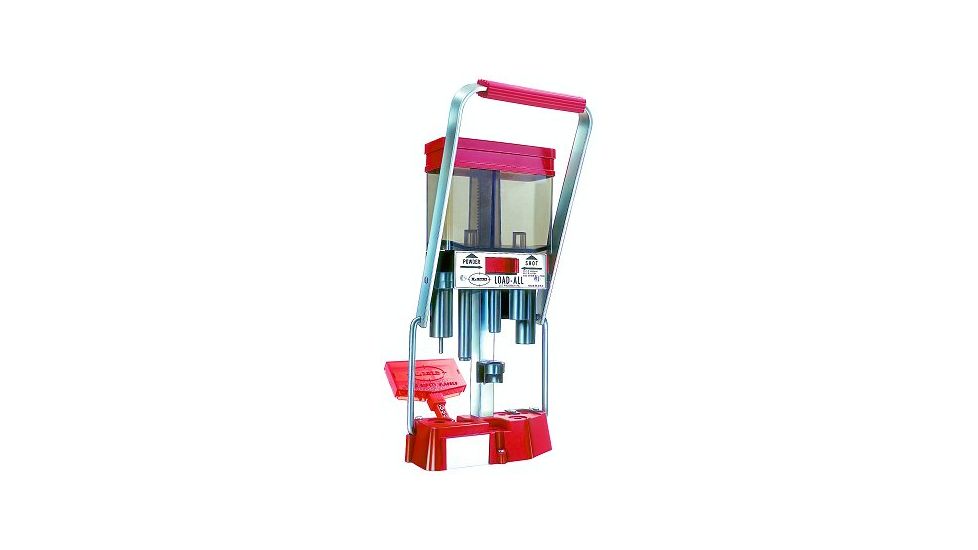 ​For dedicated shotshell loading, we recommend taking a look at the Lee Precision II Shotshell Press.
Although it may be taken for granted that ammo is ammo, shotshell reloading is a whole different beast than metallic cartridge loading. There are more components to consider. Additionally, with no bullets loaded in a case to seal the bullets, each bullet shell is reliant on a crimp.
Rather than try to be an all-in-one reloading station, the Lee Precision II is a dedicated, unobtrusive loader designed to be a complete 12 gauge reloading station. The Lee Precision press comes with bushings to powder measure, as well as to measure an appropriate amount of shot for different shot sizes.
With the Lee Precision shotshell press, speed isn't the focus as much as simplicity and value. This is not going to be the Lee Unit that you buy to crank out a case of shotgun shells overnight. However, it is going to be the machine that you can buy for just a few boxes of shotgun ammo, it's easy to use and helps you make your own loads.
The Lee Precision loader is capable of loading and crimping both plastic and paper shells, so you can load antique-style cartridges as well. The Lee Precision press is capable of loading shells up to 3 inches in length without any conversions or additions necessary.
The best thing about the Lee Precision Shotshell loader is the utility it provides to load shotshells for a very economical price, less than a case of trap shells. The Lee Precision shotshell press has a lot to offer.
​Complete set up to load 12 gauge shotgun shells
​Offloads your shotgun reloading from your primary press
Although inexpensive and self-contained, this Lee Precision shotshell press is highly specialized and places utility ahead of features. However, some of the disadvantages are:
​Only handles shot shells
​Each primer must be hand-loaded individually (primer feed attachment available)
Bushings do not feed buckshot or slugs
Low Production Speed
Additionally, it may be a worthwhile investment for the more seasoned reloader who wants to free up space on other equipment. By moving all shotgun reloading to a single unit, those resources can be permanently off-loaded from other reloading presses.
Why Buy?
​Perfect for the novice reloader, this kit is great for use with shotgun shells.​
Best 4 Station Progressive Reloading Press: Dillon Precision RL550C
Despite Dillon being a young company in the firearms industry, it has made a name for itself and has produced quality reloading press products. Among them is the Dillon Precision RL550C which we consider the most reliable progressive reloading press we've tested.
This progressive reloading press is an all-rounder in terms of affordability, quality, and precision. Inside the box, you will get the following:
Instructional manual
Low primer warning system
Handle and mounting hardware
Priming system components
Press assembly
Powder measure
Fail-safe rod
Discharge chute
Primer catch cup
Indexing components
Allen key set
Die locking rings
Cartridge bing
Depending on where you buy it, the product may not contain all of the following so make sure you check with the seller first.
The Dillon Precision comes with a toolhead already installed on the press. If you plan to reload other calibers then you need to buy a RL-550 caliber conversion kit, die set, and a toolhead.
For the most optimal reloading setup, you need to have 4 stations or stages and the Dillon Precision RL550C has all of that. The 4 stages or stations included in this product are the:
Sizing and depriming, priming
Powder charging and case mouth expansion
Bullet seating
Bullet crimping
This setup makes it easier for you because the seating and crimping are separate where visual powder level checks must be constantly monitored.
When it comes to capacity, this product is great. It has a press frame opening over 4 inches and has no auto-indexing  which increases its capacity. The precision for the reloading process is consistent and won't need major tweaks over a short time.
It can reload 400 to 600 rounds per hour with a caliber change time of 5 minutes.
You also have threaded link arm pins. This eliminates the need to drop the main shaft in order to access link arm pins making the process much faster and efficient.
There's not much downside of getting this reloading press. Maybe be careful when buying from a site you don't know of or you might end up with some missing parts. Probably also that you have to buy some extra accessories when reloading different types of calibers.
Overall, a well rounded progressive reloading press that has a large capacity with efficient reloading time thanks to its 4 stage features and quality craftsmanship.
Why Buy?
If you want fast and effortless reloading then this progressive reloading press will suit your needs giving you extra free time.
Features to Consider in a Reloading Press
As an investment, reloading equipment can ultimately pay for itself in the end. Whether you're making plinking ammo or trying for a match-accurate load, reloading can save money, especially if you reuse components such as brass and buy components in bulk.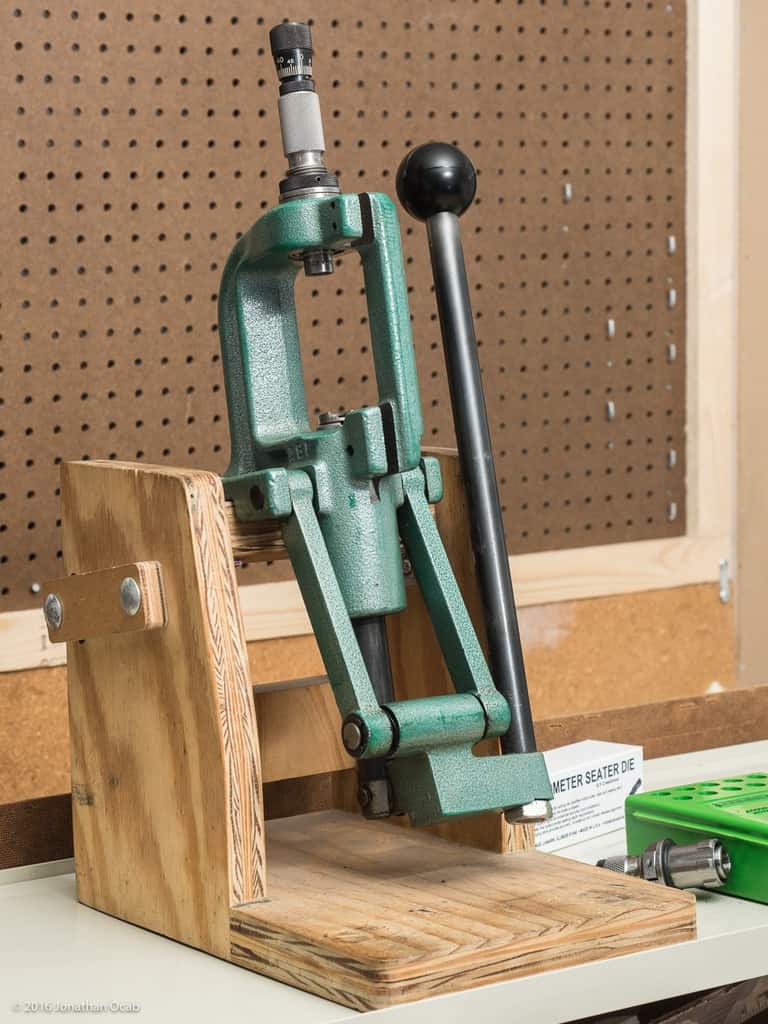 Types of Reloading Presses
Although all the best reloading presses do the same job, they don't get there the same way. The different types of reloading presses range from simple to fully automated workstations that work at a production speed.
Single Stage
A single stage press, as the name implies, performs all of the reloading operations one single stage at a time.
Single stage presses are very common because they get the job done at a low range value, have few moving parts to break, do not take up much space, and are known to be very solid.
On the downside, a press requires a long time to finish a completed round than more complicated presses.
Because each single stage of the process must be set up individually, the most efficient way to start reloading your own ammo with a press involves setting up to do one part of the process – depriming, resizing primer, etc, and working in large batches.
​For the person who are very practical, small space, or just wants to get started with reloading your own ammo, a press is a great investment.
Even veteran reloaders find utility in single stage presses such as the Dillon precision for their utility and strength. However, many reloaders find themselves later upgrading from single stage models to a quicker process eventually.
Turret Presses
​Turret presses are the next stage in the reloader's evolution. For somebody who needs to load larger batches of ammo, a budget turret reloading press offers them flexibility, precision, and improved speed.
In turret presses, dies are set up individually in a rotating press. As the dies and brass are processed, the reloader simply rotates the press to the next stage. In this way, one cartridge can be completely finished through the rotary process without any additional dies set up. For an experienced reloader, turret presses are a much faster way to produce a batch of ammo.
Additionally, a classic press can save money and time in changing between different calibers. Most will support the capability to set up additional press with dies for any caliber the reloader frequently uses. Once the dies are initially set up on the press, the whole press can quickly be replaced and the shooter ready to reload ammunition in a different caliber with all of the dies already set.
Progressive Press
​The progressive press is the final stage in automation for the reloader who needs to crank out lots of ammunition. Setting up a progressive loading press can be very expensive and time consuming. As well, because of all the moving parts, progressive presses require maintenance and supervision to make sure that everything continues running smoothly – one thing out of place can affect the whole line.
With an auto reloading progressive press, dies are held in a circle like with a turret. However, each operation is done simultaneously. So, for instance, the first piece of brass is being deprimed while the next is being resized. As a result, in a progressive press the reloader goes from a piece of brass to a completed round of ammunition in one setup.
Obviously, a budget progressive reloading press greatly increases the speed of production. For the shooter who needs to produce many hundreds of rounds per hour (especially in one specific caliber) progressive presses give unrivaled output.
Size and Weight
The size and weight of a reloading press affect not only the space you need to house the unit, but also the performance of the reloading press itself. Any time you're putting large amounts of mechanical force into an operation, extra mass equals more rigidity.
If you're setting up a reloading room and have a nice, solid bench where the reloading press will go and not likely be moved, a larger, heavier reloading press may actually be in your favor. On the other hand, not everybody has access to that kind of space.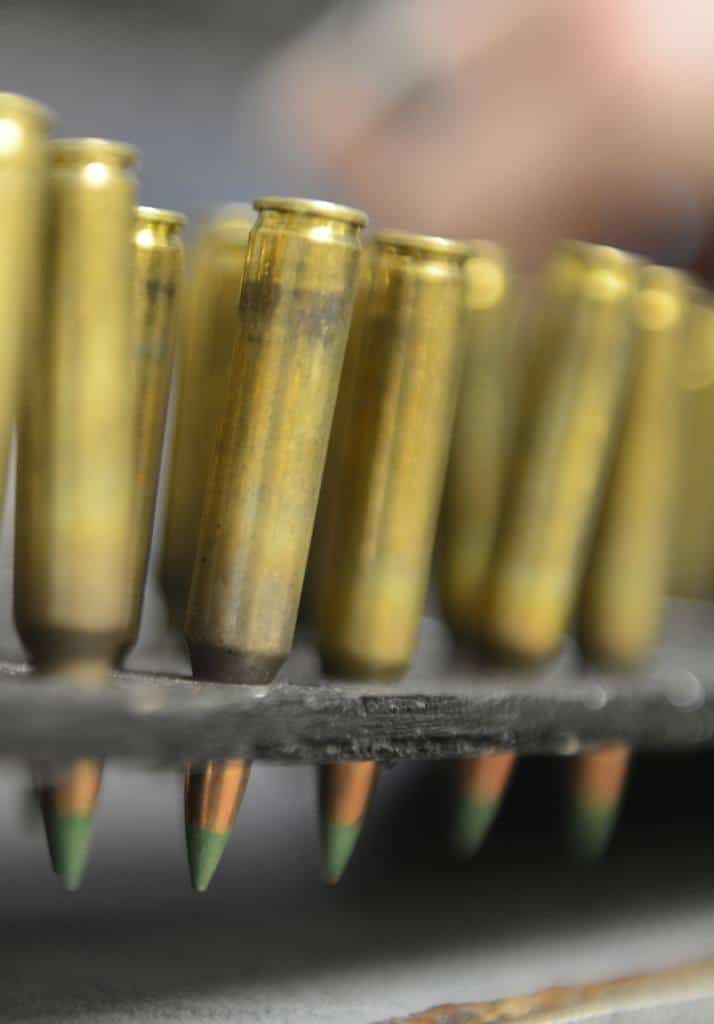 Consider the person living in a small house or even an apartment who wants to practice reloading ammunition for the benefits but doesn't want to commit the large amounts of space to it.
In this case, a small single stage reloading press might get the job fine and fit within your requirements.
Single stage presses can be had all the way down to small, hand-operated single stage presses that require no mounting.
With single stage presses, obviously, this wouldn't be the most comfortable or powerful solution but would solve the issue of limited space.
Different Types of Ammo
​What type of ammo you intend on loading will tell you about the type and size of reloading press you need. A handgun cartridge requires very little in the way of pressing power, due to their small size and relatively light tension on the cartridge.
The best reloading presses will handle a full range of handgun ammo as well as intermediate cartridges with no problem. Larger cartridges, especially many extra-long magnum rounds per hour, may require a specialized reloading press or may not be compatible with the full range of features on an automated press.
If you want the flexibility to load monster cartridges like .416 Barrett or .50 BMG, you might be looking at a whole other class of reloading press that has the capability for a cartridge of that size. And, if you want to load shotshells, that's a whole other game than metallic cartridges!
​Conclusion
​As you can probably see now, there are many factors to consider when beginning reloading ammunition and looking for the best reloading equipment. Although it can seem an overwhelming new skill at first, being able to custom load ammo really opens doors for the shooter who loves having more control over their craft.