If you buy something through a link in our posts, we may get a small share of the sale.
A reloading scale is especially important if you are looking for accuracy and precision when measuring your powder. That's why we have prepared this guide to help you find the best reloading scale for your specific needs and budget.
Our Top Reloading Scales
With so many scales in the market and the uncertainty of not knowing whether to buy a digital or analog scale, the whole process can be overwhelming. After doing plenty of research and comparing top options in the market, we've found the following reloading scales to be the best options for people looking to cut their ammunition costs.
Brand
Best Overall
Hornady 050068 Lock-N-Load Auto Charge
Best for the Money
Hornady 50108 Electronic Scale
Best Cheap Pick
Lyman Micro-Touch 1500 Electronic Scale
Product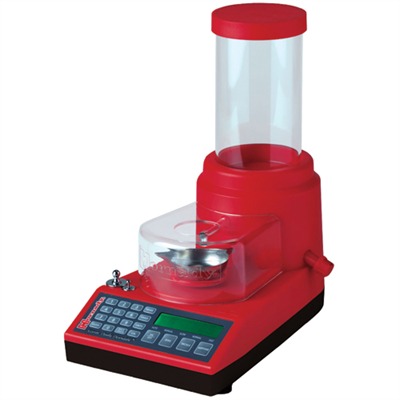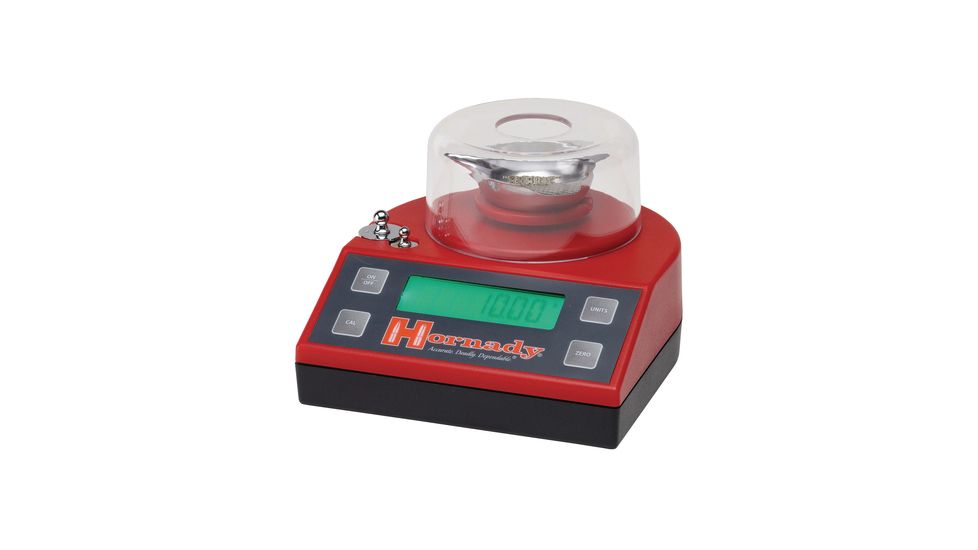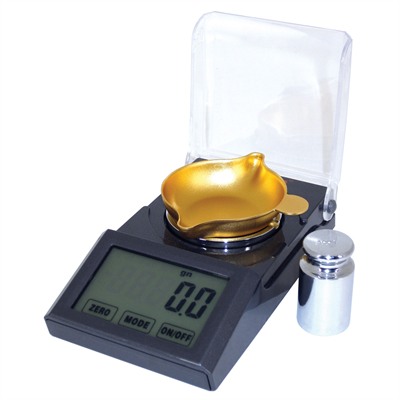 Best Overall
Brand
Hornady 050068 Lock-N-Load Auto Charge
Product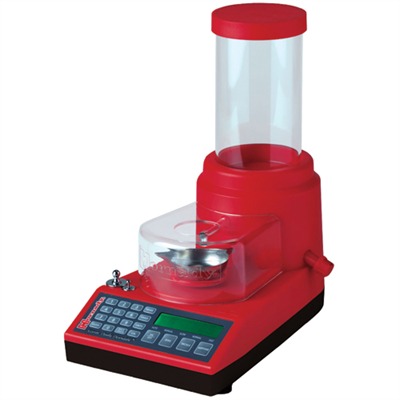 Best for the Money
Brand
Hornady 50108 Electronic Scale
Product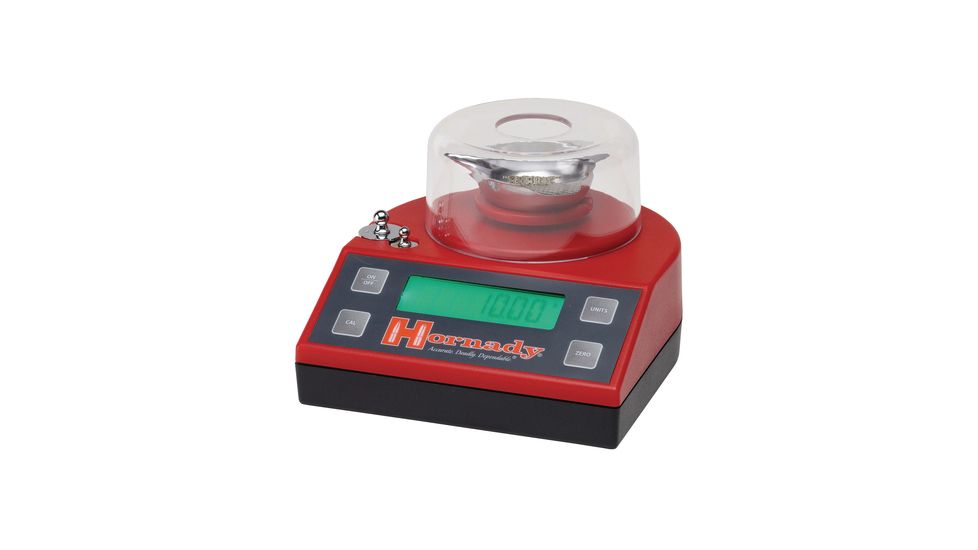 Best Cheap Pick
Brand
Lyman Micro-Touch 1500 Electronic Scale
Product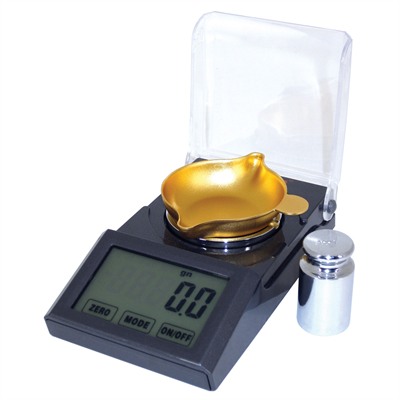 Best Overall Reloading Scale: Hornady 050068 Lock-N-Load Auto Charge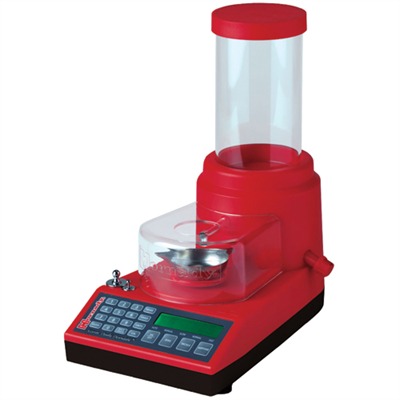 For ammunition lovers looking for an easy and comfortable reloading scale, the Hornady 050068 Lock-N-Load Auto Charge will be a good fit. This scale allows for speedy and accurate dispensing. The attached LCD keyboard allows for easy and quick input without compromising the ideal backlit display. 
If you have fallen out of love with mechanical scales, you will find this one a relief since it supports automatic dispensing. However, the reloading scale has a manual dispensing option if you prefer it that way. The drain tube, trickle tube, and hopper are straightforward to ensure that the powder does not mix. 
Another essential feature is the inbuilt trickle function. The trickle performs as per expectations and even allows you to add a propellant. While in some rare circumstances the trickle can overcharge, restarting it will fix the issue. 
Unlike the manual scale, the Hornady 050068 will only take 5 minutes to disperse the powder. However, you have full control over the dispensing as you can select the slow, fast, or regular speed options. It has a capacity of up to 1000 grains. 
The accuracy level of the auto-charge is 0.1 per grain. The reloading scale is empathetic in weighing the powder and the bullets in the lock and load process. The scale performs all this while ensuring the speed is not compromised. 
The Hornady 050068 Lock-N-Load Auto Charge is specially made to save and use as little power as possible. For instance, it has an A/C of 110 to provide power in case the main power supply fails. It also comes with a 220-volt adaptor that protects the auto-charge from any overcharge and phase off any damage to vital parts.
What We Like 
The device is easy to use and operate
The backlit display keypad is ready and easy to use
It is fast and accurate when loading rounds
It is automatic, thus consistent flow.
What We Don't Like
Takes long to charge 
A bit expensive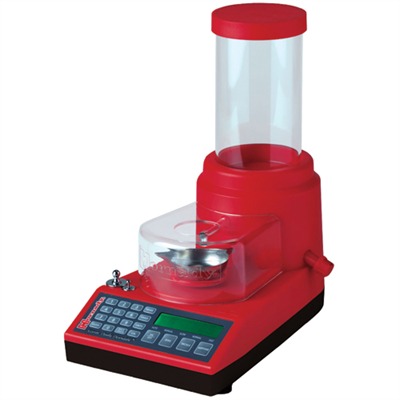 Best Reloading Scale for the Money: Hornady 50108 Electronic Scale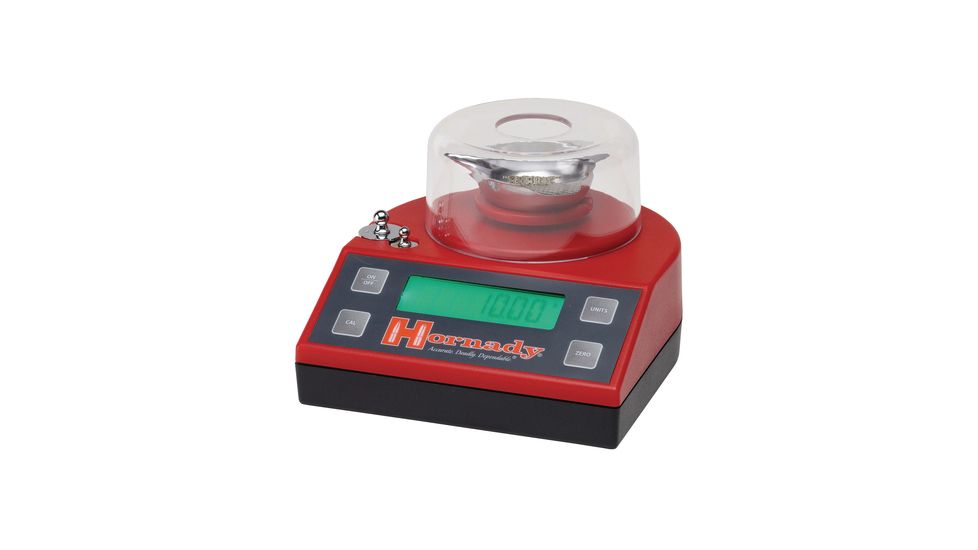 There is plenty to love about the Hornady 50108 Electronic Scale. With precisions and specifications of some of the top Hornady reloading scale products, the 50108 will give you the best value for your money. We love this reloading scale due to its slim price tag while maintaining a plausible specs sheet.
This reloading scale features a large elongated LCD that makes it very easy to read. It has two calibration weights and a metal powder pan to ensure that it gives reloaders the most accurate results. 
You might encounter some low powder capacity issues on this scale. However, the Hornadysupport team can address the issue immediately after you report. 
While the reloading workshop conditions can be harsh and rough, Hornady has ensured that the 50108 is advantageous over other brands by using top quality and durable materials. The design also features a lengthy inch wall to protect the inside components. However, the materials are carefully considered to ensure that the scale is light and very comfortable when using it.
The A/C adapter allows for a continuous reloading process, while the 220-volt adapters ensure that the scale receives only the relative needed power. The Hornady 50108 reloading scale has a one-year warranty to ensure you are protected in case of anything. 
In addition to the superb design, you will also get a desirable accuracy level of 0.1 per grain. This allows for precise and accurate results thus providing a more fulfilling shooting experience. 
With a satisfying 1500 grain capacity, you can also use this scale to measure powders, cartridges, cases, and rounds. You can work with a trickler if you measure small portions.For more accurate results, we recommend that you allow the scale to warm up before using it.
What We Like
High grain capacity
Good fit for measuring large amounts of powder
Very easy to set up and operate
It gives accurate weights results
The large display makes it easier to read
What We Don't Like
The scale slides over time
It of recalibration
Short battery life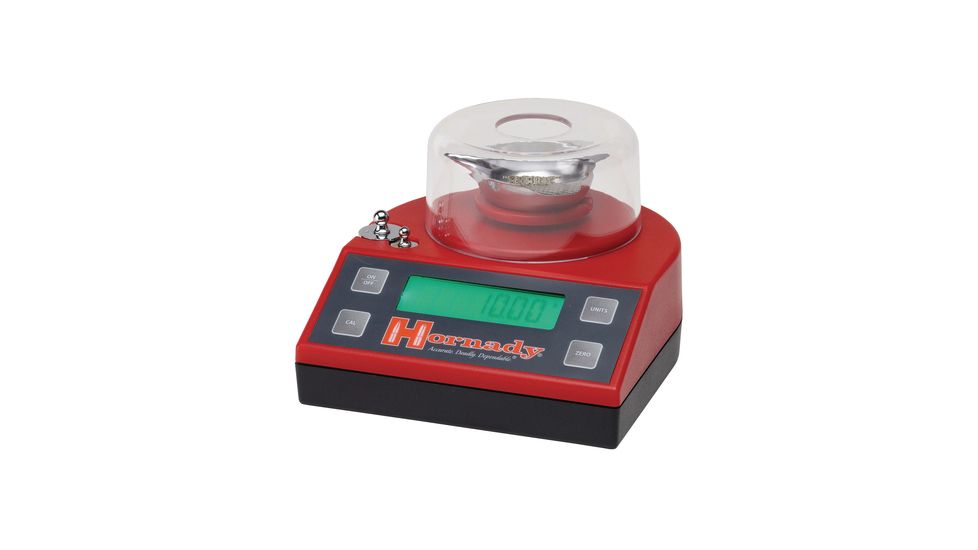 Best Cheap Reloading Scale: Lyman Micro-Touch 1500 Electronic Scale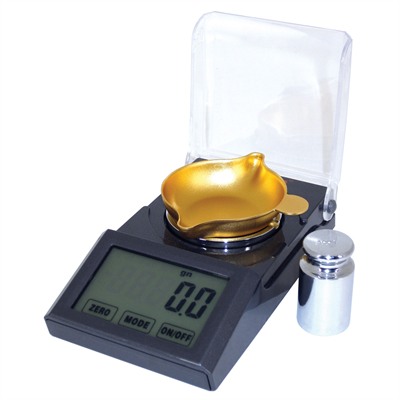 It's not every day that you get a reloading scale that is precise and accurate while being lenient to budget buyers. The Lyman Micro-Touch 1500 Electronic Scale stands out for packing a great set of features for a small price tag.
The 1500 grain capacity allows you to measure bigger loads, speeding up the whole process. With an accuracy of one-tenth of the grain, you should be able to maintain consistent weights while reloading and avoid the frustration of tweaking the calibrations from time to time.  
The micro-touch uses a small slim inch build wall. The casing consists of plastic materials to ensure the scale does not weigh more than 1 ounce. This makes it portable and a good fit for reloaders on the move.
One useful key feature added to the micro-touch 1500 is the calibration weight and the weighing pan. Together with the digital display, you can enjoy accurate and precise powder weights. Although the scale can move the decimals on some occasions, the manufacturer provides manual reset instructions in case this happens.
While the reloading process is speedy, you will have to wait for some extra seconds. However, since this does not comprise the scale's accuracy, the extra seconds isn't a bad price to pay. 
The touch screen controls are easy to use and access. Additionally, the A/C adapter ensures that the scale is continually running. Besides, you can use the batteries as backup power at any reloading site.
What We Like
The reloading scale is very light making it easy to move around with
The digital features make it very easy to use and operate
It is very sensitive to the weights; thus giving accurate results
The handling capacity of 1500 grains is even better than other large scales
Convenient touch screen controls
Very affordable
What We Don't Like
The scale is not durable
Some models require regular calibration
Sale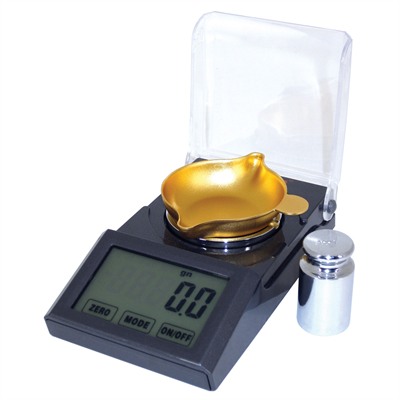 Best Mechanical Reloading  Scale: RCBS 98923 Chargemaster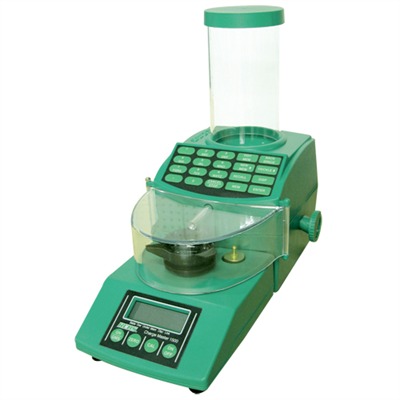 With a lot of scales in the market to choose from, the RCBS 98923 Chargemaster easily stands out with its attractive design. While the original version is more than two decades old, the grand scale has gained popularity among most gun enthusiasts. 
You will notice that the Chargemaster has a unique design, which gives you a mechanical advantage. It boasts of an accuracy of 0.1 per grain—the integrated alloy pan allows for precise measurement without powder spillage. The trickle functions also ensure that you use even the last powder. It has the power range to dispense between 2-300 grains.
You will find the alphanumeric keypad easy to use. The keypad keeps a record of all your loads making it easy to access information from the memory button. We love the fact that the display has a black and white contrast which makes it easier to read the weights. 
You can detach and attach back the 1500 scale and the powder dispenser back at your convenience. This gives you a smooth movement of the scale from one shooting range to another. On the downside, this may also cause some stability issues which you can easily phase off by reloading on a flat ground.
The speed and accuracy of the reloading scale are simply unmatched. It boasts of about five times better rate than other scales. With its automatic discharge, the scale eliminates the need for unnecessary calibrations even for smokeless powder. 
What We Like
The two-piece combination makes it easy to pack and transport
It is very accurate and fast compared to other reloading scales
It has a memory option that eliminates the need for inputting the recipe twice. 
Durable design
What We Don't Like
The dispenser can have some drawbacks, which can take time to adjust when reloading.
Very expensive 
Sale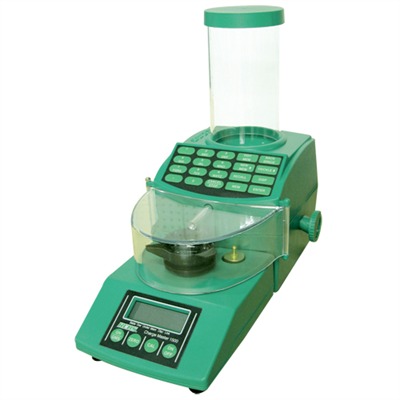 RCBS 98923 Chargemaster
Operates on 110 or 220 volt AC power
Use with smokeless powder only
Accurately weighs and dispenses from 2 to 300 grains
What to Look for in a Reloading Scale
To achieve consistent results for all your reloads, you will need an accurate reloading scale. While most people debate between analog and digital scales we think the following factors should take a top priority when buying a reloading scale.
Ease of Usage
Sometimes, you will need to reload one round after another. The process can be tiring, and when not carefully done, it may lead to accidents and inaccuracy. For this reason, you need to buy a reloading scale that is easy to use so you can avoid all the frustrations.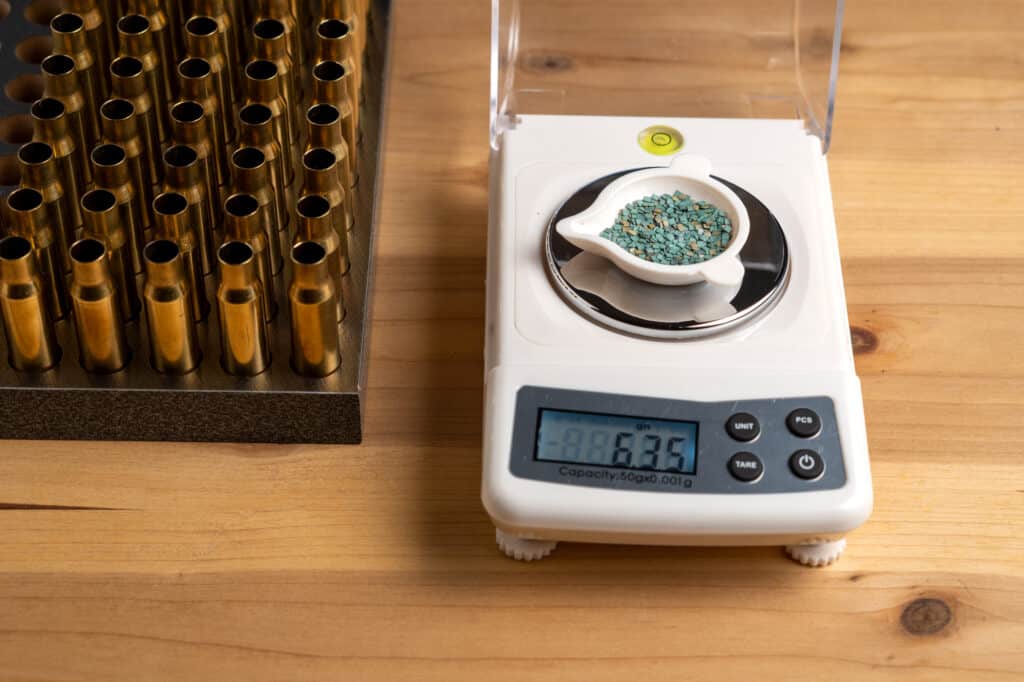 This will ensure that you don't have to repeat complex processes whenever you reload. It will also give you more accurate results since you'll be able to focus on the process instead of tinkering with the complexities of the scale.
A good scale should significantly save you time since you will not waste a lot of time trying to figure out how to operate. This will naturally lead to a productive reloading exercise. 
Reloading Accuracy
You should never compromise on accuracy when buying a reloading scale. Even if it means paying a higher price. If you are measuring small quantities of say, gun powder, you will need a scale that affords precise and accurate results. We recommend that you go with a scale that has an accuracy of 0.1 per grain. 
Some scales are very sensitive even to small movements, so always ensure that you set up the scale in a calm and flat area. This ensures that you reduce all the variables as much as possible.
Instead of focusing on perfecting each measurement, ensure that your scale is free from external factors that may affect the analysis, such as humidity. When reloading in bulk, check the scale to ensure it hasn't moved. 
Performance
While the reloading scale may be easy to use and very accurate, if it cannot perform the intended purpose, then it fails the test.  A high-performing scale is one that combines speed, mobility, and durability. 
Some scales are very light to transport while others have several detachable parts that can be packed separately. For speed, a suitable scale will give you accurate results without waiting for extra seconds. 
The materials used to make the reloading scale enhance its performance by ensuring that the scale survives even the harshest conditions in the workshop. Paying attention to these performance details can save you time and costs associated with reloading. 
Scale Capacity
Each reloading scale has a different powder capacity. Depending on the shells' weights and the number of rounds you are reloading, you will need to go with a scale powder capacity that best suits your needs. 
Scales with low capacity are a pain to use when reloading in bulk. You might have to spend a bit of time before winding up the process. This might contribute to inaccuracies especially after reloading for a long time. 
To avoid this frustration, consider a scale with a capacity of not less than 1000 grains to make the process swift and accurate. In addition to time management, continuous reloading ensures that the weights are consistent in each round. 
Calibration
After making sure that everything is working as per expectations, one crucial thing you should consider is the scale's calibration. You will need something of a known weight that you can use to determine if the scale is correct. 
Most scales come with a reference weight, and you can adjust it if you notice any issue with the calibration. A correctly calibrated scale will ensure that you get consistent results for all rounds. 
Conclusion
With the industry being flooded with a wide variety of reloading scales, finding one that is the right fit for your specific needs and budget can be overwhelming. However, if you look out for factors such as accuracy, ease of use, grain capacity, and durable designs, you should be able to get the right reloading scale for you.