As an Amazon Associate we earn from qualifying purchases.
Whether you hit the range for casual shooting or spend time hunting in nature, a quality range backpack provides exceptional organization and storage for your handguns and accessories.
While any old shooting range bag could be used, the best range backpacks are specifically designed to provide safety and make carrying firearm equipment easier.
With top special features designed to hold firearms, ammo, hearing protection, and everything else you need, we've found a good range bag or backpack prevents clutter and just plain make life easier.
Our Top Picks for the Best ​​​​Gun Range Backpack
For this article, we've scoured the web for the absolute best gun range backpacks and top gun range bags on the market. If you're in a hurry, here are some quick picks.
Brand
G.P.S. Handgunner Backpack
Product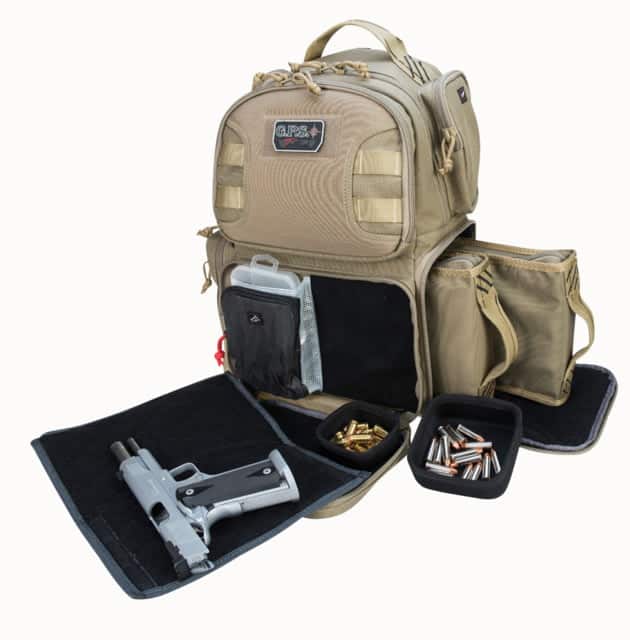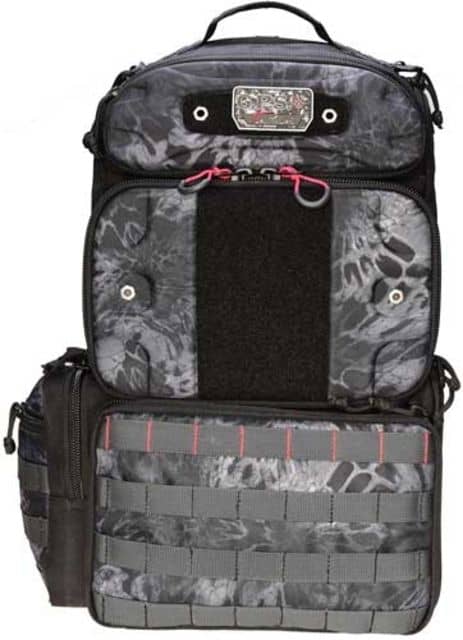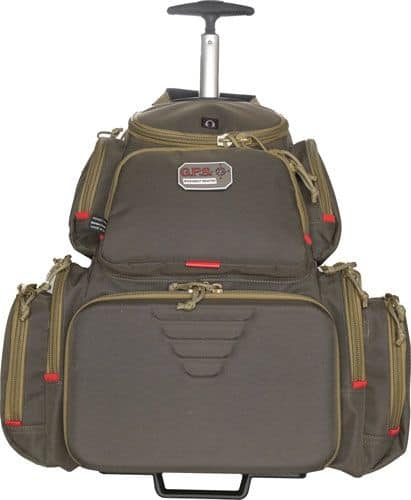 Weather Proofing
Waterproof pull out cover
Product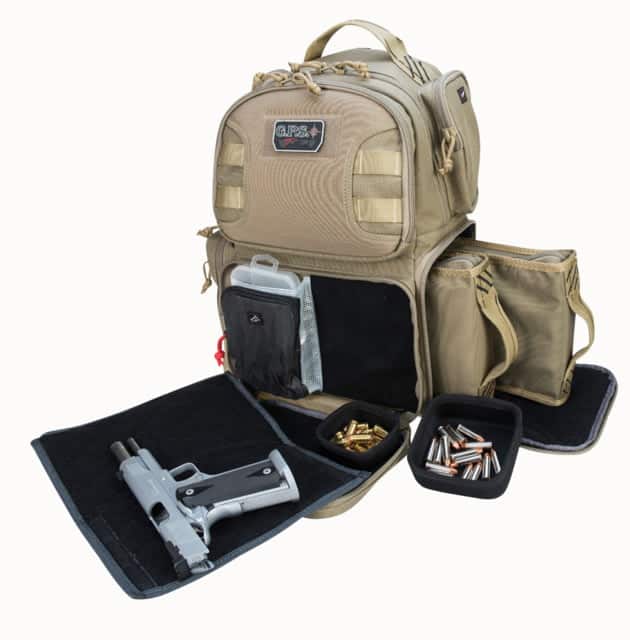 Product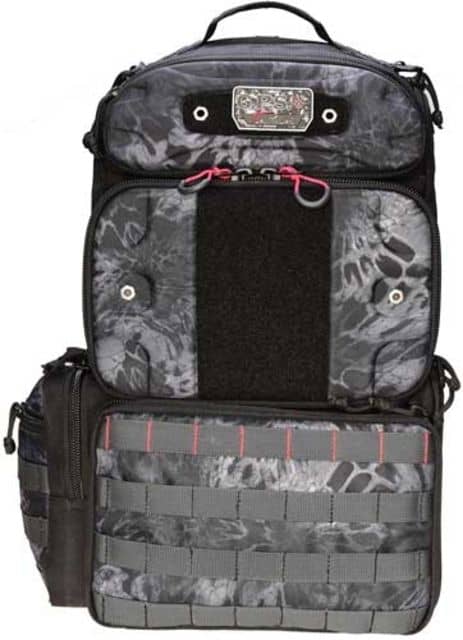 Brand
G.P.S. Handgunner Backpack
Product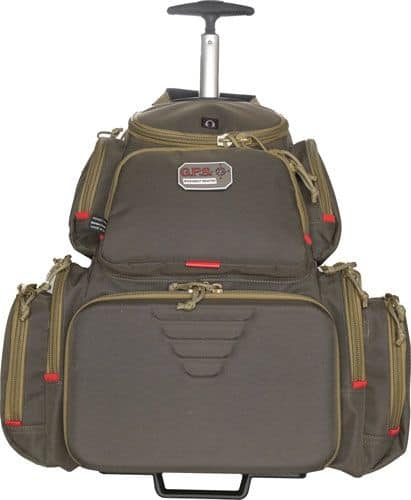 Weather Proofing
Waterproof pull out cover
If you had to make a decision without reading our guide or reviews, you would do well to choose the G Outdoors GPS-T1610BPT Tactical Range Backpack. This model is exceptionally durable, weatherproof, made from premium brand-name parts and lovingly constructed with superior craftsmanship, this backpack is an example of what a quality range bag should be.

For the shooter who wants to bring all their gear to the range, the G Outdoors Tall Tactical provides a shocking level of gear organization unlike any of the range backpacks on this list. Every inch of this range bag has been intelligently designed to maximize space and keep for your gear tidy, down to the use of labels.
Gun Range Backpack Reviews
Now it's time to look for the best gun range backpack on the market. Each backpack will be analyzed for the aforementioned features and components, so keep in mind what your preferences are in addition to general pointers.
For example, if weatherproof material is important to you specifically, that might be more important than having all the pouches just right.
We'll take a look at each aspect, and also point at the pros and cons of each backpack objectively. Lastly, we'll recommend who the backpack is best suited for as part of our final summary.
G Outdoors GPS-T1610BPT
The G Outdoors GPS-T1610BPT Tactical Range Backpackd has everything you want for an ideal range backpack.
You get a tactical range backpack that is sized to house a lot of things you need which includes IDs, keys, tools, rangefinders, gloves, ear protection, and other essential things. The backpack is also not too bulky that makes it easier for most people to carry it.
If you compare it to other range backpacks, it is around the average size with a bit of bulk for more space. It's enough to carry essential things plus your guns and ammo.
Another thing to take note of this tactical range backpack is its rugged construction. It is made with high-quality 1000D Nylon. The honeycomb frame interior is padded so it can take rough conditions. The stitching is also well-made so expect it to be durable.
The zippers are high-quality jam-proof zippers.
This tactical range backpack doesn't easily fade in color and durability compared to other range backpacks. You won't notice any changes to it after 6 months of use.
What makes this tactical range backpack unique compared to most range backpacks is its water protection feature. It comes with a pull-out rain cover for sudden downpour protection.
When it comes to compartments, this tactical range backpack has a spot for everything, and you can tell they really thought through where to place these in the backpack. The G Outdoors Tactical Range Backpack has 5 outside zippered pockets for additional handguns, ammo, and other accessories.
The front of the backpack has three compartments with jam-proof zippers. The first compartment is a great place to keep your tools and ammo.
The second pouch has ample space. It also has a keyring and an additional pouch to hold your IDs, wallet, and cellphone.
The main compartment holds the guns and is lined by a hard-plastic lining that maintains the shape of the backpack. There are two padded internal Pistol storage cases along with magazine storage.
You also get one padded compact pistol case that can also be opened and used as a range pad. There are 2 molded front covers for additional protection for your gear and belongings.
This tactical range backpack also comes with a visual I.D storage system for quick identification and access to gear. All the compartments are lined with a soft Velcro material so it's easy to attach stickers for your preference. 
When it comes to comfort, the G Outdoors Tactical Range Backpack is extremely convenient to carry with you. It has nice padded shoulder straps which balance the weight distribution and it doesn't dig into your shoulders.
This backpack also includes a waist belt that keeps the backpack secure and balanced while carrying it.
Overall, this is a solid backpack for people looking for enough space without compromising comfort. You also get added protection and security features. The advantages you get from this tactical range backpack are:
Made from extremely durable 1000D nylon
DuPont Teflon treatment makes the backpack water-resistant
The overall design makes everything you need easy to reach
Multiple compartments for everything you need to carry while having jam-proof zippers
Pull-out rain cover for sudden rain downpour protection
Visual I.D. storage system for easy identification
2 molded covers for additional protection
2 padded internal Pistol storage cases with magazine storage
However, not all products are perfect. Here are some things to take note of about this tactical range backpack:
A bit bulkier and heavier compared to your average range backpack
Shoulder straps could have been a bit longer to accommodate taller people
Why Buy?
A great tactical range backpack with all the space you need for essential things you want to bring while traveling. Extremely durable with water-resistant materials and waterproofing features.
G5 Outdoors Tactical Operations Rolling Case |...
PERFECT CHOICE FOR SHOOTERS - The 2 1/2 Gun Range Backpack from G.P.S. provides hands-free, secure...
DURABLE TACTICAL GEAR - This tactical backpack is made of 1000 Denier heavy-duty material with...
2 HANDGUNS CAPACITY -This Tactical Range backpack features 2 separate removable pistol storage...
G Outdoors Products Tall Tactical
There are plenty of things to love about the G Outdoors Products Tall Tactical Range Backpack. If you're looking for one that is built to last even when subjected to a harsh environment, this range backpack is for you.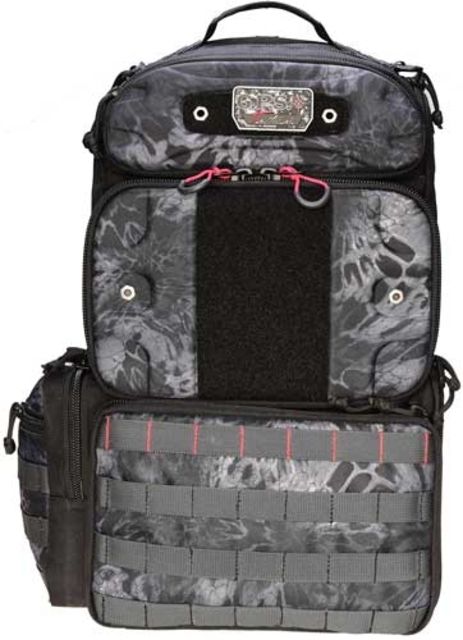 This range backpack uses YKK oversized lockable zippers with Paracord silent pulls for longevity and security.
It uses DuPont Teflon coated, 1000 Denier material for the shell and straps. They're tough and durable so it doesn't wear and tear easily.
Even when under harsh conditions for weeks, you won't notice stretched stitches or problems with the zipper. You even get a built-in, pull-out rain cover for additional protection from the rain.
Compared to the G Outdoors Products Tactical Range Backpack, the G Outdoor Products Tall Tactical Range Backpack houses more space. 
It also uses the same internal honeycomb frame as the G Outdoors Tactical Range Backpack. It can handle extreme load thanks to the honeycomb frame and padded waist straps. When you wear it, it feels stable and comfortable.
Generally, tactical range backpacks only get carried around from the car to the gun range. That's a short carrying time. If you compare this tactical range backpack in long hours of carrying to the average range backpack, it's slightly better.
This tactical range backpack is really comfortable on your neck, back, and shoulders even for longer periods of time.
The padded waist strap helps distribute the load throughout a person's center mass without causing discomfort in the area of the straps.
Shorter people might have a hard time carrying this tactical range because of its size. If you're short in stature, carrying this tactical range back might be uncomfortable for you. You might want to go with the original G.P.S tactical range backpack compared to this one which is a bit bulkier.
When it comes to storage and organization, this tactical range backpack has more storage and space compared to your average range backpack. It uses MOLLE (modular lightweight load-carrying equipment) for external carry capacity. This makes the backpack more organized.
You also get a visual ID system for easier identification and organization of your items. It uses images such as:
Eye protection
Ear protection
Ear muffs
Keys
Targets
Tools
Rain cover (built-in)
Ammo
This backpack will do well in both indoor and outdoor ranges. It can stand sturdy and stable on its own even if it's fully loaded. This is thanks to the internal honeycomb frame.
Because of its "tall" design, you won't have to leave the bench to access your items. You also avoid cluttering the bench for a clean and organized experience.
You also get a front compartment that folds open to 90º to allow the use of the Velcro placed round cups. It helps keep track of loose rounds in a convenient way.
This tactical range backpack also has a lot of compartments. It is equipped with 8 outside, zippered pockets. Two of them hold the 4, padded internal Pistol cases with magazine storage. The design provides spacious storage for all essential things you need.
Overall, if you want a bulky range backpack for storing many essential items, then the G Outdoors Tall Tactical Range Backpack should be your top choice. You are choosing this tactical range backpack for its advantages like:
Taller and roomier than the standard version
4 pistol storage cases with magazine storage
8 external zippered pockets
Padded waist strap for comfort and load stability
Pull-out rain cover
Visual ID Storage system to help quickly see your gear
1000 Denier heavy duty material with DuPont Teflon coating
If you need weatherproofing along with a simple but premium design, this is probably the range bag for you.
Why Buy?
A stable bulky tactical range backpack with a lot of storage compared to a regular range backpack.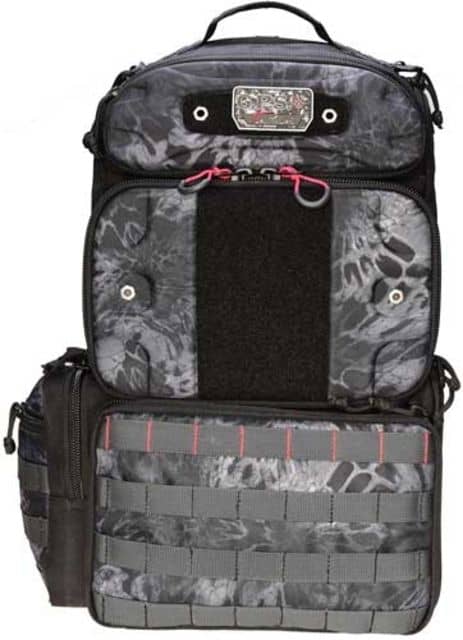 G Outdoors Products Tall Tactical Backpack
Padded waist and shoulder straps to keep you comfortable as you carry more gear
MOLLE for external carry capacity
Visual ID system to make it easier to organize items in the backpack
G.P.S. Handgunner Backpack
Whether you're a control-freak or trying to become one, the G.P.S. Rolling Handgunner Backpack is very intelligently designed to promote clutter-free carrying.
Not only does this high quality G.P.S. Tactical Range Backpack offer compartments aplenty for at least 4 handguns, they are wisely arranged so that no one main compartment gets in the way of another. Plus, they're labeled!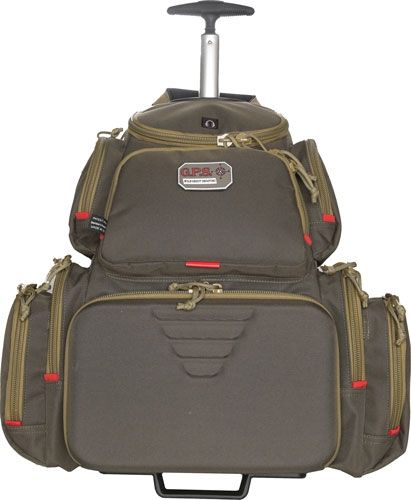 To start, with the G.P.S. Tactical Backpack, you'll get space for four handguns stored vertically, along with 12 main magazine storage slots. Side pockets are provided for an additional six magazine storage slots.
A foam cradle slides in and out to help protect four pistol or handguns, while crush-proof main compartments are perfect for safety glasses storage or other fragile things.
​The G.P.S. Tactical range bag is absolutely covered with spare compartments and slots, with absolutely zero wasted real estate. It's easy to store just about anything you need for your gun and still find room for first aid kits, cleaning supplies, and so on. There are even two dedicated holders for water bottles.
All compartments are zippered for extra security. Although the zipper brand does not appear to be a high-profile brand, they operate smoothly and seem long-lasting. The zippers are all easily accessible, with nothing "hidden" behind something else.
This bag is ideal if you plan to pack it full of gear, because you can roll it rather than carry it on your back. The ball bearing wheels are durable and can go over uneven terrain, and the handle can extend long enough so you don't have to bend over to pull it.
While the good gun range bag is not fully waterproof by design, it does offer a built-in rain cover, so as long as you use it, you'll enjoy protection from the elements.
A comfortable rubber handle also provides easy hand-carrying. A Velcro triple-stitched main compartment for storing badges or IDs allows easy access to these items or could be repurposed to hold most phones.
The construction of this high quality GPS tactical range bag is primarily a tough ballistic nylon with rubber and foam cradle reinforcement and padding. Besides the foam cradle reinforcement, the GPS tactical range bag should last a long time, although you'll want to be careful with sharper items like tactical knives.
As for size, the GPS tactical range bag is 16" x 10" x 19" and weighs seven pounds. the G.P.S. Tactical Backpack is perfect for a pistol or handguns, but too small for anything else. You can check and choose your options from either a black gun range bag with orange details or a gray digital camo design with black details.
Let's recap some of the advantages of this GPS tactical range backpack:
Provides exceptional organization space with countless compartments and labels

A slide-in, slide-out foam internal handgun tray or pistol keeps four handguns stored vertically

​Maximizes its already enough space like no other bag

Rain cover for waterproofing

included

Fairly sturdy construction, including decent zippers

The only one on the list that can roll

A great value
​Let's not forget some drawbacks:
​Will only fit handguns

Compartments don't have a Stitched MOLLE webbing system

​Might have too many compartments for some

​Not waterproof if you don't use the rain cover
Overall, this is an excellent bag for anyone who sticks to handguns and wants versatility and precise organization. Those who tend to range pack simply will likely be overwhelmed. You know what kind of person you are best!
The shooter who brings lots of stuff to the range and wants a convenient rolling solution will find a lot to love here. It provides the versatility of being appropriate in a range of environments with a little responsibility on the owner's part.
It's definitely an excellent value and should be seriously considered by anyone who loves organization.
Why Buy?
​Excellent value for maximized space and ​multiple compartments.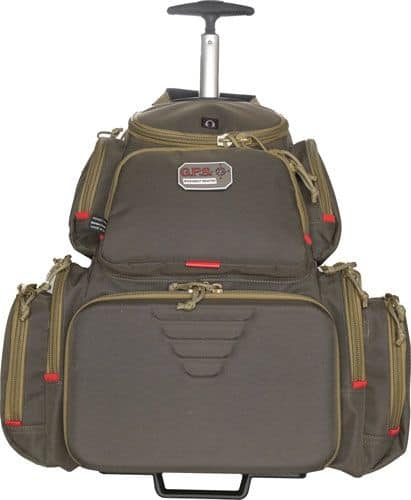 G.P.S. Rolling Handgunner Backpack
Adjustable handle with 2 wheels for smooth rolling capabilities over uneven surfaces
Hold up to 4 handguns with lockable zippers to protect and secure them
12in x 10in x 19in
Loaded Gear GX-600 Crossover Long
The Loaded Gear GX-600 Crossover Long Range Tactical Backpack is the perfect casual backpack for transporting tactical gear, electronics, tools, and other accessories.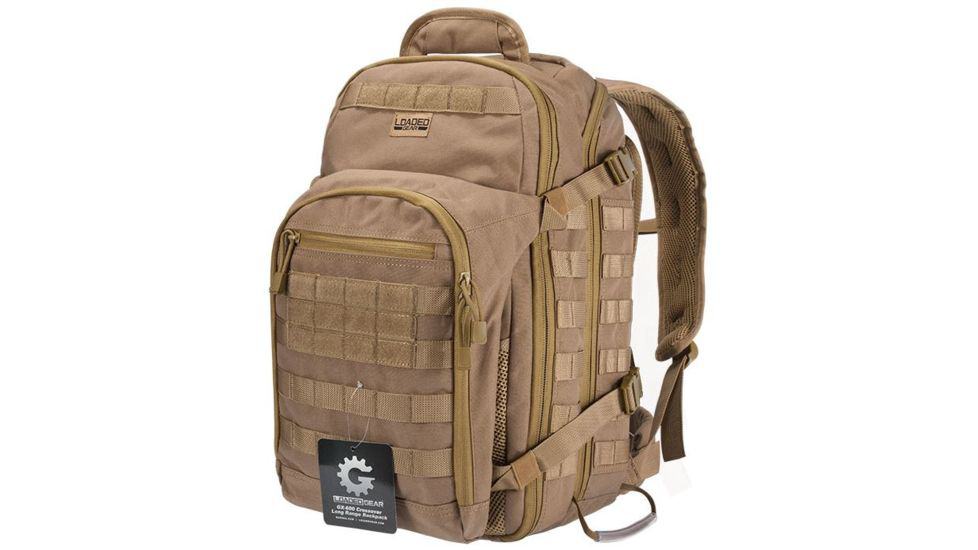 It features two main storage compartments for laptops or other equipment. It also has two smaller compartments to provide storage for additional items.
The compartments are spacious and you can fit in a full-size handgun in it. However, this backpack is catered towards the casual side, so you won't get padded pistol cases like the G Outdoors backpacks.
However, the all-purpose bulk item pocket was a great addition for storage. It also has a compartment specialized for laptop storage.
The backpack comes with an internal padded sleeve and a laptop compartment. It can fit 15-inch laptops so 17-inch ones are a no-go. You also get a quick access section for fast and easy usage of essential items.
The Loaded Gear GX-600 Crossover Backpack also features padded ergonomic shoulder straps and padded back support. It provides comfort for the user over long periods of time. It's perfect for long-range travel. 
You might even find that the shoulder straps on this one are better compared to the G Outdoors Tactical Range Backpack. However, it's not conclusive since both backpacks carry different weights.
The padded back support is great. Most range backpacks don't have great back support, unlike the GX-600. Most manufacturers assume they aren't used for long travel and it's true. Most people only use their range backpack to travel from home to the shooting range.
This makes this range backpack great for traveling long periods of time. It's great for survival simulations (or for the real thing) and when the shooting range is really wide.
The backpack also includes a padded waist belt and an additional sternum strap. It helps disperse the weight of the loaded backpack evenly across your upper body.
The padded waist belt is nothing special. It's the same as most range backpacks. The weight distribution functions properly and you won't feel discomfort when wearing this backpack for long periods of time.
This range backpack also has some convenient design. The GX-600 comes equipped with Velcro areas on the back of the unit. It is used for name tapes, unit patches, or other insignia. It's a convenient feature that most range backpacks have.
A MOLLE attachment system allows you to attach additional modular units and pouches. This is extremely convenient if you want some extra storage. You also have some reinforced carry handles to allow for an alternate carrying position.
To recap what this tactical range backpack has to offer. Its advantages include:
Dual main compartments along with 2 small accessory compartments
Ventilated padded back
Padded adjustable waist belt with compression straps on the sides
Front and side 1 inch MOLLE system for attaching extra accessories
Padded laptop sleeve
Velcro area for ID/ Morale patches
Overall, it's a great casual range backpack that is surprisingly great for usage over long periods of time. The padded back helps a lot in adding comfort when using it.
The compartments are nice and spacious. However, there are no specialized tactical/ weapon storages compared to the likes of a G Outdoors Tactical Range Backpack. Still, it's a comfortable and easy to carry casual range backpack for light travel.
Why Buy?
This is great for people who are new to firearms and just want to carry light. If you like going to the gun range yet don't own a gun, this range backpack is for you. It can store your weapons accessories and other essential items without being bulky.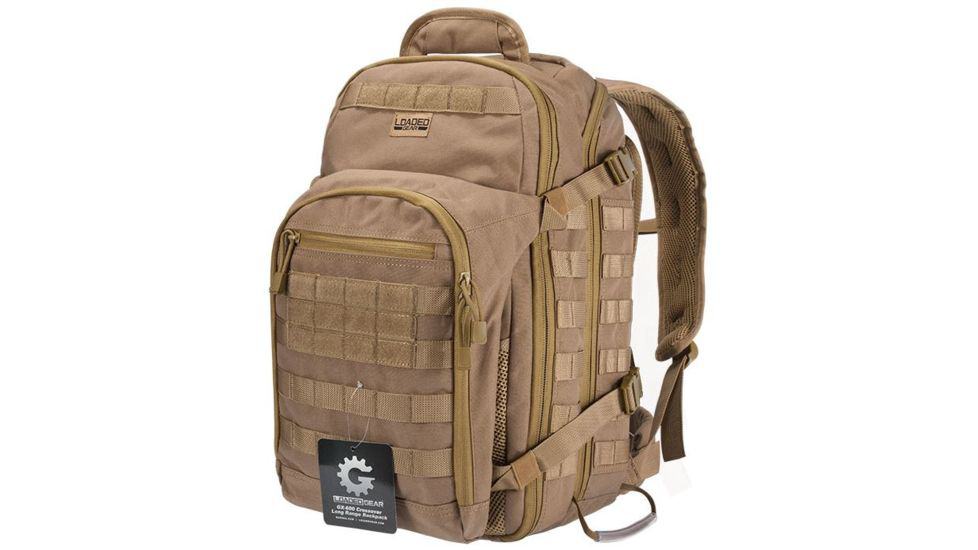 Comparing the Best Range Backpacks
| Specification | G Outdoors GPS-T1610BPT | GPS Tall Tactical | GPS Rolling Handgunner Range Backpack | Loaded Gear GX-600 Range Backpack |
| --- | --- | --- | --- | --- |
| Manufacturer | GPS | GPS | GPS | Loaded Gear |
| Material | Blend | Denier | Denier | Denier Light Weight Ballistic Nylon |
| External Dimensions | 11.34 inches | 12.9 inches | 19 inches | 19.69 inches |
Why You Should Invest in a Tactical Range Backpack
There are a lot of great reasons to invest in a tactical range backpack, and chances are you're already accustomed to and have accepted the problems that not having one causes. Too many gun owners simply toss their ammunition and goods in a regular backpack or duffle bag.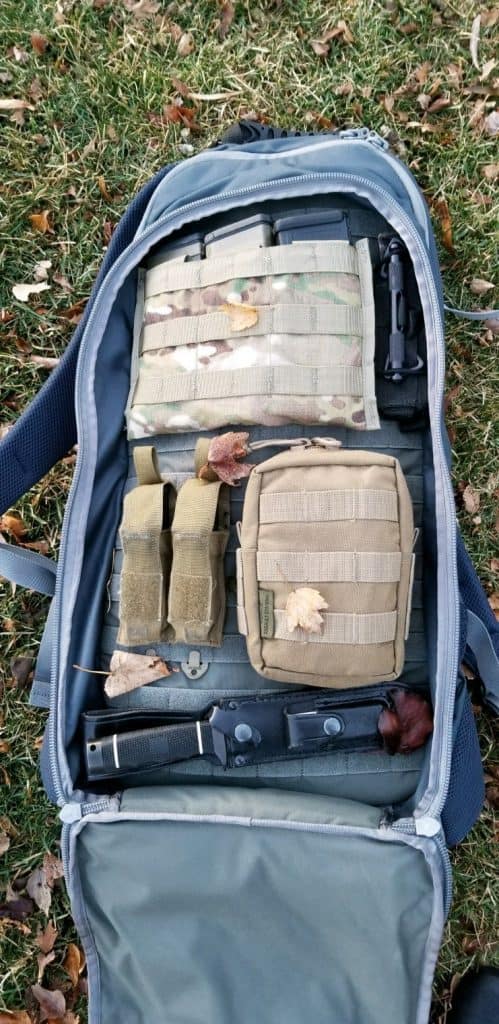 Does that sound familiar? You could be doing yourself a huge disservice by not investing in the proper shooting gear. Consider the two following scenarios.
Keep Your Gear Organized
In scenario one, you've taken your old duffel bag or a tactical range backpack out to the range, and when it comes time to load up, you dig through all of your ammunition, accessories, spilling out your expensive components on the hard floor.
You dig through everything, having to remove boxes of ammunition, and before you know it you've removed everything just to have to put it all back in.
Protection From Rain
In scenario two, you've taken your large bag to the field and it begins to rain halfway through your session. You need to think fast: are all of your accessories waterproofed? Is your bag waterproofed?
Having an excellent tactical range backpack means not having to dig around in frustration for what you need. It also means protection from the elements.
Having a bag for all your shooting gear means you're toting around a lot of ammunition and expensive and important stuff, and it only makes sense to invest in proper protection and organization.
An Overlooked Accessory
​As is the case with so many products when it comes to gun ownership, you never know what you're missing until you have it. Imagine never having used anything beyond your stock iron sights, and suddenly discovering a reflex scope.
​So it is with a dedicated bag. With weatherproofing, main compartment labels, ammunition storage dedicated roll-out trays for handguns, and so much more, you'll find yourself wondering how you ever hit the range without the need a specialized bag.
If nothing else, you certainly won't miss the day that you break a part.
Benefits of Range Backpacks
With a proper tactical range backpack, you'll enjoy the following benefits:
​Your gear will be easier to carry and provide enhanced ergonomics.

​Your ammunition and accessories will be easier to find quickly.

​It will be easier to protect your more fragile components from crushing.

You'll save time at the range.

Weatherproofing will keep your ammunition and gear safe.

You'll decrease the wasted space in your car or truck.

Your back or arms will thank you during long treks.
As you can see, a tactical range backpack is a very wise investment. It's easy to pick the wrong tactical backpack that doesn't offer these benefits, so doing your homework is critical.
Thankfully, we've already done your homework, so read on!
Types and Brands of Range Backpacks
Now you know that you could use a range backpack, but are they all the same? Is there a difference between a range backpack and a best gun range bag? Thanks to a free market, many different designs do exist, but the primary distinction is between a range backpack and a backpack.
Types of Range Bags
A bag is more like a specialized duffel bag or hand-carried luggage, although they may have shoulder straps or telescoping handles or other features to make carrying easy. These straps and handles often provide an excellent amount of space and are great for when walking long distances—like deep into the woods—isn't expected.
A backpack, on the other hand, is just that. These generally offer less space but are designed to be carried on your back. These packs are thus much more portable and are better suited to a variety of environments.
As you might expect, gun range backpacks also are specialized for different types of guns by size. You're certainly not carrying your sniper rifle in a compact bag without a design for handguns. Bags for rifles are longer and often feature a main compartment for bipods, tripods, and other components handguns don't need.
Brand Names
Brand names generally offer a better product, but that doesn't mean there aren't practical solutions out there that can perform just fine.
Notable backpack brands like G Outdoors, Hackett, Osage River Tactical and even gun manufacturers like Smith and Wesson have excellent and reliable products but doing homework on the bags themselves to get a good match to your needs is still key.
For our guide, we look at the quality of the components and craftsmanship for optimum value. This means that the brand that produced the bag isn't as important as the brand that produced the zipper, for example. We'll cover why that's important below.
Things to Consider When Buying a Range Backpack
When it comes to choosing a great range backpack or bag, there are a number of things to consider ensuring you get a bag that really matches your needs.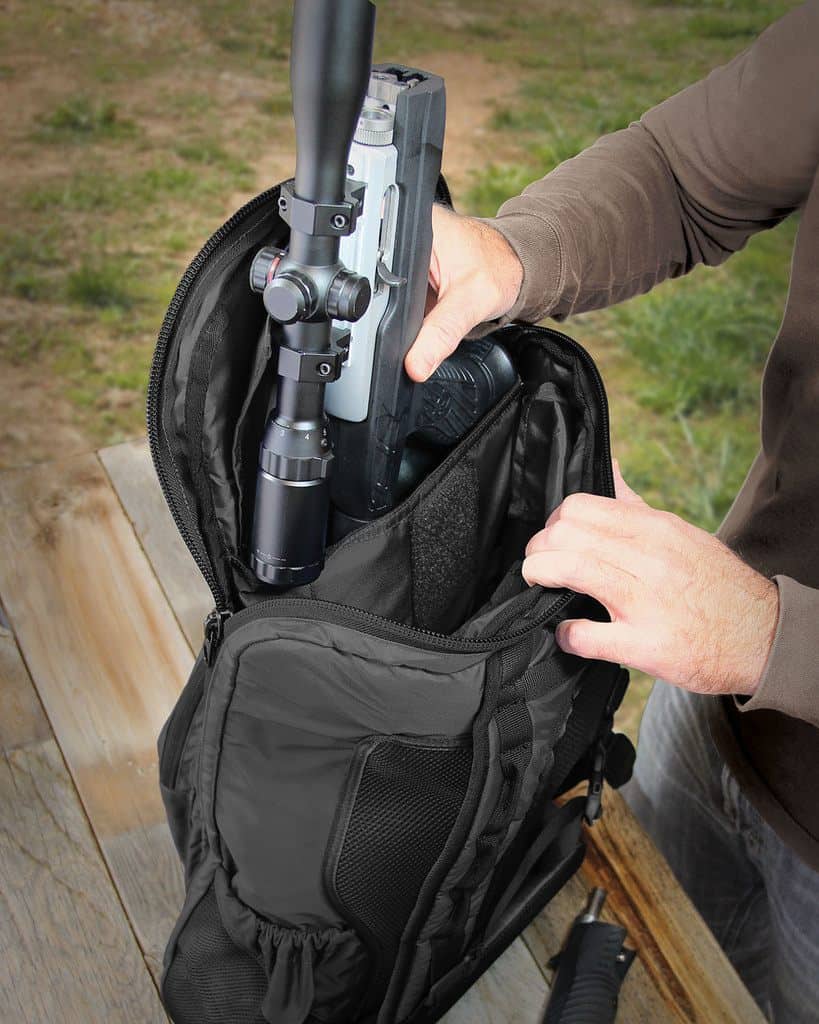 Portability
First, do you want your bag to be more portable or more spacious? A larger gear bag will generally provide more space for all your gear, whereas a smaller one will be less cumbersome but offer less space. There's no right or wrong here, it's just a matter of your preference.
Relatedly, do you want a range bag or a backpack? While this goes in tandem with the previous consideration, some may prefer the convenience of a back-mounted bag. Of course, it also frees your hands.
Type of Gun You Own
Of course, you shouldn't even look at bags for handguns if you have a sniper rifle. Aside from simply not fitting in smaller bags, rifles often require other components like tripods that handguns do not. You'll want a bag that's not only designed to fit your gun, but also its components.
Shooting Location
Do you expect to shoot outside? How about off of the shooting range? A tactical shooting gun range bag that's weatherproofed will provide the ability to take it out on hunts and protect your gear in any weather conditions.
Features to Look for in Range Backpacks
Since not all great range backpacks are created equal, there are several key components to keep an eye on. It's not just about quality, or a lifetime warranty, but also convenience and durability.
Zipper
A zipper might not seem too important, yet a high-quality standard and durable zipper will make sure a long life. Unless you're a real handyman, you might find yourself needing a new back as soon as the zipper breaks. The zipper is one of the few mechanical parts on a bag, so this seemingly minor part must be quality.
Bags that use quality parts will proudly say so. Look for bags handmade in countries known for superior manufacturing, like the US or Japan. If these components are glossed over, it's probably a red flag.
Compartments
This is one of the primary reasons we're not just using any old bag, remember? So be sure it has not only ample pouches but compartments that make sense for your needs.
If you mostly just want to store lots of ammo, your needs will be different from someone who wants lots of specialized spaces for gear, ammo, ear protection, etc.
Of course, it's easy for a bag to be too accommodating. Do you just want to bring spare ammo, ear protection, and safety glasses? Then you probably don't want a bag with tons of little pouches designed to fit a slew of scopes, ear protection, elastic loops, and other stuff.
Additionally, quality matters, too. Are the compartments reinforced to protect against crushing? Do they use MOLLE Webbing System? Don't break your shooting glasses! Crush-proof compartments ensure that your spare reflex sight doesn't get turned into debris under your ammo case.
Additionally, pouches that are of various sizes or have zippers or locking mechanisms ensure things don't get jostled around haphazardly.
Overall Design
Simple design choices can make a huge difference. Are compartments located in an intelligent way to allow easy access? Are there quality of life features, like padded shoulder straps on a hand-carried bag?
A really smart design doesn't matter much if it doesn't cater to your needs. For example, a bag that has tons of specialized and crush-proof compartments for a range of scopes and other delicate instruments is pointless if you just want a better sack for toting tons of ammo.
Keep how you shoot and what you'll be carrying in mind foremost. Typically, a bag is designed from beginning to end with a particular type of consumer in mind. If you don't mesh with this target consumer, you're not likely to get the bag that's right for you.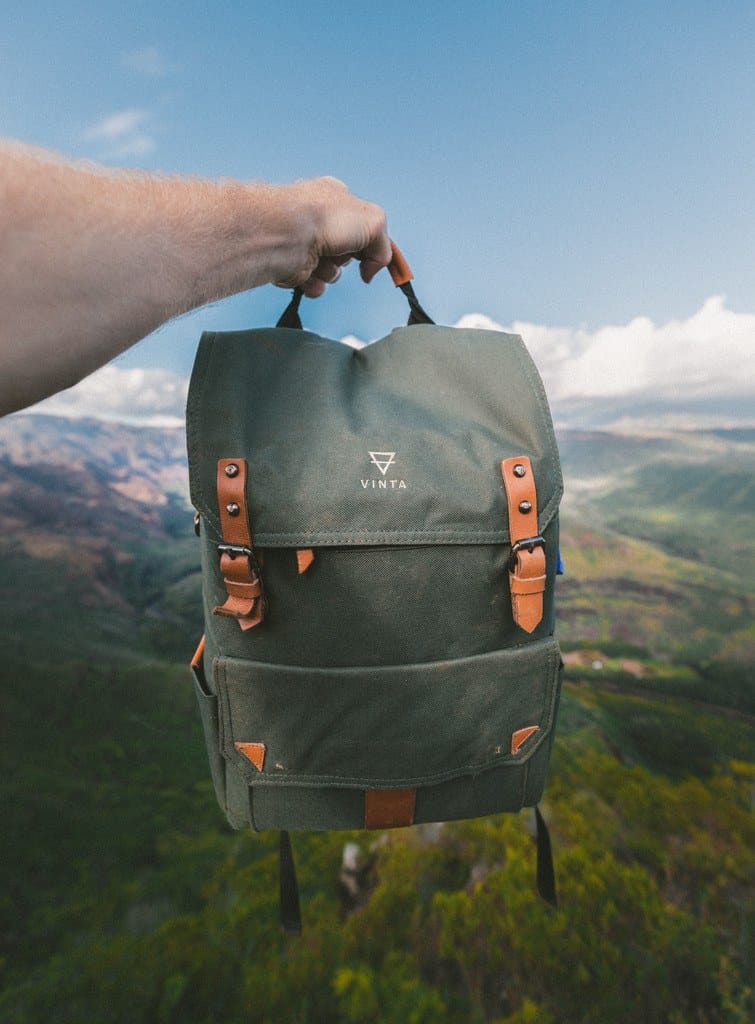 Size
It's easy to focus too much on the bag itself and its features and not your gun! Are you bringing a Glock to the range or an AR?
Needless to say, a bag might have all the features in the world that get you excited but if it's designed for a handgun and you're packing a rifle, you'll run into trouble.
Those who have a gun anywhere in the wide range between a handgun and a long rifle will want to pay very careful attention to this aspect.
Generally, bags cater to one extreme or the other. If you have a shotgun, for example, you'll have to weigh whether you want something too small, or potentially too large.
Plus, a bag might offer everything you need, but if it's so large it takes up your entire backseat, it might be cause for concern.
Generally, you want to find a bag that's large enough for everything you want to bring, with just a little extra room.
Too much and you'll find that your bag defeats the purpose of simplifying your outing.
Material
Material matters for two big reasons: durability and weatherproofing. Durability should be critical for everyone, as it ensures a long product life. But weatherproofing may not matter to those who only shoot indoors.
It's worth noting that durability and weatherproofing do not always go hand in hand. Heck, plastic wrap is waterproof, but you certainly don't want to use that. You'll want to find a product that clearly states how durable its material is regardless of what proofing it offers.
A bag that contains Nylon is a good starting point, as are various polymers. You'll want to avoid anything that's made from cloth, and certainly, run from anything that doesn't even mention what material it's constructed from!
Don't forget that the material used in components matters a lot, too, as low quality plastic buckles on a premium nylon bag won't do any good.
Related Questions
What Is a Range Backpack?
A range backpack has more compartments compared to a regular backpack. The compartments are designed to fit items such as guns, ammo, gear, and tools.
Can I Use a Backpack as a Range Bag?
Yes, you can use a backpack as a range bag. However, it won't have as many compartments as the range bag. It's also generally larger compared to a range bag.
Why Use a Range Bag?
A range bag is designed to accommodate items that you normally bring to a gun range. Hence, it's safer and more convenient to use if you're going to transport your shooting gear.
Conclusion
A gun range backpack or bag is a necessity for keeping your guns, ammo, and accessories organized and safe from damage. Providing better protection and more features than a generic style duffel bag, they offer many different designs.
Use our guide to determine your needs before going to purchase one model, and browse the products we've served up to match those needs to the best range bag for you!