As an Amazon Associate we earn from qualifying purchases.
Every shooter knows that getting an accurate round begins with having optimum powder on the ammunition. You can only achieve that if you follow the recommended powder load data and use the correct tools. Below is a guide on the Best Powder Trickler for a better shooting experience.
The Top Powder Trickler Available
Buying a good Powder Trickler can be a challenge for many shooters. You might find one that is not stable enough or one that is not that durable. It is not easy to know what is better and what is not worth your penny.
For that reason, we did a detailed analysis of some of the best powder tricklers and came up with these three as our top picks.
Brand
RCBS Powder Trickler – 9089
Lyman Brass Smith Powder Trickle
Hornady 050100 Powder Trickler
Product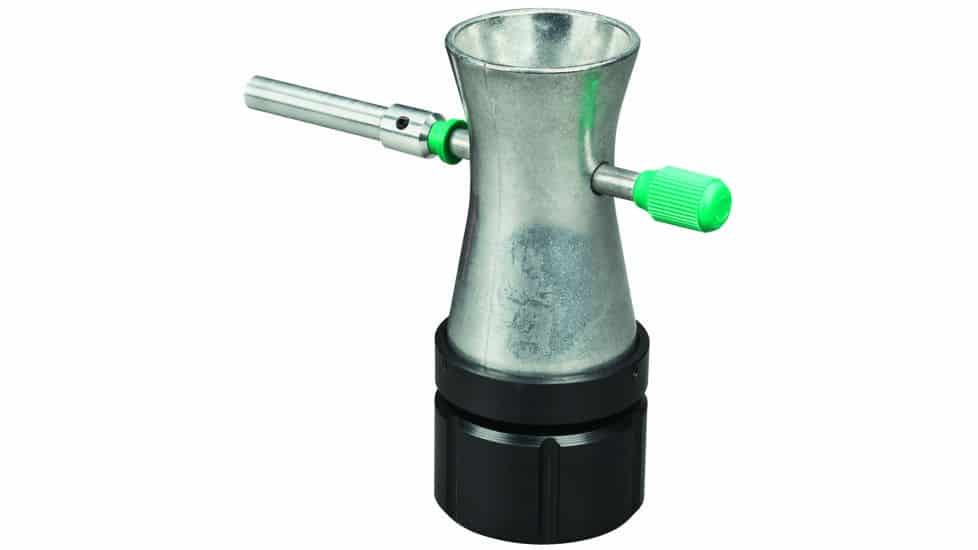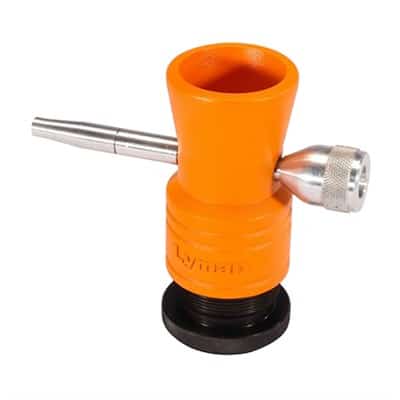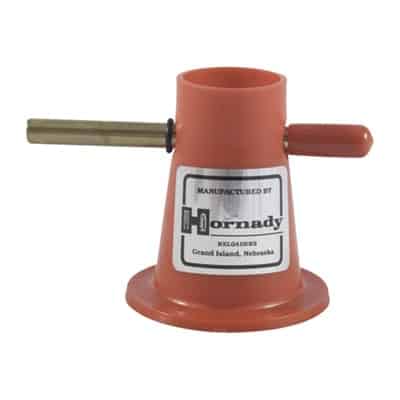 Product Dimensions
7.88 x 5.88 x 2.25 inches
2.54 x 18.542 x 22.86 inches; 6.38 Ounces
4.25 x 4.5 x 2.6 inches; 2.72 Ounces
Special Features
Has an attractive powder coat finish
Brand
RCBS Powder Trickler – 9089
Product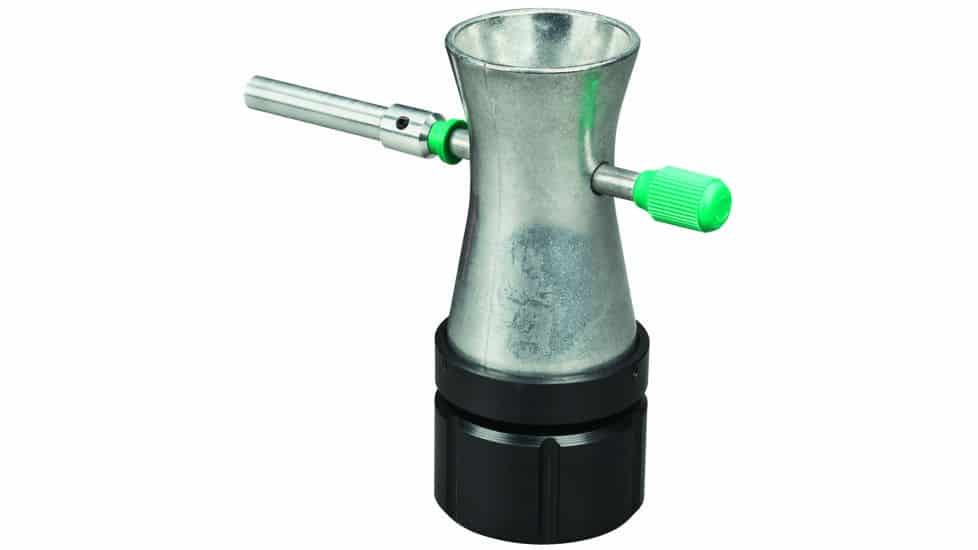 Product Dimensions
7.88 x 5.88 x 2.25 inches
Brand
Lyman Brass Smith Powder Trickle
Product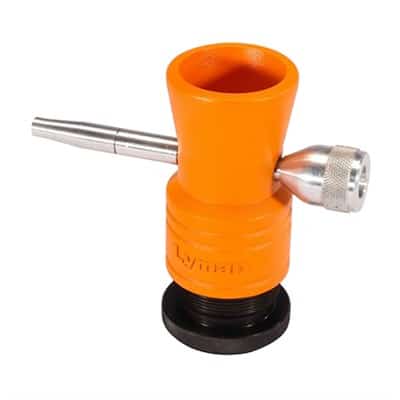 Product Dimensions
2.54 x 18.542 x 22.86 inches; 6.38 Ounces
Special Features
Has an attractive powder coat finish
Brand
Hornady 050100 Powder Trickler
Product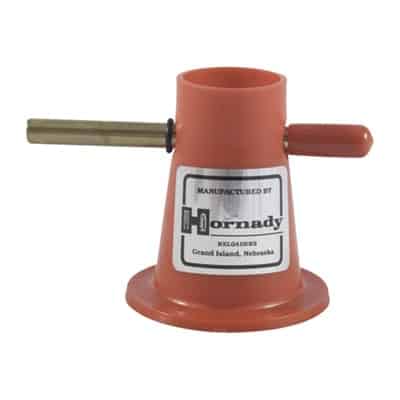 Product Dimensions
4.25 x 4.5 x 2.6 inches; 2.72 Ounces
RCBS Powder Trickler – 9089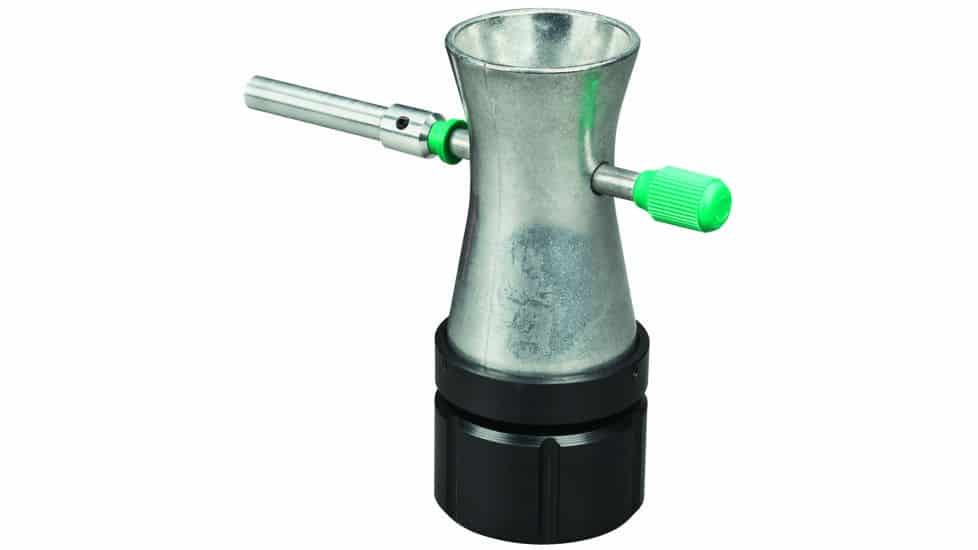 Anyone who has used a gun reloading equipment is familiar with the RCBS brand. They have been producing top-quality ammunition reloading equipment for rifles and pistols for more than 75 Years. With the RCBS Powder Trickler, they have come up with an affordable option while maintaining the top quality.
The secret in this device is its fine-tuning knob. This device boasts of the utmost precision in powder measurements. With a gentle twist on the knob, you can load one kernel at a time.
It also features an adjustable base that enables you to use it with both electrical and mechanical scale pans. The device has a broad base that makes it skid proof and ensures it is stable whenever you are using it.
Finally, the trickler also has a durable aluminum metal structure that guarantees you several years of service, free from rust and corrosion. The device has a large capacity reservoir that does not require frequent refilling.
What We Like
A broad base that makes it stay still when in use
Comes with an angle option for you to adjust the angle whenever you need to need
Has a nozzle extender to help you extend the nozzle reach
The fine-tuning knob allows you to get down 1-2 grains at a time
Quickly and precisely feeds powder into the scale pan
Works with almost all scale pans
What We Don't Like
Has no synthetic dust cover to prevent spilling
Lyman Brass Smith Powder Trickle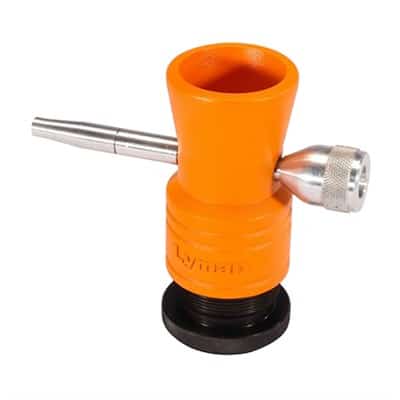 The Lyman Brass Smith Powder Trickler combines all the features that you could want from a trickler for a great value. To begin with, it has a free die-cast aluminum structure that ensures it gives you a lifetime of service. Additionally, the base of this machine features a solid piece of steel that gives it a lot of weight and stability.
This powder trickler also comes with an extendible aluminum feed tube that you can adjust for a longer or shorter reach. This specific feature makes it perfect for both electronic scales with wider bodies and mechanical beam scales.
Finally, the trickler diameter knob on the nozzle tube provides it with the added precision and control. When you gently twist this knob, it seamlessly advances your ammunition powder from the hopper.
What We Like
Adjustable height
Low center of gravity that makes it stale
Extendible Long-reach tube that has internal threads
Precise control for accurate measurements
Fit/finish with an attractive powder coat finish
What We Don't Like
The large burr-Internal cutout in the feed tube might sometimes hinder its performance 
Threads on the adjustable base have several dings
Not so easy to clean because it leaves a lot of debris on the unit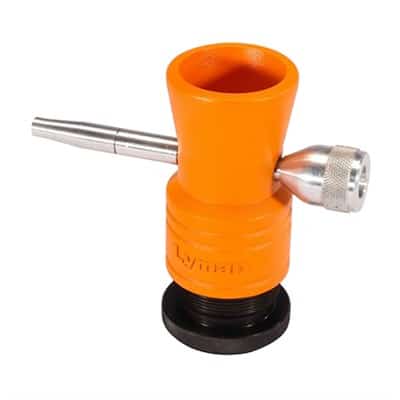 Hornady Powder Trickler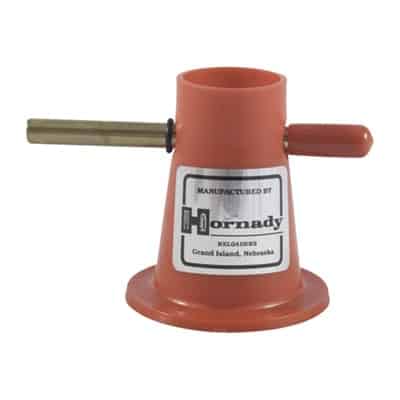 The Hornady 050100 Powder Trickler is another product from a renowned company in the business for decades. If you ever want to buy one of the most stable and best powder tricklers in the market at an affordable amount, then look no further.
The cone shape design of this item gives you the confidence that it will remain in place even with more intense tickling. The machine also uses a rubber grommet at the bottom that makes it slide free.
Its large capacity can handle loads of ammunition powder without compromising the accuracy. It minimizes the possibility of any wastage as you can use it to trickle every last drop of a grain of powder into your measuring pan.
Its perfect height also makes it usable with almost all powder dishes. To use it, turn the knob, and the powder will slowly trickle into your scale pan for the precise measurements.
This powder trickler consists of durable and lightweight materials that make it easily portable. Finally, the device uses a small amount of powder to fill. The simple and obvious structure makes it easy to clean and maintain.
What We Like
Great design with a broad base that ensures utmost stability
Gives consistent, precise and accurate ammunition powder measurements
Lightweight and portable but yet still durable
Quick and easy cleanup
What We Don't Like
It is small and not suitable for heavy-duty use
Being lightweight makes it too easy to tip over
What to Look for When Buying The Best Powder Trickler
Any serious reloader knows that every bullet type has a specific amount of ammunition powder that gives the power it needs to exit the gun muzzle. Incorrect powder measurements will lead to inaccurate rounds. Inaccurate power loads are also dangerous to shoot.
Getting the optimum powder measurement for your bullet is the starting point for finding the right power and bullet accuracy. Every ammunition has a recommended power load for its level. However, you cannot follow the correct powder load data if you do not have the right measurement tools.
Below is a list of factors that will guide you to getting a good trickler: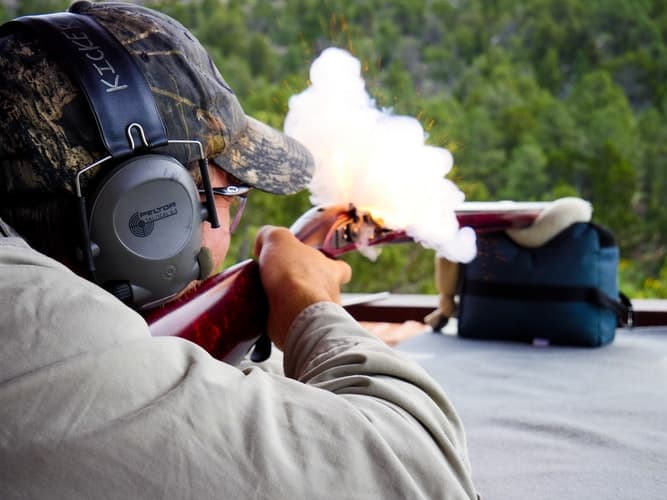 Accuracy
Accuracy is the main reason why everyone wants to use powder tricklers when reloading their guns to get the perfect powder charge. Your powder trickler should be able to account for every drop of grain. The best trickler should show some level of consistency with accuracy too.
A good powder trickler should have internally-threaded tubes to enable it to move a small amount of powder, preferable one or two kernels at a time. The small-bit trickling should continue until the scale gives the desired accurate powder weight.
Stability
You do not want to have a tipsy trickler that will tip over or bump your scale every time you want to measure the amount of powder you want. Your powder tricklers should be stable enough to support its weight and adjustable height.
The base should be wide enough to prevent it from tipping over, and it should have a grommet at the bottom to prevent it from sliding. A stable trickler will give you more accurate measurements while minimizing any waste from occasional spills and tip-overs.
Durability
If you want a durable trickler that will last a lifetime, buy one made from heavy-duty materials like steel or aluminum. Such materials are resistant to wear and tears that come with consistent loading and heavy trickling. They are also free from rust and corrosion.
Adjustable Height
A trickler with an adjustable height is flexible, and you can use it on any scale platform. The ability to lower and raise your tricklers height allows you to fit it on a scale of any size.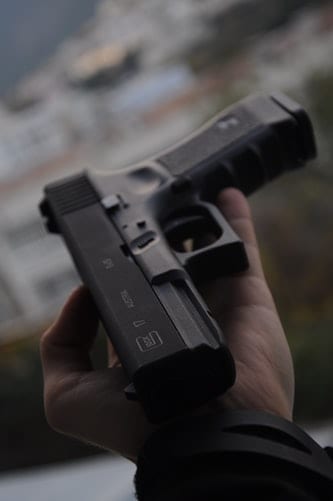 Its base and stability should also support the adjustable height. The higher it can go, the more extensive the base it should have.
Capacity
Capacity is vital for planning purposes. A trickler that can hold a big amount of powder is ideal if you are a reloader who prefers to do several cartridges at once.
The higher its capacity, the less extra work you will have during the reloading process.
Ease of Cleaning
When going to buy a trickler, you should pay attention to such small yet significant factors like ease of cleaning. You need to pick one that does not retain a lot of debris and is easy to maintain.
A trickler that is difficult to clean might become an unworthy investment because it might fail with time due to blocked nozzle and similar issues.
Price 
Before you buy any powder tricklers on the market, you need to consider whether its value matches its quality and effectiveness.  Other factors that determine the amount of powder trickler value are its capacity, and manufacturer.
For example, a leading brand like  RCBS  will sell its trickler at a higher range than upcoming manufacturers. You can always cross-check the feature against the value from various outlets before you but your trickler.
Number of Cases to Reload
If you want to reload large case volumes, then you might go for a faster powder loader. Electric loaders are generally quick and less time consuming than their manual counterparts.
Yet they give the same precision and accuracy. However, there are more manual versions in the market than there are electric tricklers.
Bottom Line
A good shooting experience requires proper preparations from loading to carrying enough bullets to the range. Hopefully, after reading this buying guide and finding the right powder trickler for you, you will have a better loading process and a fantastic shooting experience.