As an Amazon Associate we earn from qualifying purchases.
Do you find yourself making simple reloading errors when taking measurements? The problem might be the caliper you are using. If you have been reloading ammo for long enough, you must know how slight measuring errors can inconvenience the whole shooting experience.
The Top Calipers for Reloading Available
Finding the best calipers for reloading will help you be more accurate and avoid mistakes. That's why we prepared this guide, to help you get your ideal reloading caliper. We've also included a section on the top features you need to consider when buying a caliper for reloading, to help you make an informed decision.
Brand
Neiko 01407a Electronic Digital Caliper
VINCA DCLA-0605 Quality Electronic Digital 8" Vernier Caliper
Product
Size
3.94 x 1.18 x 8.66 inches; 6 Ounces
6 x 1 x 1 inches; 0.01 ounces
Product
Size
3.94 x 1.18 x 8.66 inches; 6 Ounces
Brand
Neiko 01407a Electronic Digital Caliper
Product
Size
6 x 1 x 1 inches; 0.01 ounces
Brand
VINCA DCLA-0605 Quality Electronic Digital 8" Vernier Caliper
Product
Mitutoyo 500-196-30 cal Absolute Advanced Onsite Sensor (Aos) Digital Caliper
The Mitutoyo 500-196-30 has set the digital caliper competition to a high new level. It is unique and employs modern innovations that set it apart. This smart caliper features an origin point function, which helps you trace your starting point in the measurement process.
This model is a great tool when you want to do multiple measurements in quick succession. You don't need to repeat the zeroing process now and then because, with this tool, you only do it once you place the head.
This caliper features an advanced onsite sensor (AOS), a phenomenal and innovative electromagnetic inductive sensor for resistance to dirt, oil, and water. This helps to keep the tool clean, efficient, and durable. You can use this tool in most adverse weather conditions and it'd still function effectively.
With this versatile caliper, you will be able to measure inside, outside, depth, and step values. It gives measurements between 0 to 6 inches and gives you an accurate report (inch or metric units) on the digital readout LCD screen.
Finally, the Mitutoyo 500-196-30 comes with a protective case and an SR44 silver oxide battery. It also has a Certificate of Calibration and meets the International Organization for Standardization/International Electrotechnical Commission (ISO/IEC) 17025 International Standard for testing and calibration laboratories.
What We Like
Has Advanced Onsite Sensor for dirt, oil, and water resistance
Comes with a protective case
Comes with an extra battery
Helps you track your point of origin once set
Incredible design with a durable frame that gives easy sliding motion
Tin coating provides perfect action
Provides perfect accuracy and precision
What We Don't Like
Lacks clipped jaws
A bit pricier than other dial calipers
Mitutoyo 500-196-30 Advanced Onsite Sensor (AOS)...
Measures 0 to 6" (0 to 150mm) in 0.0005" (0.01mm) increments for precision use
Digital readout LCD shows inch or metric units for versatility when measuring
Advanced onsite sensor (AOS) electromagnetic inductive sensor for resistance to dirt, oil, and water
Neiko 01407a Electronic Digital Caliper
One thing that makes the Neiko 01407A Electronic Digital Caliper stand out from its peers is its large-sized LCD. It shows numbers in easy to read, larger-sized texts. With a click of a button, you can switch between the three measurement modes, inch, fractions, millimeter.
The kind of precision and accuracy that this caliper provides is amazing. The measurement ranges from 0 to 8 inches and gives an accuracy of 0.001 inches with a resolution of 0.0005 inches / 1/128 inches.
This caliper offers versatility as it measures the inside, outside, depth, and step with two sets of jaws and the probe. It also comes with an extra replacement LR44 battery and another battery already in the custom fit storage case.
The product has a well-calibrated finely-polished stainless-steel frame with an easy to adjust roller. The locking screw ensures a seamless and smooth motion when you slide the caliper slid across the steel frame.
Overall, this caliper is a great option for whether you're a beginner or you have plenty of experience reloading ammunition.
What We Like
Has a large easy to read LCD
Allows you to switch between measurements easily
The device is lightweight and durable
It slides easily across the frame
It is easy to use and doesn't need extra assembly after you unpack it
What We Don't Like
Rubber buttons can occasionally get stuck and slow you down
The gap between the internal measuring jaws interferes with accuracy when measuring the inside Diameter
NEIKO 01407A Electronic Digital Caliper Measuring...
MULTI-FUNCTION: This measuring tool has a quick-change button that changes between three measuring...
THREE UNIT CONVERSION: The electronic digital caliper micrometer measurement range is 0" - 6"...
QUALITY: The body of the digital caliper is constructed using finely polished stainless steel with a...
VINCA DCLA-0605 Quality Electronic Digital 8" Vernier Caliper 
The first thing you will love about the VINCA-DCLA-0605 Caliper is the high-quality stainless steel body that gives it a beautiful and smooth finish. Besides looks, the elegant and seamless depth meter groove helps it to slide smoothly for accurate results. The caliper is ideal for both home and site use.
This caliper has a measurement range of between 0-8 inches and shows you the results on 0.5 inches by 1.5 inches digital display. This extra-large size screen has a resolution of 0.0005 inches 1/128 inches for additional accuracy.
The machine has a provision of error of ±0.001 inches. The digital caliper gives data in inches and metrics. It also does faction conversion.
This caliper is ready to use the device once you unpack it. It comes with a red box and two batteries, one already installed and a spare.
With this device, you can always connect and transfer data to your PC. It features an RS232 Data transfer port that is only compatible with VINCA DTCR-03 cables. We recommend that you do not buy a regular USB cable for this purpose.
Finally, this digital caliper model comes with a NIST traceable calibration certificate.
What We Like
Portrays incredible accuracy
Well-designed with Fine stainless-steel body
Comes with NIST traceable calibration certificate
Provides measurements for inside and outside diameters, depth, and step easily
What We Don't Like
The battery only lasts for up to six months at most
The plastic tabs
You will take a lot of time to break it in
Only uses VINCA DTCR-03 cables
VINCA DCLA-0605 Electronic Digital Vernier...
Higher quality lower price stainless steel digital caliper with inch/metric/fraction conversion;...
Fine polished stainless steel and NEW processing of depthometer's groove give better looking, smooth...
Measure Range: 0-6 inches/150mm; Display: 1/2"x1 1/2" (13mm x 38mm) extra large screen; Accuracy:...
Hornady Steel Dial Caliper
The functionality for the Hornady Steel Dial caliper is the same as the digital one except that it uses the dial display instead of the LCD screen. The dial display makes it easier to read your measurement data in both inches and fractions.
The quality and durability of this caliper is plausible. It features a thumbwheel that aids in easy opening and closing. Plus, it comes at a fair rate.
With this caliper, you will be able to measure bullet length, primer pocket depth, case length, inside and outside case diameter, and overall cartridge length.
The Hornady Dial Calliper features a stainless-steel frame with a shock-resistant dial setting the accuracy to +/- 0.001. Its structure features high-quality materials with a lockable knob to help you control the slide while using it. With the knob, the machine is easy to zero and will give you accurate and precise results.
The device also makes remeasuring easier and faster since you do not need to worry about readjusting the jaws because of occasional slips. It is ideal for seasoned reloaders who need a reliable caliper to confirm the accuracy of their measurements.
What We Like
Built with durable stainless-steel material so that it will last
The slide is lockable in any position for precise measurements
Comes with a nice plastic storage case
What We Don't Like
Do not provide the required accuracy and precision as other options
The gear track is a bit resistant and prevents smooth sliding
Not a good clipper for beginners
Dial calipers do not give the same level of accuracy as digital calipers
Hornady Digital Caliper, 050080-6 Inch Electronic...
Take Precise Measurements - having precision reloading tools and accessories such as the Hornady...
Large, Easy to Read LCD Screen - this digital caliper is quick to setup, easy to use, and extremely...
Great Caliper Tool for Reloaders - Hornady digital calipers will ensure you have a properly measured...
Top Features to Consider When Buying Calipers for Reloading
While all calipers serve the same purpose, some factors will influence your pick. Here is a breakdown of some features that you should check for before you pay for a caliper.
Accuracy and Precision
Of all the factors, this one ranks fast because it is the primary reason for buying a caliper. You need to trust your data, and the only way to do that is by buying the most accurate caliper you can afford.
We recommend that you buy a caliper with an accuracy of 0.001 inches.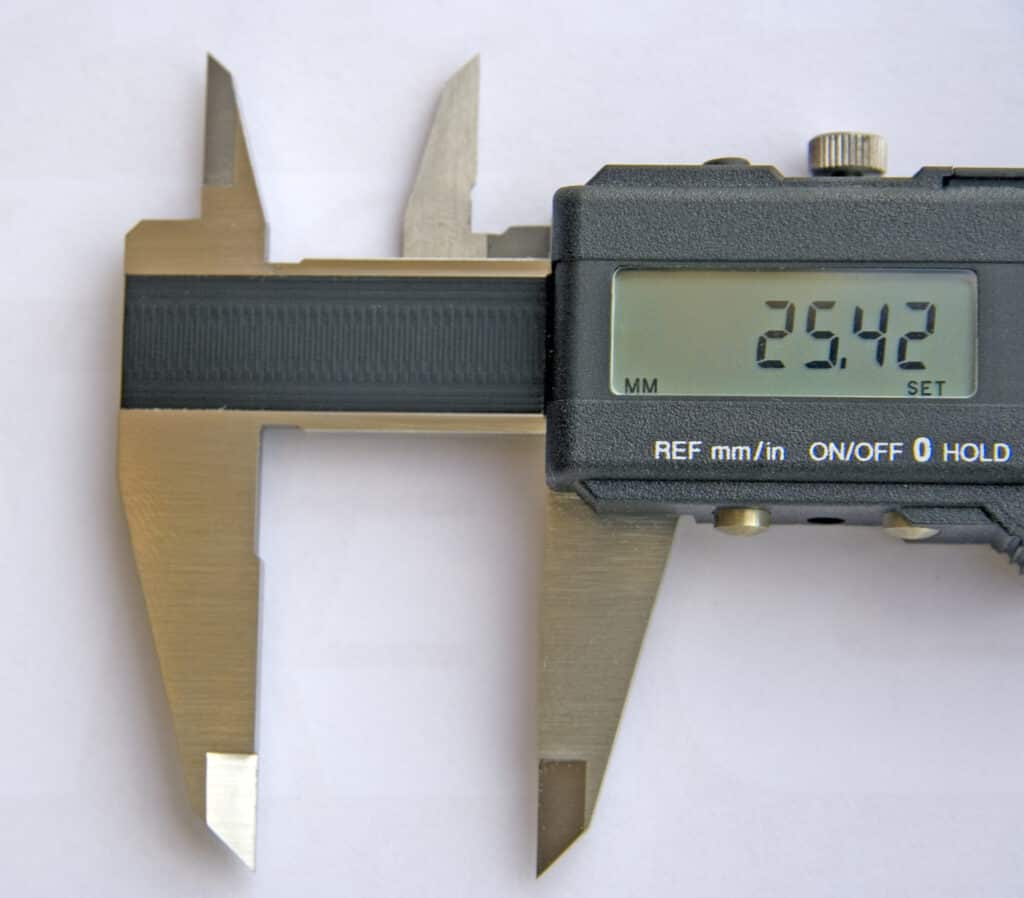 Variety in Measuring Modes
A right caliper should provide options for various measuring modes. It would be best to decide whether you want a fractional, Imperial, or decimal caliper before you buy one. This versatility gives you the alternative to interpreting the data; however, it is best for you. 
You may even go for one that offers you more than one option.
Construction
The construction of your caliper will affect its durability and determine how its slides, hence accuracy and precision. Always ensure that the frame of the caliper you want to buy is of stainless steel with a seamless and smooth finish.
Relative Zero
If you buy a caliper for reloading, settle for one that enables you to zero out quickly.  This is important if you need to compare various measurements frequently.
If you plan to use several cartridges for your reloading exercise, we recommend that you consider buying a caliper with the relatively zero functionality. However, if you plan to use a single cartridge in most cases, this feature is not that crucial.
Ease of Calibration
Calibrating a caliper means tightening it and adjusting its components, and ensuring that its measuring head continues to provide accurate and precise measurements as intended.
Whether you want to buy a standard or dial caliper, you will need to calibrate it at least once a year. Therefore you should buy a simple one instead of an overly complicated tool.
Weatherproof
We recommend finding a waterproof caliper if you plan to do your reloading out in the shooting fields or open range. Sometimes the weather out there might not be so pleasant, and it may mean that you reload in extreme conditions, including rain.
Battery Life
When buying a digital caliper, check and confirm that the battery will serve you for the longest time possible. You do not want to run to the store now and then get battery replacements.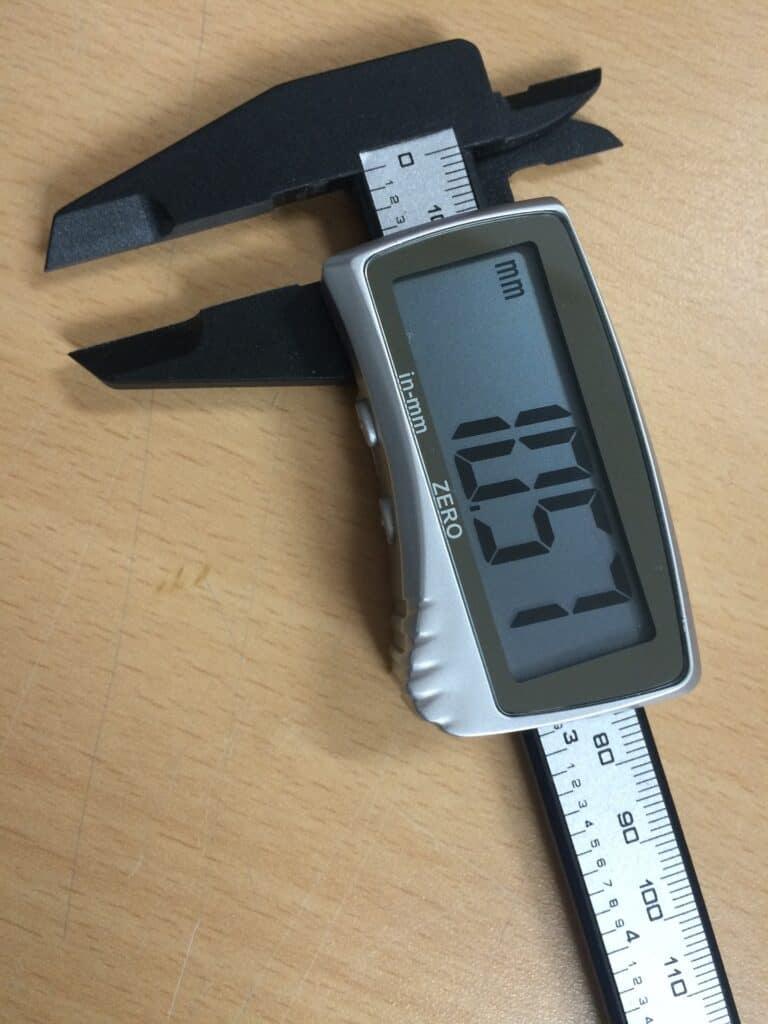 Also, take advantage of models that come with additional batteries. With extra batteries, you can always avoid any inconvenience by using one while the other one charges. Or, you can carry the other one with you to the sites as a backup.
Type of Measurements
A perfect caliper should give all the four types of measurements: outside and inside diameters, depth, and step. The depth function is ideal for measuring small objects that are difficult to reach, while the step function should help you utilize the back-step of your caliper.
Also, your caliper should have sharp and stainless-steel jaws; and the top jaws to measure the inside and outside diameters, respectively.
Type of Calipers
Dial calipers dominated the industry for a long time before the invention of digital calipers.
Partly because they were part of the very first inventions, and to some extent, it is because they are less demanding when it comes to accessories.
They do not use batteries and are flexible enough for any weather conditions. When you want to buy a caliper, you should also compare this feature and pick what works better.
Digital calipers are also better when you consider factors such as recalibration and accuracy. However, Dial calipers are less complicated to use and easier to maintain.
Measurement Range
There are three categories of measurement ranges for reloading calipers, 6-inch, 8-inch, and 12-inch calipers. Depending on the type and size of your caliber, feel free to choose any of these measurement ranges.
Additional Features
We recommend that you look for extra features like tightening knobs to improve resistance and precision.
Features such as the RS232 Data transfer port in the VINCA DCLA-0605 Quality Electronic Digital prove to be helpful as you do not have to carry a pen and paper for records. You can safely transfer your data to a computer drive for future analysis and reference.
Conclusion
With the best caliper, your gun reloading experience will never be the same. You will have zero errors and a fun reloading process. We hope that this guide helps you find a caliper that clicks with your specific needs and preferences.