As an Amazon Associate we earn from qualifying purchases.
Are you looking for the best beam reloading scale? When it comes to reloading cartridges, accuracy is key. For this reason, you need to get an effective one to avoid wastage. That is where I come in.
The Top Beam Reloading Scale Available
After doing extensive research, and tests, the following are my top 3 choices. Towards the end of this guide, I will let you in on the main features to check out when buying a beam reloading scale, and the right way to use it.
Brand
RCBS M1000 Magnetic 98916 Powder Scale
Hornady 050109 Lock-N-Load Balance Beam Scale
OHAUS 30393272 5-0-5 Reloading Scale
Product
Brand
RCBS M1000 Magnetic 98916 Powder Scale
Product
Brand
Hornady 050109 Lock-N-Load Balance Beam Scale
Product
Brand
OHAUS 30393272 5-0-5 Reloading Scale
Product
RCBS M1000 Magnetic 98916 Powder Scale
The RCBS M1000 Magnetic reloading scale favors both right-handed and left-handed reloaders. This high-performance scale weighs 2.4 pounds and has exemplary productivity. It features a high-quality alloy metal construction for added durability.
In terms of capacity, this reloading scale can weigh up to 1000 grains to allow for weighing large amounts of powder at the same time. This is the largest capacity compared to other scales in this guide. Moreover, it has a readability of 0.1 grain, which allows you to measure accurate loads.
The magnetic damping system allows you to have maintenance-free movements and fast readings. It has a three poise system. The main poise runs to 1000 grains, the medium goes up to 20 grains, and the last one spans 1 grain in 0.1-grain increments to achieve the much-needed precision.
RCBS M1000 comes in an impressive, rigid design. The metal pan is tip-proof and the green-painted aluminum base is die-cast. The two features offer you optimum stability as you work on your cartridges.
Features
1000-grain capacity
0.1-grain accuracy
Magnetic damping system
Weighs 2.4 pounds
Triple-poise system
Tip-proof metal pan
Green-painted die-cast aluminum base
3 separate pointers
Ambidextrous
What I Like
Very accurate and durable
Has high productivity
Allows fine modifications
Commendable stability when weighing
Easy to read over and under loads
Favors both the right-handed and left-handed
What I Don't Like
It is manual
Quite expensive
Hornady 050109 Lock-N-Load Balance Beam Scale
If you want to reload your ammunition in a hassle-free way, consider this option. The Hornady Lock-N-Load Balance Beam Scale has a 500-grain capacity and plus or minus 0.1-grain sensitivity. Like my RCBS M100, the sensitivity ensures you get precise and repeatable results.
Another thing they have in common is the magnetic dampener. The main purpose of this feature is to facilitate fast and accurate results. Due to the two specifications, the scale is easy to work with for a beginner.
The balance bar doesn't flake or peel because it's laser etched and easy to read. The pan hanger's mold design offers a perfect fit. It has hardened pivot pins and bearing which enhances the weighing scale's durability.
Features
Molded pan hanger for a better fit
Measurement range from 0 to 500 grains
0.1-grain sensitivity
Hardened pivot pins and bearings for durability
Magnetic dampener for fast, accurate measurements
Easy-to-read laser-etched bar
What I Like
Precision in measurements
Impressive easy-to-read design
Anti-flake and  anti-peel balance bar
Very durable
Convenient and practical
What I Don't Like
Just like my first choice, it is also mechanical
Hornady Lock-N-Load Beam Scale - Analog Powder...
Hornady Reloading Beam Scale – For reloading enthusiasts that prefer an analog powder measure...
Precise and Consistent – The Hornady Scale has a classic, time-proven manual balance system that...
Easy to Read Measurements – The balance bar of this Hornady Powder Scale is laser etched and will...
OHAUS 30393272 5-0-5 Reloading Scale
If you are a fan of Ohaus, try this one out. The Ohaus 5-0-5 reloading scale is accurate and dependable. From the 1960s, it has been the ideal bullet and shot reloading scale for competitive sport shooters. It is compact therefore easier to store in comparison to other models.
The Ohaus 505 has a capacity of 500 grains, with 0.1-grain accuracy. This helps you measure precise quantities without a lot of trouble. You get a pair of poise consisting of a large and small aluminum weight that allows you to make coarse or fine adjustments.
For ease in reading, the black aluminum beam has a black and white high-visibility faceplate, complete with a black poise that shows the weight you are reading. On top of a built-in leveling foot, the base constitutes strong, die-cast steel for impeccable stability as you work.
Features
500 grains capacity
0.1 grains accuracy
Black and white high-visibility plate
Built-in leveling foot
Hard, die-cast steel material
Black aluminum beam
Compact dimensions
What I Like
Easy to store and read
Ideal size for most reloaders
Stable and durable
Easy to read
Very affordable
What I Don't Like
It is a little less stable compared to other reloading scales
What to Consider When Buying a Beam Reloading Scale
There are a couple of factors you have to check out before settling on one beam reloading scale. They determine how effective, accurate, and convenient the scale is. With that in mind, it comes down to the following factors:
Accuracy
It would be such a waste if you jeopardize your load quality because of inaccuracy. On that note, you should get a reloading scale with at least 0.1-grain accuracy.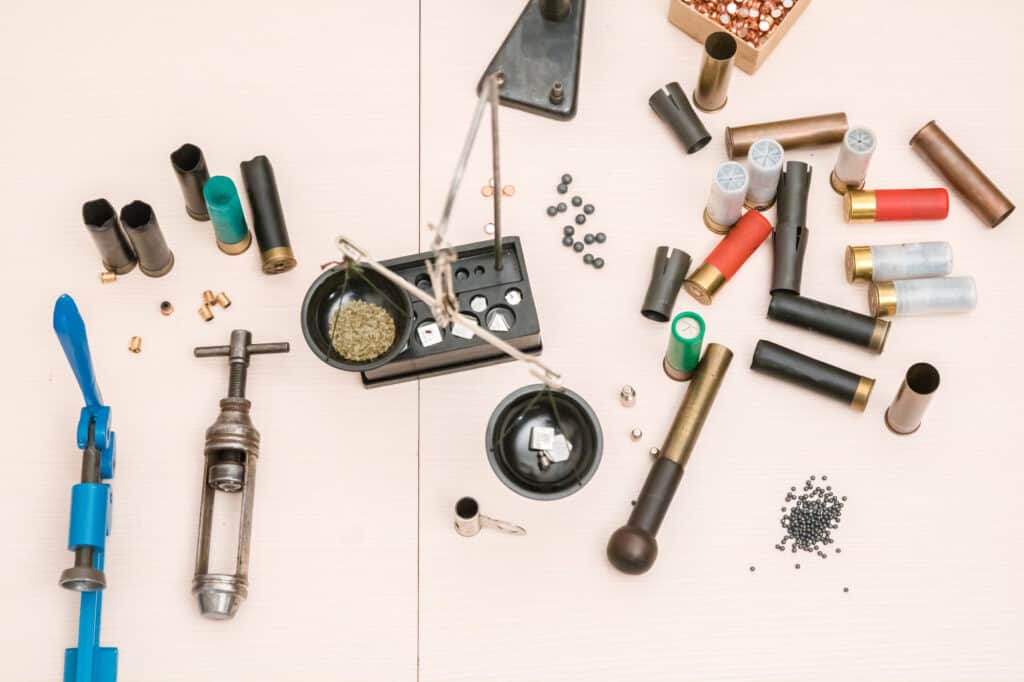 Note that a deviation of as little as 0.5 grain might cause potential ruin. For example, if a cartridge requires 150 grains, going over or under load should not happen. When it does, your bullets fire abnormally and there is a high possibility you will miss targets.
Capacity
Different reloaders require different capacities. A higher capacity can help you fill cartridges faster and give you more options. On the contrary, it will take more space since it has a longer beam hence a larger scale.
Are you loading a single cartridge at a time or filling the hopper? If you prefer the latter, I expect you to take a 2 pack or more. Don't forget that a larger capacity does not automatically mean a better reloading scale.
Durability
What dictates the level of durability is the material used. My top three choices are durable because they constitute steel or metal. At all costs, avoid any scale made of plastic. Plastic can spoil when exposed to heat and is not so resistant to wear and tear.
The aim is to get a beam reloader that will serve you for the longest possible period without frequent replacements. Look at it as an investment.
Calibration and Readability
This is important if you are a beginner, or have an eyesight impairment. Each time you use the scale after a while or move it to another surface, you will need to zero it. Therefore, the reloading scale should be simple to calibrate.
Besides, it should be effortlessly readable. What works best with visibility is contrast. White numbers and markings on a black background or black numbers and markings on a white background are your best pick.
Mechanical or Digital
A reloading scale can either be mechanical, like my 3-beam reloaders, or digital. Currently, reloaders prefer the latter since they are easier to operate, clean, and store. Unlike manual scales that are super indulging, as long as a digital scale is on and reads zero you're set.
On the upside, manual beam reloading scales are less susceptible to calibration issues. This is because such problems are easier to diagnose and rectify. Better yet, they are more accurate than digital ones. By the end of the day, it comes down to personal preference.
Commonly Asked Questions
Before wrapping up, let's look at some of the questions I have been asked about beam reloaders.
Are Balance Beam Scales More Accurate Than Digital Ones?
If you calibrate it correctly, a balance beam scale can be more accurate than a digital one of a similar value. However, with time, they apparently stop working properly due to over-usage.
How Do I Know if My Scale Is Accurate?
Reweigh a single object several times. The object should be one whose weight is known. Place it on the scale and note the weight. Take the item off and let the scale revert to zero. Repeat the process at least five times to ascertain consistency.
Why Does My Scale Keep Changing?
This is due to the atmospheric pressure difference. As you take your scale from one workbench to another, you need to calibrate it back to zero. Failure to which you get fluctuations in weights. That translates to the different scale readings you experience.
Can a Balance Beam Scale Be Wrong?
Balance beam scales are reliable and satisfactorily accurate. The fact that they have been in use for years show that they work so well. Make sure to rebalance to zero every time before a weighing session to avoid getting a wrong reading.
Conclusion
Getting a good beam reloading scale if you don't know what to look for is frustrating. Whether you are a beginner or a veteran reloader, this guide will help you find a reloading scale to make your work easier. Make sure to look out for such features as accuracy, readability, and capacity.