As an Amazon Associate we earn from qualifying purchases.
Maine ranks number 32 as one of the best states for gun owners. If you're traveling through, you may want to check out the top shooting ranges in Maine. Don't let your firearms just sit and rust inside a gun safe. You can find great locations for firearms and pistol practice in the state of Maine!
The Top Shooting Ranges in Maine
There are many shooting ranges you can find in the state of Maine. With so many choices it may get confusing to decide what shooting range you should go to. That's why we've compiled a list of the best shooting ranges in Maine.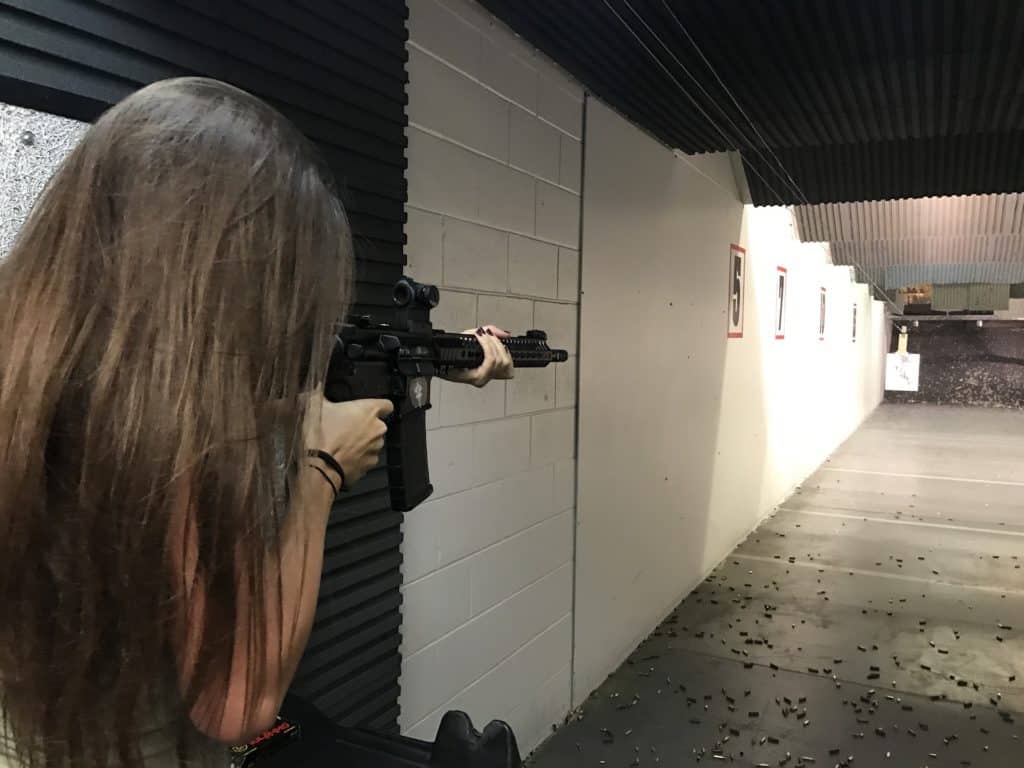 Windham Indoor Shooting – Windham
Windham Indoor Shooting range is one of the most popular indoor shooting range in Southern Maine. The range features 12 lanes and 2 six-lane bays capable of shooting out to 75 feet. The rifle rating of all the lanes goes up to a .50 BMG.
You don't have to worry about membership as the range is public and it welcomes walk-ins. However, only members can make reservations except if you're renting as a large group, compared to Alabama gun ranges where members can only reserve Skeet fields for special events.
While you can bring your own guns, they also offer rental handguns, rifles, and shotguns.
Range safety officers are always present so you won't have any problems if you're a first-time shooter. These range safety officers are trained instructors and will coach you if needed.
Top Gun of Maine – Poland Spring
Top Gun Shooting Range is one of the finest shooting ranges in Maine. They offer state of the art facilities in a safe, clean, and friendly environment. Their equipment is always one of the latest and they have experienced staff.
If you value safety inside the shooting range, then Top Gun is for you. Don't worry if you're a beginner since the shooting range allows you to shoot as long as you're there with a mentor. They use the following qualifications in a set how you shoot at the range:
You have prior military or police background.
You completed a Hunter Safety course.
You are accompanied by a mentor that has been to the Top Gun Range and shot before.
You completed a basic firearms training course.
Top Gun also offers a wide range of classes like the Summer and Fall Training Series. They also have a Ladies Shooting Club for women who love firearms to socialize, similar to the women centered programs that are also available in some gun ranges in Arizona.
The Blue Hill Rifle and Pistol Club – Blue Hill
The Blue Hill Rifle and Pistol Club offer both indoor and outdoor shooting ranges. The indoor shooting range is great for small-bore or center-fire handguns. They have a 2.100 yards outdoor shooting range that's also great for rifles and pistols.
If you want a family-oriented and community-friendly shooting range, the Blue Hill Rifle and Pistol Club fit the bill. They offer marksmanship and safety training for various organizations like the 4-H and the Boy Scouts of America.
They also have gong shooting, trap shooting, cowboy fast draw, and cowboy action for a variety of experience in their shooting range, features that are also available in shooting ranges in Hawaii.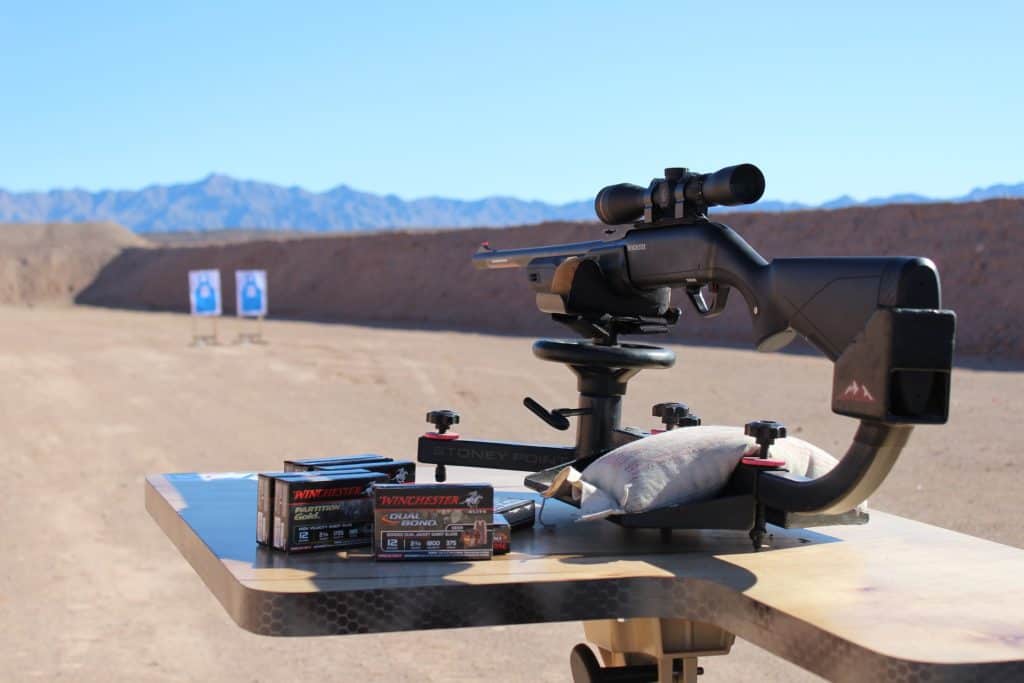 Big Pine Gun Club – Guilford
A group of men from Abbot and Guilford founded Big Pine Gun Club after a challenge for a friendly duel. Since then, the club has grown its membership and has a shooting range of its own. It's the only active gun club in Piscataquis County.
Their facilities sport a 50-foot indoor shooting range with 9 pistol stations. They also have a 6 100-foot outdoor station for rifles. There are running deer shoots, automated skeet, 7 traps, 8 stand sporting clays, and a black powder range. They also have 8 stations of 400-yard outdoor rifle and pistol range.
If you apply for membership, you only pay $75 a year for yourself, your spouse, and your dependents.
Maine Outdoor Sportsman – Northport
The Maine Outdoor Sportsman not only offers a shooting range. They also sell equipment for hunting, fishing, archery, and camping. It's a great place for family as they also sell women and kids hunting, warm & waterproof clothing, and footwear.
Their outdoor shooting range has 20, 50, and 100-yard targets. Unlike the gun ranges in Wyoming, you don't need a membership to use the shooting range and you can't use shotguns. You can also only use paper targets and must wear ear and eye protection when shooting in the shooting range.
Other than that, they also have an indoor archery range that has 10, 20, and 30-yard lines. There's also a 3D archery range that we're sure children will find interesting.
Economy Guns & Shooting Range – Madison
Economy Guns & Shooting Range is one of the finest indoor shooting ranges in Central Maine. They recently remodeled and renovated in 2016 so you can guarantee a great facility. The shooting range offers a safe, clean, and friendly environment.
It's a family-friendly shooting range that also is welcoming to first-time shooters. The staff is friendly and will coach you anytime whenever you have problems or if it's your first time firing a gun.
Howell's Indoor Range & Gunshop – Gray
Howell's Indoor Range & Gunshop is a family-owned indoor range and gun shop operating since 1983. They have two indoor shooting ranges which consist of 12 shooting lanes rated for pistols, rifles, and shotguns (slug only).
From a small 2,000 sq/ft gun shop, they have grown to a 28,000 sq/ft retail store for handguns, rifles, and other shooting equipment; indoor shooting range, and training facility. This speaks volumes on the quality of service and how the community supports this shooting range.
If you're a member, you can shoot at the shooting range for free. Only 3 people per lane and one shooter in lane at a time.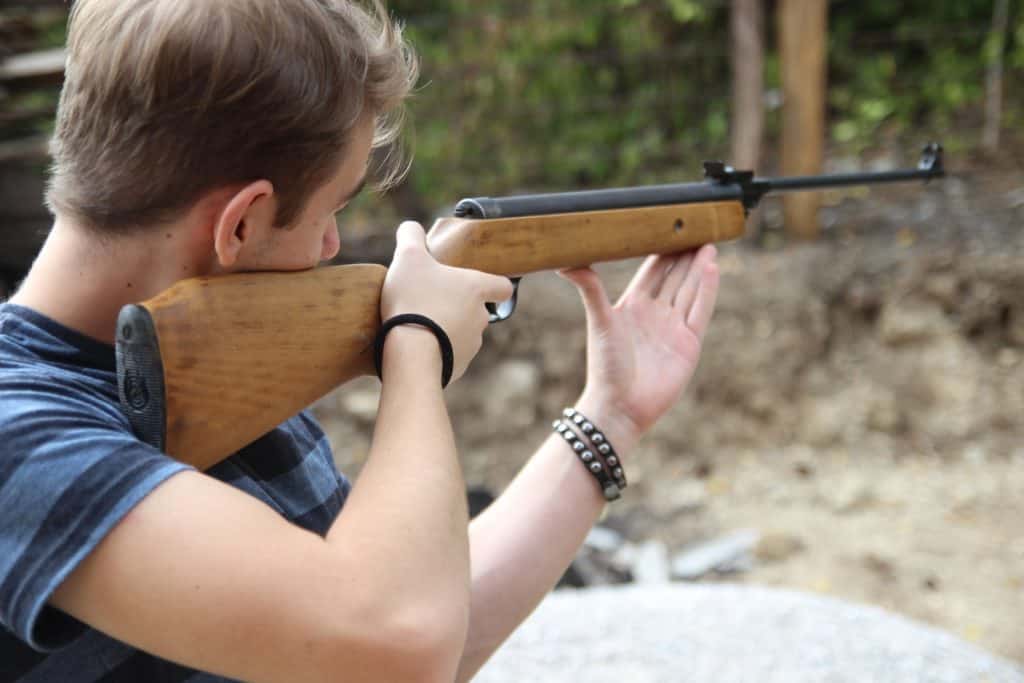 Knox County Beaver Lodge Fish & Game Association – Union
Knox County Beaver Lodge Fish & Game Association is an all-around outdoor experience not only for shooting, but it's also great if you want to experience shooting outdoors. They have an outdoor pistol range that has realistic simulations added to it.
Using these simulations, you can train yourself to face a home invasion, a hostage situation, or a terrorists attack, to that will help you prepare if those situations do happen in real life.
There is also a classroom, a backyard, and an offhand barricade. They also have other shooting activities you can try like the memorial skeet shoot, pins 'n plates, redneck clays, and black powder.
Rangeley Outdoors – Rangeley
The Rangeley Region Guides and Sportsmen's Association is one of the oldest and largest local sporting organizations in the State of Maine. It's a non-profit organization that helps conserve and protect the wildlife populations of the Rangeley Lakes Region so sportsmen, sportswomen, and future generations can still enjoy it.
They have a 100-yard rifle range that provides 5 shooting benches. Comparable to some gun ranges in Alaska, they also have a 50-yard standing pistol range. In order to use the shooting range, you need to register for membership at River's Edge Sports Shop in Oquossoc.
Williams Machine Gun Range – Anson
Williams Machine Gun Range is a machine gun club that has several events annually for members. They have great support for military veterans that they also host the "Combat Wounded Warrior Shootout".
If you want to experience firing a machine gun outdoors and contribute to the veterans then try shooting at Williams Machine Gun Range.
Conclusion
These are the best shooting ranges in Maine. Depending on where you are and your preference then you'll pick differently than others. While we didn't rank these shooting ranges in any particular order, we're sure you will enjoy any of these shooting ranges.