As an Amazon Associate we earn from qualifying purchases.
Arizona is one of the best states for gun owners and the desire to practice shooting of pistols and rifles can be seen in the countless shooting ranges. Whether you are a beginner or a shooting expert, you will definitely find a shooting range that suits your needs.
Most shooting ranges in Arizona are equipped with the latest technology, a range of firearms, experienced instructors, and they offer gun shooting classes.
The Best Gun Ranges in Arizona
We have created a list of 10 of the best gun ranges in Arizona. If you are a shooting enthusiast, you can have some fun trying out different guns and ammunition that you may not have in your gun cabinet.
For those who are just starting out, gun ranges are the perfect place to practice using your new gun and sharpen your gun shooting skills. Whether you are a traveler or you live in Arizona, Texas, here are a few gun ranges that you should check out.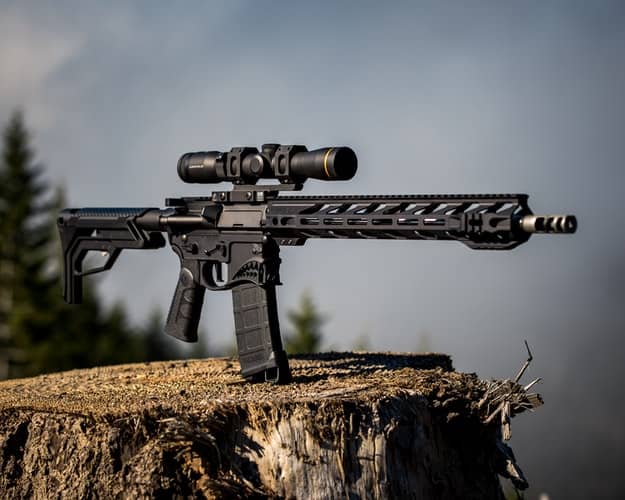 Ben Avery Shooting Facility: Phoenix, AZ
The Ben Avery Shooting Facility is situated in north Phoenix and on 1,650 acres of land and this makes it the largest operating gun range for shooting in the US. Comparable to gun ranges in New Mexico, this facility has 67 specialty ranges and 5 field archery ranges.
The National Shooting Sports Foundation has given this shooting range a five-star rating.
This facility is used by over 120,000 gun shooting enthusiasts each year. The gun range has also been the venue for many state and even national competitions. Most people love the gun range because of its relatively economical shooting range prices.
Gun enthusiasts can also camp on-site and this makes it a perfect place for those who are on vacation and have very little time to spare.
Scottsdale Gun Club: Arizona
Scottsdale Gun Club is one of the best shooting ranges in Arizona and around the United States. The club has 32 lanes and people have access to a wide variety of guns to pick from. You can opt to bring your preferred weapons or you can rent them from the club, which many people recommend.
This gun range facility has fully automated guns and computerized control panels that help to customize your shots. With all the features and amenities that this gun club offers, you can have full control of your shooting.
Some of the innovative equipment you can find in this facility include sound dampening technology, 360-degree rotating targeting system, and touch screen control panels. The Scottsdale Gun Club is one of three Arizona ranges to receive a five-star rating from the NSSF.
The Tucson Trap & Skeet Club: Arizona
The Tucson Trap and Skeet Club is the third shooting range in Arizona to receive a five-star rating from the renowned NSSF.  The club was established in 1948 and is located west of Tucson on 80 acres of land. The Tucson Trap and Skeet Club are also one of the leading gun ranges in the United States.
The facility is home to the Winter Chain Trap Shoot, the yearly Satellite Spring Grand American, and the Old Pueblo Skeet Open.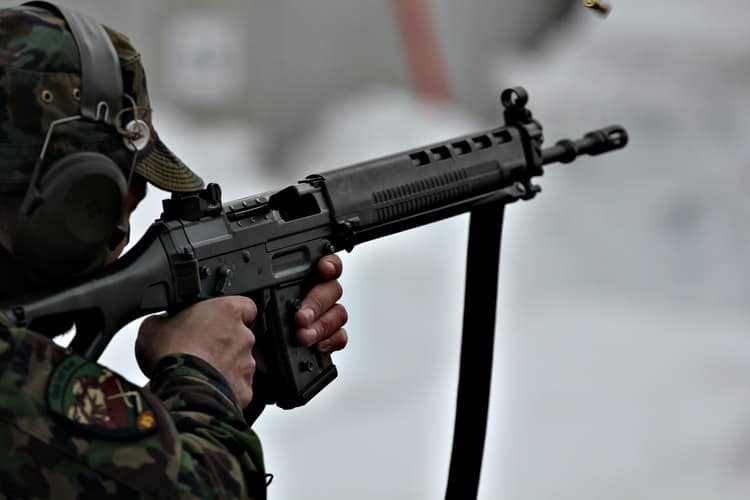 The gun range boasts of 14 international capable skeet fields, 5 international bunkers, 50 trap fields, and 2 five-stand sporting clay fields. The facility also has an onsite 9,000-square-foot area that consists of club house, bar, restaurant, pro shop, and over 200 RV hookups.
C2 Tactical Gun Range: Arizona
The C2 Tactical Gun Range is an indoor facility with 17,000 square feet, 31 courses, and 23 shooting ranges. As one of the best shooting ranges in Arizona, the facility provides shooting classes for both beginners and veterans, shotgun weddings for adventurous couples, and bachelor and bachelorette parties.
In 2013 when this gun shooting facility was opened, it was voted as the best indoor gun range, rivaling the shooting ranges in New Hampshire.
The Cowtown Range: Peoria, AZ
The Cowtown Range is located in Arizona and calls itself the most famous range that you have ever heard of. The Cowtown range was constructed near Peoria in an 80-acre property.
This property consists of:
a ghost town
six shooting bays
a shoot house
2 ranges
Afghanistan/Mexican village
2 rifle ranges
This famous gun range is also available for events, filming, and photography.
The Cowtown Range was originally built in the late 1970s as a movie set and has been the site of over 200 motion pictures including the "Knight Rider 2010" and "Dead Man." The Cowtown range also features two sniper and weapon training facilities that are used to meet the training needs of different agencies around the country.
Shooter's World: Phoenix, AZ
Shooter's World, one of Arizona's most popular gun ranges in Phoenix, has an indoor shooting range, a retail storefront, and a firearms training facility.
The gun range has two facilities located in Peoria and Phoenix and the locations are quite convenient for everyone. Both retail facilities offer a wide selection of weapons, a variety of gun ammunition, and accessories for purchase.
Shooting enthusiasts love the Shooter's World because of its unmatched assortment of rifles, pistols, ammunition, and firearm sales. They have one of the best-enclosed shooting ranges with over 20 well-ventilated lanes at every location. In addition, they also offer open-air training courses for both beginners and pro shooters.
Teds Shooting Range: Arizona
Teds Shooting Range is a family-owned and operated facility consisting of a gun shop and an indoor shooting range.
The facility features:
a 75-ft tactical rifle
pistol ranges
offers a wide range of firearm hires and ammunition
accessories
firearms for purchase
This environmentally safe, air-conditioned, family and community-oriented indoor range is the perfect place to escape the hot Arizona sun. The facility also offers classes like Basic Pistol, Youth Firearm Safety, Concealed Carry, and Women's Firearm Safety training.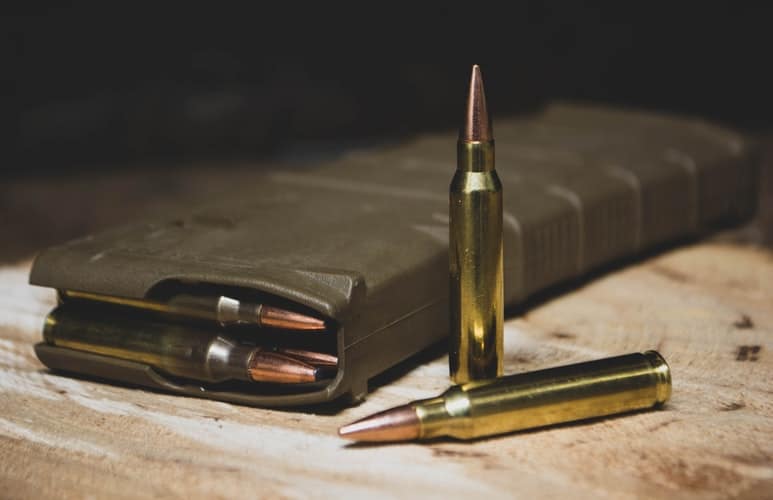 Pima Pistol Club: Tucson and Arizona
The Pima Pistol Club was established in 1920 and has been operational ever since. This shooting range is member-operated and managed. This shooting facility is open all year round to both members and non-members.
Situated on a 15-acre property in the western foothills of the famous Santa Catalina Mountains, the shooting facility is located near Tucson and Arizona. The gun range has several ranges for different distances and uses to suit the needs of every shooter regardless of the skill level.
Gunfighter Canyon: Arizona
Gunfighter Canyon is one of the premier gun stores and shooting ranges in Arizona. The facility has top indoor shooting ranges that are fully equipped with arsenals of firearms like rifles, machine guns, handguns, shotguns, and many more.
Their gun ranges in Page and Flagstaff (Williams), Arizona are equipped with both new and used firearms and lots of accessories and ammunition.
They also have an on-site master gunsmith who helps clients to build, customize, or repair their own guns. In addition, the gun range also buys used firearms.
One of their locations in Page, Arizona has:
a special outdoor shooting facility
complete with explosives
machine guns
transportation
ideal for those seeking outdoor adventure
You might also want to look into gun ranges in Utah, as they offer various activities for adventure seekers.
Phoenix Rod and Gun Club: Phoenix, AZ
Phoenix Rod and Gun Club has been serving shooters in Arizona since 1937. This premier range features target pits that have 10 camp Perry flair target frames for standardized High Power Rifle Targets. The facility also has firing points from 500, 300, to 200 yards.
All their firing points have been shaded and they aim toward the south. The Phoenix Rod and Gun Club runs Prone/F-class matches, customary NRA or CMP style high-power 3-position, and specialty shoots and matches. The facility typically offers one monthly event in every discipline all year round.
Conclusion
As you can see, Arizona is home to several shooting ranges and some of them rank among the best in the country. This means that you can always find the best shooting ranges in Arizona to suit your preferences and needs.
These gun ranges are found in Arizona cities such as Mesa, and you need to note that some of them allow users to bring in personal firearms and others do not.
Most of these facilities have a wide variety of weapons that you can rent and try out and discover one that you love. The best shooting ranges in Arizona are excellent destinations to tour for both beginners and veteran gun shooting enthusiasts.