As an Amazon Associate we earn from qualifying purchases.
Open carry are legal in Washington State. You can therefore carry a loaded firearm as long as you do not cause harm or intimidate others. In addition to this, the law states that no one should fire a gun within a 500 feet distance from households and business premises.
Basically, even with open carry, it's illegal to carelessly handle and/or use a firearm in the state.
That said, there are several indoor and outdoor shooting ranges in Washington that are designed to educate and train the public on firearm safety. At the same point, these shooting ranges are meant to entertain thrill seekers and aspiring enthusiasts.
The Top Shooting Ranges in Washington
If you have been spending most of your recreation time outdoors, you need to try out an indoor shooting experience. This is a great recreational spot that will not be affected by the weather outside.
It doesn't matter if the sun is hot, the rain is pouring or it is snowing, your shooting adventure will not be interrupted.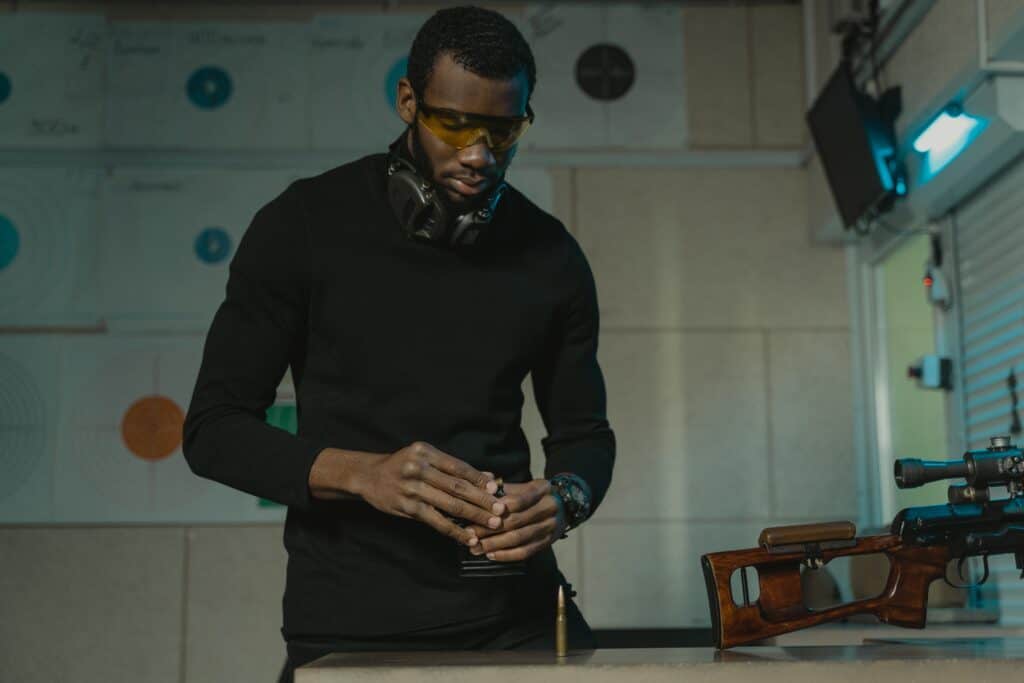 The Range LLC: Yakima, WA
Sitting on a 34,000 square feet parcel of land, The Range LLC is one the biggest indoor shooting ranges in Washington.
If you are not buying a gun or a gun accessory, you can take part in a shooting adventure at the facility. The facility features bulletproof shooting booths and 15 lanes of 33 yards action shooting booths.
And because safety is a priority at the Range LLC, new shooters will be assisted by range instructors where need be. There are also training courses that are intended to hone your shooting skills.
You can access the facility on Tuesdays through Saturdays from 10am to 7pm and on Sundays from 11am to 5pm.
Skagit Shooting Range: Burlington, WA
The Skagit Shooting Range is the first indoor shooting range in the beautiful Skagit Valley. This state of the art facility is also the largest with 16 lanes of 25 yard shooting distances each.
With well-informed range officers, the range is also known to offer the best training classes for anyone looking to better their shooting skills.
To spice up your shooting experience, the range also provides room for corporate events and parties, something that is also offered in some gun ranges in Washington DC. In fact, the range has special events that are specifically designed to engage those visiting as groups.
Get ready to get your smile on, because there is never a dull moment once you are at the Skagit Shooting Range.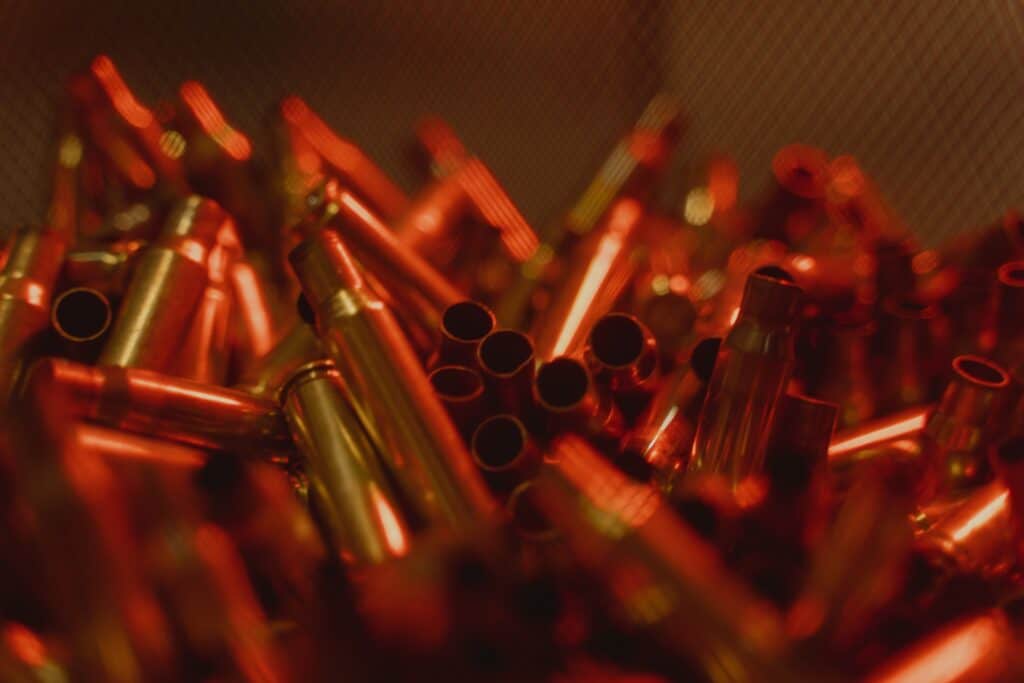 SafeFire Indoor Shooting Range and Retail: Camas, WA
Are you looking for a facility in the southwest? SafeFire Indoor Shooting Range and Retail is one of the safest, hygienic, and exciting ranges in the southwest of Washington.
And because practice is paramount when looking to advance your skills as a shooter, this indoor gun range focuses on offering training to all new shooters.
Your shooting experience here will be fun and smooth, thanks to their well-ventilated shooting zones. And to add to the comfort, the shooting zones have soundproofing, comparable to the gun ranges in Georgia.
Champion Arms Shooting Range LLC: Kent, WA
As much as shooting sports are fun, they pose some serious danger to shooters and those around them. If you are looking for a range that is keen on its shooters' safety, the Champion Arms Shooting Range LLC is the 'safety first' range to choose from.
Are you a new shooter or an expert shooter? You will have a good time at the facility, regardless of how experienced you are. And where you feel that your skills are lacking, you can sign up for a training class that suits you.
Additionally, the range has a gun shop fully stocked with:
rifle bags
gun cleaning supplies
gun accessories
magazines
and ammunition
Apart from the great moments of leisure that await you at this facility, you will get branded merchandise as a souvenir.
Opening hours are 10am to 8pm on Mondays to Fridays, 8.30am to 8pm to Saturdays and 8.30am to 6pm on Sundays.
Kenmore Shooting Range: Bothell, WA
Proudly owned by the wildlife committee of Washington, the Kenmore Shooting Range is a shooting range open to all outdoor sports enthusiasts.
If you are looking to explore different firearm options at different shooting distances, then the Kenmore Shooting Range is a great pick. Similar to some shooting ranges in Florida, the range has a variety of ranges;
a rifle range
archery range
shotgun range
a pistol range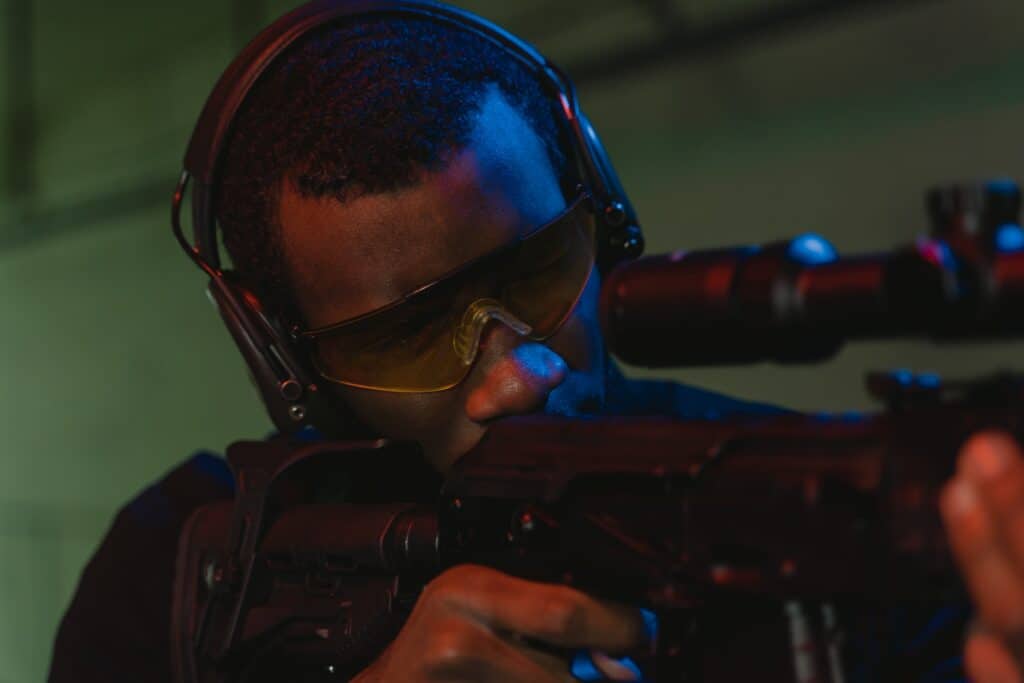 If you face challenges while handling a gun, feel free to register for classes at the facility and improve your gun handling skills. The range offers National Rifle Association classes for beginners. You will have an opportunity to learn the basics of gun safety, proper gun handling, loading, and firing.
The range is open to the public on Fridays to Mondays from 9am to 4pm.
Cascade Shooting Facilities: Ravensdale, WA
For over 7 decades, Cascade Shooting Facilities has offered the people of west Washington a great outdoor adventure. Although there is so much to choose from when looking for outdoor escapades, shooting sports have remained among the top most sought after sports in Washington.
The range offers different activities including:
junior shooting
hunting classes
hosts a public shooting day
A shooting range that rivals that of the gun ranges found in Vermont.
The beauty of Cascade Shooting Facilities is that it also presents an indoor setting for those who would love a break from the breezy alfresco. You can have a taste of both indoor and outdoor shooting here.
Conclusion
Washington shooting ranges are located in cities such as Seattle and they offer a great variety of services and features. Be careful when searching for a shooting range near you. You do not want to end up in an unauthorized facility.
The good news is that with the above gun ranges you don't have to worry.