As an Amazon Associate we earn from qualifying purchases.
If you're located in the state of California, there are plenty of great shooting ranges that you might not have explored yet. They are great places for you to practice and hone your shooting skills and discipline. If you want to shoot some rounds these are the top shooting ranges in California.
The Top Shooting Ranges in California
Below are some of the top shooting ranges in California you can go to. They are chosen based on their facilities, quality of service, and reviews. Before you go deciding on a shooting range, make sure you get your gun cleaned before going to the range. Have your range backpack ready and get set for shooting.
LAX Firing Range – Inglewood
LAX Firing Range first started in January 1995 and has served the State of California ever since. Their range offers 14 fully-automated and well-ventilated shooting lanes. Comparable to the shooting ranges in Long Beach, each lane reaches up to 25 yards and can be adjusted to varying lanes.
You can shoot using:
all calibers of handguns
even shotguns
However, you can only use shotguns with 00 Buck or slug rounds. You can also only use rifles and shotguns with their range ammunition so don't even bother bringing ammunition on your own for rifles and shotguns.
California Tactical Academy – Piru
Previously known as Wes Thompson Rifle Range, California Tactical Academy is one of the best outdoor shooting ranges in the Los Angeles area. The range offers a beautiful outdoor scenic view while you enjoy shooting targets at the same time.
Their facilities include a pistol range, rifle range, and shotgun range. Their pistol range has a distance 100 yards with paper targets at 5 yards to 25 yards, and steel targets at 20 to 100 yards. They also have a 100-yard Rimfire range with rimfire firearms available for rent.
The rifle range is 1000 yards long and paper targets can be set starting at 50 yards all the way to 500 yards. You can also set steel targets from 100 yards to 1000 yards. The shotgun range is next to the pistol range and is designed for "tactical" type shotguns.
Angeles Shooting Ranges – Terrace
Angeles Shooting Ranges has been in operation since 1957. They're a unique shooting range as they don't rent out firearms, only ammunition. Their facilities include a rifle range, pistol range, and a shotgun range.
The rifle range has a distance of 600 yards. Berms at 100, 200, 300, 400, 500, and 600 yards. Paper targets are allowed to 300 yards on weekdays and 200 yards on weekends. Steel targets are at 600 yards.
The pistol range has steel swinging targets at 35, 50, 75, and 100 yards. They also have cardboard hanging targets and metallic silhouettes. Their shotgun range has a total of 5 clay throwers and targets at 100 yards. They also host competitive matches like DCM Rifle and Field Air Rifle if you're interested.
The Los Angeles Gun Club – Los Angeles
The Los Angeles Gun Club has been providing the best shooting experience in Los Angeles since 1989. They have a wide selection of firearm rentals and ammunition and has one of the largest firearm collection in California. They are the only range in the county that allows full power rifles like the AK-47 and other .308 caliber rifles.
Their facility offers a 50 feet indoor range with 15 individual booths, complete with spectator viewing areas and a large area for free parking. Their staff is also knowledgeable and will provide you with free firearms safety and handling instructions. They also provide you with free use of their eye and hearing protection.
Los Altos Rod and Gun Club – Los Gatos
Los Altos Rod and Gun Club is a large outdoor shooting range located in California's Santa Cruz Mountains along Skyline Boulevard. One thing you need to take note of is that they do not rent guns so you should bring your own gun with you, unlike how some gun ranges in San Jose has loaners available for rent.
The target frames are wood with asphalt paper at fixed positions and you should never move these. You can mount paper targets to the target frames using a stapler. Their longest range is at 100 yards in the rifle range. There are steel plate targets and a members-only pass if you want to shoot at reactive steel targets.
Sacramento Gun Club – Sacramento
Sacramento Gun Club is a shooting range located in Sacramento and has a facility well over 40,000 square feet. You can shoot at one of their 34 state-of-the-art, indoor climate-controlled shooting lanes. This includes eleven 50-yard rifle lanes.
You can get an exclusive selection of these lanes for personal advanced training. They even use it for law enforcement tactical training, a feature that gun ranges in New Jersey offer as well.
You can also get to experience a fun experience of shooting simulator. It's complete with life-like scenarios that beginners and experienced shooters alike would have fun to deal with.
Oaktree Gun Club – New Hall
Oak Tree Gun Club is one of Southern California's top shooting ranges. It's a 100 acres of privately owned land and operates a family-owned modern shooting facility.
They offer shotgun, rifle, pistol, and even archery range. The pistol bay offers a shooting distance of up to 60 yards while other bays can be set up with paper targets between 3 to 25 yards. The rifle range features 21 positions in a covered environment. You can place targets from 25 to 100 yards.
What makes Oaktree Gun Club famous is they are the venue for various shooting events and competitions like Shooting leagues and Trap and Skeet competition, like how some gun ranges in Sacramento holds special shooting events as well.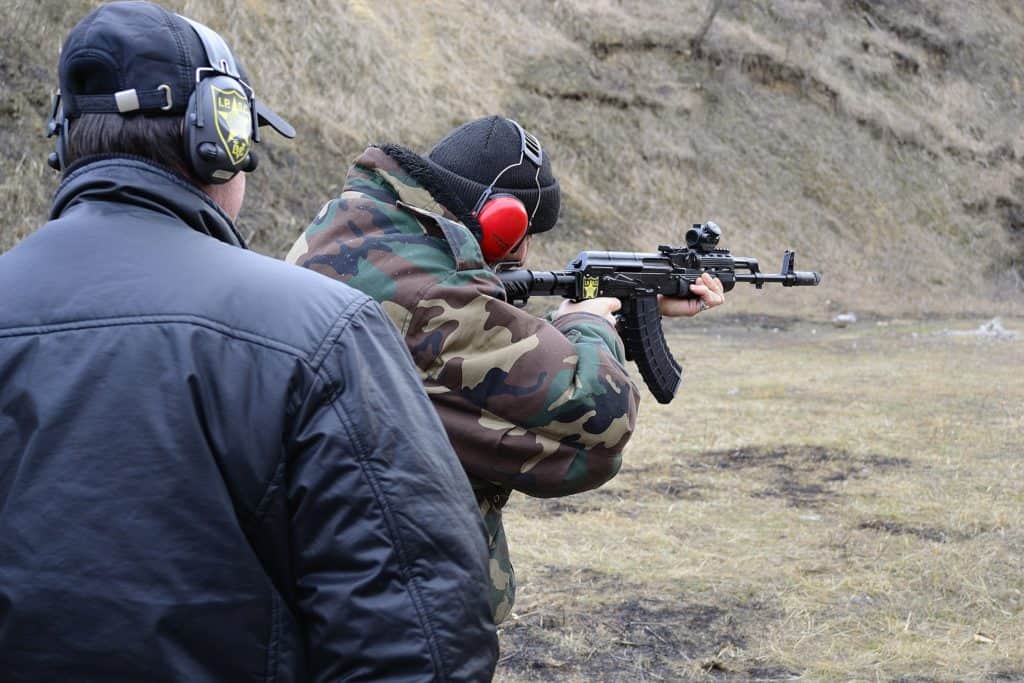 Lytle Creek Firing Line – Lytle Creek
Lytle Creek Firing Line is a public shooting range that's great for both beginners and experienced shooters. All firearms can be shot from a single station from shotguns, pistols, and long rifles.
You can place targets at:
25 ft
50 ft
25 yards
50 yards
100 yards
200 yards
300 yards
They provide free steel targets at 100 yards for free.
What makes this shooting range stand out is they allow most firearms like semi-automatic rifles, shotguns, BB guns, airguns, and even black powder.
On-Target Indoor Shooting Range – Laguna Niguel
On-Target Indoor Shooting Range is one of the top shooting ranges in Orange County, California, providing service since 1992.
It's a great indoor shooting range that has various events like Boy Scouts Shooting and the Better Half Shooting Experience. It's an indoor shooting range with shooting lanes at a distance of 25 yards.
It has a strict safety policy so you're sure to have a safe experience. They don't allow single shooters to rent a gun if they haven't been a member for 2 weeks, just like the gun ranges in Oakland where membership are required. While you can shoot high-powered rifles, you need to get an On Target Rifle Card.
Mike Raahauge Shooting Enterprises – Corona
Mike Raahauge Shooting Enterprises is conveniently between four major highways. It has a great scenic view of farmlands, hills, and mountains.
The public range includes private bays for pistol and rifle, 100-yard bay for rifles, and 30-station sporting clay course. The pistol and rifle range has 15 private bays with 8 seats for 100-yard rifle bay and a steel shooting gallery.
Conclusion
These are the top shooting ranges in California. Make sure you follow firearm rules and safety when you are inside the gun range and make sure that you have fun. If you're bringing your family with you you should also teach your kids beforehand about gun safety in order to avoid accidents.