As an Amazon Associate we earn from qualifying purchases.
Today, gun shooting has become quite a popular sporting and leisure activity for many people. Furthermore, there are competitions and shooting events being held around the country. Gun ranges help to cater to the needs of gun enthusiasts by providing a safe haven where they can practice their sport.
If you live around Arlington, there are many gun shooting ranges that you can choose from. These facilities are fully equipped with the latest firearms and innovative amenities that will enhance your shooting experience.
The Top Shooting Ranges in Arlington
Arlington is home to several gun shooting ranges that have built a solid reputation among shooters. You have an option of choosing an indoor range or go for outdoor ranges that are surrounded by nature. Most ranges will have professional trainers who can help you build your shooting skills whether you are a beginner or a pro shooter.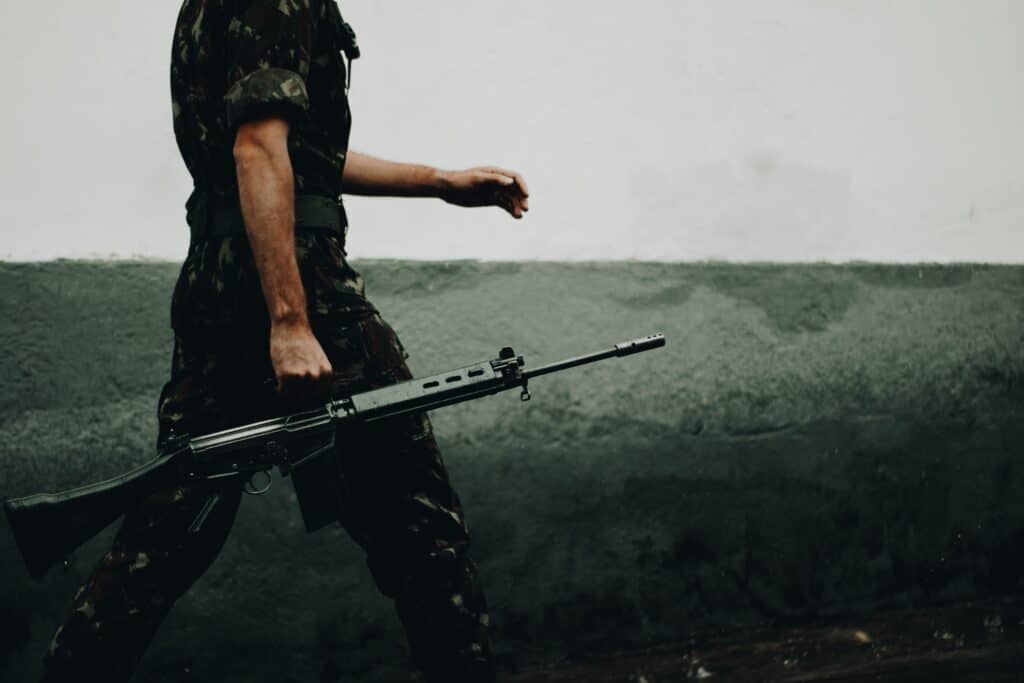 Here are 10 of the best shooting ranges in Arlington.
Arlington Sportsman's Club
Arlington Sportsman's Club is one of the best shooting ranges in Arlington. The facility aims to:
maintain the highest standards of sportsmanship
promote social relationships among members
promote youth activities
The club has an Archery range that has a 3D range and a practice area.
They also have a shotgun range with 5 Skeet fields, 4 Trap fields, 2 5-stand fields, and a 12-station Sporting Clays course. The club also has several rifle, pistol, and gun ranges that target from 25, 50, 100, to 200 yards. They also have a fishing lake where people can catch and release finish without the need for a fishing license.
Arlington Sportsman's Club offers a variety of instructional classes such as license to carry class, introduction to handgun, basic firearm classes, and many more. These classes are provided by trained and certified instructors who have years of experience in the field.
Norpoint Shooting Center
Norpoint Shooting Center is situated on the Southwest corner of Highway 9 and 531 in Arlington. The facility was established in October 2007 and provides a fun and safe environment for gun shooting. The facility aims at promoting responsible gun ownership and use and respects American firearms heritage.
The gun range is affiliated with N.R.A, National Association of Firearms Retailers, the National Shooting Sports Foundation, and the Washington Arms Collectors.
Norpoint offers a fully equipped range complex for:
They have also licensed firearms dealers with a small gun shop where gun enthusiasts can order anything they like. The gun shop also stocks various gun ammunition and related shooting accessories.
Norpoint shooting center has an amazing education program that features classes for first-time shooters to enthusiasts. The facility also hosts many competitions and events and offers affordable rates for shooting at the range, a service feature that is also available in gun ranges in San Antonio.
Norpoint shooting enter is open from Monday to Friday from 11.00am to 7.00pm, Saturday from 9.00am to 7.00pm, and Sunday from 11.00am to 7.00pm.
The Arlington – Fairfax Chapter Inc.
The Arlington Fairfax Chapter Inc. or simply known as the Chapter was founded in 1936 in Arlington. The facility has:
an indoor range with 26 shooting lanes
17 outdoor shooting lanes with target placements at 25, 50, 75, and 100 yards.
also have an indoor archery range
an Olympic archery range,
a shotgun range that has 4 fields with 1 for trap and 3 for skeet
The Rifle and Pistol range also has a catch and release pong for campgrounds and fishing. They also have picnic areas that have pavilions, a playing field, and a playground, and sodas and snacks are also available for purchase.
The gun shooting range does not allow ammunition with steel projectiles as a means of keeping the safety of everyone in the range a priority.  The gun range is open on weekdays and Saturdays from 8.00am to 5.00pm and Sunday from 12.00pm to 5.00pm.
Shoot Smart
Shoot Smart is one of the best Arlington shooting ranges that caters to the needs of different gun shooters. With its convenient location, this gun range is easily accessible to residents living in Arlington and surrounding areas.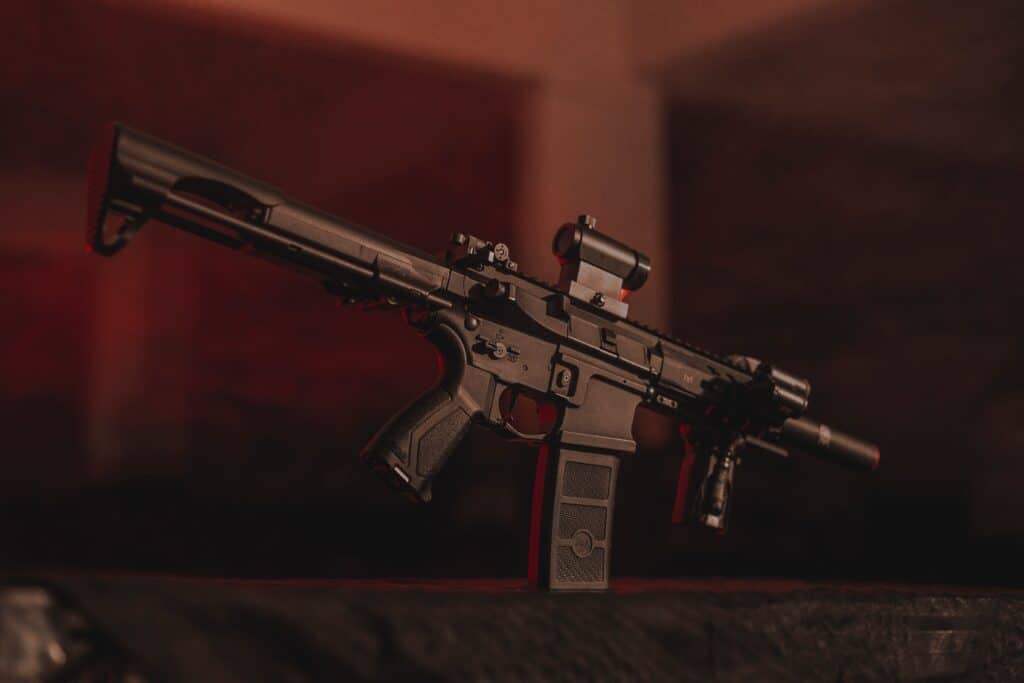 The facility allows visitors to practice and even hone their gun skills with a variety of firearms whether shotguns, rifles, or handguns. Customers can enjoy additional benefits by getting a Shoot Smart Membership, especially for those who frequently shoot at the range.
With membership, you will not only get the most from your money, but will also save cash on other services and products too.
Shoot Smart has a well-equipped gun range and classroom facilities at the same location. In addition, all their instructors are accredited by NRA. Their employees are professional and eager to help customers anytime.
Shoot Smart opens from Monday to Thursday from 10am to 9pm and Friday to Sunday from 9am to 9pm. This is definitely the best shooting range in Arlington for both veterans and novice shooters.
Alpine Shooting Range
The Alpine Shooting Range was established in 1968 and is situated in Fort Worth, TX. This shooting range accommodates all your gun shooting needs. The gun range offers rifle and pistol ranges at 50, and 30. And 100 yards and handgun ranges targeting from 3 yards to 15 yards.
The facility also boasts of a variety of shotgun shooting such as:
Skeet
Trap
Five Stand
Sporting Clays
Manual Traps
Whether you utilize firearms for sporting, defensive use, or recreational purposes, the staff and amenities at the Alpine Shooting Range will guarantee the best shooting experience. They have a retail facility that is constantly expanding and this gives you access to different firearms that you can try out.
Similar to gun ranges in Arkansas the facility is open 7 days a week from 9.00am to 6.00pm allowing you to enjoy your shooting sports whenever you can.
The Arlington Rifle and Pistol Club
Arlington Rifle and Pistol Club has something for every shooter, whether you want to shoot on the action range or you want to start your firearms basics training. This gun range is an affiliate of the Civilian Marksmanship Program. All members of this gun club must be current NRA members because this is an NRA charted club.
For one to become a member of the Arlington Rifle and Pistol Club, you need to attend at least three of their events and you will be voted in during the third event by the present members and the board members. Regular membership is just $40 yearly and junior memberships, first responders, and active military just pay $20.
Arlington Gun Academy
Arlington Gun Academy is one of the best shooting ranges in Arlington. The facility aims at promoting education and safety in the utilization and ownership of firearms. In addition, they offer certification courses that can be submitted in your application for a License to Carry.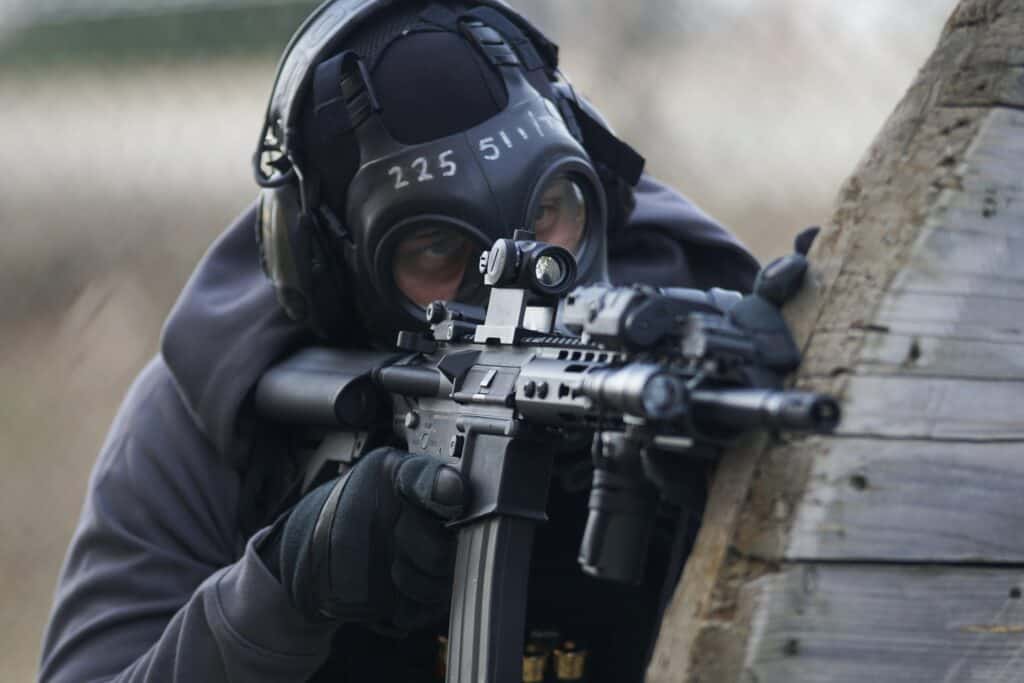 The facility is situated in Dallas and Fort Worth Metropolis and is easily accessible from Arlington and surrounding areas.
Being a Class 3 SOT Dealer, the Arlington Gun Academy can assist you with your gun purchase needs. They have knowledgeable staff who will help you try out different firearms and make an informed decision. The facility also provides training classes for those who want to learn the basics of firearms or enhance their shooting expertise.
Grand Prairie Gun Club
Grand Prairie Gun Club was first opened in 1962 and is a privately owned and member run shooting facility. The gun range sits on:
65.076 acres of land and has 12 lanes rifle ranges targeting 100 and 200 yards
12-station pistol ranges of 25 and 50 yards
4 Skeet only fields
one combination 5-stand and trap fiend
one combination of Trap and Skeet field
Grand Prairie gun Club also has a 4800 square foot hunter education building that offers member clubrooms, classrooms, and restrooms. The facility hosts Sporting clays and Skeet matches every month and different leagues are held all year round.
Shoot Point Blank
Shoot Point Blank is one of the premier shooting ranges in Arlington. The gun shooting facility is committed to offering an enjoyable and responsible place for people of all skill levels to shoot, shop, and even learn about firearms.
The gun range has a gun shop that takes pride in selling and leasing top-notch firearms, popular ammunition, and the best shooting accessories, a service feature that they share with some of the shooting ranges in Wisconsin. They have climate-controlled shooting points that are designed with the safety and comfort of the shooters in mind.
Shoot Point Blank offers firearm education classes like Concealed Carry that are taught by accredited instructors to help you become a responsible firearm owner. The shooting range and gun shop at Shoot Point Blank is open to the public and will cater to the firearm and shooting needs of every gun enthusiast.
Handguns Training Unlimited
Handguns Training Unlimited is a firearms training provider situated in Dallas-Fort Worth, Texas. The facility provides License to Carry or LTC and CHL training and handgun safety and basic laws of carrying a concealed handgun. If you are looking for a place to have fun as you lean, then this is the perfect place.
As one of the best shooting facilities in Arlington, Handguns Training Unlimited provides training services offered by NRA certified instructors, just like some of the shooting ranges in Fort Worth.
The facility teaches handgun marksmanship to individuals and groups alike. Furthermore, they have flexible class schedules to satisfy the budget and needs of every gun enthusiast.
Conclusion
Texas shooting ranges are known for their variety and quality that spans their cities such as Houston, El Paso, and a lot of it can be found in Arlington. With these top 10 best shooting ranges in Arlington, you will definitely find a range that you love.
Whether you are a local or traveler, you need to check out the website of your preferred indoor or outdoor range.
This will give you an idea about the range and what it offers before you go there. With the right Arlington shooting range, you will have a memorable shooting experience that will force you to go back for more.