As an Amazon Associate we earn from qualifying purchases.
El Paso County has over 11,000 residents with concealed gun licenses. Firearms holders are required to carry the handguns in a holster or openly on the shoulders. Either way, gun safety must be upheld at all times.
Shooting ranges provide gun handling classes and practice that equip you with all the basic safety rules when using a forearm.
The Top Shooting Ranges in El Paso
El Paso has gun ranges that serve the public and members-only clubs. These are facilities that will challenge you to get better at shooting. The ranges have different features; it is crucial that you choose the one that best suits you.
The Fort Bliss Rod and Gun Club
El Paso Skeet and Trap Club
El Paso Gun Club
Sportsman Elite
Gun Central
Tactical Ranch
Cheyenne Mountain Shooting Complex
Van horn Shooting Range
Ysleta Gun Club
Fire 4 Effect Weapon Systems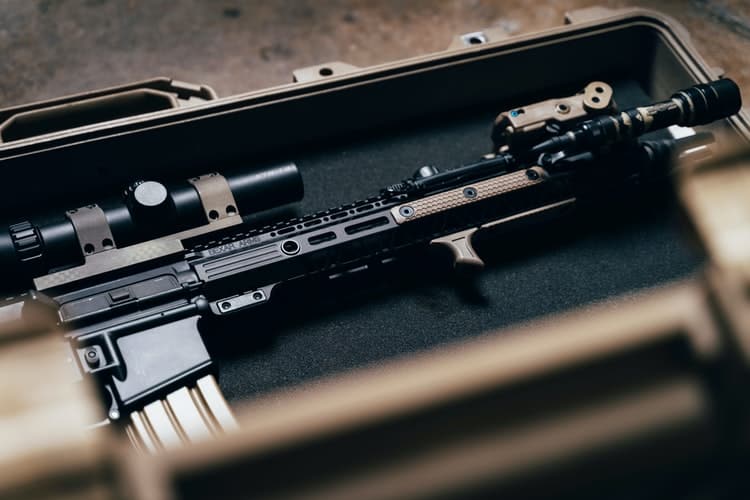 The Fort Bliss Rod and Gun Club
The Fort Bliss Rod & Gun Club serves both the public and the military. Reservations are only accepted when made at least 24 hours prior to admission at the shooting range. There are restrictions on how many people can use the range at any given time and other safety precautions.
The pro shop on the facility sells gun ammunition, targets, eye and ear protection, reloading powder and equipment, and gun cleaning equipment. The facility does not sell guns; you must bring your own.
El Paso Skeet and Trap Club
El Paso Skeet and Trap Club is a shotgun-only club. All types of shotguns are accepted at the club, a similar range policy that is also shared by some shooting ranges in San Antonio. There are skilled shooters on site willing to share their expertise for training on skeet, trap, 5-stand, or any form of gun safety.
Membership benefits your entire family. After paying the $100 annual fee, you can bring your family along for a shooting session. For non-members, the daily cost is $8 and an $8 fee per round. Don't worry about the daily fee if you are an active-duty military; $6 per round will suffice.
Enjoy night shooting at the 3 lit trap fields and 3 skeet fields. Afterward, you may chill at the spacious clubhouse and unwind.
El Paso Gun Club
El Paso Gun Club was founded in 1972. This private and club members-only club is an outdoor firing range that offers both pistol and rifle shooting ranges.
It is home to regular events whose aim is to promote the safe enjoyment of firearms, provide members with opportunities to improve their shooting skills and shooting hobbyists to meet and have fun.
Non-members are allowed into the club as long as they can legally own a firearm and handle it properly. Becoming a member means all the range facilities are at your disposal anytime for the entire year.
There is no gun sale, rental, ammunition, or reloading supplies offered at the facility. Unlike the shooting ranges in Fort Worth, you must bring your own when visiting the facility.
Sportsman Elite
Sportsman Elite was started to be a firearm education and training facility of choice. It now boasts of a 5000 sq. ft of a retail store, which offers a wide variety of shotguns, handguns, and pistol. All types of ammunition, gun-related accessories, and protection equipment are available at the property.
The facility rents out firearms that you can try out before making a purchase. And what better place to polish your shooting skills than Sportsman Elite! Technology such as a programmable, state-of-the-art retrieval system and ventilation system will ensure a comfortable firing environment, just like the gun ranges in Houston.
The range has 14 shooting lanes of 75 feet from the shooting line, with a modern ventilation system that ensures a constant supply of clean and fresh air for safe and fun shooting. The non-member fee is $16 per day. Gun rental is at $15, and the shooter must buy the facility's ammo when renting a gun.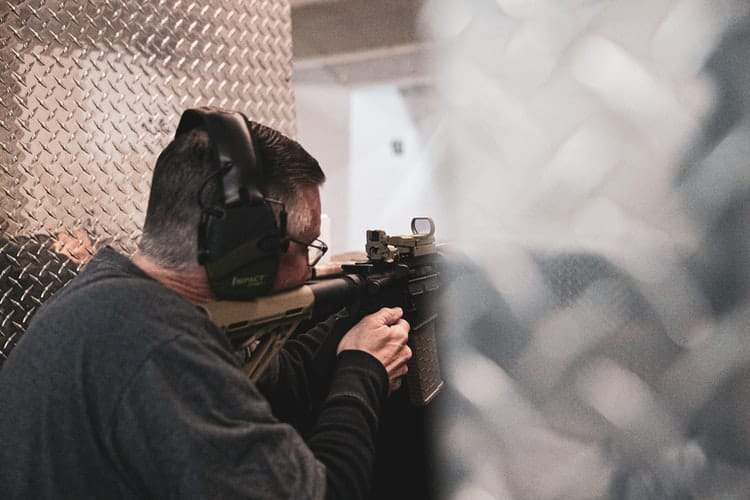 Gun Central
Gun Central is a family-owned indoor shooting range in Texas. The facility has the best gun selection from all top manufacturers. You can be sure to find the kind of firearm and ammunition you are looking for at their retail store.
It is one place that you will love doing your shooting practice. Gun Central offers one-on-one lessons if you need private gun handling lessons and License to Carry Courses.
The fee is $30 per person per hour. Also available are gun-related accessories and shooting targets.
Tactical Ranch
Tactical Ranch is a firearms and tactical training facility located on a 350-acre property in El Paso. The facility features:
Multiple firearm ranges
Full media capable classrooms
Conference rooms
Secure storage, etc.
The facility has a shot capability of up to 1000 yards and serves all shooters, from beginners and casual to pro shooters. All the firearm ranges have overhead shelters and weapon racks to make your shooting experience a memorable one.
The range has various target systems, such as remote turning target systems, action target systems, paper targets, and other support devices. Firearms rental is provided for specific gun calibers and types.
The experienced instructors at the range are drawn from US Army Rangers and Special Forces, US Navy Seals, and US Para-Rescue. The facility does not take chances when it comes to quality firearms training.
El Paso Community College, Public Firing Range
El Paso Public Firing Range is an indoor range that serves the public, active military, federal agents, retired law enforcement officers, and persons with formal firearms training.
It has a 25-yard range with 20 shooting booths. Range A, which consists of the 1-10 booths, is used for handgun shooting only. Range B, which has the rest of the booths, accommodates rifle, pistol, and shotgun.
All the booths are separated with armor-plated walls for maximum safety and protection to the shooters.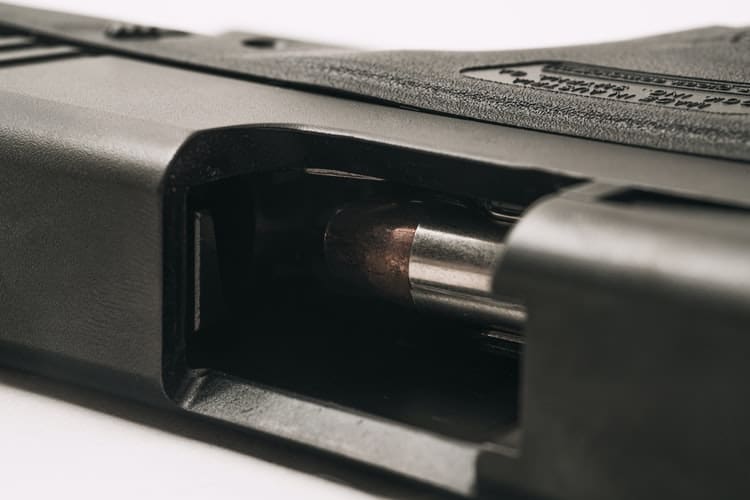 Van Horn Shooting Range
Van Horn Shooting Range is an outdoor shooting range that serves the public, members, and law enforcement officers.
The facility is also open to non-members events. Some of the shooting sports available on the range are skeet, outdoor handgun/small-bore rifle 50 yard, outdoor center-fire rifle 200 yards, and muzzleloaders outdoor.
There are skillful and knowledgeable firearm instructors on site that are dedicated to your gun handling excellence. Women and youth programs are also offered at the facility.
Ysleta Gun Club
Ysleta Gun Club was created with the family in mind. It is a nonprofit organization, an outdoor sportsman's club that serves the public in El Paso. It seeks to promote safe shooting and archery among shooters in the area.
This premier facility offers an outdoor center-fire rifle, 50 yards, and outdoor handgun/small-bore rifle, 50 yards. It is also home to frequent competitions such as rifle metallic silhouette and handgun metallic silhouette.
Fire 4 Effect Weapon Systems
Fire 4 Effect was established in 2009. The facility is a licensed FFL and firearm customization shop. It upgrades firearms such as AK's, Glock, AR's, etc.
This veteran-owned and operated facility offers weapons fabrication, cerakote refinishing, and an indoor shooting range for private firearms courses. It also provides firearm training solutions to shooters, a range feature that can also be enjoyed in Dallas gun ranges.
Conclusion
You should be careful when looking for a range near you to join for your shooting endeavors. Do adequate research to ensure that you only go to a legal range that is licensed and regulated by the state. Cities in Texas such as Austin and El Paso are home to a variety of top gun ranges.
You can trust that the shooting ranges outlined here are legitimate and offer the best services. Regularly visit any of these ranges to get more familiar with firearms.