If you buy something through a link in our posts, we may get a small share of the sale.
Cleaning your 9mm is important. An unkept firearm can be faulty and even dangerous to use. It also shortens its lifespan and becomes less reliable. The best 9mm cleaning kit will keep your 9mm in top shape and in good working condition.
To make it easy for you, we've made a list of the top 9mm cleaning kit you can get right now.
Our Top 9mm Cleaning Kit Reviews
Buying cleaning components separately would cost you too much so buying a 9mm cleaning kit is a more practical option. Having a cleaning kit on the ready will keep you well-prepared in-case your 9mm malfunctions that just needs a quick clean to fix. These are some of the best products available on the market.
Brand
Best Overall
Boosteady Universal Handgun Cleaning Kit
Best for the Money
Allen Company Ruger Universal Handgun Cleaning Kit
Best Cheap Pick
UTG 9MM Pistol Cleaning Kit
Product
Suitable For
.22Cal., .357Cal./.38Cal./9MM, .40Cal., and .45Cal.
. 380 ACP, . 357 Magnum, . 38 Special, 9mm, 10mm, . 40 caliber, . 44 Magnum, and . 45 ACP
Best Overall
Brand
Boosteady Universal Handgun Cleaning Kit
Product
Suitable For
.22Cal., .357Cal./.38Cal./9MM, .40Cal., and .45Cal.
Best for the Money
Brand
Allen Company Ruger Universal Handgun Cleaning Kit
Product
Suitable For
. 380 ACP, . 357 Magnum, . 38 Special, 9mm, 10mm, . 40 caliber, . 44 Magnum, and . 45 ACP
Best Cheap Pick
Brand
UTG 9MM Pistol Cleaning Kit
Product
Best Overall 9mm Cleaning Kit: Boosteady Universal Handgun Cleaning Kit
Boosteady Universal Handgun Cleaning Kit is a high-quality cleaning kit at a reasonable price. This cleaning kit is exclusively for handguns like 9mm. This 9mm cleaning kit includes a 16-piece kit with brushes and jags compatible with 9mm and other calibers such as .45 caliber. 
The brushes consist of a standard twisted aluminum core with high-quality phosphor bronze bristles while the jags are brass. It also contains 2 brass slotted tips (small and large), a nylon brush, 100 cleaning patches, and a stainless steel pick for dirt buildup removal. 
The cleaning rod is also brass and it measures 10 ½ inches in length and you can separate it into 2 pieces via connection points so it can fit inside its compact nylon travel case. You can screw it together to form a strong and stable gun cleaning rod.
The compact nylon travel case is very handy. It can fit inside your backpack easily and doesn't add any weight. It also doesn't take up too much space inside. You can easily carry it around wherever you want to go for a trip on the gun range or just being on the move. 
A zipper secures the inside so you don't have to worry about the components jumbling out of place. This zipper also mimics the foam insert that protects the components from damages should you ever accidentally drop it. 
You can snap the clearly labeled components and you can snap them securely into place inside the nylon case for keeping things organized. 
Boosteady Universal Handgun Cleaning Kit features a lifetime manufacturer's warranty on parts and workmanship. 
The brush and jag are a bit oversized for a 9mm so you need to force it a bit to get it inside. 
Overall, this is a solid 9mm cleaning kit that you can carry around with you and does its job of cleaning a 9mm. The components have great quality considering the price. 
Product Highlights
High-quality bronze brush
Lifetime manufacturer's warranty
Compact nylon case with a secured zipper
Sale
BOOSTEADY Universal Handgun Cleaning kit...
Zippered Compact Padded Case: Keeps everything neatly organized; Holds all the necessary cleaning...
Gun Cleaning Supplies Includes: .22Cal., .357Cal./.38Cal./9MM, .40Cal., and .45Cal. phosphor bronze...
Quality 10.5" Handgun Cleaning Rod: 2 Piece brass cleaning rods thread together to form a 10.5" rod
Best for the Money 9mm Cleaning Kit: Allen Company Ruger Universal Handgun Cleaning Kit
What better choice than to pick a company that has been in the firearm industry for a long time? The Allen Company Ruger Universal Handgun Cleaning Kit has everything you need for cleaning a 9mm. 
The Allen Company Ruger Universal Handgun contains 13 components for firearms maintenance. It can also clean other calibers of a handgun with ease.
There are bronze brushes, swabs, and jags specific for cleaning 9mm and other caliber handguns like .45 caliber and a .357 magnum. Some of the components might be a bit lose but they fit enough to do the job. 
This kit works excellently for a 9mm caliber. You can almost say that the components are exactly for a 9mm caliber. 
This handgun cleaning kit also comes with a 2-foot cleaning rod which is also great for shorter rifles. There's also a slotted brass tool used for running cleaning patches, and it also has 20 cleaning patches. 
You also get brass slotted tips, brass adapters, and a muzzled guard. 
The cleaning box is well-organized. Locating a tool is easy and convenient. There's even a separate space for each of the tools. 
The kit is lightweight and compact in size so it's good for carrying around. However, it's not something that you can fit inside a backpack easily. 
The case is also hard and sturdy so you won't fear it breaking when you accidentally drop it. It consists of hard materials and is resistant to any weather. 
The only downside we find in this cleaning kit is that you have to attach the rods together to use the cleaning brushes. While at first it doesn't seem to be too bad, when you find out that the rods when you put them together measure 15 inches long then you'll see the problem for a 5-inch gun barrel.
Product Highlight
Suitable to almost any handgun
100% cotton patches
Can also clean shorter rifles
Sale
Allen Company Ruger Universal Handgun Cleaning Kit...
Components for . 380 ACP, . 357 Magnum, . 38 Special, 9mm, 10mm, . 40 caliber, . 44 Magnum, and . 45...
Includes Cleaning rod, jags, Slotted tip/adapter, bore brushes, bore swabs, and muzzle guard
15 Cleaning pieces plus 20 cotton Cleaning patches
Best Portable Cleaning Kit: KleenBore Classic Cleaning Kit
The KleenBore Classic Cleaning Kit is your basic cleaning kit that has all the necessary components you need to clean your gun. It's also portable so you can always clean your gun on the go if ever you are out for a quick shootaround in the gun range. 
Most cleaning kits have the gimmick of having "everything" you need. This cleaning kit, on the other hand, keeps it simple. 
The KleenBore Classic Handgun Cleaning Kit includes 2 working rod sections. Both are threaded to accept all standard accessories. 
The swivel handle section can clean up to 7 inches barrel. You can go up to 10 inches barrel handgun with the use of the 2 ¾ inches rod extension. 
The cleaning rod consists of high-grade steel. This steel is durable and reliable to last you for a long time. The rod has a black oxide finish and it also features rotating handles for ease of use. You can identify both of the #8-32 threaded handgun rod components by a groove in the rod end. 
It also includes a plastic muzzle guard that will provide protection to the crown of the gun's barrel during your cleaning sessions. The double-ended utility brush contains nylon bristles that can last for long cleanings. It also has 100% cotton patches for multiple uses and cleaning along with a silicone gun and reel cloth. 
Finally, this kit also contains a 2 oz. bottle of Formula 3 gun conditioner that you can also refill for better cleaning and maintenance. 
Product Highlights
Classic handgun kit for 9mm
2-rod sections threaded for standard #8-32 accessories
Cleans barrel up to 10 inches with an extended rod
KleenBore Hg 38/357/9mm Cln Kit
Classic handgun kit for .38, .357, and 9mm pistols
2 rod sections threaded for standard #8-32 accessories
Cleans barrels up to 10 inches with extended rod
Best Cheap 9mm Cleaning Kit: UTG 9MM Pistol Cleaning Kit
The UTG 9MM Pistol Cleaning Kit is specifically for 9mm pistols so you don't have to worry if it fits the barrel. It contains a two-piece copper alloy cleaning rod, with tight tolerance threads. The cleaning rods have a solid construction and are really durable so it can last you for a good long year or more. 
This handy portable cleaning kit comes with a sturdy and durable polymer black box. It has a slim design that you can easily place inside your range backpack whenever you go out to shoot at a gun range. 
Each component of the kit is durable and feels solid so they won't break easily. The cleaning rods makes the cleaning easy and gets the job done. It also protects your barrel during cleaning. 
Each half of the cleaning rod is close to over 3.5 inches in length. It becomes just over 7 inches in length once assembled. This length is enough for cleaning the barrel of a 9mm. 
It also comes with 3 brushes made of 3 different materials. Each consists of different materials like bronze, cotton mop, and nylon. This makes cleaning a lot flexible and you can use each brush for different occasions. 
The metal brush has tightly spiraled bristles so it won't fall apart easily when during cleaning. The kit also includes a copper patch loop for a convenient bore cleaning. 
This cleaning kit is all you need for cleaning a 9mm whenever you're on the go. This is the best cheap 9mm cleaning kit you can get that has the best features. 
Product Highlights
Portable cleaning kit
Made specifically for 9mm pistols
Variety of brush materials
Durable and solid components
Sale
UTG 9MM Pistol Cleaning Kit
Copper Alloy Precision Cleaning Rods with Tight Tolerance Threads for Guaranteed Level and Long...
Robust Construction with Excellent Strength and Durability, Offering Full Protection of Barrel
Includes a Great Quality Copper Patch Loop for Fast Bore Cleaning.All Threads are Standard 8-32 and...
Components of the Best 9mm Cleaning Kit
The best 9mm cleaning kit should include components that are essential for cleaning a 9mm. Watch out for any cleaning kit that doesn't include the following components: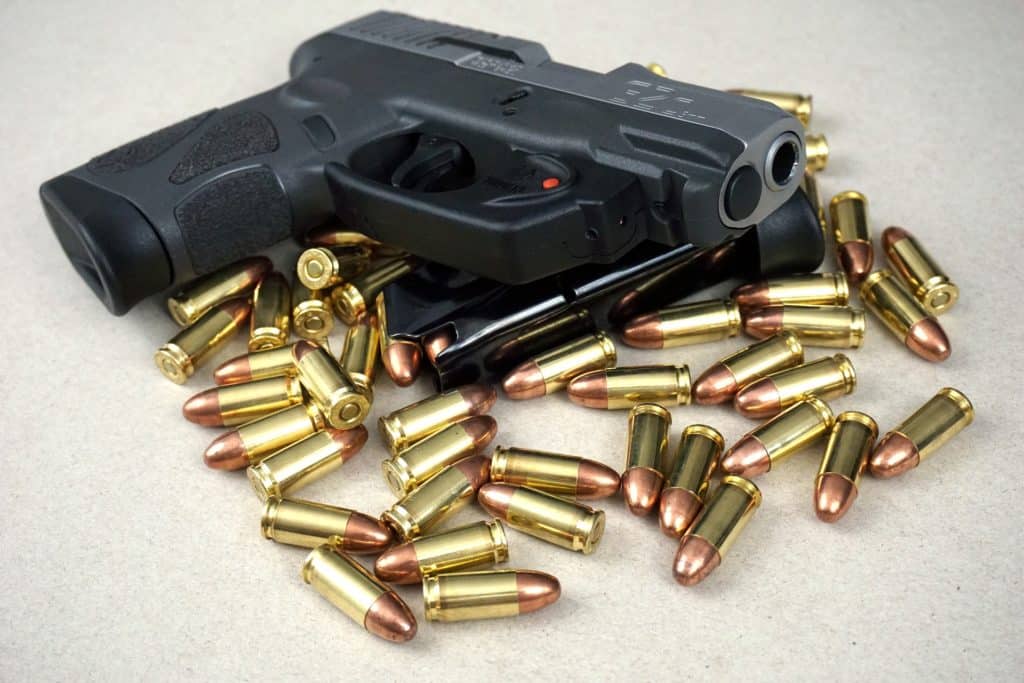 Bore Cleaning Brush
This is the most important equipment that any 9mm cleaning kits should have. A bore cleaning brush is effective for cleaning the bore after a shooting session. The brush effectively removes any dirt residues inside the bore. 
Some of the most common types of bore brushes you can find are a bronze bore, nylon bore, and tornado bronze bore. 
Cleaning Rod
The cleaning rod commonly consists of the rod and swivel handle to the rod. The rod can get you deep into the rifle bore easily. Cleaning out the residue and debris is easy with the use of a cleaning rod.
Cleaning rods are a standard for most gun cleaning kit. They mostly vary in length so picking one with the right length for your 9mm is essential. 
Patches
Most patches consist of soft materials like clothes or cork. Choosing the right shape for your 9mm will help with cleaning it. Most gun owners use them to clean the internal sections of the bore. 
Cleaning Brushes
Likewise, many people use cleaning brushes to clean most of the exterior of the gun. You can get different types of cleaning brushes from different materials. While stainless steel brush and phosphor brush are great for cleaning non-blued metals, nylon brushes are often better for wood surfaces.
Lubricating Oil
Lubricating oil isn't a usual component in gun cleaning kits that's why having one inside is a great deal. Lubricating oil goes into your 9mm especially in moving parts that will keep its function smoother. It also acts as a protection from fouling and rust.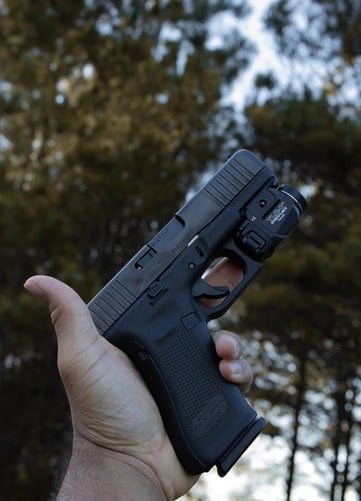 Factors to Consider for Choosing the Best 9mm Cleaning Kit
The best 9mm cleaning kit is different for everyone. 9mm owners have different needs that they want in a cleaning kit. However, these are some of the most common ones.
Materials
Plastic components can be a sign that cleaning kits won't last long. Most of the plastic in cleaning kits often consists of cheap plastic so it doesn't have great durability. 
If you want long-lasting cleaning kits, you should avoid plastic components. However, there are cleaning kits that use a combination of plastic and metal parts that can work for you. 
Accessories
Some gun cleaning kits provide extra accessories to market their products. Make sure you choose the right accessories that you need for cleaning 9mm. Some of the best ones you can have are lubricants, brushes, and bore guides. They are great accessories that will help with clean your 9mm. 
Portability
If you frequently go to the shooting range or you're just constantly on the move, then portability might be something you need to look for in a 9mm cleaning kit. Most manufacturers use ballistic nylon bags for storage. Nylon bags are weather resistant and they're also portable making them a viable choice. 
Some manufacturers use a toolbox for storing the cleaning kit.  They usually consist of aluminum and are really durable. However, they may not be as portable as nylon bags but they do give you the best protection.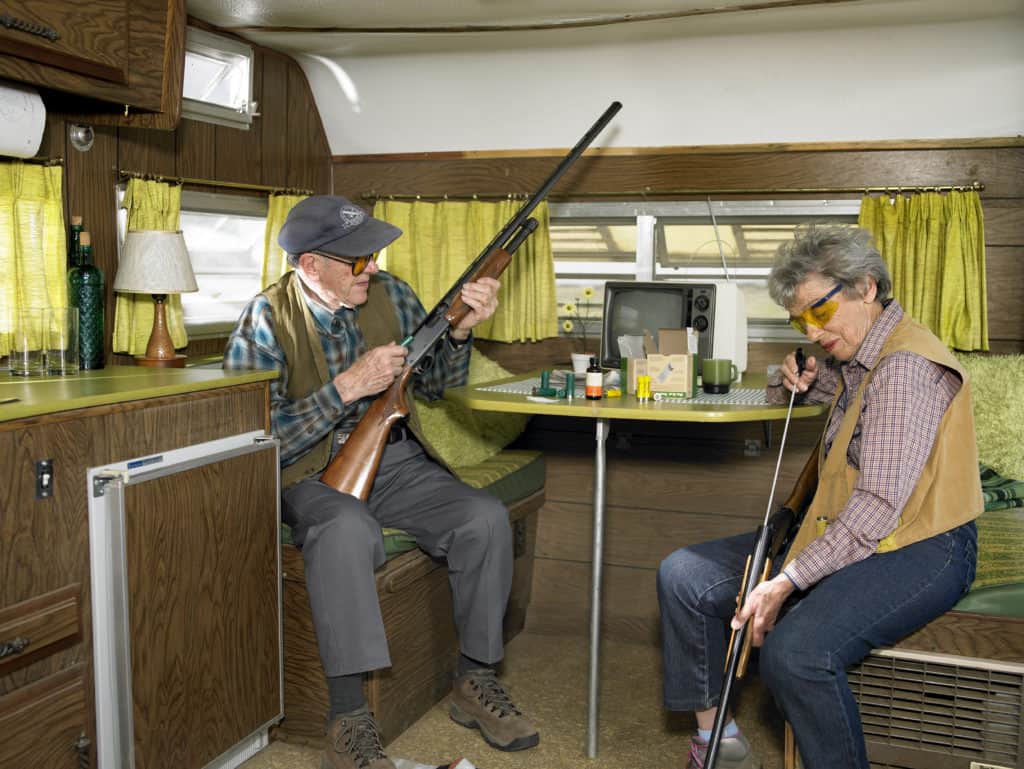 Price
Price can also matter as some really don't need that much equipment for cleaning their 9mm. Some people also have a limited budget so choosing the best available cleaning kit at a price range is a factor most buyers consider. 
Why Use a 9mm Cleaning Kit?
The 9mm or also called 9x19mm round, 9mm Parabellum, and 9mm Luger is the most common handgun caliber round in the world. Almost all law enforcement agencies and military use a 9mm handgun in every country. 
Using a cleaning kit will keep your 9mm in good working condition. Especially if you frequent going to the gun range, carrying a cleaning kit is a must. Firearms experts recommend cleaning your guns after every use in the gun range which also applies to 9mm. 
Why is 9mm Popular?
The 9mm cartridge started in Germany in 1901 and it's been in production for more than 100 years. It's also the official NATO sidearm caliber and the official sidearm caliber of most countries' special forces. 
9mm is also the go-to caliber of the police force, increasing its popularity. A lot of retired police surplus and trade-in weapons have flooded the market. It also is a decent round with a very compact package. It's also very affordable and among the most user-friendly calibers to shoot. 
Conclusion
9mm is a common handgun among firearm owners. That is why you need to have the right 9mm cleaning kits to maintain them. The 9mm cleaning kits listed above are some of the best you can get right now in the market.