If you buy something through a link in our posts, we may get a small share of the sale.
Cleaning a AR 15 can be a difficult task. You want to make sure you are doing the right things or risk having a damaged AR 15. Having the best AR 15 cleaning kit will help keep your AR 15 in good condition for a long time.
Our Top AR 15 Cleaning Kit Reviews
The top AR 15 cleaning kit needs a compact and easy to pack for field operations. It's also important that the cleaning kit contains a method to clean the barrel efficiently. If you already have experience in cleaning AR 15s you might need less equipment to do the job. However, for inexperienced AR 15 owners, you may need more. 
Brand
Best Overall
Otis Technology The Otis Elite
Best for the Money
GLORYFIRE Universal Gun Cleaning Kit
Product
Suitable For
.17 to .50 cal. rifles and pistols, .410 to 12/10 ga. shotguns
All types of shotguns, rifles and handguns
Best Overall
Brand
Otis Technology The Otis Elite
Product
Suitable For
.17 to .50 cal. rifles and pistols, .410 to 12/10 ga. shotguns
Best for the Money
Brand
GLORYFIRE Universal Gun Cleaning Kit
Product
Suitable For
All types of shotguns, rifles and handguns
Best Overall AR 15 Cleaning Kit: Otis Technology The Otis Elite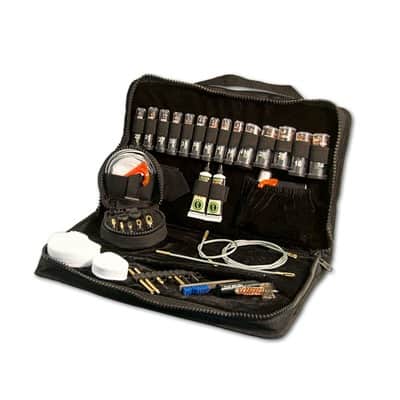 The Otis Elite is a versatile AR 15 cleaning kit great for both experienced and first-time gun cleaners. The kit comes with cleaning tools for cleaning and lubricating .17 to .50 cal. rifles and pistols so it has the capabilities for cleaning a AR 15. The kit contains some useful tools for cleaning AR 15 like:
Over 40 firearm-specific cleaning components placed in a nylon case
6 Memory-Flex Cables of varying lengths for breech and muzzle cleaning
23 bronze bore brushes for removing copper deposits and other types of dirt
Obstruction removal tools for jammed cases and blockages
The kit also comes with a black nylon dual-zipper carrying case. The case is very convenient as it sets up an outdoor cleaning station really quickly. This is a great feature for people who love setting up a table and clean their AR 15 outside. 
The cleaning kit also comes with some printed instructions and a DVD with short videos that teaches you how to clean specific gun types. Otis also has a Youtube channel where you can watch some tutorials and guide videos. 
The Otis Elite also uses a "360-degree" patch system instead of the traditional rod and patch method. This system requires you to poke the patch loop through the patch, then pinch to create a wad that will touch all parts of the barrel. While this method may feel weird at first, you'll find it works better than the traditional method after a few tries.
It also has a wide selection of bronze bore brushes and really reliable Memory-Flex cables. The Memory-Flex cables are threaded on both ends which you can attach patch loops or bore brushes to either end. 
The Otis nylon brush isn't something exceptional and yet it does its work as expected. It helps you get into those nooks and crannies on your weapons and thoroughly clean it. After the cleaning, there's a silicone cloth along with the Otis Elite you can use to wipe your AR 15 so it won't leave any lint behind. 
Overall, the Otis Elite is the best AR 15 cleaning kit you can have. It has many tools that are perfect for cleaning your AR 15 and it's also good for both professionals and amateurs. It also comes along with plenty of instructionals to help you clean your AR 15.
Product Highlights
Simple and good for both beginners and experts
Comes with guides and instructions for cleaning firearms
The kit is easy to use and has a lot of tools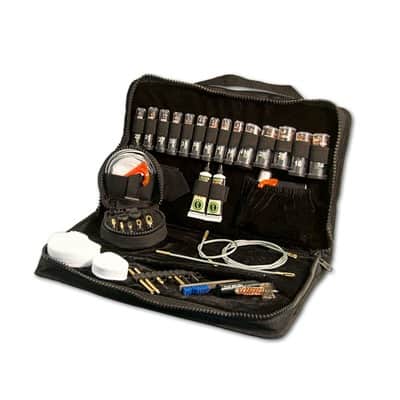 Otis Technology The Otis Elite
Complete selection of high quality Brownells/Otis Bronze cleaning brushes for every caliber
Stored in a padded nylon case
Includes the Brownells/Otis 750 Tactical Kit
Best for the Money AR 15 Cleaning Kit: GLORYFIRE Universal Gun Cleaning Kit 
The Gloryfire universal cleaning kit is one of the best AR 15 cleaning kits you can get in the market. This gun cleaning kit has a number of tools that help in cleaning a wide variety of firearms such as handguns, rifles, shotguns, and the AR 15. 
This universal cleaning kit features 159 tools that will help with cleaning your AR 15. It comes in a sturdy plastic carry case that's also great for portability so you won't have trouble moving the tools around. The case is lightweight and it consists of high-quality materials. 
The kit also includes: 
6 brass rods
9 mops 
Black powder jag
14 brushes
12 jags
3 muzzle guards
4 slotted patch loops
Oil bottle
4 polishing cloths
And more cleaning tools
What's more, the cleaning kit has a reliable warranty that lasts for up to 3 years. The cleaning kit has a ton of adapters and cleaning tools that will clean your AR 15 and even your whole arsenal of firearms. Yet, the kit is small and easy to carry around. 
The oil bottle is one of the finer points about this cleaning kit. It helps with cleaning out fouling. The lubrication is excellent and keeps your AR 15 in good condition. However, the oil bottle is small so you'll probably refill it more often. 
It's surprising that this cleaning kit isn't made of cheap plastic. All the slotted tips and cleaning jags consist of high-quality brass and nylon plastic. These tools are reliable with solid construction so you can expect them to last long. 
The only downside we find is that the cleaning kit doesn't come with a cleaning solvent which would make this a complete package. However, the Gloryfire universal cleaning kit is a solid pickup for your AR 15. What's more, it has the tools required to clean your other firearms as well. 
Product Highlights
Contains a large number of tools and cleaning equipment
Portable and easy to carry case
Not made of cheap plastic
GLORYFIRE Universal Gun Cleaning Kit Hunting Rifle...
Portable gun cleaning kit: All parts are placed in a lightweight box, and we also provide 2 spaces...
High Quality: All of our slotted loops and cleaning jags are made of high quality CNC Precision...
Versatility: Suitable for all types of shotguns, rifles and handguns. Including...
Best Budget AR 15 Cleaning Kit: Real Avid Gun Boss Cleaning Kit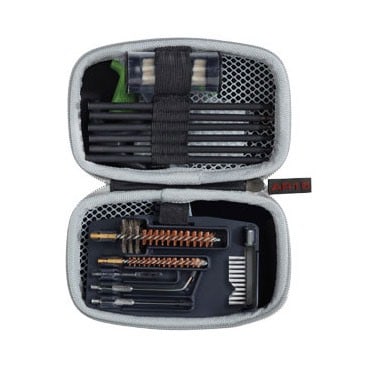 Many people love the Real Avid Gun Boss Cleaning Kit because of its effectiveness and quality cleaning on AR 15s. This kit contains a number of different tools and cleaning rods that are well suited for cleaning AR 15. 
There are 7 threaded and coated steel rod sections. You can combine these rod sections to form a longer 33-inch rod with a t-handle for moving it around. You can also find a bronze cleaning brush and 5 precision-cut chamber-cleaning pads. 
The kit also contains phosphor bronze bore brush and chamber brush that you can use to clean off copper deposits and fouling. It contains a bolt carrier group scraper designed with 12 surfaces for easy carbon scraping and cleanup. 
There's also a nylon slotted tip for the brush, 25 regular cleaning patches, several cleaning picks, and a 3-in-1 bore that acts as a safety flag, illuminator, and pin punch. This cleaning kit comes with enough tools to handle any maintenance problems. The cleaning kit also comes with a reference material that instructs you how to clean your rifle properly. 
All of the tools come packed in a compact, weather-resistant travel case with each tool having a designated slot for better organization. It's also portable so you can carry it around with you when shooting at a gun range. Overall, the AR 15 is a great AR 15 cleaning kit that's easily portable for firearm owners, hunters, and gun range goers. 
Product Highlights
Complete cleaning tools for AR 15
Tools are placed in a weatherproof case and are well-organized
Includes illuminator to spot fouling easily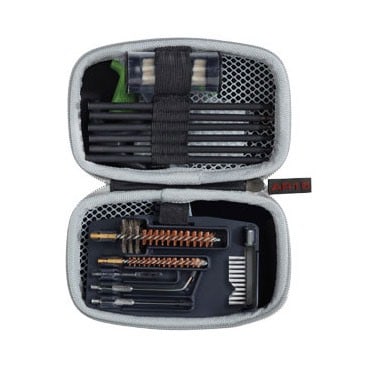 Best Portable AR 15 Cleaning Kit: Otis Technologies FG-750 Cleaning System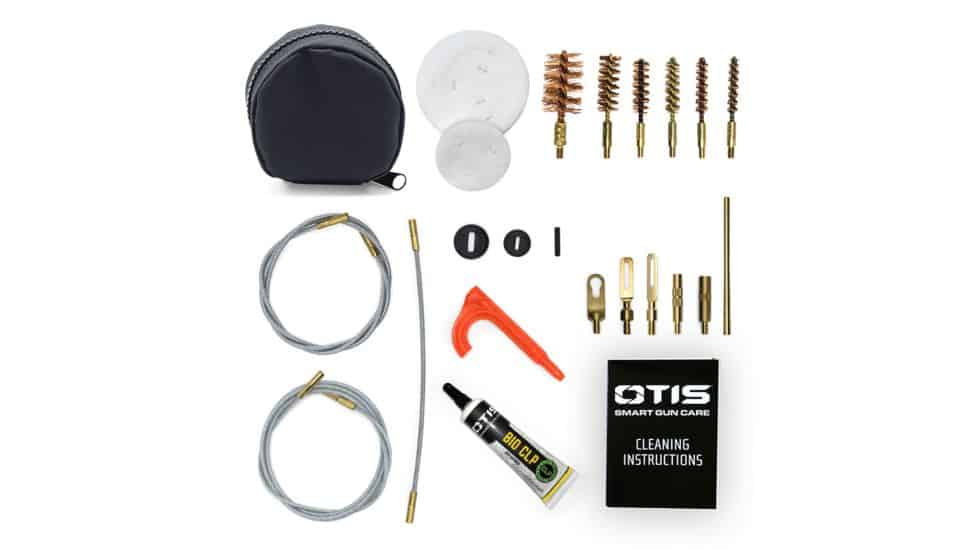 If we're talking about portability then the Otis Technology Tactical Cleaning System for Rifles, Pistols & Shotguns takes the spot. This kit comes with several useful cleaning tools and a tube of cleaning liquid that helps eliminate fouling and marks on your AR 15. The cleaning fluid also acts as a lubricant to provide protection to your AR 15. 
The kit contains several memory-flex cables for a breech-to-muzzle cleaning. Additionally, it has a smaller memory-flex cable that you can use to clean other firearms that are .17 caliber. Both cables consist of aircraft-grade aluminum to last for many years. 
The brushes are of excellent quality as you would expect from Otis Technologies. They're probably the best brushes in the gun cleaning market. However, the brush from this cleaning kit is a bit small so it may not suit your taste if you're looking for bigger brush sizes. 
The cleaning kit also has a chamber flag and an instruction manual that will help beginners to follow the right steps for cleaning their AR 15. The carrying case is a small black nylon bag with a belt clip. It's practically small that you can fit it inside a bag which makes this AR 15 cleaning kit the best in terms of portability. 
The downside is that the other components of this cleaning kit are not as effective as the ones highlighted above. Overall, this is a great cleaning kit to have when you're on the move and need a AR 15 cleaning kit that doesn't take up a lot of space in your luggage. 
Product Highlights
Portable and can easily fit inside another bag
Excellent brush quality
Includes cleaning fluid that also acts as a lubricant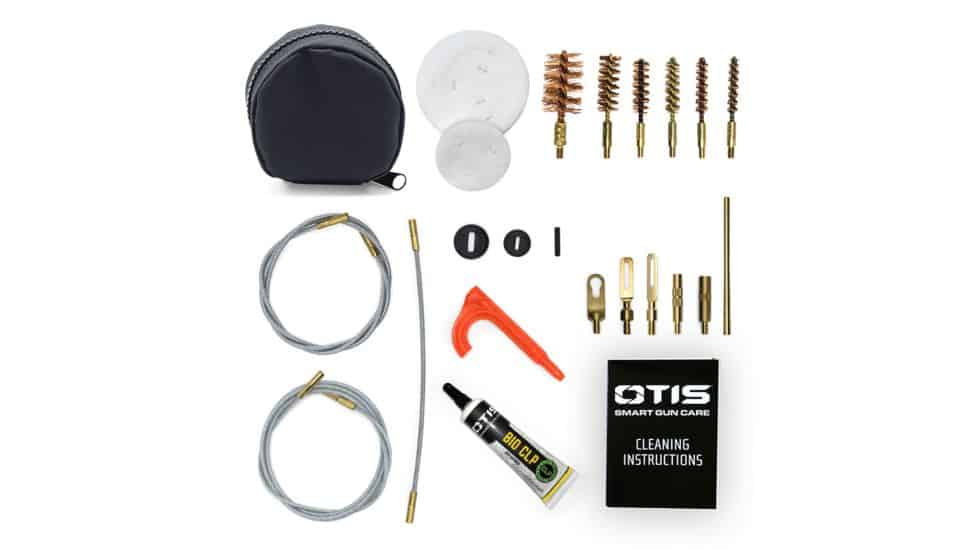 What Does the Best AR 15 Cleaning Kit Contain?
The best AR 15 cleaning kit should contain components that are essential for cleaning a AR 15. These are the components every AR 15 cleaning kit should have: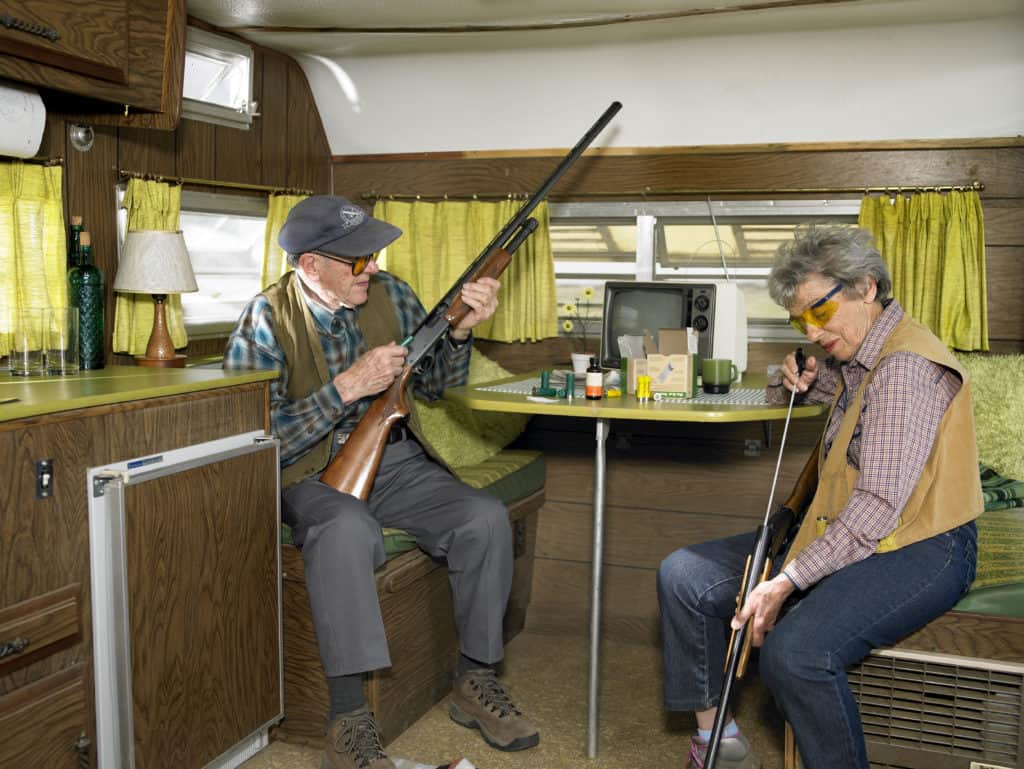 Bore Cleaning Brush
This is the most important equipment that AR 15 cleaning kits should have. A bore cleaning brush is effective for cleaning the bore after a shooting session. The brush effectively removes any dirt residues inside the bore. 
Some of the most common types of bore brushes you can find are a bronze bore, nylon bore, and tornado bronze bore. 
Cleaning Rod
The cleaning rod consists of the rod and swivel handle to the rod. The rod will get you deep into the rifle bore without much effort. Cleaning out the residue and debris is made easy with the use of a cleaning rod.
Cleaning rods are a standard for most gun cleaning kit. They mostly vary in length so picking one with the right length for your AR 15 is essential. 
Patches
Most patches consist of soft materials like clothes or cork. Choosing the right shape for your AR 15 will help with cleaning it. Most gun owners use them to clean the internal sections of the bore. 
Cleaning Brushes
Likewise, many people use cleaning brushes to clean most of the exterior of the gun. You can get different types of cleaning brushes from different materials. While stainless steel brush and phosphor brush are great for cleaning non-blued metals, nylon brushes are often better for wood surfaces. 
Lubricating Oil
Lubricating oil isn't a common component in gun cleaning kits that's why having one inside is a great deal. Lubricating oil goes into your AR 15 especially in moving parts that will keep its function smoother. It also acts as a protection from fouling and rust.
Make sure to read our review on the best gun oil for AR-15s!
What Makes the Best AR 15 Cleaning Kit?
The best AR 15 cleaning kit is different for everyone. Each AR 15 owners have different needs that they want in a cleaning kit.
Here are some of the most common ones.
Materials
Plastic components can be a sign that cleaning kits won't last long. Most of the plastic in cleaning kits often consists of cheap plastic so it doesn't have great durability. 
If you want long-lasting cleaning kits, you should avoid plastic components.
However, there are cleaning kits that use a combination of plastic and metal parts that can work for you. 
Accessories
Some gun cleaning kits provide extra accessories to market their products. Make sure you choose the right accessories that you need for cleaning AR 15.
Some of the best ones you can have are lubricants, brushes, and bore guides.
They are great accessories that will help with clean your AR 15. 

Portability
If you frequently go to the shooting range or you're just constantly on the move, then portability might be something you need to look for in AR 15 cleaning kit. Most manufacturers use ballistic nylon bags for storage. Nylon bags are weather resistant and they're also portable making them a viable choice. 
Some manufacturers use a toolbox for storing the cleaning kit.  They usually consist of aluminum and are really durable. However, they may not be as portable as nylon bags but they do give you the best protection. 
Price
Price can also matter as some really don't need that much equipment for cleaning their AR 15. Some people also have a limited budget so choosing the best available cleaning kit at a price range is a factor most buyers consider. 
Conclusion
These are the best AR 15 cleaning kits you can buy in the market right now. Each has its own strengths and really depends on the buyer what they think best suits them. Hopefully, after reading these reviews, you'll be able to find a cleaning and maintenance kit that's right for you.