As an Amazon Associate we earn from qualifying purchases.
Los Angeles is home to several indoor and outdoor gun ranges. If shooting is your hobby and you are looking to shoot a rifle, shotgun, or handgun, you can be sure to find a shooting range around your location. Read on to find shooting ranges in Los Angeles that you may want to try out.
The Best Shooting Ranges in Los Angeles
Find below a list of the best shooting ranges in Los Angeles. These shooting ranges have the best facilities and services to make your experience a memorable one. Let us delve further and discover what makes them stand out.
The Los Angeles Gun Club
Lax Firing Range
California Tactical Academy
Angeles Shooting Ranges
The Target Range
Firing-Line Indoor Shooting Ranges
Oak Tree Gun Club
International Tactical Training Seminars Inc.
Moore N' Moore
La Puente Firing Range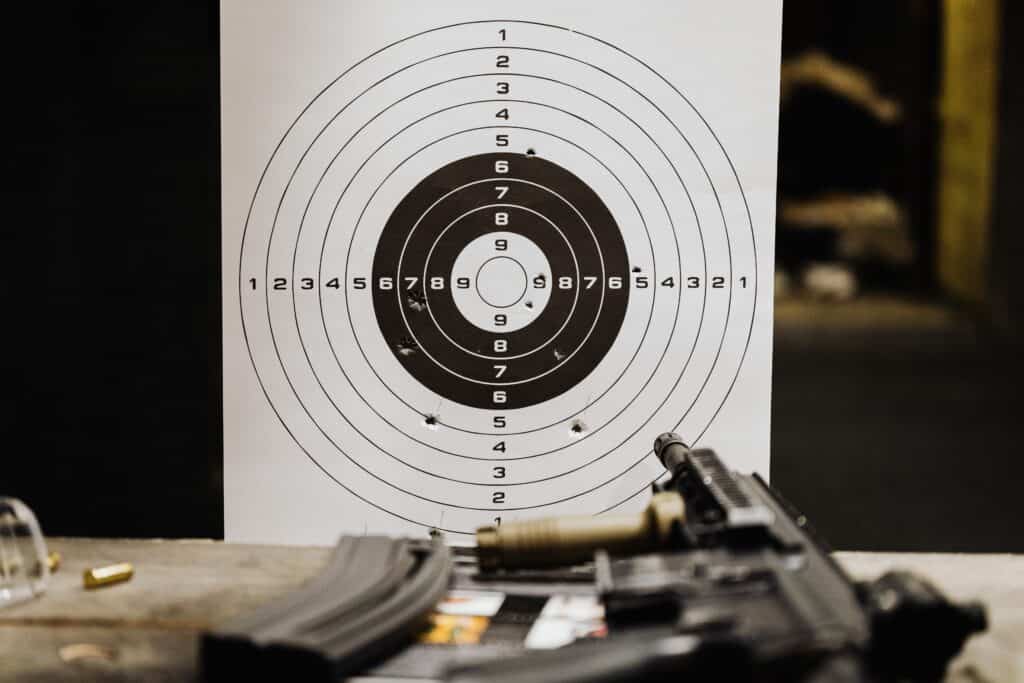 The Los Angeles Gun Club
The Los Angeles Gun Club has been in operation since 1989, providing the best shooting range services to its customers. Available at the range is a wide variety of ammunition and gun rentals that guarantee epic moments when you visit the facility.
If you don't have your own gun, have two or more of your friends accompany you. Forget taking your child with you if the child is under ten years old with a height of less than 56 inches.
Rifle and ammo are only available for sale to persons over 18 yrs old. You must be 21 yrs or older to buy shotgun ammo. Other features that make this range stand out are the staff that provides instructions in various languages, full-power rifles, and so much more.
Service at the facility is on a first-come, first-serve basis.
Lax Firing Range
Lax Firing Range has been around for over 20 years, offering shooting range services. Similar to gun ranges in San Jose, it has 14 well-ventilated lanes that are fully automated. Shotguns, high-powered rifles, and handgun calibers are examples of firearms that shooters can fire with at the facility.
The facility does not sell firearms but has a shop for various gun accessories where you can buy tactical gear, gun rifle kits, and ammunition.
If you are not much of a shooter, you can enjoy watching other shooters do their thing from the spacious, air-conditioned rest area fitted with flat-screen TVs.
California Tactical Academy
California Tactical Academy is one of the largest shooting ranges in Los Angeles. Service in this shooting range is on a first-come, first-serve basis.
With a $25-30 admission fee, you can enjoy shooting at the rimfire, rifle, pistol, and short gun ranges. A 100-yard rimfire range is the newest addition to the facility. If you do not have a rimfire, it is available at the pro shop for rental or purchase.
Membership to the facility allows one to enjoy discounts on gun rentals, tactical training, shooting matches, and so much more. This public range favors both novice shooters and professionals.
Angeles Shooting Ranges
Unlike some gun ranges in San Diego, Angeles Shooting Ranges does not rent firearms, which means you have to carry one of your own to enjoy their services. Their shooting spots are on a first-come, first-serve basis. Ammunition is readily available for shotgun, rifle, and pistol, and all other common calibers.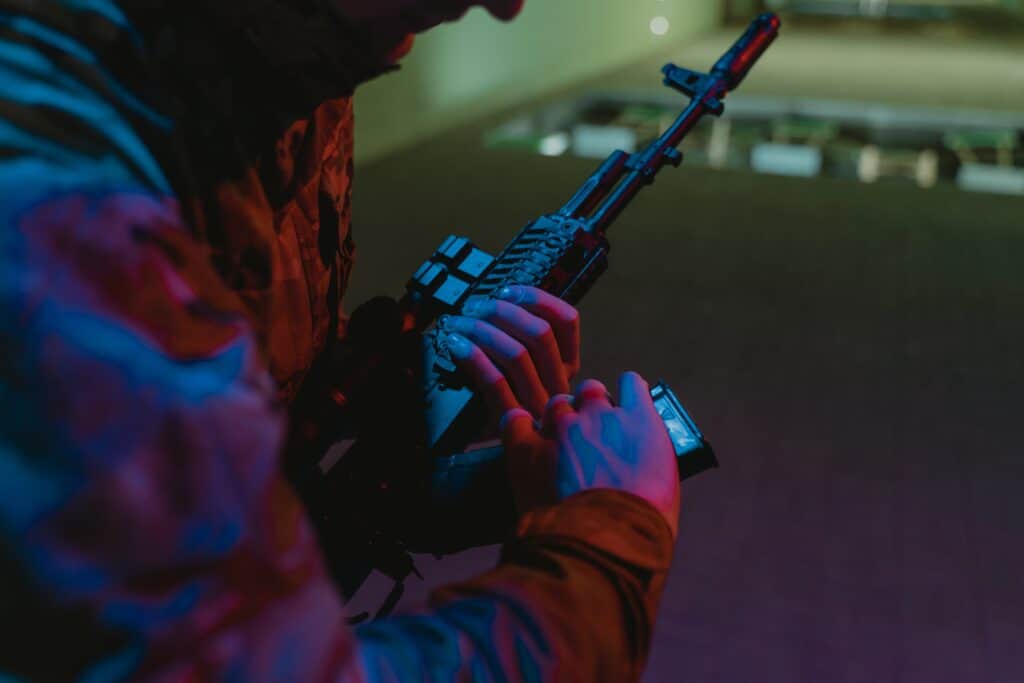 For rare calibers, it will be best if you call beforehand to enquire about the ammo availability.
The paper target allowed on weekdays is 300 yards and 200 yards on weekends for the rifle range. The pistol range has 35, 50, 70 and 100-yard targets for the cardboard hanging targets. For short gun range, you will use a 100-yard target at the rifle benches.
You may also relax or hold birthday bashes at the picnic area.
The Target Range
The Target Range is an indoor shooting range and gun store with over 30 years of excellent service. It is air-conditioned and heated to ensure a conducive environment for the shooters, comparable to shooting ranges in Atlanta. It has a very large collection of firearms, including Glock, berretta, Spring field, Kimber, Ruger, Smith & Wesson, etc.
Discounts are available on shooting range membership when you purchase a firearm from the facility. When you become a member, you enjoy benefits such as free firearm rentals, range time, and ammunition and supplies discounts.
They have a large number of rental firearms which you can try before buying your own gun. One advantage of this shooting range is the ability to switch rentals without any additional fees.
Firing-Line Indoor Shooting Ranges
Firing-Line Indoor Shooting Ranges was founded in 1977. The facility is fully monitored to ensure safety to all its customers. It is also fully fitted with automated targets and safety equipment. Gun rentals are also available in case you do not have a gun of your own.
The indoor shooting range is safe with a 50-foot range and is open every day until 10 pm. It comes equipped with fully automated shooting targets. The booths are air-conditioned and steel-lined for optimum shooter safety.
Other services at the facility include a fully stocked pro shop that sells gun cleaning accessories and shooting supplies and safety shooting equipment for shooters.
Oak Tree Gun Club
Oak Tree Gun Club is a premier family-owned shooting facility located on 100 acres of land. The services offered are archery ranges, shotgun, rifle, and pistol shooting. The pistol range provides indescribable fun at the steel-lined shooting gallery.
You may also opt for the privacy available at the paper bays.
A pro shop is also available where you can purchase firearms, shooting sports accessories, ammunition and safes. Oak Tree's signature Bar and Grill is where shooters unwind after a shooting session.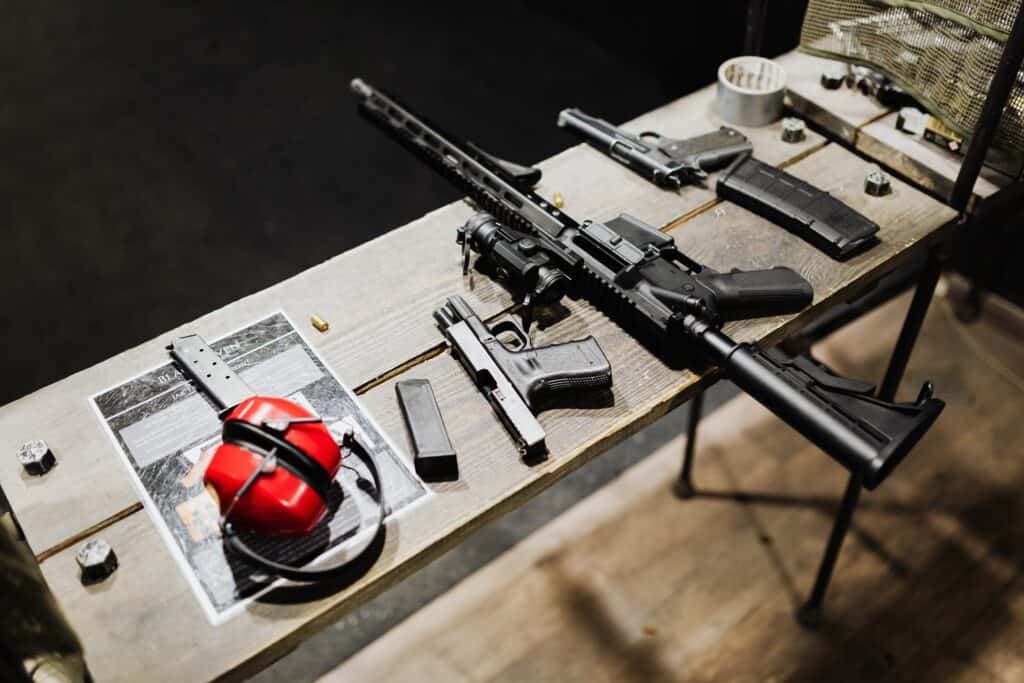 There are shooting venues and games such as Trap and Skeet that guests enjoy at the facility, which is a feature that can also be found in Alaska shooting ranges.
International Tactical Training Seminars Inc.
International Tactical Training Seminars is an outdoor shooting range facility that is serenely located in the Angeles National Forest Mountains. Some of the top-of-the-art equipment fitted at the facility include:
Knife attack system
Reactive armor
Shoot house
Lighting systems
Jungle trail
Moore N' Moore
Moore N' Moore is nestled in the foothills of San Fernando. This is a shotgun-only shooting range facility and has multiple target angles where you can gauge your shooting skills. Each station has four clay throwers which you release by remote control.
The facility's unique setup gives shooters 60 target angles from canyon floors and hilltops, top of the head, etc. Membership to Moore N Moore comes with many benefits such as:
Discounts on targets and ammo
Free gun rentals
Night shooting on select days, etc.
La Puente Firing Range
La Puente Firing Range was founded in 1990 and is the biggest range facility in San Gabriel Valley. It is a very spacious shooting range with 24 shooting booths equipped with an automated retrieval system. Shooters with handgun calibers up to 44 magnums can enjoy the 75ft length range.
Gun rental is also available at the range.
Family members and spectators can relax at the 4000 sq. ft lobby and view the shooting area from the big viewing windows. You are assured of safety when you visit the facility.
Conclusion
Shooting ranges in California can be found in cities like Long Beach, and even in the large city of Los Angeles. If you want to hang out with family or friends, consider any of these shooting ranges in Los Angeles. It is not only fun but therapeutic as well.