As an Amazon Associate we earn from qualifying purchases.
Gun violence has become rampant in the recent past, leading to tightened gun laws and regulations to curb the vice. Without proper training on firearm handling, the holder is bound to misuse it. Therefore, it is wise to attend firearm training courses to enlighten oneself on the correct use of a firearm.
Gun ranges provide a platform to sharpen one's shooting skills and various firearm courses to educate the gun holder on responsible use and handling a firearm.
The Top Shooting Ranges in Omaha
If you are a new shooter, you should find a range near you to equip you with everything you need to know about firearms. If you are in the Omaha area of Nebraska, here is a comprehensive guide on the top gun ranges that you may visit.
Inner 10 Weapons & Training – Omaha
The Harry Koch Trap & Skeet Range – St La Vista
Marksman Indoor Range – Waterloo
Papillion Gun Club – Papillion
88 Tactical Group – Omaha
The Bullet Hole – La Vista
Athena Arms – Bellevue
Frontier Justice – Omaha
Bellevue Rod and Gun Club – Bellevue
Weeping Water Gun Club – Omaha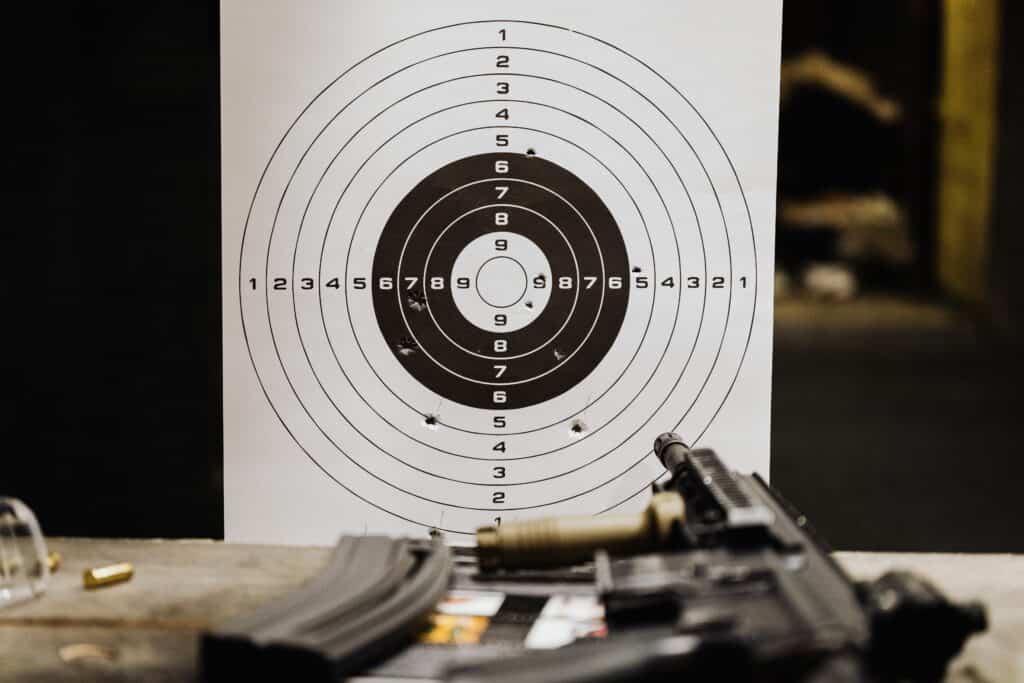 Inner 10 Weapons and Training
Inner 10 is Omaha's premier facility with programmable target retrievers that challenge even the most proficient shooters. The state-of-the-art indoor firing facility is equipped with modern amenities that will guarantee a memorable shooting experience.
Handguns and rifles are permitted in the range. Have fun shooting in any of the 6 fully automated lanes that are 25 yards in length. The range also provides training and other services to ensure all your needs shooting needs are met.
You will enjoy the firearms rentals, along with safety equipment. On sale are all your favorite firearms at the retail store, targets, various gun ammo, and related gun accessories.
The Harry Koch Trap and Skeet Range
Harry Koch is well known for its excellent customer service that is unrivaled in the area. It is a great facility with very well-maintained trap and skeet fields. Everything is voice-activated, which helps redefine the shooting experience on the 13 shotgun ranges, a feature that they share with some gun ranges in Virginia.
The place is handicap-accessible and also open to the public. You may buy any of their membership packages to access the facility freely. There are always plenty of people to shoot with. You may bring your own shells or purchase on site.
For the shooter's pleasure, there is a clubhouse and a picnic area where families may relax and have fun watching others shoot targets.
Marksman Indoor Range
Established in 2016, Marksman is a small company devoted to promoting safe shooting, whether for hunting, self-defense, or target shooting. It offers great introductory firearm classes that provide a good foundation for one shooting journey.
The 11 21-yard lanes in the indoor shooting range have digital controls for a fun-filled shooting experience. Firearm rental is offered in case you do not have your own gun to shoot with.
You can also purchase firearms, ammunition and other shooting accessories at the range. One-on-one instruction is available for a personalized training experience, a similar service feature that they share with some gun ranges in Utah.
Papillion Gun Club
Papillion Gun Club is a members-only club that is mainly focused on trap shooting. It is a private club whose activities are predominantly outdoor and has 6 trap fields.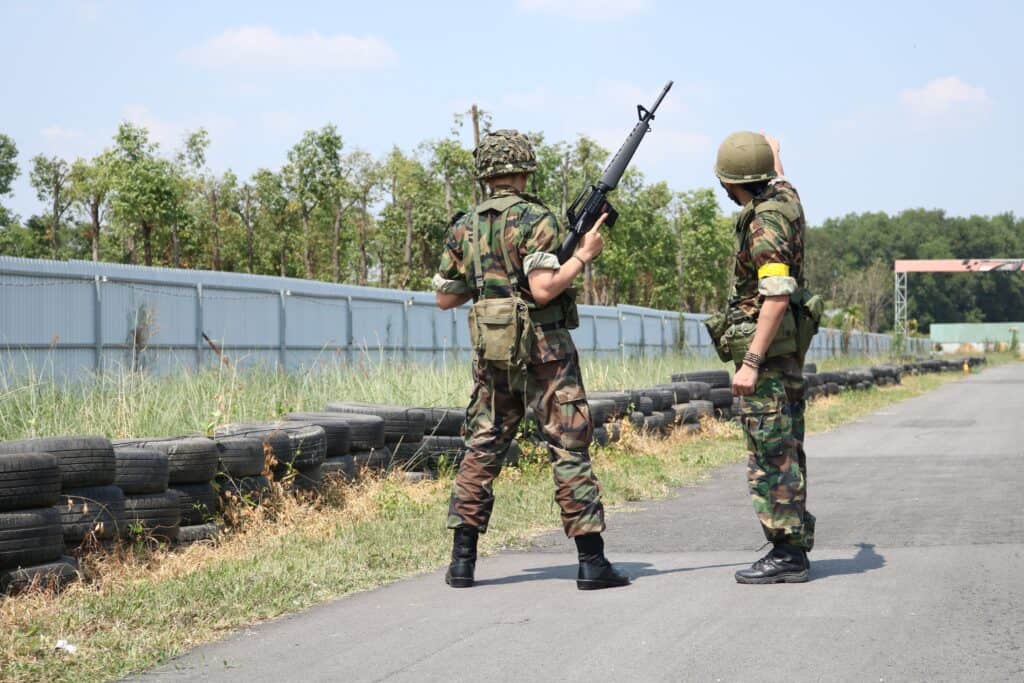 It is a very affordable range, and members pay $4 per round in any 6 voice-activated trap shooting. The facility hosts several shoots a year and is also the practice home for several high schools in the area.
The modern clubhouse with a full kitchen and bar is for use by the members, but it is also available for rental to the public. Apart from shooting, firearm classes are also offered on the location.
88 Tactical Group
88 Tactical Group is family-centric and has designed its facilities with the family in mind and top-level training courses. Similar to some gun ranges in Washington, the facility is one of a kind, with unmatched services and amenities in its state of the art facilities.
The range offers both public and private shooting lanes, with 10 lanes each at 25 yards. Available is also a 270-degree range that elevates a shooter's experience to insane levels.
Rifle and pistol rental are available, but it is always subject to availability. Other site facilities are a café, a pro shop, a fitness center, a clubhouse, and media-enabled classrooms.
The Bullet Hole
The Bullet Hole is veteran owned and operated indoor shooting range in Nebraska. It offers a 12-lane, 25-yard indoor shooting facility, and a gun store.
The facility is handicap-accessible and can handle pistols, rifles, and shotguns. The Bullet Hole carries an assortment of over 300 guns and you can sell, rent and buy new firearms with minimal hustle. Full auto weapons are available for rental for the shooters who desire an adrenaline rush to remember.
Find all shooting-related quality equipment that you need to access and care for your firearm at the retail store on location.
Athena Arms
Athena Arms is a veteran-owned local business that stands out as a great indoor shooting range, training store, and gun store. This veteran-owned and operated range has 10 firing lanes, 25 yards in length.
Established in 2013, this facility has superior customer service. It provides a sparkling clean and safe shooting environment for its customers, who comprise the public and club members.
The pro shop on location offers firearm sales, range gear, parts, and other shooting accessories a shooter may require. Great assistance is assured from the knowledgeable team at the shop.
Frontier Justice
Frontier Justice specializes in firearms and has ranges that are well lit with top-of-the-line target retrieval systems. This one-of-a-kind range offers 50-yard lanes and live range simulators.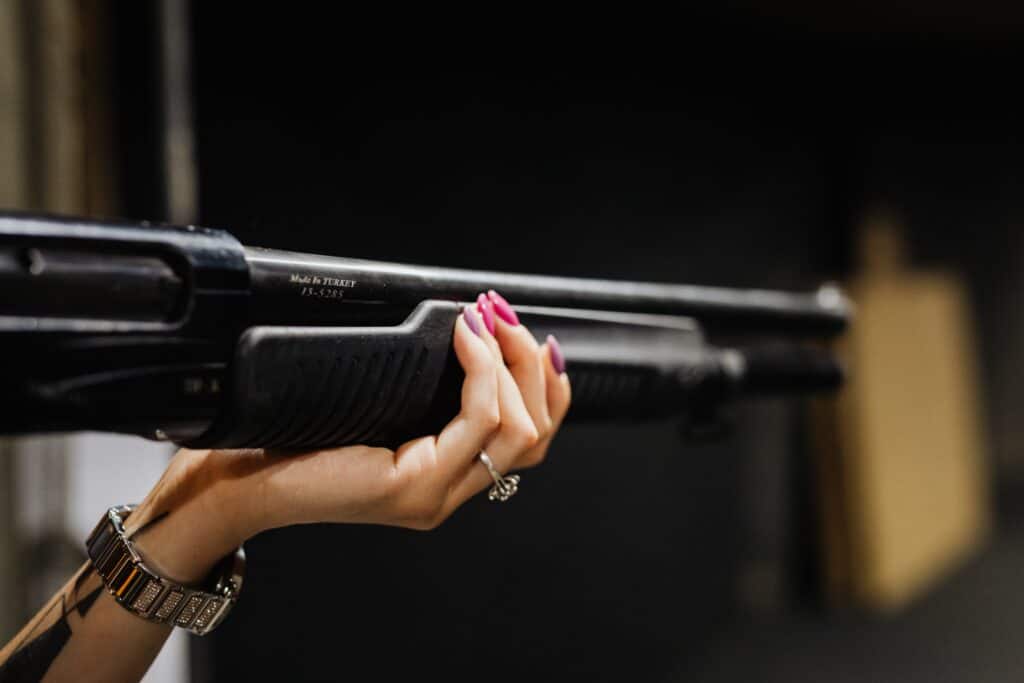 You will love shooting in the climate-controlled shooting range with an excellent ventilation system and magnificent firing acoustics. If you are a newbie in shooting, it is best that you first practice at the live simulator before advancing to the range.
The facility has you covered for all your firearms and other items, such as range gear, ammunition, optics, and knives. It also offers firearm rentals in case you want to explore a range of firearm types.
Bellevue Rod and Gun Club
Bellevue is a nonprofit and private sportsman's club whose main objective is to promote shooting sports and other outdoor activities. Only select events are open to the public.
Given that it is a member-only club, you must either be a member yourself or in a current member's company to visit the club.
The club only offers trap shooting, and the trap shoots are well organized. There are coaches for trap teams, and the facility is spacious enough.
The facility is quiet and beautiful and provides a serene environment for the member families. It is also a great place for holding events, just like the shooting ranges in Vermont.
Weeping Water Gun Club
Weeping Water is a members-only club with club ownership open to anyone who meets the requirements. It promotes organized shooter sports and proper gun handling and care of firearms.
On location is an outdoor shooting range for rifle and pistol. Both ranges are covered and have movable targets. Only members and their guests can shoot at the range.
However, nonmembers can take part in various shooting matches that happen at the facility.
Conclusion
Omaha is home to several indoor and outdoor gun ranges that accommodate both individual shooters and families. Whatever you are looking for in a shooting range, you will certainly find it in this compilation of the top ranges in Omaha, Nebraska.