As an Amazon Associate we earn from qualifying purchases.
If you are into the habit of going to the gun range, you need a good backpack to carry your rifle and any other necessary gear for the day. While you can get away with using a normal bag, you will need a backpack specifically made for this kind of work.
So, what kind of backpack should you get for a rifle range? That is exactly what we are going to help you figure out.
What Kind of Backpack Should You Get for a Rifle Range?
A good backpack for a rifle range should be of high quality, protective, and comfortable to use. It should also have ample space and multiple labeled compartments for easy and orderly packing.
The material should be convenient for your specific needs and have zippers that are effective, easy to locate, and operate.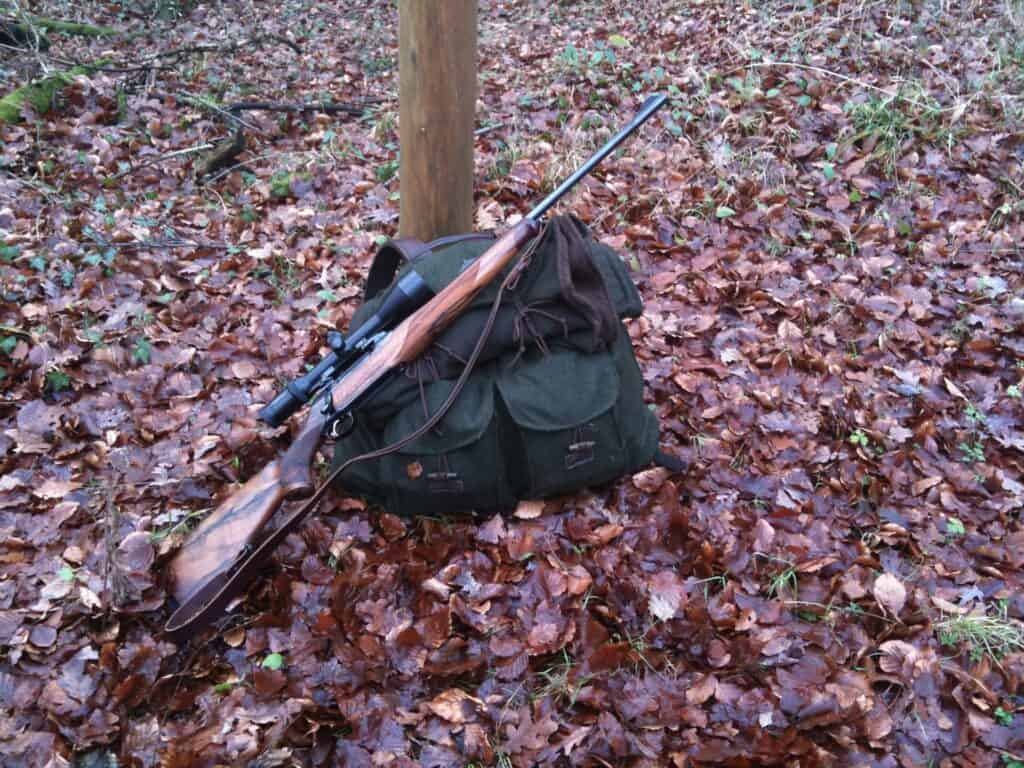 Let's take an in-depth look at the features to look out for when getting a backpack for your rifle range.
Material
The material used dictates how durable the bag will be. It also determines if the backpack is waterproof. We recommend that you get a backpack made of polymers, like Nylon. Keep away from anything made of cloth or an unspecified material.
If you're shooting indoors, weatherproofing should not bother you. However, you shouldn't compromise on durability. In case of materials that don't offer both weatherproofing and durability, like plastic, go for the latter.
Zipper
Don't let a beautiful design fool you if the zipper is of low quality. Nobody wants to have a zipper burst open and expose your rifle and its components on the streets. Go for a rifle range backpack with strong, high-quality zippers, like YKK Zippers.
Handmade bags from Japan or the US is a great choice. They are known for superb manufacturing. Better yet, any bag with a great zipper will clearly say so, hence keep off any that does not.
Compartments
This is the main reason why you need a rifle range backpack in the first place. These compartments will help you keep your ammo, cleaning kit, first aid kit, and all your gear in separate, labeled compartments. We strongly recommend this to prevent misplacing or losing stuff.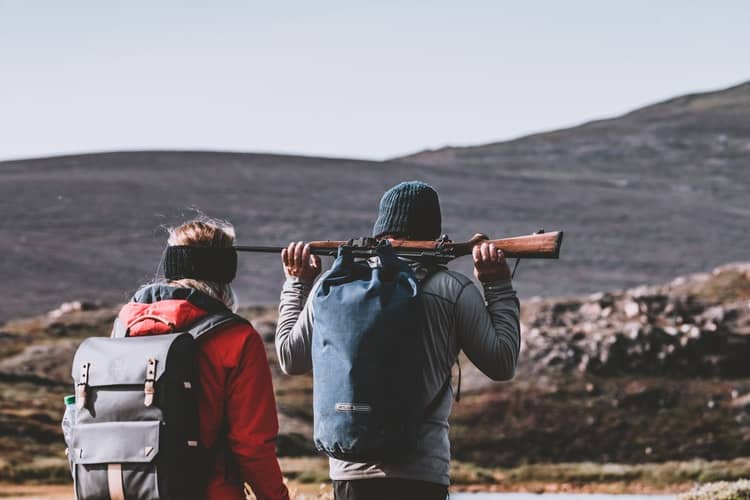 Determine the number of compartments you need by the gear you want to carry. Consider the design matters as well. A bag with multi-sized compartments, locking mechanisms like zippers, MOLLE Webbing System, and some crush-proof is the best pick.
Size
The essence of a bag is to make carrying a rifle and its components simpler. Getting one which is too big makes this harder. An ideal rifle range backpack has just enough room for what you want to carry and a little extra.
If you carry a single rifle to the range, keep off bags meant to carry multiple rifles. If you are not enthusiastic about keeping yourself hydrated, skip on bags with a camelback or multiple water bottle compartments.
What Should Be In Your Rifle Range Bag?
Now that you know the ideal bag to get, you might be wondering what exactly to put in your rifle range backpack.
Ammo, Firearms, and Gear
It makes perfect sense that these should be the first bunch to go in there. First, place the rifle in its designated gun compartment. Then, decide the type and quantity of ammo you need and put it in a different compartment.
Multi-tool and Cleaning Kit
You never know when you will need either or both of these. For that reason, we advise you to take them along. Grab along a bottle of cleaning oil and you will have all you need to give your gun an emergency cleaning.
Hearing and Eye Protection
For your safety, you will need some PPE. Remember to pack some eyeglasses cleaner too. If you wear prescription glasses, get eye protection that works both ways. On matters of hearing protection, look for electronic earmuffs.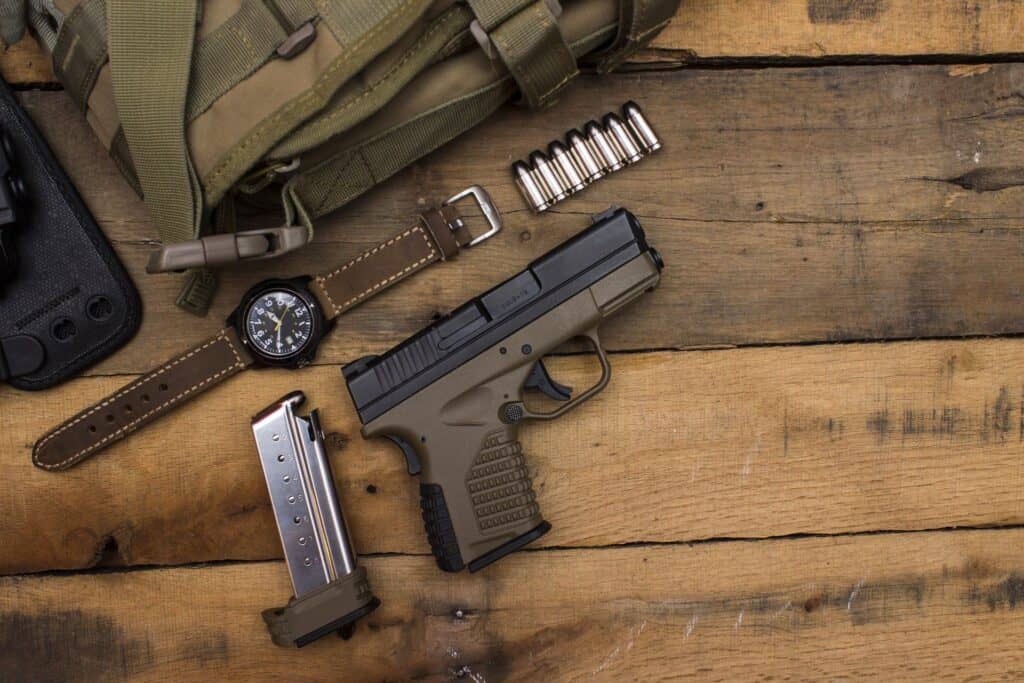 First Aid Kit
Just like any other sport, injuries at the gun range might be inevitable. That is why you cannot afford to leave your first-aid kit behind. To be adequately prepared, the kit should be red or orange and ready to use. Most importantly, all the original items used for an emergency should be present.
These items include:
CPR mask
First Aid cream
Gauze pads
Antiseptic wipes
Band-aids with different sizes
Medical tape
Gloves
Tylenol and Ibuprofen
Targets
To save some bucks on the range, consider carrying your targets. You can go ahead and try making simple DIY targets that you can use. If you cannot, there is a wide range to choose from in the market at fair prices.
Other Required Items
Shove in a bottle of water, some sunscreen if you're shooting outdoors, and even a pair of high-protein snacks. Also include an empty trash bag and an empty freezer bag for your brass. If you monitor your performance, don't forget your journal.
You will also need a Sharpie pen for marking the shot groups. Since electric earmuffs drain batteries fast, pack some extra cells. Lastly, include a laminated notecard with your personal information in case of an emergency.
Conclusion
When it comes to the question of what kind of backpack to get for the rifle range, functionality is key. Before buying one, carefully check if it has all the essential features we have discussed. Once you buy it and go to the range, you'll have a reliable place to carry and organize all your essential shooting gear.