As an Amazon Associate we earn from qualifying purchases.
When we talk about bows, Mathews and Hoyt instantly come to mind. These two generally produce the best hunting bows in the market. This has sparked a debate on Mathews vs Hoyt. So, which one is the best? 
Mathews vs Hoyt General Overview
When we are talking about hunting and archery, there are different things that one should know specifically on gauging the quality of the bow. This article will help you learn more about Mathews and Hoyt and guide you to make the right purchase should you ever buy one.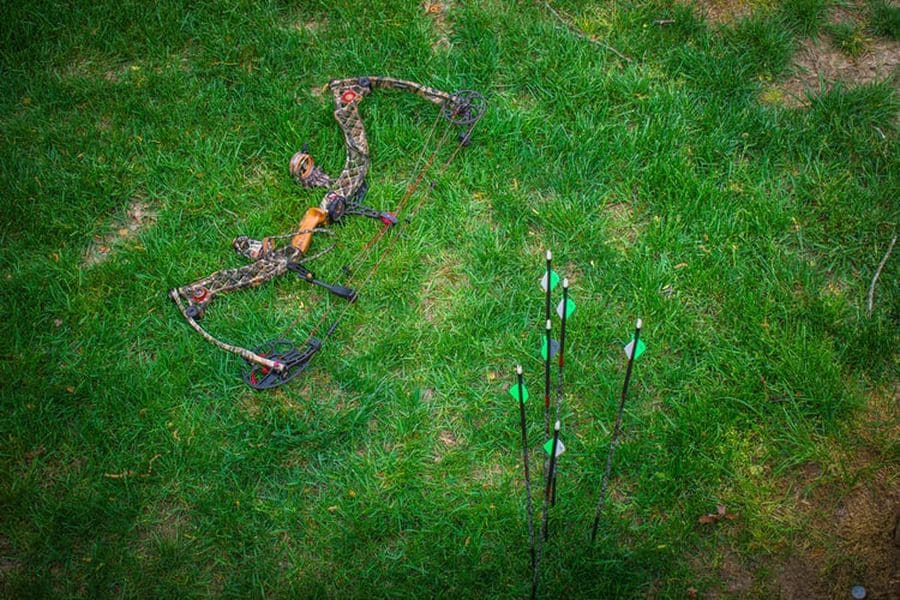 Mathews
Mathews is a world-class manufacturing company specializing in bows. They also make gear and accessories for archery and hunting. They're popular amongst hunters for their bow quality and craftsmanship.
History of Mathews
Mathews started as a DIY bow maker by Matt McPherson. He established a small company making bows for friends and relatives.
His company eventually grew and was renamed Mathews Archery Inc. It has many different facilities employing around 400 people in different locations.
With such a young history compared to Hoyt, you are probably wondering how it managed to compete against a company that has such a long history.
Mathews along with Hoyt is one of the leading innovators when it comes to improving bow performance. They are always competing against Hoyt for making quality bows raising the standards. We as a consumer only to stand to benefit from this innovations.
They have the proof to back it up. Team Mathews has had huge success in competitive archery like ASA, IBO, and NFAA World Cup circuits. They have all-time professional wins of 1,238.
Hoyt
Hoyt Archery or Hoyt is an American manufacturing company specializing in recurve bows and compound bows. They also make archery gear and accessories.
Their main headquarters is located in Salt Lake City, Utah. Hoyt is a long-time known brand in archery. They are especially notable for their bow's performance at the 2012 Summer Olympics. Every gold medalist in individual archery used a Hoyt recurved bow.
History of Hoyt
Hoyt was started by Earl Hoyt Sr. He started the company in 1931. It started with simple draw knives and wooden billets for making quality bows. Even then Hoyt managed to innovate and keep up with the advancing technology.
From their start at St. Louis, Missouri, they moved to Salt Lake City, Utah. It now houses a world-class manufacturing facility leading the innovations and technology in bowmaking.
Hoyt has been popular especially in Olympic competitions when archery came back in the Olympics in 1972. It has more medals than any other bow manufacturers combined.
If Mathews dominates other archery competitions, Hoyt dominates the Olympic stage.
Mathews vs Hoyt
Now that we get a general idea of Mathews and Hoyt. It's time we both compare them. We won't be comparing the companies to each other and how they are run. Instead, we will focus on their bows and the quality and performance of their bows.
No doubt, these two perform excellently in competitive archery. However, who has the edge? We'll take an in-depth look and see if one is better than the other.
Similarities
Since both are bow manufacturers, there are bound to be similarities between Mathews and Hoyt. Bowmaking has improved and innovations are applied to making quality bows. The core essence of making quality bows remain and should make most bows similar to each other.
Innovations
When it comes to innovations, both Mathews and Hoyt are almost the same. They always come up with innovations unique to their bows and it makes it harder to choose between them.
Hoyt has lead innovations in archery for quite some time. Oftentimes their new bows become major game-changers in the competitive landscape of archery.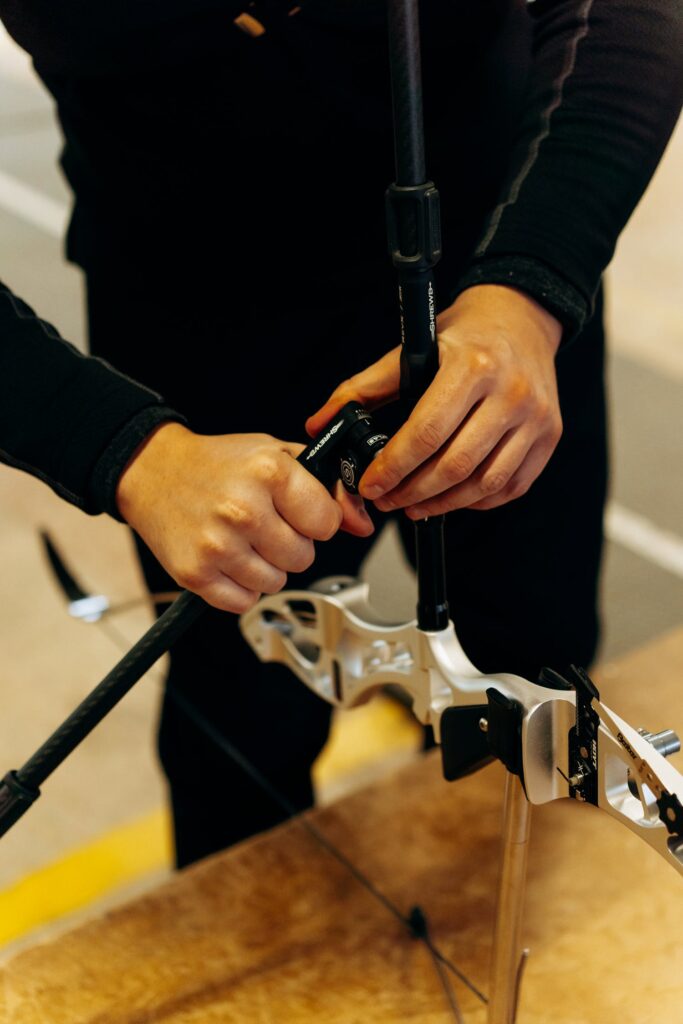 Hoyt, led by Earl Jr. made the early design for dynamically balanced limbs. This means the equal length in recurve bows makes the bow more steady and accurate for a shot.
They also made innovations that include:
Deflex-reflex bow design
Semi-pistol grip
Full-pistol grip
Stabilizers
Most of Hoyt's innovations are centered around recurve bows. While Mathews focuses their innovation on compound bows. Mathews notable innovations include:
Inner cam in bows
Let-off technology of compound bows
Solocam helps with accuracy while decreasing shock, vibration, and noise from the bow
Both companies have different and unique innovations so it's really hard to rank them. That's why both Mathews and Hoyt are the same for leading in innovations.
Fastest Bow
Speed bows are highly popular so it's no wonder that the top bow manufacturers are scrambling to make the fastest one.
However, no one seems to be gaining the edge. The fastest ones are generally modern compound bows that can reach around 360 feet per second. Both Mathews and Hoyt come close to getting that consistent speed.
Bow speed is usually measured based on a standardized test. They are overseen by the International Bowhunting Organization (IBO).
The IBO sets a standard that every bow manufacturer should follow like the settings of the compound bow. Here are some settings that the compound bow should follow when being tested for speed:
The bow should have 70 pounds of draw weight
The bow needs to have a 30-inch draw length when firing
You can only use 350-grain arrows for testing speed
That's why it's hard to believe if the speed is accurate as advertised by bow manufacturers. First, bows are made in different ranges of draw weights and draw lengths. Therefore, you won't have a uniform measurement of speed because of their differences.
Let's take a look at both Mathews and Hoyt's fastest bows, the Hoyt Carbon RX-3 Turbo and Mathews Monster Safari.
Both bows have an outstanding shooting speed of 350 feet per second. However, they have different measurements with the Mathews Monster Safari having the better measurements.
| | | |
| --- | --- | --- |
| Bow | Hoyt Carbon RX-3 Turbo | Mathews Monster Safari |
| Axle to axle | 31 inches | 33 inches |
| Brace heightWeight | 6 inches 4 pounds | 6 inches 4.8 pounds |
| Draw length | 26 to 30 inches | 25.5 to 31 inches |
| Draw weight | 30 to 70 pounds | 70 to 85 pounds |
This would hypothetically mean that the Hoyt Carbon RX-3 Turbo is better in a uniform setting, however, that does not happen in real hunting. Therefore, you could test them both and have a feel for what is more comfortable for you to use.
Accessibility
Since both Mathews and Hoyt are reputable bow manufacturers, they are gonna be hard to find in your local area in stock.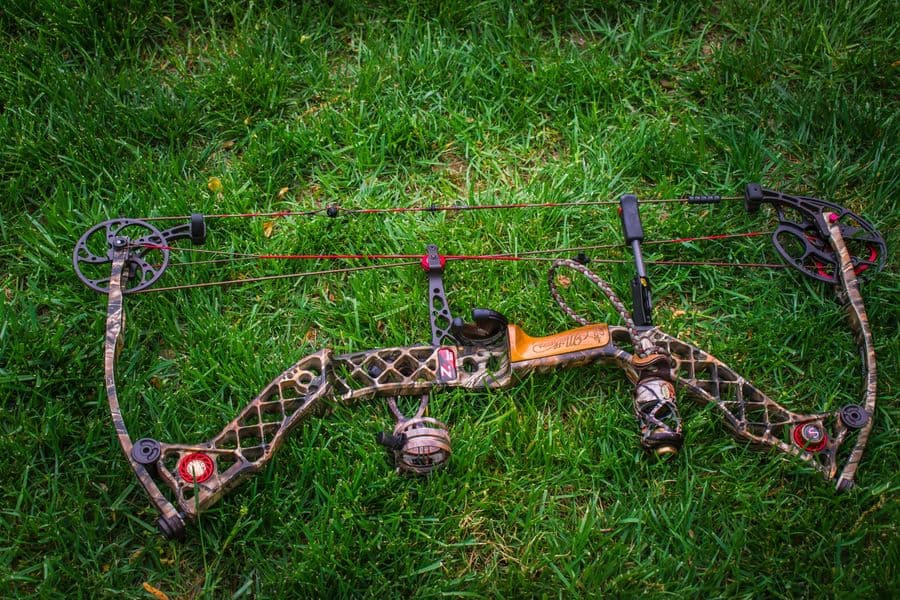 You're lucky if you find an authorized dealer near your area. If not, you might have to travel to get to an authorized dealer.
As a way to maintain the quality of their bows, Mathews and Hoyt make sure to choose the right shops that will sell their products. Most authorized sellers will have the proper equipment and knowledgeable staff that can maintain the quality of the bows.
Buying one isn't as simple as you think. They are not even displayed on shelves to preserve the quality. Smaller authorized dealers might not have the exact model you want because they have a smaller facility.
That's why when it comes to accessibility both manufacturers are the same since it all depends on the area where you live.
Warranty
Since bows are rather expensive, you would want the best warranty in case something unfortunate happens.
Both Mathews and Hoyt are great in warranties. They offer lifetime warranties when you purchase their bows.
However, the warranty is also limited. The authorized dealer might have a different policy when it comes to warranty. You must also be handling the bow properly and normal wear and tear out of warranty.
As long as you know how to properly take care of your bow, you shouldn't suffer any malfunctions unless it's a manufacturer defect.
Both companies are generally great at resolving your queries and will likely replace the bow or parts if it covers the warranty.
Differences
While both are at the top when it comes to manufacturing bows, they have their own differences. They have their own strong suits that make them stand out from each other and other competition.
Pricing
When it comes to pricing, Hoyt is able to cater to a wide budget range. You don't want to go to a store and only have a limited selection only to look at the price and not fit in your budget.
With Hoyt, you will have a wide selection of bows at varying prices. However, We wouldn't recommend getting a cheap bow from Hoyt or Mathews. Making cheap bows isn't really their strength.
Hoyt has a lower base price compared to Mathews. Just look at Mathews as an exclusive maker for high-quality bows.
Still, if you're buying from a local authorized dealer, you will be limited to what they have in stock. Although some authorized dealers can take your specific order and wait for its shipment at an extra cost.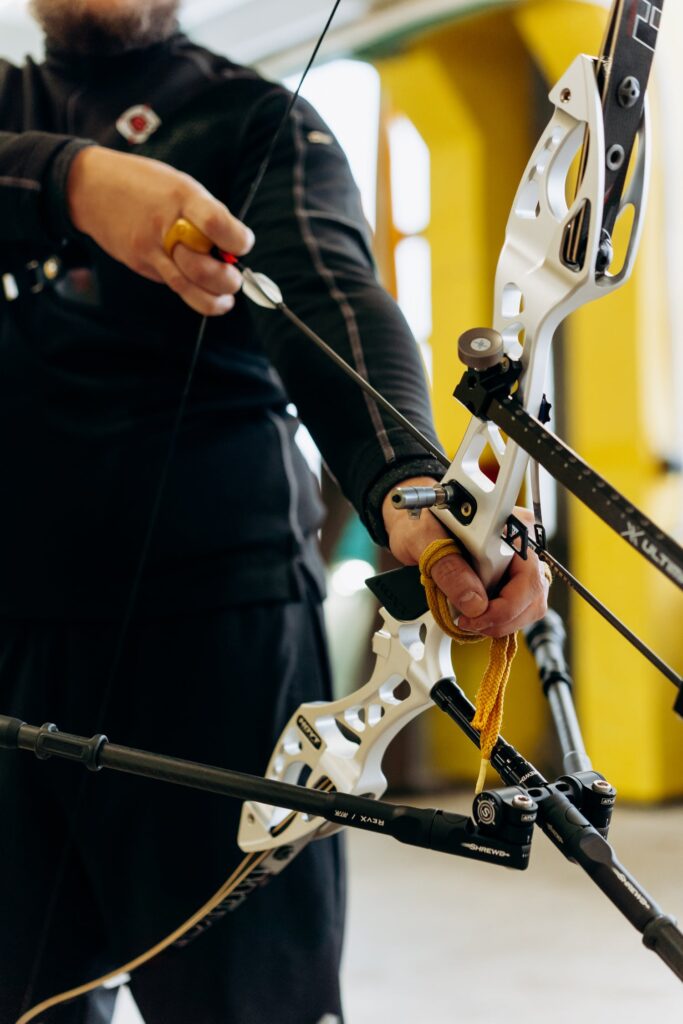 Bow Variations
Since Hoyt has better price variation, it's natural that they also have a wider selection of bows. It may also be because Hoyt has a far longer time in manufacturing that they have produced a number of bows already.
Still, it all depends on your local authorized dealer. While Hoyt has a larger variety of bows, the storage facility of your local authorized dealer is not. Your choices will be limited.
With Mathews having a limited variety in pricing is limiting enough. You could end up with a Mathews bow that you're not compatible with.
If you are buying bows for the family, you might want to go to a larger authorized dealer. Try to contact them beforehand so you can plan your trip to the dealer smoothly.
Design
The bow design is really hard to spot if you're not using them frequently. Aesthetics don't really play much of a part in a hunter or archer's choice.
However, if you want to compare aesthetics, Hoyt bows are generally the best-looking bows compared to Mathews and other brands.
They are even featured in popular movies. For example, the bow that Katniss Everdeen used in The Hunger Games is a Hoyt bow. Hawkeye from the Avengers franchise also uses a Hoyt bow.
The popular bow used was the Buffalo Bow, which is a takedown recurve bow. It's a good-looking bow and it functions really well even for novice archers.
This is probably why the Buffalo Bow is widely used in Hollywood. It's free advertising for Hoyt and added interest in archery and bows.
Hoyt easily has the best design for bows. Other bow manufacturers are also slowly getting into Hollywood. Hoyt was the first one to do it.
Quality of Hunting Bows
For hunting bows, Mathews offers the best ones out there. Veteran bowhunters and target shooters will tell you to get a Mathews bow if you want to focus on hunting.
Hunting bows and target bows are made differently. This is why Mathews and Hoyt label them as such.
Most bowhunters prefer using compound bows. Although there are plenty of recurved bows specifically made for hunting, compound bows are still considered the best for hunting.
If you want the best bow for hunting, the Mathews Archery Vertix is a fairly new bow and is popular among bowhunters. Most bowhunters who used it reported experiencing the best all-around shooting with the bow.
Most bowmakers feel that it has the perfect length and weight for hunting. It also features a Crosscentric Cam Technology that improves the bow's power and efficiency.
Its 3D Dampening Technology also makes the bow produce less noise and vibration.
Quality of Target Bows
Since Hoyt bows are notable in Olympics, it's obvious they're better in making quality target bows. Hoyt is popular among archery competitions.
This is mainly because recurve bows are popular in target archery competitions and Hoyt makes the best recurve bows around.
The first popular recurve bow was made by Earl Hoyt Jr. himself. It was used by Olympians Wilbur and John Williams who both bought home gold medals in 1972.
Given the track record of Hoyt bows in the Olympics, it is the most widely used brand for target shooting.
Hoyt is also one of the few manufacturers that still make new recurve bows and have a wide variety of them.
Lightweight
Lightweight bows are widely preferred for a compound bow. You can't maximize the speed of your shot if you have a hard time lifting your bow.
The general consensus among hunters is that the lighter your bow is, the faster it will shoot. If you have the lightest compound bow around, bowhunters will surely come at you and ask to have a go with it.
Currently, the lightest bow in the market is a Hoyt bow. The Hoyt Fireshot is the lightest bow with a weight of only three pounds. It's a hybrid target shooting and hunting compound bow.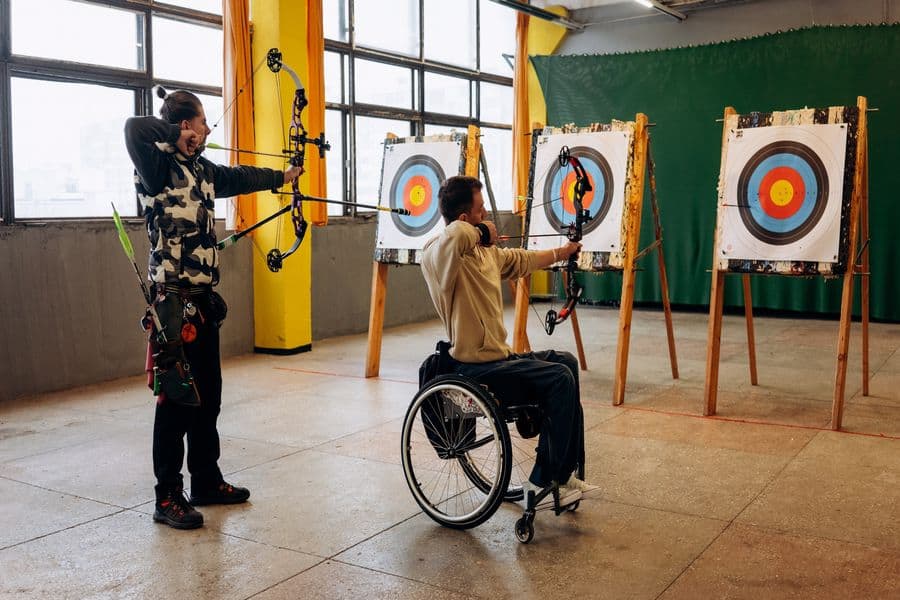 It is only followed by the Mathews Stoke which weighs 3.78 pounds which is only a half quarter heavier than the Hoyt Fireshot.
They have a significant difference in pricing though. The Hoyt Fireshot is made for budget-level lightweight bow use while the Mathews is targeted for high-quality bows that are lightweight in build design.
Here's a comparison of their specifications:
| | | |
| --- | --- | --- |
| | Hoyt Fireshot | Mathews Stoke |
| Shot speed | 281 feet per second | 314 feet per second |
| Axle to axle | 29 inches | 27.25 inches |
| Brace height | 6.625 inches | 5.625 inches |
If you're going for a competitive pricing lightweight bow that has the best value, clearly the Hoyt Fireshot is the best choice which is priced significantly affordable than the Mathews Stoke.
Accessories
Accessories are also part of Archery. They can be a good upgrade or make your experience better. You should pick one that offers a lot of archery accessories.
When it comes to accessories, Mathews offers a wide variety of archery accessories. Their accessories include:
Silent connect
Quivers
Stabilizers
Rests
Limb legs
Vibration damping
Grips
You can really customize your bow to make it more compatible and comfortable for you to use.
Hoyt on the other hand only offers:
Your options from each category are also few. Well, the same goes with Mathews. However, you have more options compared to Hoyt.
Why You Should Use Mathews
Mathews is a bow manufacturing company that mainly focuses on making high-quality bows. For that, their bows are usually priced expensive. However, the quality of their expensive bows never seems to fail.
Mathews is known for their hunting bows. So if you are buying for hunting in general, we would recommend getting a Mathews hunting bow. Make sure it's a compound bow.
Although their bows can be expensive, the shooting experience is worth it. Additionally, the bow can be of use for a long time. If you plan to make bowhunting a hobby or enter a lot of hunting competitions, you might want to get a Mathews.
Why You Should Use Hoyt
Hoyt is your go-to for everything general. They offer a wide selection of bows all at different price ranges.
Hoyt makes the best bows for target shooting and they also make some of the best looking bows out there. If you're buying a bow for target shooting, then you should get a Hoyt Bow.
If you also don't want to spend too much on buying a bow, Hoyt offers a wide variety of low-cost bows that you can choose from.  
Which One Should You Buy First
For a first-timer, you should buy a Hoyt bow first. We would recommend getting the Hoyt Fireshot which is a hybrid bow. It would be great for all-around use and its lightweight design will ensure you are able to use the bow with ease.
Which Bow Manufacturer Is Better?
Both Mathews and Hoyt have their own advantages over the other. Both are also leading the bow manufacturing industry, especially in innovation. So we can't really say one is better than the other. It's just great to have a lot of quality options to choose a bow from.