As an Amazon Associate we earn from qualifying purchases.
You finally want to upgrade your optics and stumbled upon the debate of Nikon Buckmaster 2 vs Prostaff. They're some of the best optics you can get and people often argue which one is the better. With in-depth analysis, it's time to finally settle this score.
Nikon Buckmaster 2 vs Prostaff General Overview
Nikon makes some of the best quality sniper rifle scopes you can have. There are three notable product lines that are widely popular, namely:
Buckmasters
Prostaff
Monarch
Two of them, the Buckmasters and Prostaff are closely similar to each other. That is why people often get confused about which one they should get. So let's break it down and differentiate these two top-quality optics.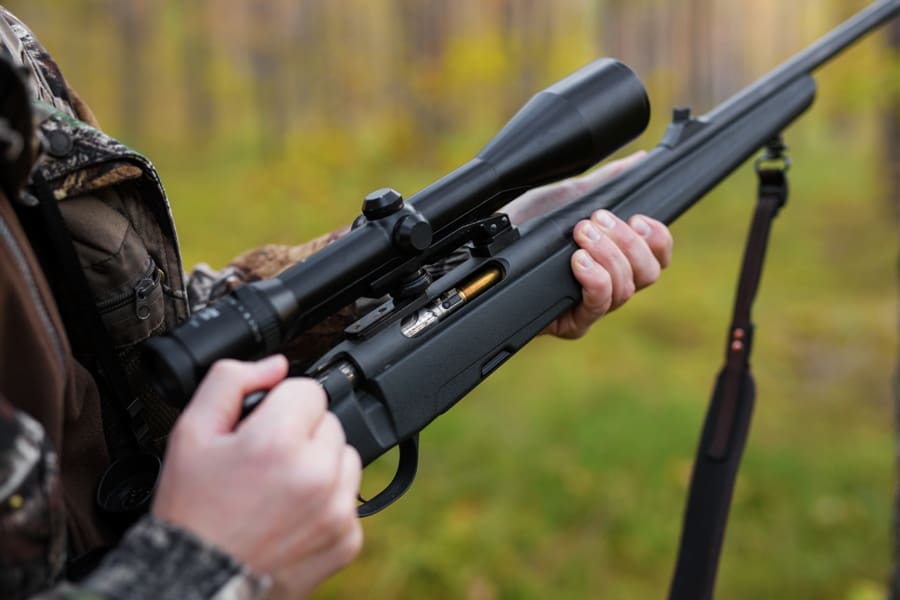 Nikon Buckmaster 2
The Nikon Buckmaster 2 was designed to target hardcore hunters and shooters. It was made before the Prostaff so you could say that it was built with an upgrade from Prostaff in mind.
This optic is a mid-range product and is even considered an entry-level optic. First-time shooters and hunters will have an easy time using this.
The Buckmaster 2 is notable for its impressive bright field of view with a 92% light transmission. It also has reliable eye relief so you will feel comfortable throughout use.
The lenses are multi-coated. It is fully protected every time you use it, especially in harsh outdoor conditions.
You can also use this optic even when it's raining because it's waterproof. It is also fog proof and shockproof so it is built for outdoor use.
Its magnification range is excellent and complements its field of view really well.
Compared to the previous model, the Buckmaster 2 has added resettable turrets on the scope. It's easy to use because it's spring-loaded. Just pull up on the turret and you can easily rotate it to adjust.
You don't need a tool to do it. You can use your fingers to do it so it's really simple. You also get protective caps instead of locks.
You also have nubs on the magnification ring. This makes it easy to change and grip the magnification.
The Buckmaster 2 is great for long-range sports hunting. It seems it best fits with bolt action rifles.
Nikon Buckmaster 2 Notable Features
Bullet Drop Compensation (BDC): reticle has BDC that helps pre-calculate the distance your bullet drops over a specific distance. 
Scope Adjustments: various tools to adjust your scope which includes elevation, windage, and parallax. Having the flexibility to adjust your scope to how you want it to function adds a level of comfort and confidence in your shots.
Quality Image Processing: produces sharp and clear images thanks to its 92% light transmission even under low lighting conditions.
Versatile Magnification: has a wide selection of magnification from 3-9X to 6-18X. So it works for both close-range and long-range shooting.
Prostaff
The Nikon Prostaff is a bit older than the Nikon Buckmaster 2. However, it is also slightly reasonable. Still, it has released newer models, so it still competes with the Buckmaster.
I'll take a look at their latest model, the Prostaff 4. It also has a maximum light transmission of 98%. It greatly deviates from its core 3 series model namely, Prostaff 3, 5, and 7 which has different light transmissions.
You also have a Bullet Drop Compensation (BDC) feature in all their Prostaff series models. It helps you avoid misplaced shots.  There is also an option that doesn't have BDC if you don't like it added to your scope.  
The magnification range also varies depending on the model and price range. Of course, the more expensive Prostaff series has the better versatile magnifications.
Depending on the Prostaff model, it can be multifunctional and can be used in different types of rifles.
It depends on your budget what you can get. The Prostaff 2 and 3 are generally uncostly. However, doesn't pack with features that can compete with the Buckmaster 2.
The Prostaff 4 and 5 can go even with the Buckmaster 2 since they have better light transmission and added features that are similar to the Buckmaster 2.
Still, the Prostaff is versatile in a lot of ways with varying options to choose from that fit your needs. Whether you're into close or long-range shooting, or you don't like some features added to your scope.
Prostaff Notable Features
Bullet Drop Compensation (BDC): Also contains Bullet Drop Compensation. Although there are some models and options offered that do not have BDC. Since not all hunters like BDC, it's great that they added options like this.
Scope Adjustments: Higher-end Prostaff offers various scope adjustments for elevation, windage, and parallax. The lower-end Prostaff models also have options if you're willing to spend more.
Quality Image Processing: The highest light transmission is from Prostaff 4 followed by Prostaff 5 with 95%. The images are consistently clear and sharp even under low lighting conditions.
Versatile Magnification: Since there are different models of the Prostaff, you get a lot of magnification options. You can choose whatever one suits your needs.
Nikon Buckmaster 2 vs Prostaff
Now let's take a look at the comparisons between the Nikon Buckmaster 2 and Prostaff. I'll discuss their similarities and differences.
Similarities
While the Buckmaster 2 is developed much later, they still have some similarities between them since both are made by Nikon.
Both are designed as mid-range entry-level rifle scopes great for first-time and veteran hunters.
Both model series has a Bullet Drop Compensation (BDC) scope reticle.
Both use hand-turned turrets so there's no need for tools when adjusting.
Both model series are waterproof, fog-proof, and shock-proof.
These rifle optics also have the same Field of View if compared with the mid-range Prostaff. They both have 11.3 to 33.8 feet field of view at 100 yards.
Their travel adjustments per rotation are also the same at ¼ inch per click.
Differences
Even though both are targeted for mid-range pricing. These rifle optics from Nikon still have some differences in features between them.
Generally, in low light conditions, the Prostaff is better at handling image quality. The Prostaff lenses have 98% light transmission compared to the Buckmaster 2's 92% light transmission.
While both are similar at close range. The Prostaff is slightly better at longer distances since it has a higher magnification range. The images it produces are more clear at longer distances.
The Buckmaster 2 is priced lower than the mid-range Prostaff and doesn't fall too far in terms of performance.
When to Use the Nikon Buckmaster 2
If you're looking for something low-cost, I would say you should go for the Nikon Buckmaster 2. Although it's not as good as the likes of Prostaff 4 or 5, The pricing for this product is worth all the features it has.
Beginners and first-time hunters are greatly recommended to get the Buckmaster 2 as their first rifle scope. It's so easy to use and the durability is great with all its waterproof and shockproof properties.
When to Use the Prostaff
There are various options to choose from for the Prostaff. If you just want a reasonable rifle scope, the lower-level Prostaff like the Prostaff 3 should work just fine.
If you want something with the best performance especially for really long-distance shooting and hunting, I would recommend getting the Prostaff 4, 5, or 7. They're more expensive than the Buckmaster 2 and it makes up for it with its better performance and specifications.
Which Optics Should You Buy First?
If you're a beginner, go for the Nikon Buckmaster 2. Even long-time veterans of hunting should go for the Buckmaster 2. It screams affordability so it's worth getting first.
The only time you should get the higher-end Prostaff rifle scopes are when you are hunting at a long distance and you want a better vision of your target. This rarely ever happens in hunting and is more for experienced hunters who want to prove their skills.
Although, do take note that Nikon has stopped production of their rifle scopes. You have to buy them from 3rd party sellers that still sells them or used ones.  
Which Optics Are Better?
The higher-end Prostaff without a doubt is the better Optics. Although the Prostaff was designed earlier than the Buckmaster 2, it is still far better. This is mostly because the Buckmaster 2 is made for entry and mid-level rifle optics.
The Buckmaster 2 is for value and for people who don't want to spend too much on rifle optics. The Prostaff is just better in terms of image quality and magnification range.