As an Amazon Associate we earn from qualifying purchases.
Binoculars are really great to have for hunting or long-distance range shooting. However; some binoculars can be a bit expensive to your taste. That's why you have to make sure you choose the right one for the long run.
Among the best are the Monarch 5 and 7. We'll help you choose between them.
Monarch 5 vs 7 General Overview
The Monarch 5 and 7 are from the same model series from Nikon. They're among the best mid-level binoculars you can get in the market.
While both came from the same model series, both the Monarch 5 and 7 are entirely different binoculars. They were built with different targets in mind. However, they still share some similarities as Monarch models.
Monarch 5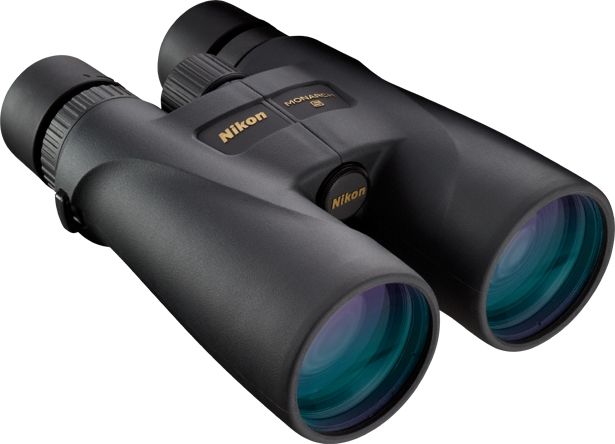 At 21.5 ounces, these Nikon Monarch 5 20×56 Binocular 7583 binoculars are one of the lightest full-size binoculars. They're great for bird watching and wildlife viewing. they're a high-end optical quality product catered for mid-range level optics. The Monarch 5 features improvements from its predecessor, the Monarch 3 like:
Lens coating for better lens durability and anti-fogging
Overall weight is made lighter for portability
Wider field of view so you can have more subjects in your lenses
Improvements in eye relief make them more comfortable around your eyes
Features of Monarch 5
Monarch 5 has been made better in different aspects for what binoculars need to have. We'll go over every one of them to give you more information about this product.
Clarity
The Monarch 5 will give you exceptionally clear image quality. It produces a crisp and smooth image that helps you spot minute details. You can easily spot your shots from long-range with these binoculars.
However, you will notice a bit of blurring around the extreme edges of the image. It's not surprising since the Monarch 5 are mid-range level binoculars so it easily loses out to high-end binoculars.
Brightness
The Monarch 5 has the best brightness value. The Monarch 5 has a brightness rating of 8 out of 10. Compared to other binoculars in the same price range, most scored 7 out of 10, giving the Monarch 5 the edge.
If you want to get the best value out of a product, the Monarch 5 surely are the best value you can get when looking for binoculars with excellent brightness.
Adjustment Quality
The Monarch 5 adjusts pretty easily and reliably. The focus knob is smooth and solid allowing you to adjust it easily. The diopter is stiff at first, so you need to apply a bit of force for adjustment. Once you do, it is smoother to adjust.
Overall, the adjustment quality is what you would expect from binoculars made by Nikon. They work great. They have added some features like a locking diopter. However, it may be too much to ask for its price range.
Comfort
The Monarch 5 binoculars are comfortable to hold in your hands. It's mainly because of its rubber coating. The rubber feels great in your grip and it feels secure. It doesn't feel sticky even when you're using it on a hot day.
The rubber coating gets thinner on the bottom of the barrels. This is where your thumbs are usually placed and the thinning makes it comfortable to hold under your thumb. You also get a padded, neoprene neck strap with a non-slip coating on the inside.
Construction Quality
The construction quality of the Monarch 5 is really done excellently. The rubber coating feels comfortable. The parts of the binoculars are solid and easy to operate apart aside from the stiff diopter.
The materials aren't the best which you would expect from a mid-range level product. They can't be compared to expensive binoculars. However, at its price range, it's one of the best and durable ones out there.
Field of View
The Monarch 5 aren't the best when it comes to the field of view. The binoculars' field of view at 1000 yards is 330 feet. Compared to others at its price range which has a field of view of 400+ feet, the Monarch 5 binoculars are definitely lacking.
If you're looking for binoculars to spot for more than 330 feet of range, then the Monarch won't cut it for you. The Monarch 5 should work fine if you're only spotting at a range of 200 or 300 feet or less.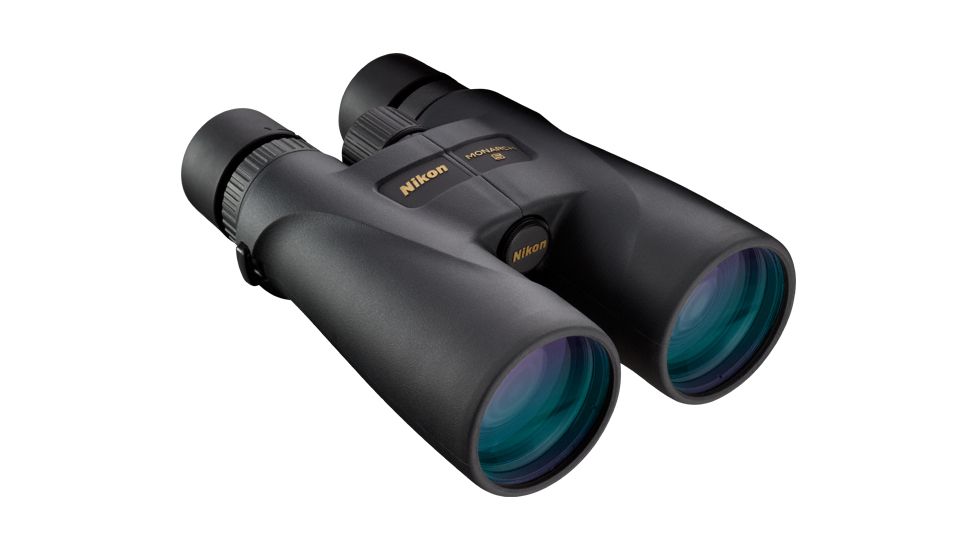 Monarch 7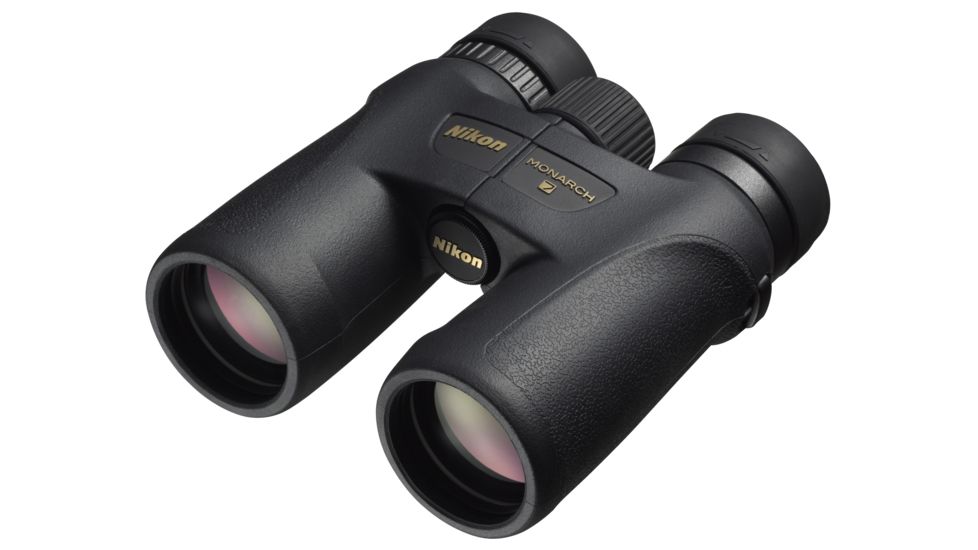 The Nikon Monarch 7 10×42 Binoculars are the newer version of the Monarch series. It's also more expensive than its previous version, the Monarch 5. Let's see how it holds up to its predecessor by looking at its features.
Features of Monarch 7
Just like the Monarch 5, the Monarch 7 binoculars follow the same approach. While the binoculars retain notable features from the Monarch series, they also add features fit for a high-end product.
Clarity
The Monarch 7 binoculars have excellent visual quality thanks to their ED glass and unique phase coatings. You won't notice any noticeable distortion and even the edges are smooth.
Considering these are on the expensive side of binoculars, the clarity is to be expected of excellent quality and it delivered.
Brightness
The Monarch 7 binoculars have lenses with dielectric phase correction coating. These lenses give you an excellent bright view of objects. The brightness is what you would expect from an expensive lens.
Adjustment Quality
Adjusting the Monarch 7 is smooth and quick. The transition from near to far view was fast without compromising their fine focus control. So you can zoom in and out while still having clear vision quality through the lens.
The diopter is found at the right eyepiece. We found it was slightly stiff so moving it felt like it would snap. There is also no locking mechanism on the diopter. However, the interpupillary distance is comfortable and easy to adjust.
Comfort
The Monarch 7 is comfortable to use. The eyecups are made of soft rubber which feels comfortable on your face. The rubberized coating is comfortable to grip and hold.
It's also comfortable to carry around. The weight and size of the Monarch 7 make it easier to carry around with you. It's easily one of the best comfortable binoculars to have with you.
Construction Quality
The Monarch 7 construction quality feels solid. The binoculars operate smoothly and the parts feel like they are durable. Although some parts feel too stiff like the diopter. You won't see any noticeable alignment issues.
Overall, the build quality is top-notch although there can be improvements in some parts. The Monarch 7 will last for a long time with proper use. 
Field of View
The Monarch 7 binoculars have a field of view of 420 feet at 1000 yards. They're excellent for long-range viewing. You can view a wider range when looking through the Monarch 7.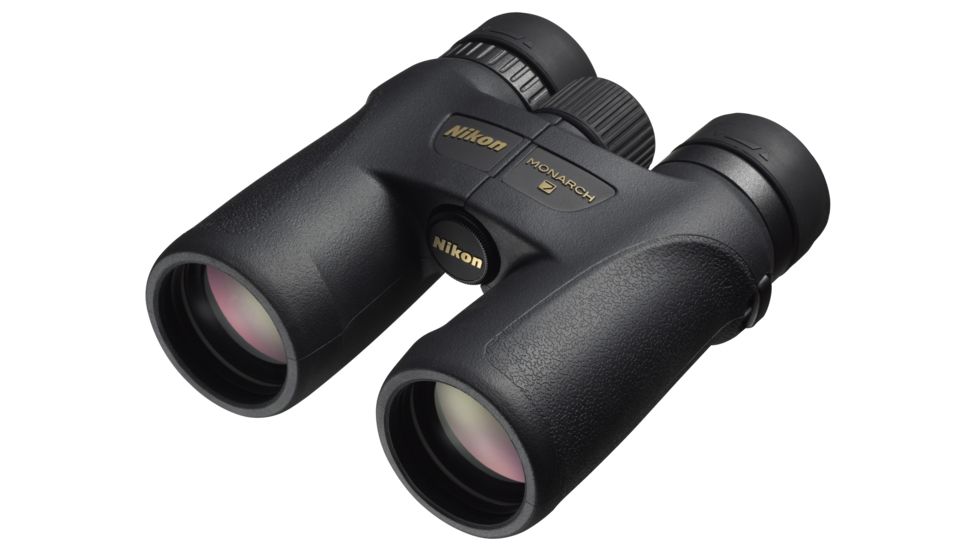 Nikon Monarch 7 10x42 Binoculars
Extra-low dispersion (ED) glass for chromatic aberration compensation and brighter, clearer viewing
Wide apparent field of view (60.7°)
Dielectric high-reflective multilayer prism coating ensures superior transmittance uniformity across the visible range resulting
Monarch 5 vs Monarch 7
Both Monarch 5 and Monarch 7 are tailored for different price ranges. They target different markets for binoculars. However, they still share similarities being made by the same company.
Similarities
Both have an excellent rubber coating.
Both are comfortable to hold and use on your face.
Uses durable materials so they last longer with proper use.
Adjustments are easy to do although there are stiff parts.
Both binoculars are lightweight compared to others.
Both have excellent brightness.
Both binoculars have excellent image quality and clarity.
Both work well in low light viewing.
Differences
The two biggest factors separating these two are the pricing and their field of view. They have a lot of similarities and it's almost impossible to decide between the two. Luckily these differences make them a clear cut on where you should use them.
The Monarch 5 is slightly taller than Monarch 7. Its focus wheel is also not as thick as the Monarch 7.
The Monarch 7 is more lightweight than the Monarch 5. Its construction is smaller than the Monarch 5 which explains why it's lighter.
The Monarch 5 has a field of vision of 330 feet at 1000 yards while the Monarch 7 is at 420 feet at 1000 yards. It's clear which is better for a wider viewing experience.
The Monarch 7 is slightly better in brightness when under low lighting conditions.
The Monarch 7 focuses on the field of view sharper than Monarch 5. 
When to Use Monarch 5
The Monarch 5 binoculars work best for wildlife viewing and bird watching. They're also great to bring at long-range shooting as long as it's not over 300 feet in range.
They're easy to wear around your neck so they won't be a problem when you're out hiking. They're also lightweight so it won't feel heavy under your neck. If you're planning to use it in a gun range, it should serve you well.
We would pick the Monarch 5 over the Monarch 7 if you want a less expensive pair of binoculars. If you think the improvements with the Monarch 7 aren't worth the cost, then the Monarch 5 are great for you.
When to Use Monarch 7
The Monarch 7 are your go-to binoculars for general purposes. They will perform at anything without any hiccups. Compared to the Monarch 5, they are lighter and smaller, so they're the better pair for lightweight use. Although there are other binoculars much lighter than the Monarch 7.
If you don't mind spending more for a better field of view, better performance in low light conditions, or shaper images in a wider field of view, the Monarch 7 will serve you great. We would get these pairs for hunting out at night.
Which Should You Buy First?
You should go for the Monarch 7 if you're looking for the long term. The build quality feels durable enough that they will last you long. Additionally, they're just great for general use. Although they're more expensive, you also get some improvements with them.
If you're just looking for a pair of binoculars that will be inexpensive, then we would go for the Monarch 5. They're one of the best value binoculars to have in the market. They will work just fine as long as you're not into long-distance viewing.
Which Binoculars are Better?
The clear winner of which is the better binoculars are the Monarch 7. They're the improved version of the Monarch 5 with a wider field of view. They perform even better at low light too and have a better image sharpness in their field of view.
The only thing the Monarch 5 has Monarch 7 beat is the pricing. That is to say, Monarch 5 binoculars are a good option too. They're one of the best mid-range binoculars you can have.
It will all come down to how much you are willing to spend on a pair of binoculars.