As an Amazon Associate we earn from qualifying purchases.
Glock has been a reliable handgun maker for many years now. Most handguns they make have grown in popularity so it's no surprise that we are making a Glock 22 vs Glock 23 comparison. Both weapons have striking similarities and differences to explore.
Glock 22 vs 23 General Overview
To start, both the Glock 22 and 23 are chambered for .40 S&W. If you just compare photos of these two handguns, you can almost say they look alike.
The .40 S&W caliber was developed mostly for law enforcement and self-defense. Therefore, you will mostly see police officers carrying either Glock 22 or 23. Although the 9mm is more popular right now, you will still find people using the .40 S&W every now and then.
For this comparison, we'll compare the newest versions of the Glock 22 and 23, namely the Glock 22 Gen5 and Glock 23 Gen5. Gen5 adds in a lot of features that make Glock handguns more durable.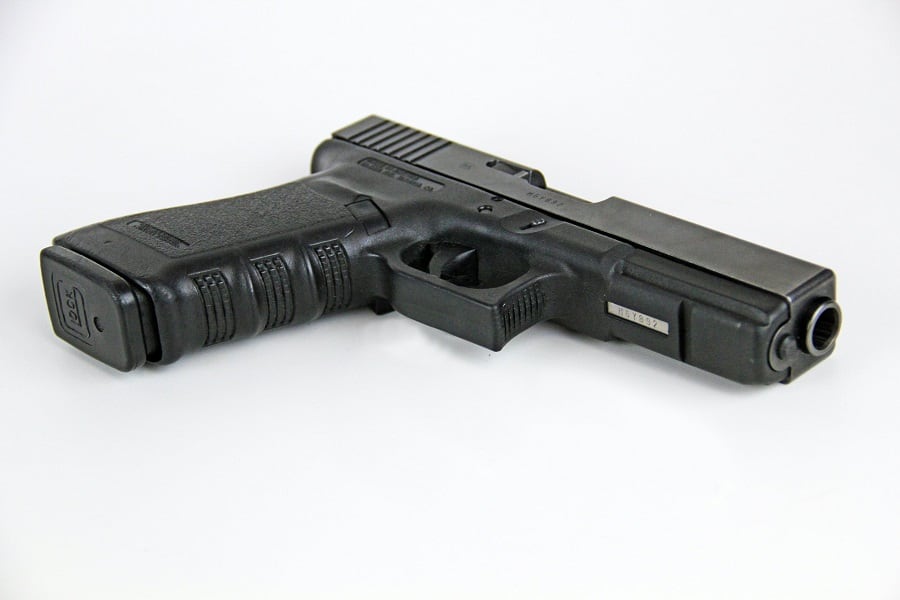 Glock 22 Gen5
The Glock 22 is relatively smaller compared to other standard .40 S&W handguns. However, the small design isn't necessarily a bad thing. It was intended to make the Glock 22 more comfortable on your palm and fingers.
The Glock 22 is a popular standard .40 S&W handgun among law enforcement, just like the G35. Most have the previous model, the Glock 22 Gen4. However, a lot of law enforcement have positive things to say about the Glock 22 Gen5.
Features of Glock 22 Gen5
The Glock 22 has one of the best recoils compared to other standard .40 S&W handguns. Larger calibers tend to have more recoil and surprisingly the Glock 22 Gen5 performs well in that department. It's mostly thanks to its dual recoil spring.
The Glock 22 Gen5 also has an improved grip ergonomic compared to its previous version. The adjustable grip straps help you tailor the Glock 22 according to your preference. The backstrap feels comfortable and easy to hold onto.
Much like all the Gen5 Glock models, the Glock 22 Gen5 features a patented Rough Textured Frame (RTF). It makes the handgun more durable and feels less "plastic".
Glock 23 Gen5
The Glock 23 Gen5 is a compact .40 S&W handgun. The compact design makes them ideal for concealed carry in law enforcement. They are even slowly replacing the Glock 22 for many law enforcement organizations because of its design.
The Glock 23 Gen5 is popular among compact .40 S&W handguns. Although most would prefer getting a 9mm compact, the Glock 23 Gen5 offers better firepower because of its larger caliber.
Features of Glock 23 Gen5
The Glock 23 Gen5 also uses the Rough Textured Frame (RTF) made out of a polymer that makes the outside feel less "plastic" and it has better durability. You will have less frequency of parts replacement and repairs. 
The Glock 23 also employs the same Gen5 ergonomics so it grips comfortably well on your palms and fingers. Although, it may be too small for people with large hands.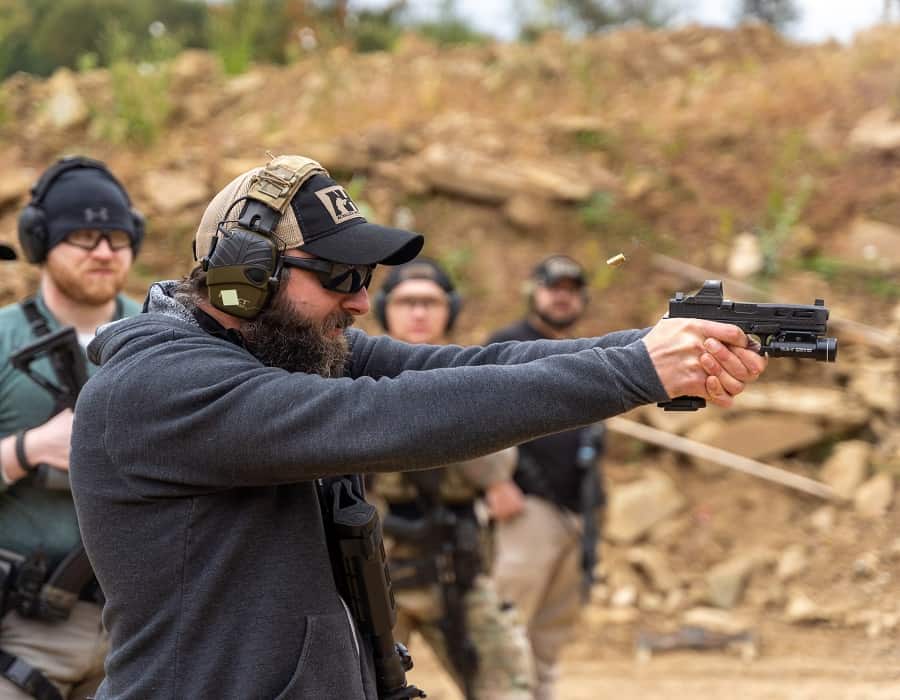 The compact design allows for better portability and concealed carry. There are many concealed carry shooting competitions and the Glock 23 Gen5 is a great handgun for it. 
Glock 22 vs 23 Comparison
Now it's time to compare the Glock 22 and Glock 23. Considering they're both from the Generation 5 series of Glock, you should expect a lot of similarities from these two handguns. 
First, let's compare the specifications of these two handguns side by side.
| | | |
| --- | --- | --- |
| | Glock 23 Gen5 | Glock 22 Gen5 |
| Size | Compact | Standard |
| Caliber | .40 S&W | .40 S&W |
| System | Safe Action | Safe Action |
| Mag. Capacity | Standard:13Optional: 14, 15, 16, 22 | Standard: 15Optional: 16, 22 |
| Barrel Length | 102 mm or 4.02 inches | 114 mm or 4.49 inches |
| Overall Length | 185 mm or 7.28 inches | 202 mm or 7.95 inches |
| Overall Width | 34 mm or 1.34 inches | 34 mm or 1.34 inches |
| Height with Magazine | 129 mm or 5.08 inches | 140 mm or 5.51 inches |
| Weight with Empty Magazine | 756 g or 26.67 oz | 806 g or 28.43 oz |
| Weight with Loaded Magazine | 974 g or 34.36 oz | 1058 g or 37.32 oz |
| Trigger Pull | 26 N | 26 N |
| Trigger Distance  | 70 mm or 2.76 inches  | 70 mm or 2.76 inches |
Similarities
Both handguns have a DLC (diamond-like carbon) coating that protects the gun from scratches and corrosion.
Both employ the Rough Textured Frame (RTF) surface for a comfortable grip experience.
Both use the Glock Marksman Barrel (GMB) that has excellent rifling quality.
Both have a flared Magwell and ambidextrous slide stop.
Both use the same Safe Action System.
Both are flexible for aftermarket parts for modifications.
Both use polymer frames.
Differences
The major differences between the Glock 22 and 23 are their length, height, weight, magazine capacity, and barrel length. Think of them as the same handgun with different sizes.
Since both handguns have the same barrel rifling, you should expect the same shot accuracy. However, a gun with a longer sight radius tends to be more accurate so there is a slight edge to the Glock 22. 
Since the Glock 23 is a compact size handgun, it is more lightweight than the Glock 22 making them ideal for concealed carry.
Because of the heavier design, the Glock 22 is better at managing recoil. Heavier guns tend to soak recoil well and the Glock 22 follows that trend too.
In standard magazines, the Glock 22 has a better magazine capacity of 15 compared to Glock 23's 13.
For optional magazine rounds, both can reach up to 22 rounds. However, the Glock 23 has more options available for magazine rounds (14, 15, 16, and 22).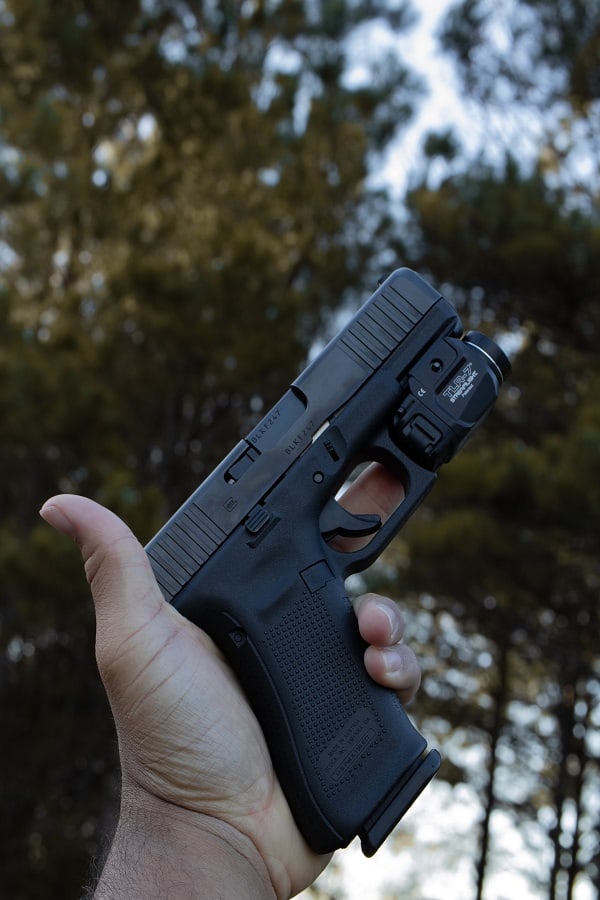 When to Use the Glock 22
Since the .40 S&W direct competitor is the 9mm, it's obvious that you should go for Glock 22 for its power. It has 2 more rounds than the Glock 23 at standard magazine rounds. Even better is its recoil allowing you to shoot with better accuracy.
Similar to G24, Glock 22 can be too large for concealed carry. The grip on it is really comfortable. It should be great for shooting competitions because of its weight and steady accuracy.
When to Use the Glock 23
The Glock 23 is more for people who want a concealed carry handgun that is rated caliber .40 S&W. Although most people prefer 9mm for concealed carry, the Glock 23 will offer you better power for a concealed gun.
They're also really durable for a compact handgun. Maintenance won't cost you too much and the parts are easily replaceable. What's important for concealed carry is it's a safe firearm even when loaded and Glock 23 delivered on that.
Which Gun Is Better
We would pick the Glock 22 because it will give you a better experience in shooting for its recoil. If you mostly go to shooting ranges, the Glock 22 will give you better accuracy. 
We would pick up the Glock 23 if we were to compete for a concealed carry shooting competition. Other than that, the Glock 22 just feels the better option only if you're not looking for a concealed carry handgun. 
Final Thoughts
Both guns are made by Glock so you should know what to expect from them. They even are made for the same caliber and came from the same Generation series so there are a lot of similarities. The only significant difference is their size catered to different needs.