As an Amazon Associate we earn from qualifying purchases.
Many Fort Knox handgun safes are available in the market to protect your stored firearms from any unknown person. These safes are known for using quality products without compromising in build material. Every Fort Knox unit is made in the USA, with the main focus on safety features.
But in this article, I am discussing Fort Knox PB1 review. This unit is one of the most trusted models and loved by many handgun owners. Below I have discussed its key features, to whom it is suited for, and discussed its pros and cons.
It will help you out to decide it is an ideal option for your requirement.
Fort Knox PB1 Features
The No products found. comes with a single color option that is textured grey with relatively fewer features than its other rivals in this price range. But when it comes to the safety of the stored firearm, then it's way ahead of its competitors.
No products found.
Storage Capacity
If you are looking for a balance between the storage and safety of your handguns, then Fort Knox PB1 will be ideal for storing a single standard size handgun like (Smith Wesson 686)  and extra magazine. But it can also store two pistols easily. This unit has less space than its other models are offered:
Cash
Jewelry
Passport
1 full-size handgun
Extra magazine
The below chart will give you a brief idea of what actually storage Fort Knox PB1 offers.
| | |
| --- | --- |
| Dimension | W*D*H |
| Internal Dimensions | 11-3/4 x 9-1/2 x 3-1/2 |
| External Dimensions | 12-1/2″w x 10-3/8″d x 4-1/4″h |
| Weight  | 22 Pounds |
| Fire Rating | Not Fireproof |
| Lock | Simplex Mechanical Lock |
No products found.
Portability
The PB1 handgun safe is small and compact in size, but it will be harder for you to carry from one place to another due to its bulky size. There is a mounting option and four pre-drilled holes with all the mounting gear provided by the manufacture. It will be perfect for mounting this unit inside your car, desk, closet, etc.
The unit's interior has egg-crate style foam that protects the gun from any scratch or dent while moving, or a PB1 safe is mounted inside the car or truck.
Security
When it comes to protecting your stored firearm inside the unit, it is made up of a 10 gauge solid steel body with a massive 3/16″ tamper-resistant wraparound lid. While testing, the door can sustain a massive drill attack from any pry tool.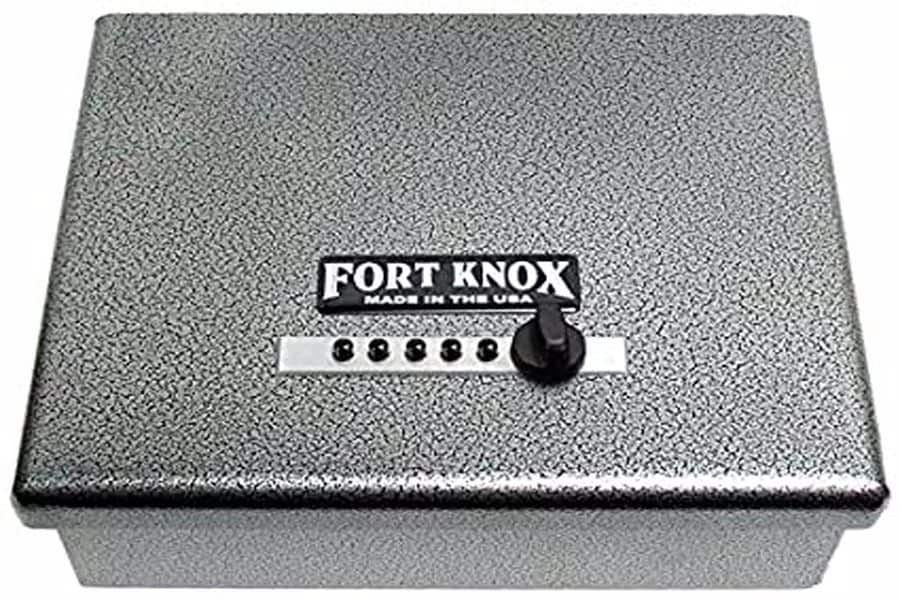 The lid is made up of 7 gauge steel, and there is a gas-strut piston opening that lets you access your stored pistol in less than 9 seconds. Also, it has been approved by the California Department Of Justice due to its quality build.
The safe exterior is made up of a silver powder coating finish that is scratch-proof and gives a premium feel to the unit. This is the best gun safe for home defense that will keep your guns safe and secure from an unknown person.
Accessing
This safe features an extremely reliable simplex mechanical lock with a 1081 combination that you can set up according to your own. It does not require any battery or electricity to operate. There is no fancy locking system like a biometric fingerprint scanner, electric keypad, or manual key.
Pros & Cons About Fort Knox PB1 Review
There are some pros and cons for the No products found. that will make your decision clear and gives you a better product overview.
Pros
Build Quality: If you are looking for a unit that is not compromised in terms of build quality, then PB1 is a perfect choice to store your small weapons.
Storage: The Fort Knox allows you to store two standard pistols or one standard-sized handgun with extra ammo.
Quick Access: This gun safe does not rely on battery or electricity. It allows you to access it with a simplex mechanical lock. Hit your favorite combination lock, turn the knob, and your safe is open. When I tested, it took us nearly 3 seconds to open the safe.
DOJ Approved: Fort Knox is approved by the California department of justice and comes with a lifetime warranty.
Cons
No Other Lock: The manufacture should have provided at least one more access system. If you somehow forgot your combination lock, there is no other option to access your stored guns.
Heavy In Size: If you are looking for a gun safe that can be easily carried wherever you go, then you might again re-consider your decision. Due to the heavyweight of 22 pounds, it will be harder for you to move easily.
No Interior Light: In darker conditions, it will be hard for you to access your gun where there is no interior light inside the safe when an emergency arises. But still, if you want to know how to install lights in a gun safe, it will be easy for you to make the interior light up with the help of LED lights.
Conclusion
The Fort Knox PB1 is perfect for storing a single standard-sized handgun or 2 pistols when mounted on a flat surface. This unit is accessed quickly in an emergency without worrying about the battery running out or the fingerprint scanner failed to detect your finger.
You can consider the safe as it has positive reviews that make it a more trusted handgun safe.
No products found.