As an Amazon Associate we earn from qualifying purchases.
When it comes time to take your gun down to the range or perhaps the gunsmith, you have a few options. Your choice depends on a few different variables. In some states, you must transport a firearm in a locked container, or it is considered a crime. In other states, you may simply put it in the trunk of your car.
Even if the law doesn't explicitly state that you need to use a gun case when transporting your firearm, it is always a good idea to use some bag or box to store your gun and its ammo.
This prevents your gun and its ammo from getting dirty or damaged during your travels, increasing the risk of jamming and necessitating more maintenance and cleaning.
There are several reasons why the best option for transporting your gun is a gun case, rather via concealed carry​​​. The first reason being that gun cases are easily locked, so your gun is at less of a risk when it comes to theft.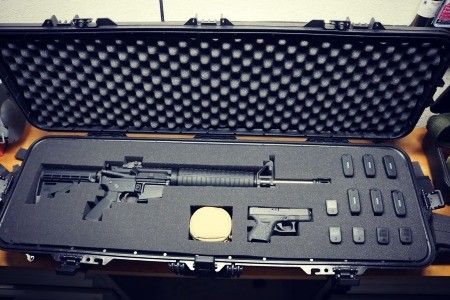 Keeping your gun in a locked gun case is not only a matter of protecting your private property but also the community at large. A lost gun case which is unlocked could potentially be a gift to criminals who would resell your stolen gun as a black market firearm, which may go on to harm or even kill someone.
Investing in one of the best rifle storage cases on the market is a responsible decision, especially if you bring your gun with you in the car regularly. If you only shoot your gun on your property and rarely travel with it, a gun case becomes less necessary, but it still provides a durable and clean place to store it.
I will now look at two characteristics which are crucial to finding the best possible gun case. Once I have quickly looked through these characteristics, I will get to my review.
About the Product
Before ​purchasing a gun case, you must carefully consider the size of the case that you will need. This depends on several factors. The first factor is how many guns you plan on bringing to the range at a time. Some gun cases are only capable of holding a single handgun. Other cases can carry multiple handguns and long guns.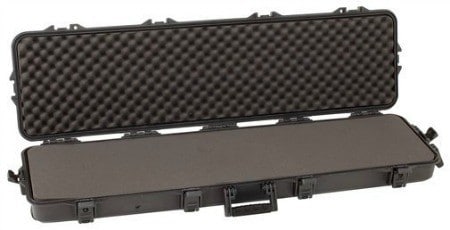 Keep in mind that larger cases will typically be more expensive because more material will go into making them compared to smaller cases. Larger gun cases also take up more storage room and will require multi point locks so you may have to find a compromise between size and convenience.
Another feature to look for in high-quality gun cases is whether or not they are waterproof. While this may seem like an odd feature for a gun case, it is a good way to ensure that your gun will remain undamaged in the worst case scenario.
At the least, a waterproof gun case will protect your firearm and ammo from the rain. At the worst, it will keep your gun from being damaged if the case drops into a body of water. This disaster is more likely than you would imagine, especially if you take your gun on hunting trips near lakes and rivers.
The Product Specifications
Gun case is fully waterproof for added gun protection
Gun case features a pressure relief valve
Features Gun Guard AW lockable latches
Designed for AR-15 style rifles
Case is also airtight and dustproof
Interior made of high-density foam
Overview
No products found.
The No products found. is made by Plano Molding, a manufacturer of reliable and affordable gun cases. It is meant to carry an AR-15 style rifle in a weatherproof environment, featuring dust-proofing and waterproofing thanks to its airtight seal.
This case is meant to provide everything you need in an easily accessible package.
While this gun case is not designed to feature many bells and whistles, it is still an excellent option for anyone who needs a rifle case and does not want to overspend. This gun case is an excellent product in every category that goes towards making a reliable case, it is durable, lightweight and surprisingly affordable.
The interior of this gun case is designed to comfortably fit an AR style platform, but it will still fit rifles of other styles, just not as snugly. You can pluck the foam yourself so it can be ideally shaped to carry your intended weapon.
This gun case does not lack for carrying capacity either, being able to carry a full-size AR-15 and several attachments and magazines with room to spare. I even managed to fit a rifle and three pistols into this carrying case along with a spare magazine for each of them.
No products found.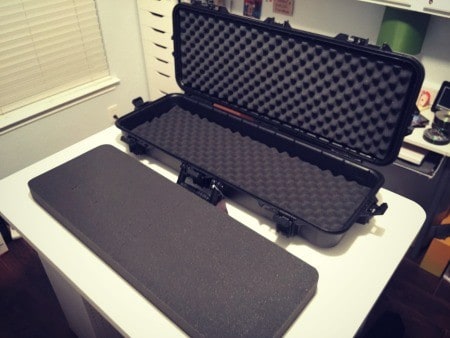 Buying Advice
This gun case is one of the more affordable options you have access to when it comes to rifle sized security cases. You can find this model of gun case from several online retailers, including Amazon, as well as local firearms stores. It costs around 70 dollars.
Conclusion
The No products found. is an excellent product for customers needing a gun case which couples durability with affordability.
You don't have to worry about breaking the bank after purchasing this case, which is the very least you could ask for. If there are any questions, concerns or remarks, feel free to leave them down in the comments section below.
No products found.