As an Amazon Associate we earn from qualifying purchases.
Finding the right method of gun storage requires some forethought. You must first consider what type of gun you intend to store. If you have a handgun and little more than some ammo and cleaning supplies, you should be fine opting for a smaller safe which can be safely hidden away in a closet or drawer.
If you intend to store a rifle or shotgun, you have a few choices at your disposal, but gun safes typically will not be sufficient. One option you have is to purchase a secure gun case with a lock. This will ensure that you have a safe way to transport your gun to the range or the gun store while still being able to store it at home.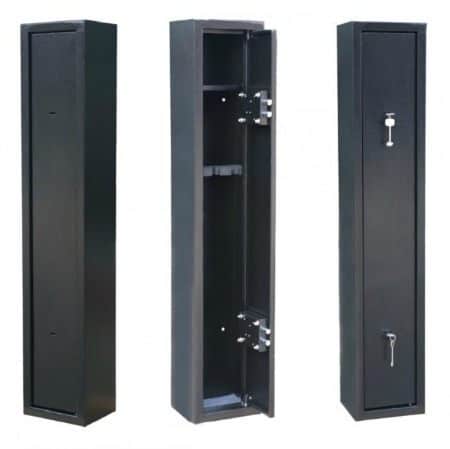 While locking gun cases are more versatile than other storage options, you will find that they are not useful for deterring robbers. When it comes to home firearm storage, gun cases have the distinct disadvantage of being portable.
This means that a thief doesn't need to open the gun case, merely carry it out of your home and open it at a later date.
This reason is why the best option for storing long guns such as rifles and shotguns at home tends to be​ a gun cabinet. Gun cabinets are what they sound like: specially designed locking cabinets which are made to fit rifles, pistols and many other varieties of guns, safely and securely.
Before I get into my review of the Goplus gun cabinet, I will be going over two aspects which are highly relevant to look into when purchasing ​even the most recommended firearm cabinets on the market.
About the Product
You may always skip directly ahead to the review if you already have a good idea of what you want out of your gun cabinet.
Adjustable Shelving
One aspect which that's appreciated in gun cabinets is the option for the customer to adjust the shelving to their liking. For example, some models of gun cabinets allow you to remove certain shelves so the shelf below it can have more space for storage of gun accessories, among other valuables.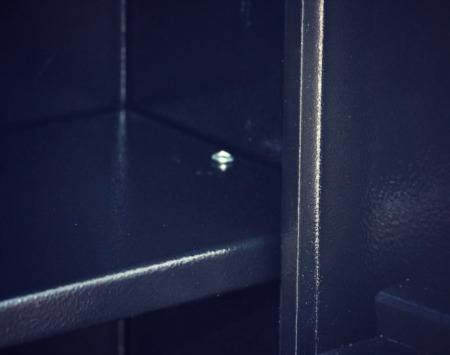 You'll most likely see this feature on gun cabinets which require the user's assembly as you will often have to install the shelves you desire yourself. Some shelves will also feature padding, so your guns and accessories don't end up getting damaged while they are in storage.
Construction Material
It also helps to know what your cabinet's construction material. This particular aspect will have a significant amount of influence over the durability of the end design of your cabinet. The look of your cabinet and its ability to mesh with the decor of your home will also depend on the material consists of.
Most heavy duty gun cabinets consist of reinforced steel. While this material is both heavy and dull-looking, you will find few better options when it comes to making a gun cabinet tamper-proof. Another option is wood, which has better aesthetic value but sacrifices durability.
The Product Specifications
Security cabinet is 51 inches tall
Security cabinet can hold up to 3 rifles or shotguns
​Features a two key, 2 point locking system for added security
Features a separate ammo box positioned at the top with individual lock
Includes pre-cut mounting points and mounting bolts
Overview
Goplus developed the Goplus 2 Key 3 Gun Rifle Storage Cabinet, and it is meant to be a secure gun cabinet available for a reasonable price.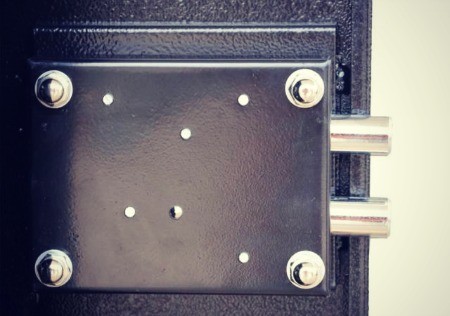 There are several included features that are meant to make this one of the more reliable affordable gun cabinet options you have at your disposal. These features include a two point locking system with two sets of keys and a separate locking ammo box.
A gun cabinet needs two things to be a worthwhile purchase: tamper-proof durability and room for your guns. This model manages to include both of these features at a lower price than most of the competition, making it an excellent choice for the conscientious gun owner on a budget.
The two key locking system means that this gun cabinet is more secure than you would expect from such an affordable model. I had a bit of difficulty with one of the key sets as it was cut a little poorly when compared to the second set of keys, but both sets functioned adequately.
The inclusion of an ammo box for storage at the top with its lock is something which you don't often see in models at this price point. While the ammo box is a little small, you will find that it is big enough to fit a few boxes of ammo or two regular sized handguns.
Buying Advice
The Goplus 2 Key 3 Gun Rifle Storage Cabinet Is already well priced, it is typically found online from stores like Amazon.
Conclusion
As you can see, this gun safe model is ideally suited for customers who want the most bang for their buck. If you just want a gun cabinet to keep your weapons secure without draining your wallet, look no further than this model from Goplus.