As an Amazon Associate we earn from qualifying purchases.
A gun case is a wise investment for any responsible gun owner who takes their weapon out to the range fairly often. They are a good choice because they tend to increase the lifespan of your weapon along with reducing the amount of maintenance you have to perform after you take it out of the house.
Most of the ​best cabinets for guns ever are designed to be weatherproof to a certain degree. This means they will keep your gun safe from not only water but also dust.
Both dust and water can cause damage to your gun if not cleaned out properly. It helps to prevent these things from coming into contact with your weapon as much as possible.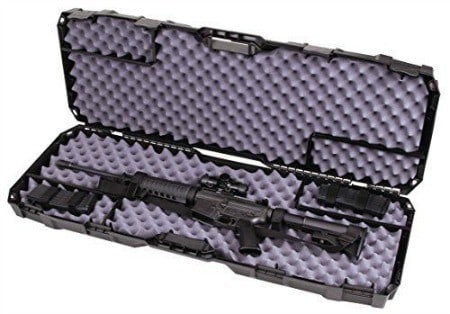 In addition to protecting your gun from the elements, your gun case is a good way to protect your gun from unwanted scuffs or scratches. Keeping your gun in a duffel bag along with its magazines and ammo is a great way to ensure that it comes out scratched or nicked in at least one place.
A gun case also has the advantage of making your gun much harder to steal. Most gun cases have provisions for locks or other security devices. These make it much harder for a would-be thief to make off with your valuable gun. Some states even require a locking gun container (gun case) by law.
A gun case is a worthwhile investment for anyone who takes their gun out of the house at least once a month. Regardless of whether or not it is required by law, you will find that a gun case will greatly reduce the amount of gun maintenance you need to do. It will also keep your gun secure.
About the Product
Most gun cases feature foam padding along the interior to keep your gun undamaged while it is being transported. The type of foam depends on the case you purchase. Some gun cases come with foam that does not to be cut at all and will conform to the body of your gun when you place it on top.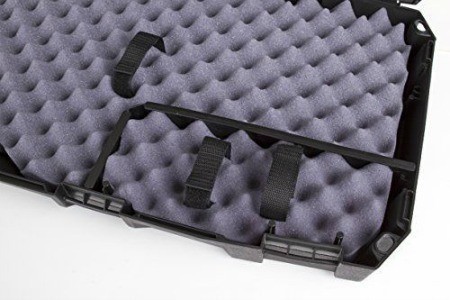 Most types of foam padding, however, will have to be cut so they can properly fit your gun. Ensure you cut the foam to the right size, as it may make it more difficult to position your gun otherwise. There is also pluck foam which does not require cutting and can instead be simply plucked out by hand.
Integrated Locks
Another feature which is important for gun cases is the inclusion of an integrated locking mechanism. Most cases will typically feature at least one method of ensuring your gun stays safe from potential thieves. At the bare minimum, a case will feature holes for padlocks, but integrated locks tend to be more convenient.
These locks can be one of many designs, including lock and key type locks, combination locks, or even biometric fingerprint reading locks. Gun case locks tend to be of the multi-point type thanks to the large area which needs to be locked down.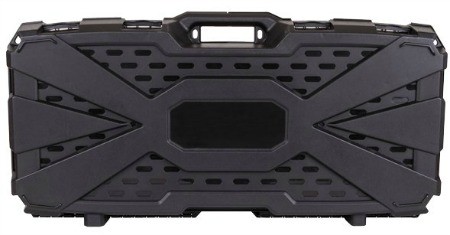 The Product Specifications
Gun case is made of hard polypropylene
Designed for AR style rifles
​Magazine dividers feature Zerust for a corrosion resistant interior to the case
​Case features four holes designed to hold pad locks
Features 4 pockets designed to hold your magazines
​Interior dimensions are 40 inches x 12 inches x 4 inches
Features velcro straps to keep gun and magazines secure in the case
Overview
No products found.
The No products found. is manufactured by Flambeau. It is designed to be an affordable option for rifle owners needing a reasonably durable carrying case.
While the hard plastic construction may not be the strongest of materials, this case is not designed to be as durable as some of the competition. It is meant to provide better value.
If anyone is looking for the most affordable gun case that still features some degree of build quality, this rifle case should be the best option available. While this case sacrifices a little bit of durability for a better price point, it is still resilient enough to withstand a good deal of punishment. Your gun is not as vulnerable as you may expect.
This case features four holes designed to fit padlocks so you can keep your gun secured. While the latches are sufficiently rugged, do not expect them to withstand a dedicated thief. The interior of this gun case may also be divided into five separate compartments. One for your gun and four for accessories and magazines.
You may also screw in velcro straps to keep your gun and magazines from moving while in transit. There are only four straps which come with this product, so you will have to decide which components you will keep secure.
No products found.

Buying Advice
The No products found. is one of the most affordable rifle cases you will find available. Unlike other models at a similar price point, this case features a reasonable degree of reliability. You can find this gun case for sale from online retailers such as Amazon.
Conclusion
If you are looking for a rifle case which is priced affordably yet built to high standards, then you have found the ideal model for your needs. I hope that this review has proved to be suitably helpful. If you have any questions, leave them down in the comments section below, and I will try to get back to you.
No products found.