As an Amazon Associate we earn from qualifying purchases.
Finding the best gun grip tapes that correspond with your gun is essential because some grip tapes don't give you an upper hand as a shooter. You may sometimes get confused about choosing the suitable grip tape and end up with an incompatible gun grip tape.
Our Top Gun Grip Tape
A gun grip tape helps you hold a firearm firmly to avoid losing grip of the gun while shooting or even aiming. If you enjoy shooting, you need to get a grip tape for your gun to have perfect shooting.
We have compiled the three best gun grip tapes compatible with any gun. These tapes will help you hold your gun firmly and become a better shooter.
Product
Materials
Rubber or granulate texture
Product
Product
Materials
Rubber or granulate texture
Product
TriRanger Grip Tape
The TriRanger grip tape is made with a formulated adhesive that gives you control and comfort on the surface you apply it. Due to this, you can use it on most surfaces.
It has two types of texture materials, rubber and granulate. The rubber texture provides a firm grip that makes you not feel like sandpaper, just like the Higoo gun grip tape. While the granulated texture makes you have a more firm grip on the gun without hesitation.
It's easy to customize, and you can cut your sheet very quickly as it doesn't add any critical thickness. You can also use the TriRanger for all the tools that need an anti-slip grip material like knives, cameras, skateboards, and magazines.
Unlike the Talon 988R and Higoo gun grip tapes, it's waterproof, doesn't slide, and has a low profile. It comes in five distinct colors, making it easy for you to choose the correct option that matches your gun's surface.
One of its major drawbacks is it only works on flat surfaces. The tape peels to its original flat state when you use it on curved surfaces.
Pros
It has a good texture grip that sticks well on the gun, making you comfortable as you hold the gun.
Adds some bulk to the grip and a comfortable pebble grain that assists in maintaining a firm grip.
It has strong adhesiveness, unlike the Talon 998R grip tape that works well even in room temperatures.
Cons
The back sticky comes off in case you put it around round surfaces.
It's too thick, making it not stick well on your gun.
TriRanger Grip Tape for Gun Pistol Skateboard...
CUSTOMIZE AND DIY WHAT YOU WANT, EASY TO CUT AND SHAPE - Easily Fit To Any Surface For An OEM...
MAKES ANYTHING "GRIPPY" - Great For Gun, Pistol, Knives, Cell Phones, Tools, Cameras, Or Any Item...
BETTER ADHESIVE THAN OTHERS - A Specially Formulated Industrial Strength Adhesive Backing Allows It...
Talon 998R Grip Tape
You can use the Talon 998R grip tape in anything that needs a better grip, like guns, cameras, travel mugs, smartphones, and gaming controls. It comes in a black rubber that adds style and a firm grip on your gun.
It has a strong adhesion; you don't need any glue when using it on your gun. The powerful adhesion is suitable for long-term use, and everyone loves a firm grip and the sticky feeling as you hold your gun.
The tape has two textures, just like TriRanger grip tape, the rubber and granulate. The rubber gives you a solid gun grip, while the granulate texture is best for a sandy feeling, unlike the TriRanger and Higoo gun grip apes that don't have any sandy feeling.
Both of these textures have a thickness of 0.5 mm that makes you feel comfortable and secure as you hold the gun in your hands.
It provides safety and control by creating a positive interface between the firearm and you; a better grip and a reduced pullback increase confidence and enables faster and more accurate shots.
A significant drawback of the Talon 998R is that its rubber texture gives you a solid gun grip, but instead, all you get is a slippery grip.
Pros
It has ultra-thin materials that add minimal bulk to your gun.
Removes cleaning when needed, allowing your gun to return to its original condition.
It has durable material that performs in hot, cold, wet, and dry conditions, just like the Higoo Gun Grip Tape.
It doesn't move once you have correctly installed it, making you feel comfortable as you use your gun.
Trusted by the military worldwide and law enforcement due to its firm grip.
Cons
The granulate texture that feels like sandpaper is rough and can easily tear your thumb.
It doesn't add any friction to gaming controls; it becomes very slippery.
Higoo Gun Grip Tape
The Higoo gun grip tape is a non-slip gun tape that you can also use on your knives, phones, and cameras. It has a durable rubber-like Talon 988R gun grip tape that maintains a good grip and helps you be familiar with the tape.
It works well with people with weak and small hands, as you can easily chamber a round on your gun. It gives you a firm grip and a comfortable feeling without the thought of your gun slipping off.
Easy to install in your gun without increasing the grip thickness, just like the TriRanger gun grip gun. Since it is a 5 x 7 inches grip tape, it is easy to cut and even customize.
Unlike the other grip tapes, the Higoo gun grip tape is non-gritty, and it is easy to clean and doesn't leave any sticky residues. It doesn't stuff on furniture, car seats, holsters, or clothes, making it compatible with all kinds of fabric.
It works best if you clean and dry your surface fast and then apply the tape; this makes the surface clean and even for your tape. Unfortunately, the Higoo gun grip tape doesn't have much grip, and the rubber feels like plastic.
Pros
It's black, making it suitable for any gun you have.
The tape adds an extra grip to your gun and makes it comfortable for you to use.
It's easy to cut and apply the grip gun without much struggle.
A Higoo gun grip is non-abrasive, and it can't hurt your hand like the Talon 998R.
Cons
The Higoo gun grip tape is thick, making the gripping not quite firm.
If you go more than a few days of gripping on your gun, it will start to peel up.
Features to Consider for Gun Grip Tape
When purchasing a gun grip tape, you need the best quality and one that will make you comfortable as you hold your gun. There are plenty of gun grip tapes out there, so there are a few things you need to consider before getting one.
| | | | |
| --- | --- | --- | --- |
|      | TriRanger Grip Tape | Higoo Gun Grip Tape | Talon 998R Grip Tape |
| Texture | Rubber and granulate | Rubber and granulate | Rubber |
| Waterproof | Yes | No | No |
| Abrasiveness | No sandy feeling | Has a sandy feeling | No sandy feeling |
Compatibility
You're not comfortable if the grip tape doesn't fit your gun grip, and there are many precuts of many guns you can purchase. It's better to cut and customize your grip tape according to the size you want.
The TriRanger happens to be one of the most compatible gun grip tapes that you can easily customize.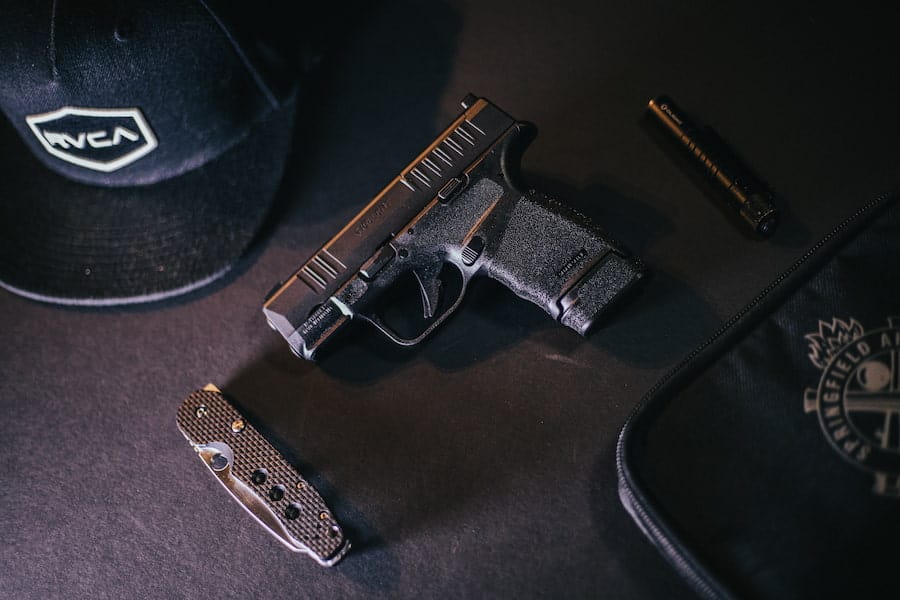 Texture Material
Granulate and rubber are the two materials used in making gun grip tapes. Rubber material tends to make you have a better grip and feel comfortable as you hold your gun. It doesn't irritate your skin and does not scuff on your clothes.
On the other hand, Granulate provides you with a gritty and rough feeling that doesn't feel comfortable at times.
The TriRanger has the best texture material since it has both textures, and they tend to give you a more firm grip.
Grip Thickness
It would be best if you went for the slim grip tapes and did not add any extra thickness to your grip when it comes to grip thickness. Adding an extra thickness can create discomfort as you hold your gun, and that's something we should avoid. The Talon 998R has a great thickness of 0.5mm, making you feel comfortable holding your gun.
Abrasiveness to the Skin
Some of the grip tapes are rough to your skin, like sandpaper. Ensure you use grip tapes that aren't rough and don't scuff to the gun holster. High and TriRanger gun grip tapes don't feel like sandpaper, making them a good choice for a gun grip tape that isn't rough on your skin.
Adhesion of Gun Grip Tape
Your gun should have a significant adhesion to hold your gun correctly. Ensure your grip tape is waterproof so that it doesn't peel off when you touch it with water. The TriRanger gun grip tape has good tension and is also waterproof.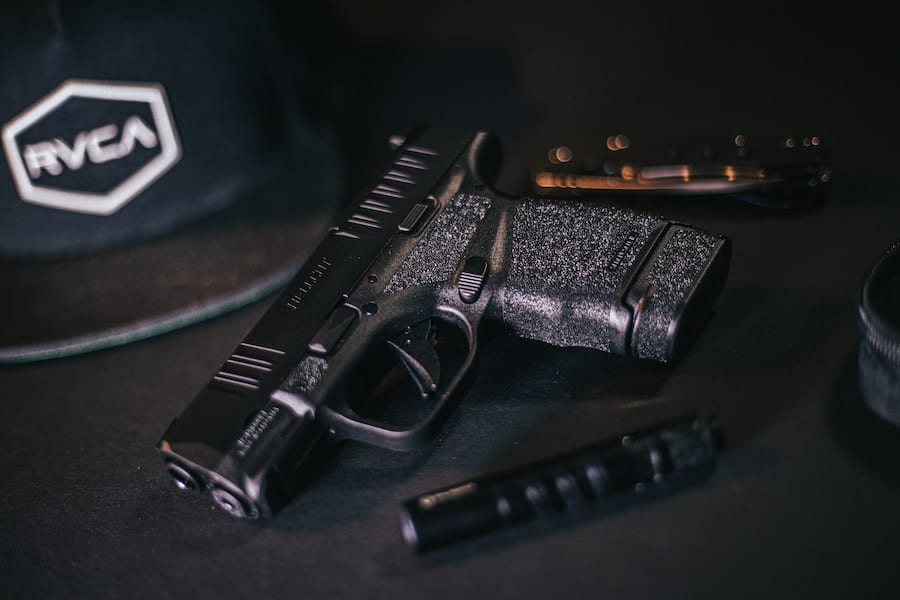 Frequently Asked Questions
Can You Put Grip Tape on a Gun?
Yes, you can put grip tape on your gun, and it is easy to cut and apply. It adds an extra grip to your gun, making you feel comfortable as you hold your gun.
What Does Rubberized Grip Tape Do?
A rubberized grip tape keeps your gun tight in your hand. It's less steady; however, it helps control flinching. It's mainly used for guns with odd recoil patterns.
Conclusion
Most shooters will agree that the grip of your gun helps provide and control more comfort as you aim and shoot. For this, you need a good quality grip tape that you need to apply to your gun. With a good gun and better shooting skills, you need the best gun grip tape to complete this task.