As an Amazon Associate we earn from qualifying purchases.
A clean, lubricate, protect oil, or most commonly known CLP is a three in one oil designed for gun cleaning purposes. A CLP gun cleaner is one of the most popular picks for lubricant as it works effectively on firearms. The best CLP gun cleaner can clean your guns, keep them in good working condition, and increase their lifespan.
Our Best CLP Gun Cleaner Reviews
The right CLP gun cleaner must be able to clean, lubricate, and protect as their name implies. Some CLPs cleaners on the market are just better than the others. That's why we've narrowed down your gun cleaner choices to make it easier for you.
Brand
Ballistol Multi-Purpose Oil
Product
Product
Product
Brand
Ballistol Multi-Purpose Oil
Product
CLP by Sage and Braker
This CLP by Sage and Braker gun cleaner stands out better compared to other cleaning products. Sage and Braker packed this CLP gun cleaner in a spray of around 0.25 pounds of liquid. It's a biodegradable and non-toxic gun oil that cleans, protects, and lubricates guns really well.
This CLP gun cleaner is designed to soak into the metal pores on a firearm at a microscopic level that gives better cleaning compared to other CLP. Compared to other oils, the CLP by Sage and Braker greatly reduces the dirt, dust and residue building up on your guns.
The Sage and Braker CLP gun cleaner is one of the strongest solutions to penetrate metallic surfaces. This feature is great because it will help remove carbon, dirt, dust, and rust from your guns. It also gives protection to your guns as it penetrates into deeper levels.
The formula has a static reduction factor. It prevents carbon from sticking to the gun. It's just a better option that coats the insides of your gun and helps with dissipating heat along with it. This greatly prolongs the lifespan of your guns.
When it comes to lubrication, CLPs are a way better lubricant. Even in the Army, most people would recommend using CLPs if your weapon is jamming.
The chemicals used in this cleaner are not harmful to some extent. It won't exhibit a foul smell and is safe for the hands. However, it has a pungent and citrus-like smell that may not smell nice for you if you have a sensitive nose.
Made in the United States as most Sage and Braker products do, Sage and Braker a great track record of making high-quality products, and this CLP cleaner is definitely one of them.
Overall, this CLP cleaner by Sage and Braker gets the job of cleaning done efficiently. It provides excellent lubrication while it cleans and protects your firearms from dirt and dust.
Product Highlights
Biodegradable and non-toxic
Cools your guns
Prevents dust and carbon from building up
Effective on guns that haven't been cleaned for a while
CLP by Sage & Braker. Our Gun Cleaning Formula is...
UNBEATABLE GUN CLEANING // Other CLPs leave an oily coating, don't clean properly and use harsh...
PROTECT YOUR FIREARMS FROM FAILURE // Feel confident that your firearms will be well protected from...
SMOOTH ACTION FOR RELIABLE PERFORMANCE // Our CLP coats and protects the bore and all moving parts...
Break Free CLP-4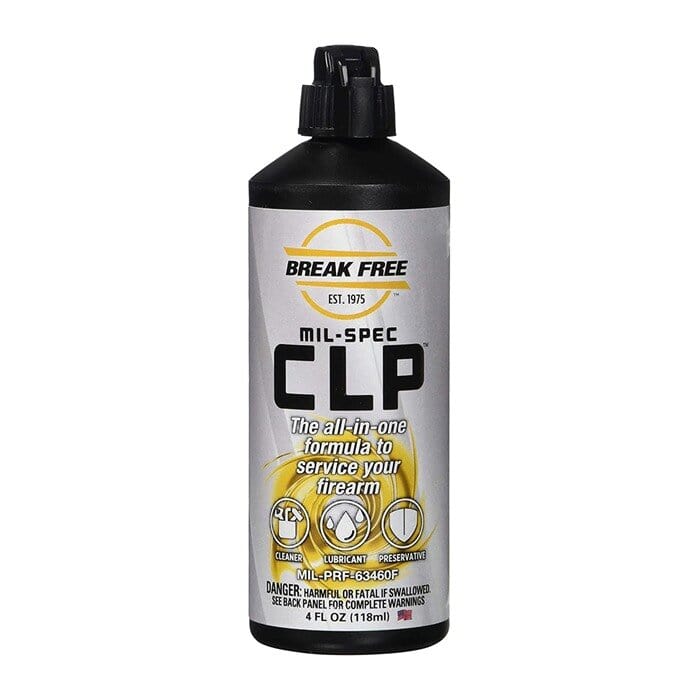 Break Free CLP lines are one of the most common and popularly used CLPs among gun owners. They're mainly popular because they get the job done and they're easy to find. One of the best among them is the Break Free CLP-4.
This CLP cleaner comes in both drop and spray bottles. The spray bottles make it easy for you to apply CLP cleaner in hard-to-reach areas of your gun.
The CLP-4 is affordable and works effectively at the same time. There are many Break Free CLP branded with numbers. The number 4 refers to the viscosity level of the CLP cleaner. Usually, level 2 is enough to effectively clean your guns, and getting level 4 makes it more effective.
Break Free CLP-4 works in almost any condition whether it be humid areas, deserts, and even on ships. This even includes extreme temperatures. This CLP-4 can work even in temperatures ranging from -65 degrees to over 475 degrees.
Weapons naturally get hot, so it should be natural for the best CLP gun cleaners to handle extreme heat. It doesn't dry out, lose its viscosity, or even harden whether it be in a very cold or hot environment. Even in places where it's dusty or humid it still is effective.
Break Free CLP gun cleaner penetrates the metal surfaces easily, better than the Break-Free CLP-2. It soaks into every pit, crevice, and groove of your weapon. This also helps in both cleaning and protecting your guns.
The lubricating film is long-lasting and greatly reduces malfunctions caused by dirt and other residues. It also has corrosion inhibitors that prevent the formation of rust and also protects the metal surface from moisture and other contaminants.
Overall the Break Free CLP-4 is a great pickup It's also made in the United States and is safe for all gunmetal finishes.
Product Highlights
Works in extreme conditions
Contains corrosion inhibitors
Long-lasting lubricating film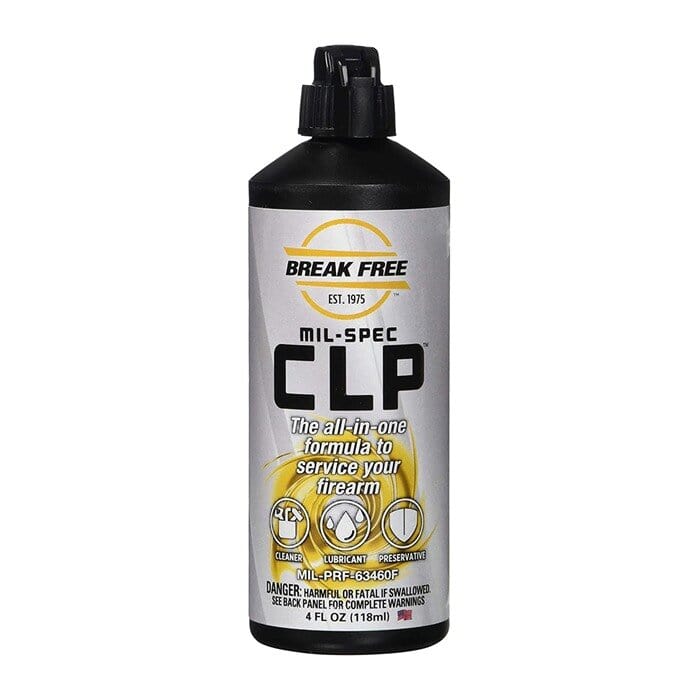 Break Free CLP-4
Breaks loose dirt and corrosion
Stops the build-up of foreign matter
Does not deteriorate under high temperatures
Ballistol Multi-Purpose Gun Oil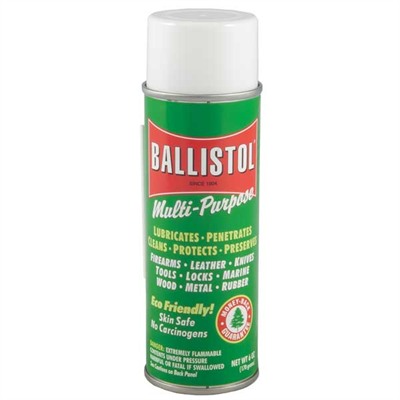 Ballistol is one of the most popular names even outside of the firearms enthusiasts community. But more importantly, one of their best products is the Ballistol Multi-Purpose Oil and for good reason, it's effective.
Ballistol was a result of the German army's need for maintaining their guns and leather gear. The liquid can penetrate even through the tiniest cracks of your gun. It's very effective in loosening up jammed stocks or bolts.
While the formula of Ballistol can mix with water, it stays behind even after the water evaporates. It works even on wet or humid conditions.
Ballistol Multi-Purpose Oil is biodegradable and non-toxic and safe for the environment. However, it's still dangerous if left alone with children. While it isn't harmful to our hands, it shouldn't be ingested or sprayed in someone's eyes.
This CLP oil comes in an aerosol spray and is 0.375 pounds Unlike most CLP gun cleaners, the Ballistol Multi-Purpose Oil works great on metal, leather, wood, plastic, and even rubber. You can even use this to clean your knives, tools, and even locks to keep them in good working condition. 
Ballistol can even clean black powder weapons. Black powder weapons are usually very hard to clean and can leave a lot of mess behind. Ballistol penetrates black powder weapons easily and prevents rust from growing on your guns.
Ballistol has a slightly alkaline property. It prevents and eliminates the effects of sweat on your gun. Sweat is unavoidable when you handle guns so it's great that the Ballistol helps prevent its effects.
The downside of Ballistol though is that it's not as strong as pure cleaners. It's not as effective in dissolving copper or lead buildup as we thought it would. It also gives off a slightly pungent odor.
Overall, this is a solid CLP oil that works effectively. While there are better alternatives, they are more expensive. Nothing can compare to Ballistol multi-purpose.
Product Highlight
Universal gun cleaner
Works well with metal, wood, plastic, and rubber
Non-toxic and biodegradable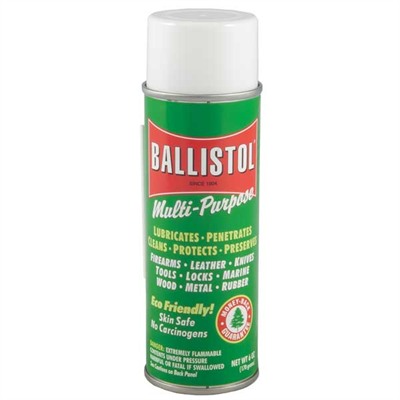 Grizzly Lube Non-Toxic CLP
The Grizzly Lube Non-Toxic CLP is a great solution that is non-toxic and environmentally friendly. If you have a sensitive nose or skin then choosing this one is a no brainer. Unlike most other CLP cleaners on the market, the Grizzly Lube Non-Toxic oil smells very nice.
This product is packed inside 0.25 pounds of biodegradable ingredients that help with cleaning weapons effectively. It also works in extreme weather conditions whether it be sunny or snowy weather.
It's also not messy when you use it so it saves you a lot of time from cleaning. You can easily apply it to any gun and it won't have any residue with it. The lubrication improves the surface's water-resistance and removes contamination from hard to reach areas.
The Grizzly Lube Non-Toxic oil is capable of destroying rust. This feature makes less friction from your weapons and eliminates any fouling.
The United States Department of Agriculture approved this clean lubricate and protect oil as a Bio-Based product gun lubricant. It's also proudly made in the USA. It has met the standards of Military Special Forces so you can say it works great.
It comes with a plug-stopper and screw cap to keep the product inside. However, you still need to be careful when opening the bottle to avoid any spills.
While this product might seem expensive, it's very worth it. Even severely fouled firearms are easy to clean with this product.
It's best to use this solution as a lubricant that will provide protection to your gun instead of oil. It doesn't feel oily but smooth and gives off a silky finish to your weapon. Add that with the smell it gives off and your gun will look good as new.
Overall, this is your best choice if you want a CLP that doesn't harm you or your environment. It has awesome features that make your gun looking good and working effectively.
Product Highlights
Works both as cleaner and protectant
Non-toxic liquid, biodegradable
Smells great
Grizzly Lube CLP | All-in-One Gun Cleaner,...
AGGRESSIVE FORMULA: Destroy rust and season your gun to reduce jams and friction!
ELIMINATE OIL: Used by Military, Law Enforcement, & Sportsmen to form dry-lubed surface outdoing oil
USDA BIO-BASED: Thick liquid designed for easy application on all firearm surfaces w/out residue
Froglube CLP Tub of Paste Gun Cleaner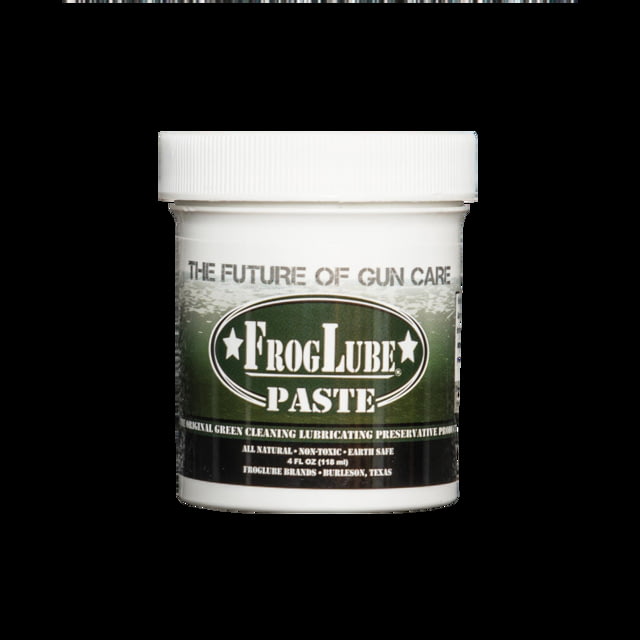 FrogLube Paste is another CLP that is biodegradable and non-toxic. This CLP stands out because it is completely green, and aside from paste, Froglube CLP can also come in a spray bottle if you prefer that option.
Froglube claims to have absolutely zero petroleum, oil, or wax as their ingredient. It even exhibits a pleasant mint smell. While Froglube effectively works it doesn't destroy metal, finishes, and even wood. You can apply this CLP safely without worrying about your firearm's wooden stock.
The Froglube CLP consists of food-grade ingredients. While this implies they're safe to ingest, we wouldn't recommend you do it. This only means you can use it with your hands without worrying about using protective gloves.
This is probably the only CLP that is truly non-toxic as they openly showcase their formula. The USDA has even approved it as a certified bio-based product.
It easily lifts carbon, lead, old grease, and rust and works extremely well. It seals metal from moisture and provides a layer of protection to keep off the rust. This CLP also lubricates and works great the hotter the gun gets.
The Froglube CLP is great for preventing carbon buildup. However, we found that the Froglube paste hardens with time. You can easily avoid this by doing regular maintenance to your gun.
If you do encounter this problem, you'd have to use a solvent to clean off the CLP.
Overall, this is the only CLP paste that works best with weapons. If you do plan to use it make sure you know how to apply it and regularly do maintenance to keep your gun working.
Product Highlights
Prevents carbon buildup
Easy to apply
Non-toxic
Pleasant mint smell
Factors to Consider for Buying the Best CLP
There are a variety of things that you need to consider before buying a CLP for your gun cleaning and maintenance. Finding the best one that fits your needs can be really difficult. Which is why we've placed down some factors that could affect what CLP you should buy.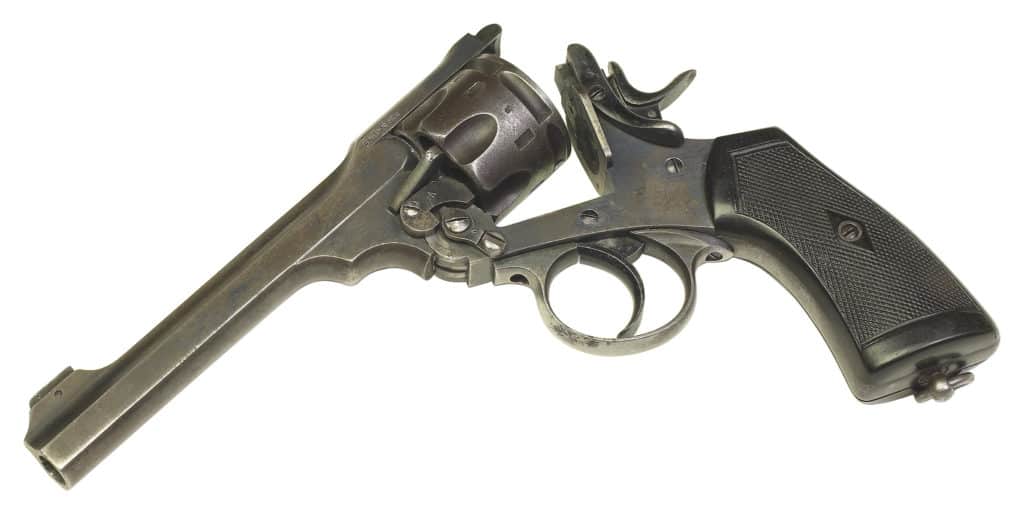 Smell
CLP gun cleaners have different smells. The smell can affect how you would regularly clean your gun. You might be hesitant to clean your gun because of the smell.
Pleasant smelling CLP is great for the nose and it can even make you want to clean your gun regularly. A heavy toxic pungent smell, on the other hand, is definitely not something you would like to smell. They also stick to your hands and may take some time for it to go away.
Consider if you can handle pungent smell in exchange for effectiveness. However, you can also opt to wear a protective mask.
Non-toxic and Biodegradable
Toxic CLP cleaners can be potentially harmful not only for you but for your family. Some CLP cleaners can make you sick and can even cause damage to your lungs. They are a health hazard that you should avoid if you don't know how to properly use them.
Biodegradable CLP cleaners, on the other hand, are a different story. They're safe to use and just as effective as the toxic ones which are why most CLP cleaners have opted to use biodegradable materials.
Size
If you are unsure of a CLP it's better to try the one with the smallest size. It's also more effective to buy smaller sizes as the interval for gun maintenance can be done at longer times.
If you plan to buy larger sized CLP cleaners, make sure you store them properly so it won't be contaminated and affect its effectiveness. They're great for the long term and if you have a large collection of firearms that you need to clean.
Cleaning Effectiveness
The best CLP should clean your gun with great effect. Some CLPs are great at removing debris, dust, carbon, copper, and even lead. Some CLPs can even clean black powder guns. Make sure you choose a CLP that has excellent cleaning factors if you want cleaner and good-conditioned guns.
What Is CLP Used For?
CLP is a gun cleaning product specialized in cleaning and maintaining all sorts of firearms. Most military personnel and firearms manufacturers would recommend using CLP instead of other types of gun cleaning options.
CLP is great for general lubrication in sensitive parts of firearms and keeps them in good working condition. It also helps protect from rust and corrosion. CLP come with additives that give them extra properties for cleaning a gun. Some of them include:
Prevents jamming and overheating
Resists evaporation
Penetrates rust freeing stuck parts and actions
Some CLPs are biodegradable and non-toxic making them harmless to your health and environment. Some are even safe to ingest.
What Is Special About Clp?
CLP is unique among all other kinds of gun cleaning products. It specializes in gun cleaning, lubrication, and protection. It has different properties depending on its use. Some work really well in extreme cold and some on extremely hot temperatures. Others preserve really well keeping off rust and corrosion on your guns.
You'll find that most gun oils are very light and tend to evaporate in the early years. This was a problem during World War 1 and 2 and people resorted to different ways to keep rust and corrosion off their guns. That's when CLP was made in order to specialized in gun cleaning.
Conclusion
These are some of the best CLP you can get on the market in 2020. Most of the options are non-toxic and biodegradable which seems to be the norm for modern CLPs. They are really effective in cleaning guns.