As an Amazon Associate we earn from qualifying purchases.
Gun Vise makes your firearms cleaning and maintenance a lot easier. The best gun vise in the market will give you enough stability to make rifle cleaning a lot easier and safer. This stability will make it easier and quicker to brush and lubricate your gun as it is steadily in place.
Our Top Gun Vise Review
The right gun vise should make the cleaning of your firearms smoother in general. If you want to save time in gun cleaning then you should consider getting a gun vise. These are some of the best gun vises you can find right now on the market.
Brand
CTK Precision P3 Ultimate Gun Vise
Hyskore Cleaning & Sighting Vise
Product
Suitable For
bolt-action rifles, break-open shotguns, AR-15's, and handguns
Brand
CTK Precision P3 Ultimate Gun Vise
Product
Product
Suitable For
bolt-action rifles, break-open shotguns, AR-15's, and handguns
Brand
Hyskore Cleaning & Sighting Vise
Product
CTK Precision P3 Ultimate Gun Vise
The CTK Precision P3 Ultimate Gun Vise is the best overall gun vise for heavy-duty weapons that most gun vises can't accommodate. The P3 Ultimate Gun Vise comes with heavy-duty steel construction with an E-coat finish, making it a strong and reliable product.
Despite the solid construction, this gun vise isn't as heavy as one may think. It weighs less than 9 pounds so it has some portability to it. The gun vise is 25 inches in length and 18 inches wide.
The CTK Precision P3 Ultimate Gun Vise comes equipped with a 3-point leveling system and an easily accessible and adjustable thumb locks. This helps keep the gun vise stable.
The feet of the P3 Ultimate Gun Vise has a rubber padding that prevents slipping. It also gives protection for the surface where the gun vise is. It comes with a rear vise to make sure you can fit a rifle or firearm. The front Y rest allows gives you the option to adjust the gun vise vertically as you see fit.
Both the rear vise and the front Y rest consist of closed-cell PVC foam. The PVC foam is solvent safe so it gives you protection from damaging solvents and other chemicals. It also comes with a hook that holds a cleaning rod secure.
This gun vise can act as a shooting rest if you want to. You have the option to attach a shooting rest attachment if you feel it. The same goes for pistol post attachment. It's a great multi-purpose gun vise to have.
Finally, The P3 Ultimate Gun Vise contains a rear shooting pad to help you with setting firearms of different lengths. Therefore, this gun vise is compatible with multiple guns of different lengths.
Product Highlights
2 in 1 gun vise that also acts as a shooting rest
Suitable for scoping
Padded rubber feet
Sturdy and durable build
CTK PRECISION P3 Ultimate Gun Vise
The perfect tool for gun maintenance, gun cleaning and boresighting!
Adjusts to accommodate both rifles and pistols.
Optional Rest Attachment converts Gun Vise into a Shooting Rest in seconds.
Tipton Best Gun Vise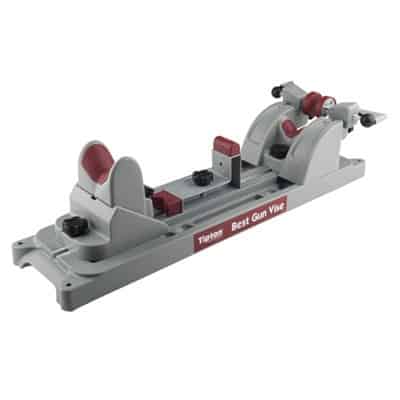 Maybe you're considering that you have too many guns to fit into one gun vise. If that's your case, the Tipton Best Gun Vise is the solution to that problem. Tipton is a well-known company for making high-quality firearms maintenance and cleaning equipment, and this Tipton Best Gun Vise is a great example.
Tipton Best Gun Vise is a highly versatile tool that you can use for every firearm you own. The gun vise is capable of holding pistols, bolt action rifles, pump-action shotguns, break-open shotguns, and sporting rifles.
It consists of polymer materials and the central aluminum channel helps support the vise for quick cleaning. It also allows you to move all the components as close or far from each other as you adjust it to be.
The nylon surface protects the vice against harmful chemicals and solvents. The surface also is non-marring contact meaning it will keep the gun steady on the surface.
The components of the Tipton Best Gun Vise are able to adjust and accommodate all kinds of firearms that you have in your gun safe. You can do this by simply sliding over the components to your desired position.
The rear base has 2 offset clamps that you can adjust to get a better grip on your rifle's buttstock. You can adjust both the height and the horizontal position of the clamps so it really does secure all your firearms.
Although it's a really versatile gun vise and has amazing features there's one drawback that we didn't like. It consists mostly of plastic materials that will affect the durability and longevity of the product.
Overall, this gun vise is your best pick if you own a wide variety of firearms and want your gun vise to accommodate all of them. It makes your cleaning sessions a lot faster and easier.
Product Highlights
Can accommodate to different guns
Easy assembling
Resistant to the damage done by solvents and chemicals
Comes with instructions for installation and proper use
Hyskore Cleaning & Sighting Vise
The Hyskore Gun Vise is also a 2 in 1 for cleaning and sighting. This gun vise offers useful features that are impressive for its value. This gun vise combines versatility, accommodating handguns, shotguns, rifles, and break open shotguns. If you need a tray to place and keep track of your tools while doing firearm maintenance, this gun vise has it.
There are 7 built-in cleaning slots that are molded to fit brushes and cleaning solvents. There's also an extra side-slot to hold your cleaning rods. The Hyskore Cleaning & Sighting Vise allows you to have a 3 different shot sighting. You can freely choose and adjust depending on your preference.
The gun vise has adjustable parts that can move. You can freely adjust almost any firearms of different sizes. This gun vise is also very durable despite being on the economical side. It's solvent resistant and has rubber contact pads that protect it from damage.
The frame of the gun vise uses steel as a raw material. The frames are also tubular and welded which is great for supporting the gun vise. The Hyskore Cleaning & Sighting Vise comes equipped with dual clamp technology. It keeps your firearms stable and secure without worry.
Finally, this gun vise also features 4 leveling feet that are used for scope mounting your guns. This gun vise packs a lot of features making this the one of best economical gun vise you can get on the market right now.
Product Highlights
Has 3 different sighting system
Steel metal construction for durability
Suitable for cleaning and mounting scopes
Built-in 4-point sighting level
What Makes the Best Gun Vise?
With the number of gun vises on the market, it's hard to distinguish what makes the top gun vises. Now that we've discussed some of the best products available, it's time to discuss a few important points regarding them, especially what elements you should consider when shopping for one.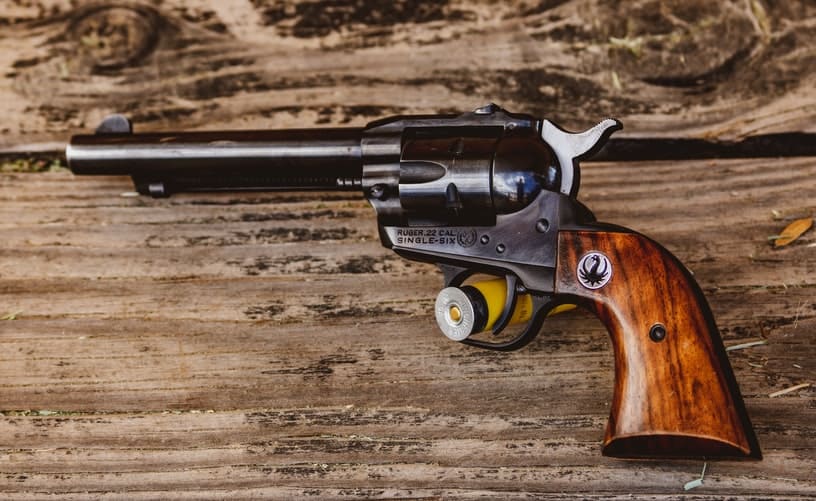 Material
There are two major materials that are used in making gun vises. These are plastic and metal. Both have their advantages and disadvantages.
Plastic gun vises are practical alternatives that still get their job done. They tend to be lightweight and easy to carry them around. Though there are drawbacks of being lightweight as you can have some problems to keep stability with these models, they're also less durable compared to metal gun vises.
While metal is more expensive than plastic, it has great durability. Metal is also better when it comes to stability because of its weight. If you want to use the gun vise for sighting this is also a lot better compared to plastic. The only disadvantage of metal is that it is really expensive and the value of it might not be justifiable if you only use it rarely.
Versatility
A gun vise should be able to accommodate more than one type of gun. The best gun vise can handle different types of weapons with varying sizes so you can be able to use and maintain your firearms arsenal.
Having a gun vise that can handle all types of weapons is a great buy and very practical. Instead of buying two or more gun vises for your different guns, you only have to buy one.
Although you should also keep in mind that versatile gun vises have a lot of moving and adjustable components. This makes organizing a bit difficult and more components mean a higher probability of breakage.
Usage
While it's good for a gun vise to have extra uses, the most important thing is that the gun vise performs great on what it's supposed to do. A gun vise should improve the process and make it faster and easier for you.
That's why it's essential to have features like adjustable angles, elevation, and rotation. The gun vise should also do a good job of keeping the firearm in place while you do your maintenance to make it convenient.
Reliable Stand
One thing that the best gun vise has is having a reliable stand. The best gun vise should give you a firm and tight grip without compromising safety. It should have a balance of safety and stability.
A combination of a weighted ground and a spread out bottom half should prevent any shaking while you clean your guns or routine maintenance. A good feature to also have is the option to attach the gun vise to the table you are working on for better stability.
Conclusion
These are the best gun vise you can have right now on the market. Each has its own unique features like great durability, multiple functions, excellent stability, and many more. It boils down to what features you prefer to have and how much money you are willing to fork over. You'll never go wrong with any of these picks.