As an Amazon Associate we earn from qualifying purchases.
There are several reasons why you may wish to invest in a gun safe. For instance, a gun safe can help keep your guns in good condition, as they will not be as exposed to the elements as they would be otherwise. This means your guns will be protected from humidity as well as any water damage from accidental spills.
Your guns will also be stored away. It will be difficult for them to be scratched by careless handling since the insides of gun safes tend to be padded. This helps reduce the surface wear and keeps the finish of your gun looking good. There are few better options for discerning gun owners than a gun safe.
Of course, there is always the matter of safety to consider as well. A ​good safe for gun storage on the market​ is more secure and will keep your family safe, as it will prevent unauthorized users from accessing your weapons. This can range from home intruders to children who could potentially hurt themselves or others.
Using a gun safe is an excellent way to reduce the risk of any accidents related to your firearms from occurring. Negligent discharge is one of the leading causes of firearms accidents. It is important to ensure the risk of this occurrence is as low as possible. A gun safe is your best bet.
There are several other reasons why you may wish to invest in a gun safe. While older gun safes took a good deal of time to open up in case of an emergency, you will find newer examples will allow you to access your gun in a matter of seconds.
Before I move on to my review, I will be taking a look at one of the most crucial characteristics of your gun safe. This aspect will have a bearing on the effectiveness of your safe and its ease of use.
Locking Mechanism
There are many locking mechanisms available for your gun safe, and they will largely determine how easy it is for you to use them. The most common option for modern gun safes is a keypad which will allow you to key in a code to access your safe. The style of keypad you will use depends on the safe.
Most newer gun safe models will feature small keypads with less possible combinations, which will allow you to type in the code far faster. This is crucial during times of duress. You will be able to access your gun far faster than you would otherwise.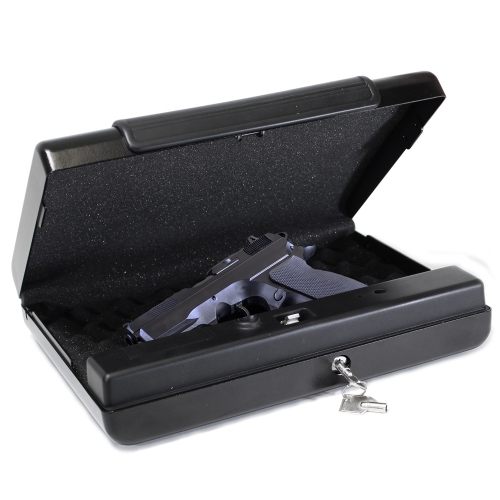 Another type of modern lock you will find on some of the more pricey gun safe models is a biometric lock. These locks will read your fingerprint. All you have to do is press your finger up against the reader for a few seconds, and the safe will open up, sometimes automatically.
Biometric locks may sometimes have issues when you are in a rush, however. Your hands may be shaking and it will be difficult to get a good reading of your fingerprint. Many gun safes will allow you to register multiple fingerprints so you can save your fingerprint at many angles or even different fingers.
The Product
Specifications:
Features a four-digit keypad which allows for a three- to eight-digit combination
Features an interior which is padded with foam
Features a spring-loaded door for quicker access
Features mounting points for attachment to a wall
Uses two AA batteries to operate
Comes included with a five-year manufacturer warranty
Overview
There are few better options for a portable handgun safe than First Alert 5200DF Portable Handgun Safe. Compact, intuitive, and secure, you will find this model features everything you could ask for in a portable gun safe.
Results
I was impressed by how effective this model would be in an emergency. This is mainly due to the combination of the no-see keypad and the spring-loaded door. Both of these features ensure your gun safe will be quick to open and easy to use, in case you have an intruder in the home.
The inclusion of mounting points and a steel cable ensures you will be able to mount this portable gun safe anywhere you want. This could be in the trunk of your car or the wall of your room. The small size of this gun safe ensures that it can be placed in most areas and hidden quite easily.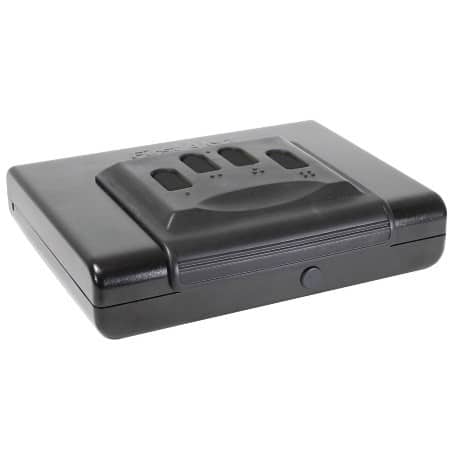 There were complaints about the lack of a mute function on this safe. Every touch of the keypad results in a beep, which can make it difficult to remain stealthy in the event of a home invasion.
Buying Advice
This gun safe is quite affordable. It is one of the better models you will come across in this price range, where most other products tend to be unreliable.
Conclusion
If you want an affordable gun safe that can be accessed quickly in case of emergency, you have come across the right model. I hope that my review has proved to be comprehensive and helpful. Thank you for reading, and good luck finding your new gun safe.