As an Amazon Associate we earn from qualifying purchases.
According to the latest statistics, over 3.8 million burglaries are happening every year in the united states. And around 28% occur when the family member was at home. So it's becoming necessary to have a gun to protect your family and yourself from these types of incidents. But what happens if that gun goes into the wrong hand that causes an unwanted incident.
So to avoid these types of incidents, you should secure your firearms to an industry-standard gun safe.  And finding the best gun safe under $1500 requires a lot of research and time. We have deeply researched and come up with quality gun safes for the $1500 price mark to ease your task.
We highly recommend the Hornady Rapid Safe Ready Vault . Below we have listed down gun safes with some serious protection levels and have ample storage options for your firearms, gears, scopes, and other important accessories.
1. Hornady Rapid Safe Ready Vault
If you are looking for a rifle unit ideal for storing 5 rifles and a couple of handguns, you can check Hornady Rapid Safe Ready Vault. This gun unit uses patented RFID technology which allows you to access your firearms quickly with touch-free entry. RFID technology is so fast that it opens the unit faster than any biometric or keypad lock.
In terms of security, this unit comprises 16 gauge heavy-duty steel with 5 hardened locking lugs that give enough protection from any force break-ins. Quality-wise it is approved by the California Department of justice that passes safety tests. Hornady rapid also provides pre-drilled holes useful in mounting the safe at the wall or floor for additional security.
There are 3 ways to access this gun safe: RFID technology, Electric Keypad, & Manual Keys, etc. Four RFID tags come with this safe, which you can program to open this unit quickly. There are also 2 manual keys that you can use if you forgot the code or if the battery runs out, then you still have the option to access the unit with a backup key.
The unit's interior comes with a neoprene floor mat that keeps your stored rifles scratch-free. The metal interior rug makes the rifle intact and upright to prevent firearms from slipping when you open or close the safe door. You can store 14 handguns and 6 long guns easily. The unit also has got space between the barrels for more storage options.
This rifle safe does not have any shelf to store any other items like ammo or extra magazine. We also didn't find any interior light that we feel a disadvantage when accessing the safe in darker conditions. But the unit has an ample storage option, so you can purchase interior light and place it inside the unit and other accessories items like a dehumidifier, hygrometer, magnetic hooks, etc.
| | |
| --- | --- |
| Dimension | W x D x H |
| Internal Dimensions | 23 x 19 x 51.8 |
| External Dimensions | 19 x 15.1 x 52.2 |
| Weight  | 170 pounds |
| Fire Rating | No Fire protection |
| Lock | RFID Lock, Electric Keypad, Backup Keys |
Solid Build Quality
Stores 5 Long-Guns Easily With Attach Scope
Also Stores 8 Handguns
Interior Has Neoprene floor mat
Pre-Drilled Holes For Mounting On Floor
Does Not Have Any Interior Light
No Interior Shelves For Storing Other Items
2. SentrySafe EF4738E Fireproof & Waterproof Safe 
SentrySafe EF4738E Fireproof & Waterproof Safe  comes with a unit that can store a couple of handguns and other items like documents, passport, money, jewelry easily with ample storage options due to a removable shelf. If you live inside the apartment or have any space shortage, you can check out the sentry safe.
The fireproof feature can hold fire for at least half an hour @ 1400°F to protect from any stored handguns or important documents inside the unit. The waterproof feature protects stored firearms for 72 hours and up to 12 inches deep, offering peace of mind when there is a flood-type situation. It has both ELT (Fireproof) & ETL (Waterproof) certified in terms of quality.
Now, let's talk about the unit's protection level; it comprises solid steel rugged body construction, with 5 live locking points and 4 deadbolt that gives a 4-way locking system that prevents theft and unauthorized access or any type of force entry.
All the anchor bolt mounting hardware is included to lock and bolt down the safe on any hard surface for better security. Remember, it does not have a pre-drilled hole due to waterproof and fireproof features. The safe interior also has a carpeted floor that protects stored items from any dents or scratches. 
This unit can be accessed through a digital electric keypad and also through manual keys. You can set your own code to access the safe quickly. You will need 4 high-quality Alkaline AA batteries (not included) with a minimum expiration date of 8-10 years for long usage of the safe. The manufacture provides a limited lifetime warranty on the safe. 
| | |
| --- | --- |
| Dimension | W x D x H |
| Internal Dimensions | 19.4 x 11.7 x 35.7 |
| External Dimensions | 21.7 x 19.0 x 37.7 |
| Weight  | 217 pound |
| Fire Rating | 1/2 (Half-Hour) Fireproof @ 1400°F (760ºC) |
| Lock | Digital Lock System & Bypass Key |
Fire protection For Half An Hours
Water Proof For 72 Hours In 12 Inches Of Water
Strong Solid Rugged construction
Good for storing handguns
Excellent Customer Service
Bit heavy
The manufacture should have provided a battery in this price range
SentrySafe EF4738E Fireproof Waterproof Safe with...
Fireproof safe is ELT Verified to endure 1/2 hour at 1400°F to protect irreplaceable documents and...
Waterproof safe is ETL Verified for 72 hours of protection in water up to 12 inches deep offering...
Set your own digital combination safe for strong security; fire safe features five live-locking...
3. Barska AX12752 Large Keypad Biometric
The Barska AX12752 Large Keypad Biometric is best for those gun owners who like to store their rifles and a couple of handguns together without investing so much in the safety boxes. Barska has provided multiple storage features to store 7-8 medium size guns without any scope attached to them. 
The safe interior has a protective floor mat that protects the stored firearms from any scratch or dent. You can also store a handgun on the top shelf with extra ammo.
Barska unit is made up of a 14 gauge metal thickness body and tamper-resistant inner edges, which protect the unit from tampering by any unauthorized person. Also, the unit has protective Anti-Pry concealed door hinges with 3 built-in live locking bolts that will keep any intruder away from forced entry.
A biometric fingerprint scanner stores 120 unique fingerprints and allows you to access your firearms in less than 3 seconds. Also, you can access the unit with a digital keypad code and also through a manual key.
| | |
| --- | --- |
| Dimension | W x D x H |
| Internal Dimensions | 12.5 x 11.5 x 52 |
| External Dimensions | 13 x 12.9 x 52.25 |
| Weight  | 82 lbs |
| Fire Rating | No Fireproof Protection |
| Lock | Biometric Scanner, Digital Keypad, Manual Keys |
Stores 8-9 Rifles Easily
Protective Floor Mat
Removable Shelf
14 Gauge Metal Thickness Body
3 Built-In Locking Bolt
You Have To Drill The Unit Due To Its Lightweight
Does Not Have Waterproof & Fireproof Feature
Barska AX12752 Quick and Easy Access Biometric...
【High-Quality Secure Rifle Safe】BARSKA DOJ Approved Biometric and Digital Keypad Rifle Safe is...
【Rifle Storage】Our rifle safe fits practically anywhere for unrivaled convenience and stores up...
【Advanced Biometric Scanner】Our top-quality biometric scanner allows access to your valuables...
4. YUEMA Biometric Gun Safe
If you are looking for the best gun safe under $1500 only for a handgun, then YUEMA Biometric Gun Safe can be a perfect choice for your safe. This unit does come with a higher price tag but delivers a high-quality handgun safe.
Handguns are mainly kept for self-defense, and whenever an emergency arises, a handgun owner wants to access them very quickly. Therefore, this gun case comes with an advanced biometric locking system that can store 30 unique fingerprints in its sensor chip.
You can access it through a manual four-button keypad. The manufacture has also provided 2 manual keys in case if the battery runs out. The safe opens in less than 1 second with the auto-open door that helps access the unit single-handedly. Inside the case, you will get a padded foam to keep your pistol safe and secure for any type of scratch and gives long-lasting protection. This safe comes with a limited 5 years warranty.
Mounting a pistol case adds an extra layer of security, and that's why it comes with pre-drilled mounting holes with all necessary mounting hardware included. It also had a silent mode feature which is very helpful when you are accessing your safe in the middle of the night. In addition, it will prevent intruders from knowing a gun safe is being unlocked.
| | |
| --- | --- |
| Dimension | W x D x H |
| Internal Dimensions | 12  x 9 x 5.3 |
| External Dimensions | 14.9 x 11.6 x 8.6 |
| Weight  | 13.3 Pounds |
| Fire Rating | No Fire Protection |
| Lock | Biometric Lock, Keypad Manual, Keylock |
5 Year Warranty
Can store 30 Unique fingerprint
Silent mode
Replacement Guarantee
Low Battery warning
Costly
YUEMA Biometric Gun Safe, Quick Access Hand Gun...
【Advanced Biometric Identification】YUEMA gun safe has employed the most sophisticated biometric...
【Easy Access & Quick Entry】Featuring fingerprint lock and auto-open door, the biometric gun safe...
【Heavy Duty & Scratch Resistant】Made of heavy duty tough solid steel material, our gun case...
5. Kodiak Gun Safe for Rifles
The Kodiak Gun Safe for Rifle is best known for protecting your stored weapons and capable of storing 30 rifles and a couple of handguns. The door organizer keeps the interior organized that stores a couple of gun accessories and extra ammo.
It has a fireproof feature that protects the safe for at least 30 minutes @ 1400°F. The heat-activated door seals the door edges, keeping the smoke and heat out. Due to the fireproof feature, there are no pre-drilled holes inside the unit. But if you have any plan to drill the unit, then all the mounting hardware is provided.
The safe has a single hardened plate just behind the lock that protects the lock from any force or drill attack. There is a spring load reloader to protect the lock. In terms of metal thickness, it has a 14 gauge steel construction and anti-tampered clutch handle. This spooky handle disengages if excessive force is applied. It has a UL-listed electric lock that gives more security.
If you store 30 rifles with the scope attached, they might not fit inside the Kodiak gun safe. Also, you cannot access the unit from the manual key as there is no option other than an electric locking system. So if the battery runs out, you need to change the battery to get access.
| | |
| --- | --- |
| Dimension | W x D x H |
| Internal Dimensions | 26 x 18 x 56 |
| External Dimensions | 28 x 20 x 59 |
| Weight  | 350lbs |
| Fire Rating | 30 Minutes @ 1400° |
| Lock | Only Electric Lock |
Perfect For Storing Long Rifles
The Unit Has Steel Thickness Of 14 Gauge
Door Organiser Will Help To Store More Gun Accessories In Organised Way
California Approved Gun Safe
Only Electric Lock System To Access The Unit
You Cannot Store 30 Rifles With Scope Attached To Them
Kodiak Gun Safe for Rifles and Pistols KB19ECX by...
EXTERNAL DIMENSIONS: 59"H x 28"W x 20"D (not including handle). 350lbs.
HOLDS UP TO 30 LONG GUNS (RIFLES & SHOTGUNS) & 4 PISTOLS OR HANDGUNS. Door organizer standard for...
FIREPROOF RATED FOR 30 MINUTES AT 1400°F. Heat activated door seal expands up to 7 times its size...
6. Secure It Gun Storage Agile Ultralight Gun Safe
We have discussed many units above, and almost all of them are bulky; once they are set up, it's hard to move the gun unit from one place to another. But in the case of "Secure It," it's very light in weight and also can be moved from one place to another easily. So if you want to store lots of rifles, guns, handguns, and other accessories, I suggest looking at the Secure It Gun Storage Agile Ultralight Gun Safe.
In case of storage, you can store any style rifle with a scope attached. Featured with CradleGrid technology, it allows storing all the firearms right with their accessories. So you don't have to remove any attachment to store your favorite rifles to fit inside the unit. You can also store ammo, handguns, magazines, ammunition, etc.
The safe has an electronic keypad locking system that has a 9V battery in it. The safe also has 2 backup keys if the keypad lock or batteries run out. This unit is an upgraded version of its basic model. Remember, you can store the guns up to a height of 50″ inches only, not more than that.
For security purposes, this gun safe allows the unit to bolt in the wall or floor. It comes with all mounting hardware so that you can easily set up the safe quickly at this price range.  This safe can store 6 long barrel guns with 24 handguns and other accessories.
| | |
| --- | --- |
| Dimension | W x D x H |
| Internal Dimensions | 19 x 13 x 51 |
| External Dimensions | 20 x 15 x 52 |
| Weight  | 105 |
| Fire Rating | Not Available |
| Lock | Electronic Locking System & Manual Key |
Keypad control panel
Heavy-duty construction
Ultra-lightweight
3 locking point
Good Customer Service
Not fireproof
High price
Secure It Gun Storage Agile Ultralight Gun Safe:...
ULTRALIGHT GUN SAFE – The Agile 52 is strong and durable, yet lightweight so you can relocate...
KEY OVERRIDE - A keypad control panel with the addition of a hidden key override as back up, keeps...
EASILY ADJUSTABLE - Comes standard with SecureIt's CradleGrid Technology for organized and...
7. Steelwater SWSD20GUN With EMP Lock Gun Safe
If you are looking for a gun safe with an EMP-Proof locking system with important features with a low price range, you can check out Steelwater SWSD20GUN With EMP Lock Gun Safe. This unit can protect your firearms from fire for 60 minutes @ 1875 degrees protecting your stored firearms or other important documents.
The unit's interior is fully carpeted, and it has an interior led light that lights up as soon as you open the door. These LED lights will surely help you in dark conditions when you want to access the stored items. You will require a US wall outlet of 120vAC to power the safe.
The manufacture has also provided a door organizer to organize all handguns or other gears properly. Also, they have provided a free dehumidifier which is a bonus.
This unit is made up of 14 gauge high steel construction and 1.5 diameters of solid steel locking bolts in terms of security. Also, it has 7 chrome-plated active bolts and 3 inactive bolts for added security. To protect the lock from any drilling, it is equipped with drill resistant hard plate. 
You can easily store 20 long guns with 4 adjustable and removable shelves, which can be put according to your need. To run this unit, it will require a 9v battery (included) to operate electric features.
Also, you can use manual keys to operate in times when you run out of battery. You will get a limited lifetime warranty on fire and Burglary. The unit's disadvantage is it is not waterproof in this price range. 
| | |
| --- | --- |
| Dimension | W x D x H |
| Internal Dimensions | 25 x 14 5/8 x 55 1/2 |
| External Dimensions | 28 x 18 x 59 |
| Weight  | 408 Pounds |
| Fire Rating | 60 Minutes @ 1875 Degree |
| Lock | Electric Digital Keypad & Manual Keys |
Comes With Lots Of Equipment
Interior Is Fully Carpeted
14 Gauge Solid Steel Construction
Semi-Gloss Powder Coat Finish
Interior Led Light
Excellent Storage Space
You Can Store 20 Long Guns
8. VAULTEK RS Series WiFi Biometric Rifle Safe
If you are looking for a unit that not only stores your firearms but also alerts you on your device about opening the safe, then check out the VAULTEK RS Series WiFi Biometric Rifle Safe. This unit can store 2 AR rifles and 6-7 handguns easily with extra firearms gear.
Now in terms of security, it has a steel thickness of 14 gauge with rugged construction and an advanced anti-theft protection system to protect your stored weapons. It has impact detection, steel locking bolts, and anti-pry bars to stop forced break-ins, which are enough to stop unauthorized access.
You can access the unit with a Biometric scanner, electric keypad, and manual keys, etc. With Wifi features added by the manufacture inside this unit, it will alert the door's opening and closing every time on your mobile device. Also, to give more security to stored firearms, fingerprint tampering, internal temperature, power level, impact or any bumps, etc. The keypad is illuminated with a proximity sensor that detects your hand to illuminate the keypad numbers.
The best feature which we really like about this unit is it has a nano smart key. This key opens the unit automatically from 10 feet away, which is best used when you are in a panic condition in an emergency-type situation. VAULTEK MX Series Handgun Safe also has an interior led light that best when you are accessing your weapons in low light conditions.
| | |
| --- | --- |
| Dimension | W x D x H |
| Internal Dimensions | 53.25″ H x 13.75″ W x 12.6″ L |
| External Dimensions | 54″ H x 14″ W x 16″ L |
| Weight  | 124lbs |
| Fire Rating | NA |
| Lock | NANO Lock, Biometric Scanner, Electric Keypad & Manual Keys |
Wifi Enable Unit Lets You To Alert On Your Mobile
Advanced Anti Theft Protection
Anti-Pry Bars, Four Solid Steel Locking Bolts, Interior Hinges
Smart Nano Keys Allows You To Open The Unit From 10 Feet Away
Stores 8+ Rifles, and Multiple Handguns
You Have To Buy Basic Accessories To Store Other Items
Lightweight Makes Intruder Easy To Carry
Vaultek RS200i Wi-Fi Biometric Rifle Safe Multiple...
RS200i Rifle Safe is optimized with a SPACE SAVING DESIGN to store 2 AR style rifles, and 4-6...
TOUGH AND RUGGED 14-gauge carbon steel construction using rugged metal forming techniques and is...
QUICK ACCESS to your valuables and documents from the auto open door. Get in quick when it matters...
Factors To Consider Before Purchasing Rifle Safe Under $1500
Before investing a big amount in a Quality Gun safe, there are some factors which you should look at before finalizing the purchase of a handgun case. Below we have discussed some points related to the best rifle safe under $1500.
Lock Types
When buying the best rifle safe, gun safe locks play an important factor, and you should also consider it before finalizing your decision. There is 4 common lock you will find in the unit.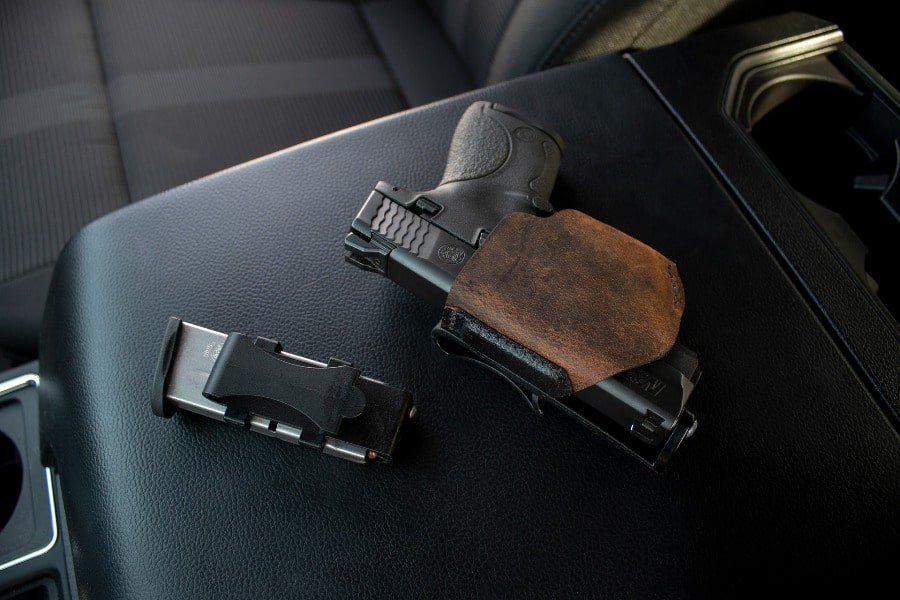 Biometric Lock
Digital Keypad Lock
Manual/Key Lock
Combination Lock
Biometric Lock
A biometric lock is a lock that works when a finger is scanned, and it memorizes that finger for future access to that case. These locks tend to been seen in almost every model of the gun case. These locks come in a combination of keypad and electronic lock.
The only disadvantage of biometric locks is that they run with the help of a battery. Sometimes, there is a possibility that the power might run out when you need to open the safe in an emergency. But all of the safes come with extra manual keys, but I don't think we always keep the keys with us.
Digital Keypad Lock
Digital keypad lock tends to open the safe very quickly and quietly. These locks are best who want to reset their keypad number from time to time. Digital keypad locks can be reprogrammed easily and immediately.
The only disadvantage of a digital keypad is they are battery-operated, and if the battery runs out, you won't be able to access your safe without manual keys. Also, if someone knows your keypad code, it can easily access your safe, which can be dangerous if you have kids in your house.
Manual Key Lock
Manual key locks are still the favorite of many gun owners who rely on them completely and don't believe in other locking mechanisms. These are traditional lock which is reasonably reliable and secure. These safe, which have manual locks, do not require any electricity or batteries to operate them.
The drawback of a Manual lock is that if you misplace the key, then the only way to open the safe is to break that lock or wait for a new key to arrive.
Combination Lock
A combination lock is the best choice for many safe owners when choosing a safe and secure lock. Programming a combination lock is very easy to set up. If you forgot the combination, then use the key which came with it and access the safe.
Size & Weight
Always remember the best gun safes are heavy in size. Always go with heavy gun safes, which will make it impossible for the thief to carry the safe with them.
Spacious
Sometimes we spend heavily on gun safes compact in size because we need to store small guns or some documents in them. 
And if you are paying more on premium models of gun safes, you will definitely get a spacious safe to store more guns and handguns. So if you are a person who is planning to store a couple of heavy guns, or you may purchase them in the future, then you should invest in a spacious gun safe.
Conclusion
We hope you like our buying guide on the best gun safe under $1500, and you will get the best quality safe for your gun collection. Remember to store your firearms in a safe and secure place.