As an Amazon Associate we earn from qualifying purchases.
Owning a gun comes with a lot of responsibilities. One of them includes storing your gun in a safe place. You should consider getting the best closet gun safe to keep your guns safe and secure.
My Top Closet Gun Safe Recommendations
Deciding on a gun safe and choosing the best closet gun safe is a great choice. Although, in general, any place is great for a gun safe as long as it's safe and secure, the closet is one of the most convenient places to have one.
Brand
INTERGREAT 4 Rifle Metal Electronic Gun Locker
Product
Special Features
Smart technology secures contents away from kids
Has an upgraded memory function for storing passwords
Emergency battery box for emergency use, if you forgot the digital code
Dimension
13.78"W x 11.8"D x 57.1"H
Product
Special Features
Smart technology secures contents away from kids
Product
Special Features
Has an upgraded memory function for storing passwords
Dimension
13.78"W x 11.8"D x 57.1"H
Brand
INTERGREAT 4 Rifle Metal Electronic Gun Locker
Product
Special Features
Emergency battery box for emergency use, if you forgot the digital code
Best Gun Safe Overall: Moutec Large Rifle Safe
The Moutec Large Closet Safe is a closet gun safe that can house 5 guns with or without scopes. It has a height of 57 inches and can easily accommodate rifles under 50 inches in length.
This closet safe features a smart lock mechanism that runs on 4 AA batteries. You can unlock the electronic lock by typing the PIN code onto the electronic keypad.
Another lock option is a backup key that you can use for emergencies especially if the batteries ran out in times of need. A closet gun safe with more than one locking mechanism is a great feature to have.
The Moutec closet safe has the best steel construction on this list. Aside from its excellent solid steel construction, this big gun safe is also tamper-resistant and pry-roof. However, this closet gun safe isn't bulletproof.
The inside case has a 5-position gun rack in the back. On the side, it has 1 gun rack suitable for handguns and other valuables.
It's also a lot more convenient than most gun safes because it has pre-punched mounting holes in the back and bottom. You can easily mount it anywhere. It even has 4 anchor bolts or locking bolts for attaching this closet safe to the floor or walls.
It also has other features like silent mode for stealth home defense. If you're worried about the electronics running out of power, the Moutec Rifle Safe emits a warning tone that means it's running low on battery.
Overall, an excellent choice if you want the best closet gun safe with all its features and durability. 
Pros
Deeper inside space compared to other gun safes
Pre-punched mounting holes and locking bolts for easy installation
Extra lockbox/gun rack for storing handguns and other valuables
14 gauge solid steel construction
Sounds an alarm if accessed wrongly
Cons
Design is not fire and waterproof
Non-removable lockbox/gun rack
Not bulletproof
Large Rifle Safe, Long Gun Safe for Rifle Shotgun...
✅【Larger and Deeper Safe with Separate lock box】The safe is Larger and deeper safe stores up...
✅【Higher Level of Security】 This safe box is in high strength and solid structure. Smart...
✅【Wrong Access Alarm, Silent Mode】The safe will beeps and can't get access by PIN code if...
FCH Rifle Safe
If you're looking for a gun safe that can be found for a good price, better check out the FCH Rifle Safe. While it's not as durable as the Moutec Rifle Safe, it does its job of storing your guns safely.
It's also not as safe as the Moutec Safe because it's mostly designed for storing guns and keeping them away from children's reach. This closet gun safe comes already assembled and all you have left to do is place the batteries and set up the keypad. The proper installation instructions are quite simple and would be easy for someone who doesn't know much about digital technology.
Unlike other closet gun safes, the keypad set-up you entered will not be removed when the batteries die. You don't have to go over again and set up your PIN or password.
It even has a spare key in case you lose your key. Make sure that you keep the emergency key out of the safe. In the event that the batteries die, you won't be able to get your emergency key.
This closet gun safe can hold around 4 to 5 long guns. It also has a small lockbox like the Moutec Safe so you can not only store firearms safe but also store valuables and documents.
This closet gun is closely similar to the Moutec Safe minus some features. Think of it as the less durable and safe affordable alternative of the Moutec.
Overall, this is a reasonable steal for a closet gun safe. Just make sure it is hidden in your closet.
Pros
Digital programmable security code
Comes with extra storage in the form of a lockbox
Safety features don't reset if the power goes out
Cons
Not as durable as I would like it. Susceptible to theft
You might need to bolt it down to properly use
FCH Rifle Safe,Gun Safes for Home Rifle and...
EASY TO PROGRAM:FCH large gun safe comes already assembled,all you need to do is just insert the...
UPGRADED MEMORY FUNCTION--Unlike the old design,the key pad will remain your code when the batteries...
SECURITY DESIGN:Use our FCH rifle cabinet to store shotgun,rifle with scope, firearm and keep it...
INTERGREAT 4 Rifle Metal Electronic Gun Locker
If you're looking for an inexpensive, small closet gun safe, the Intergreat 4 Rifle Metal Electronic Gun Locker is another good alternative. It has great qualities.
The Intergreat Gun Locker is heavier than the Moutec Safe and FCH Safe. It's even more durable than the FCH Safe. It can hold 4 shotguns or rifles inside.
You can access the gun locker through programmable digital lock access. It has an electronic lock keypad and you have to set it up to start using it. It has a lock-out mode after three failed attempts for entering the code, something that's common with most electronic locks.
This safe is constructed with steel and the inner edges are tamper-resistant. This closet gun safe is thick and is even pry-proof. It has 5 solid locking bolts to keep this closet gun safe in place.
Like the other two closet gun safes mentioned above, the Intergreat Electronic Gun Locker also has a lockbox. It can store handguns and other valuables.
While they claim that this closet gun safe is spacious, it isn't that spacious. You may have trouble placing rifles with scopes in this closet gun safe. Some small rifles with scopes do fit.
In case you forgot your password, it has an emergency battery box for emergency use. Sadly, it doesn't have a backup key in case you lost your key. Although you can contact them for replacement.
Pros
Solid and dependable closet gun safe
Durable and pry-proof construction which is better than the FCH safe
Lock-out mode that triggers an alarm if the password is entered incorrectly 3 times
Cons
Can't fit long rifles with scopes
The battery compartment is hard to reach
INTERGREAT 4-10 Rifle Safe Quick Access, Long Gun...
【Upgrading Rifle Safes with Shelf】: Storage space of Long gun cabinet can be divided into upper...
【More Storage Space on Door】: There are 2 ways to open safe guns, with digital code and 2...
【Reinforced Box&Fully Assemble】: The outer package is packed well, with more thicker corrugated...
V-Line Keyless Shotgun Safe
Quick access means that getting access to your guns should be faster and simply done. For that, the V-Line Keyless Shotgun Safe has the best simple access on this list.
This small closet gun safe uses a quick-access Simplex combination lock and a pair of tube key locks and two steel rods for safe and simple access to your safe.
Although the access is simple and quick, it does a great job of preventing access from other people, especially children.
However, this closet gun safe can only store 1 long gun. The safe is fully enclosed with a 16 gauge steel box and opened by a hinged door. It's difficult to pry open the door. In short, your contents inside the safe are secure even if thieves managed to rip it off the wall.
Unlike the complicated locking mechanisms of the other closet gun safes on this list, the V-Line Keyless Shotgun Safe keeps it simple.
The Simplex five push-button mechanical lock doesn't require any batteries. Therefore, you can reliably use it whenever needed without the worry of power running out. The lock doesn't even have keys so no more worries of children finding your keys and gaining access to your guns.
The V-Line Keyless Shotgun Safe isn't fully sealed or fireproof. In the event of a fire or flood, the contents of the safe won't have any fire protection.
Overall, an excellent, simple, and accessible closet gun safe in case of emergencies. No more searching for keys or replacing batteries.
Pros
Fully mechanical with no battery reliance
Solid, durable build with pry-resistance
Pre-punched holes for proper installation
Cons
Not flood-proof or fire-proof
Can only store 1 long gun
Gearmart Fast Access Gun Safe
Don't like remembering or keeping passwords for your gun safe? Then a biometric closet gun safe is another option. The Gearmart Fast Access Gun Safe has a biometric access system.
This closet gun safe can store around 4 to 6 long guns with scopes. It has the largest storage space on this list. You even have a lockbox for extra storage. It can house handguns and other valuable items.
It's also the only gun safe with a biometrics access feature on this list. It has a biometric fingerprint scanner for safe access. It has 500 DPI optical sensors that can store 125 different fingerprints with its memory drive.
Although it has faster quick access than the V-Line Keyless Shotgun Safe, it's also reliant on power. It only takes 2 seconds for it to scan your fingerprint and give you access. This also means that thieves can easily use your fingerprint to gain access to your guns.
It also comes with keys in case the fingerprint scanner isn't working properly.
The gun safe door is almost 3 inches thick and is made of steel. The steel is durable and will last for a long time. However, the closet gun safe isn't fireproof or waterproof.
It comes with pre-punched holes for easier mounting on the wall or floor. The closet gun safe requires 4 AA batteries to fully operate, which is why I chose the V-Line for the best quick access since it's the more reliable option.
Overall, biometrics will make access to your gun safe easier with Gearmart Gun Safe.
Pros
Spacious storage capacity
Biometric fingerprint system access only takes 2 seconds
Comes with manual keys in case the biometric fingerprint system isn't working
Cons
Is not fireproof or waterproof
It may come with just a shelf instead of an additional lockbox
Gearmart Fast Access Gun Safe Rifle Safe Larger...
Bigger and Deeper Biometric Gun Safe for Home Rifles and Pistols. Comparing with those ones which...
Quick Access Fingerprint Rifle Safe/Biometric Shotgun Safe & Easy to Set Up. The delicate lock...
Higher Level of Security. Made of highly thick steel material for long lasting and reliable...
Features to Consider for Closet Gun Safe
Installing a closet gun safe is a long-term investment. So it's important that you pick one that perfectly fits your preference and needs.
| Product | Lock Type | Material | Storage |
| --- | --- | --- | --- |
| Moutec Safe | Electronic lock, Key | Alloy Steel, Sturdy Metal | 5 guns |
| FCH Safe | Electronic lock, Key | Alloy Steel | 5 guns |
| INTERGREAT Gun Locker | Electronic lock, Key | Alloy Steel | 4 guns |
| V-Line Keyless Shotgun Safe | Combination | Metallic-Fiber | 1 shotgun |
| Gearmart Fast Access Gun Safe | Fingerprint, Password, Key | Alloy Steel, Hot Rolled Steel, Felt | 5 guns |
Size
If you're getting a closet gun safe, make sure that your guns will fit in it comfortably. Most gun safe reviews provide their dimensions so you should be able to estimate if your guns can fit inside the closet gun safe.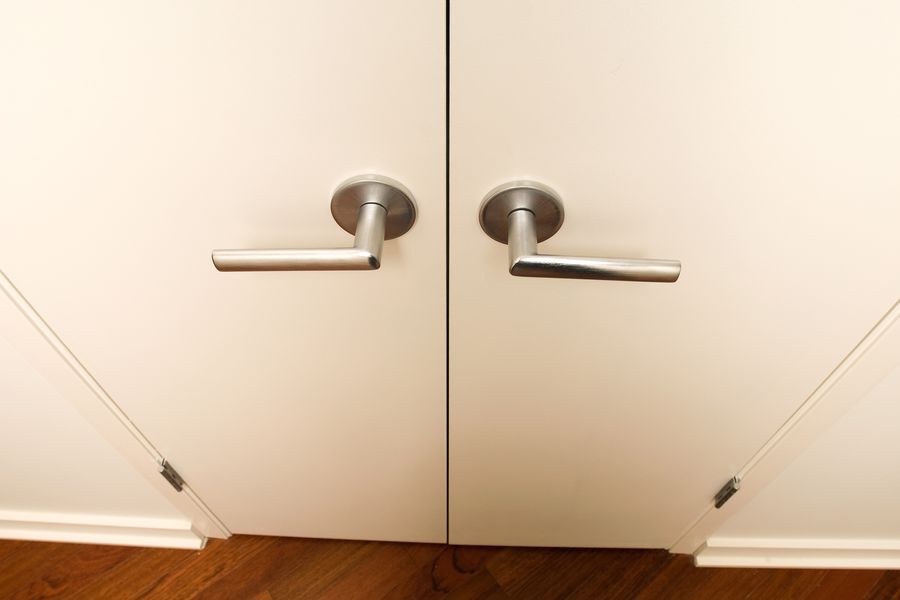 Your gun should be safely and comfortably stored to avoid any accidents or wear and tear. You might want to get one with sufficient space in case you decide to add more guns to your collection.
For that, the Gearmart Fast Access Gun Safe has the most spacious storage you can have. It can easily fit any long gun with scopes. 
Security Lock
The security lock is essential if you want to keep away your guns from others, especially children. If there are children in your house, avoid buying a closet gun safe with easy access like having emergency keys that children can use to open.
Having keys is also important in case you can't get access using the other method. However, if you have teenagers at home that might find and use your keys to access your guns. If that's the case a simple non-lock access system or electronic keys are the better choices.
For that, I recommend getting the V-Line Quick Access Keyless Shotgun Safe. It doesn't require a key to open and is opened by a mechanical 5-number keypad combination.
Mounting Hole
Closet gun safes are lightweight compared to heavy-duty gun safes. Hence, they're easier to carry around for thieves. Hence, holes are essential to keep them in place either on the floor or walls.
All of the closet gun safes in this list have pre-punched holes except for the FCH safe. Although all of them come with mounting bolts or locking bolts. Closet gun safes like the Amazonbasics security safe are more convenient to install since it already has holes.
Fireproof
Fireproof pistol safes can be expensive. They're usually a feature you get from heavy-duty gun safes and not closet gun safes. Unfortunately, I haven't found a fireproof closet gun safe that has security features to accompany it.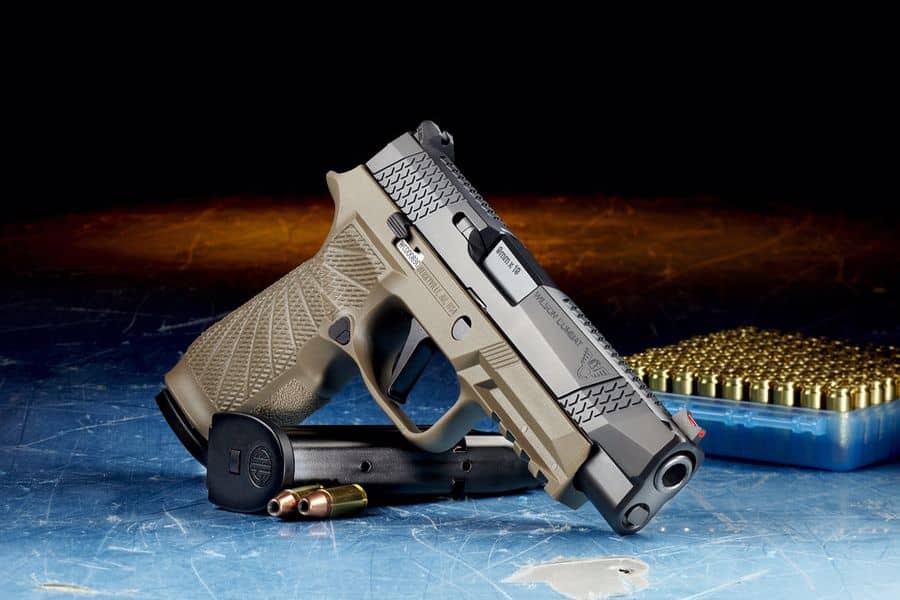 Hence, you should avoid placing combustible materials near your gun safe. Also, have a gun safe that is easy to access so you can keep your important valuables safe and easily accessible in case of emergencies.
Durability
A longer-lasting closet gun safe is a better investment than expensive ones or traditional gun safes with less durability. Make sure your closet gun safe can withstand strong force and pressure.
Closet gun safes aren't usually that durable compared to heavy-duty gun safes. Hence, choose one that can't be easily broken or comes with a manufacturer's warranty. At least make it harder for thieves to break into. It may take them more time or more noise that can alert you or your neighbors.
The Intergreat Electronic Gun Locker gets a slight edge because of its weight and thickness. Although all of the closet gun safes in this list are close in terms of durability.
Reasons to Install a Closet Gun Safe
Space: your closet may be the only space you have to ideally store your guns.
Children Safety: closets are hidden away from kids. The less they see the gun safe, the less they would pry on it.
Legalities: as a gun owner, you are liable for any improperly stored gun that came into a criminal's hands. A closet gun safe ensures you won't be liable if thieves managed to steal your gun.
Safe storage: closet gun safes are convenient storage for guns and for valuable items in features like a door organizer. They're also conveniently located in the place where you get dressed and offer additional features such as a three-point locking system.
Hiding Your Closet Gun Safe
For extra safety, you may want to hide your closet gun safe even inside the closet. Here are some benefits of a hidden closet gun safe:
Easy access: unlike other gun safes that are usually located inside the basement. A closet safe is conveniently located beside your bedroom. If there were intruders in the house, you can easily gain access to your guns.
Out from plain sight: hiding your closet safe means other people in the house or guests won't know you have a gun or won't try to play with it.
Make it difficult for robbers: well-hidden closet safe or pistol safes may give enough time for police to respond for help.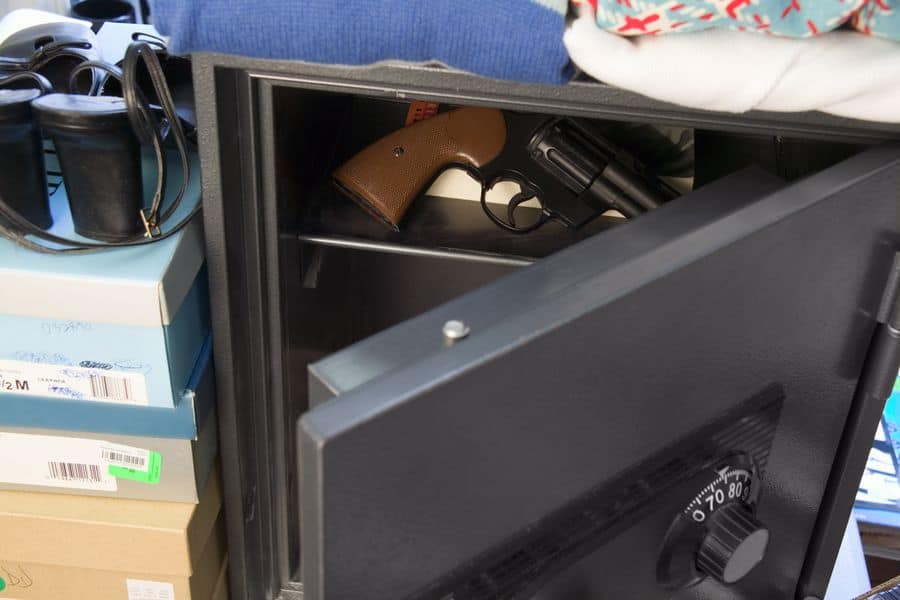 Frequently Asked Questions
How Do you Install a Closet Gun Safe?
Your closet safe should be bolted into a wall or floor for maximum gun safety. Fortunately, most closet gun safes come with pre-drilled holes so installation is more convenient.
You also want to install your closet safe at a balanced level. This is to ensure your door won't swing awkwardly and cause door hinge wear and tear.
Also, make sure to have the necessary tools or if handled by a professional, they have the necessary tools for moving and installing. Otherwise, you might damage your own home.
How Can You Hide a Closet Gun Safe?
The general efficient way to hide your closet safe is behind a closed door. Some bedrooms have closets within a closet which is perfect for hiding your closet safe.
You may also choose to install a smaller and less visible closet safe. You could install a handgun safe or pistol safes for quick access to your valuables or a handgun for self-defense. You can mount them on the wall behind your clothes or underneath the closet, hidden over clothes or shoes.
What Locks Are Great for a Closet Gun Safe?
All locks are great in general. Having two locks is even better. One should be electrical and the other mechanical. If one malfunction, you can use the other locking mechanism to unlock your closet safe.
Don't use two of the same locking mechanisms. For example, two electrical locking systems might consume more power and may run out of power when you need it the most.
What Size Should I Get for a Closet Safe?
It depends on how many guns you have. Ideally, you want as much space as your closet allows. This will give you extra storage for valuable stuff and for extra guns should you consider adding more to your collection.
Conclusion
The best closet gun safes are the lighter and more convenient form of gun safes to have. Unlike heavy-duty ones, they're easy to move. However, they're likely not fireproof or waterproof. Overall, if you want to spend less on gun storage, the best closet gun safes are excellent picks.