As an Amazon Associate we earn from qualifying purchases.
Most of the reported stolen guns came from cars. Hence, if you're the type to bring your guns along in your car, it's better to keep them protected. The best way to protect guns is by storing them in a console safe. I've compiled a list of the best console safe for you to choose.
My Top Console Safe Reviews
Console safes are pretty useful. They keep your guns protected and hidden in the car so whenever someone breaks into your car, they'll have a hard time accessing your gun.
Console safes are also pretty handy for storing valuables inside. It doesn't just have to be guns stored inside. They're also pretty portable making it easy for you to bring around and travel with.
I've compiled a list of some of the best console safes I could find. Each one of them could fit your needs since people will have different preferences when it comes to getting their own things. Here are some of them.
Brand
VAULTEK Essential Series Quick Access Handgun Safe
Product
Material
Alloy Steel, Carbon Steel
Brand
VAULTEK Essential Series Quick Access Handgun Safe
Product
Material
Alloy Steel, Carbon Steel
Best Overall Console Safe: VAULTEK Essential Series Quick Access Handgun Safe
The VAULTEK Essential Series Quick Access Handgun Safes is one of the best performing console safe on this list. The design is aesthetically good with a slim form and a stealthy quick access to your handgun. It can store 2 handguns and have plenty of space for magazines.
It includes mounting hardwares that will make it easy for you to mount on your car or in some other place.
It uses 18-gauge carbon steel for its construction which has added powder coat finish that protects it from corrosion. The steel feels durable yet lightweight. I could see this console safe lasting years of proper use.
It has security features such as anti-pry bars and anti-impact latch. Its rugged design helps it  withstand most breaking in extreme pressure.
You also have quick access thanks to its automatic lid using illuminated keypads with built-in proximity sensors. You can choose from over 40,000 unique combinations.
It is battery operated and requires a lithium ion battery. It comes with a rechargeable lithium ion battery that can last for half a year before needing to recharge. It's also one of the longest operating and fastest charging console safe on this list.
This product isn't all too perfect. The keypads somehow feel lackluster and don't feel tacky. This might be problematic in the long run since the keypad is your primary way for opening  the safe.
Overall, everything feels durable and the storage space and convenience of installing makes this the best overall console safe on this list.
Pros
Can be mounted in most cars or placed inside a bag
Rugged carbon steel construction makes it hard to break open
Rechargeable lithium ion battery that can last for 6 months of use
Cons
Keypads feel less durable
Its security mechanism feels less secure than a biometric safe
VAULTEK Essential Series Quick Access Handgun Safe...
FULL SIZE DESIGN can securely hold 2 handguns plus extra magazines, and is easily mountable to night...
TOUGH AND RUGGED heavy duty 14-gauge carbon steel construction features a durable powdercoat finish...
QUICK ACCESS to your valuables, documents, and firearm(s) from the automatic opening lid. Secure...
Best Popular Bargain Console Safe: SentrySafe QAP2BLX Biometric Gun Safe
No products found.
The No products found. is a  simple looking console safe that people often pass by with their eyes. It has a biometric safety system and is one of the best when I'm talking about value.
Like most console on this list, it also uses alloy steel. The door of this console safe is reported to be pry-resistant. However, I found one design flaw that might put you off.
This console safe has a small gap that experienced thieves could catch on and exploit. The gap makes it easy to open the console safe and you would need an extremely thin wire or stick to pry it open.
Aside from that, everything about this console is great. It has quick access features thanks to the gas-strut that opens the safe door. You also have a manual keypad and override key for more secure storage.
It even has certification from the California Department of Justice. I don't know if they found out about the small exploitable gap of this console safe. Aside from that, the build quality feels great for this console safe.
You need four AA alkaline batteries in order to  power it efficiently. Overall, this is one of the best console safe if I'm talking about value.
Pros
Plain to the eyes for discreet storage
Opening mechanism is quiet which is useful in self-defense
Multiple security system so you have multiple ways to access in case one is compromised
Cons
Small gap between the safe door could be exploited and allow access
Limited to high-quality alkaline AA batteries for effective use
No products found.
Best Console Safe with Fingerprint Identification: awesafe Gun Safe
No products found.
The No products found. is a discrete yet effective storage for guns. It is the smallest on this list in terms of width. It can store 2 small handguns or 1 large pistol and some extra ammunition.
It has a digital keypad along with fingerprint identification for layers of protection. Fortunately, I found no small gaps in between the safe.
The console safe is made with solid steel with a pry resistant door. The locking  mechanism is hard to open with hand tools so thieves would need to use power tools to gain access.
Like the SentrySafe gun safe, it uses a gas strut and opens quietly which will be useful if you want to be stealthily accessing your gun. This console safe can be stored anywhere without needing installation if you don't want to mount it. Although you risk it getting stolen since it's portable.
At first, I thought the fingerprint system was a scam. I tried different fingerprints and it opened up easily. Turns out you need to set it up first and clear the default. After that, the console safe only opens to one fingerprint.
When it comes to quality, it's okay. Don't expect it to have the same quality as some of the highly expensive ones.
Overall, this console safe has an excellent fingerprint system and the other features are fairly great and would be a solid buy.
Pros
Multiple security features for different ways to access
Portable so you can safely store your handgun as you travel
Smallest console safe on the list and can easily be hidden
Cons
Setting up the fingerprint identification system might be a hassle
Portable, which means thieves can just carry it with them too so you have to hide it
No products found.
Best Console Safe for Toyota 4Runner: Lock'er Down Console Safe
If you own a Toyota 4Runner, then the Lock'er Down Console Safe is the best compatibility for you. It can be used for Toyota 4Runners from 2010-2019.
It is made with 12-gauge cold-rolled steel with heavy duty construction. It's the sturdiest console safe I have on this list. It is able to withstand most prying from thieves and is safe from bumps from rough travel.
It has a 4 digit lock which has less combination options. I recommend you change the combination from time to time. The keys feel tacky and premium. I've seen no issues with it and expect that it will last for years of use.
Installing this on your Toyota 4Runner is simple. You can check their instructions or search the internet for instructional videos along with explanations. Ensure that you install them in a snug fit so it won't shake around and be exposed to wear and tear.
The Lock'er Down Console Safe could easily be the best overall on this list if not for its exclusivity to Toyota 4Runner. You also get a lifetime warranty on this product.
Overall, This is an excellent console safe for your Toyota 4runner. You might be able to use this on other cars. However, it might void your warranty since it's clearly stated it's for Toyota 4runners.
Pros
Cold-rolled steel construction makes this the most durable on this list
Contains USB port for charging your devices
Lifetime warranty for security
Cons
Only designed for Toyota 4Runner made in 2010 – 2019
Not portable so it will stay mounted in your car all the time
Features to Consider for Console Safe
Console safes need to be tough and hard to access. Hence, you should look for console safes that has features related to keeping your guns safely stored and away from prying hands.
| | | | | |
| --- | --- | --- | --- | --- |
| | VAULTEK Essential Series Quick Access Handgun Safe | SentrySafe QAP2BLX Biometric Gun Safe | Awesafe Gun Safe | Lock'er Down Console Safe |
| Lock Type | Electronic, Key | Biometric | Combination, Electronic | 3-point locking system, Combination, Key, Electronic |
| Material | Alloy, Steel, Carbon Steel | Alloy Steel | Alloy Steel | Plate Steel |
| Weight | 7.4 kg | 16 pounds | 10 pounds | 9 pounds |
Another thing to note is its durability. If the console safe is made of low-quality materials, thieves could easily break them and get your valuables inside. Here are some features that you should take a look at before you make your purchase.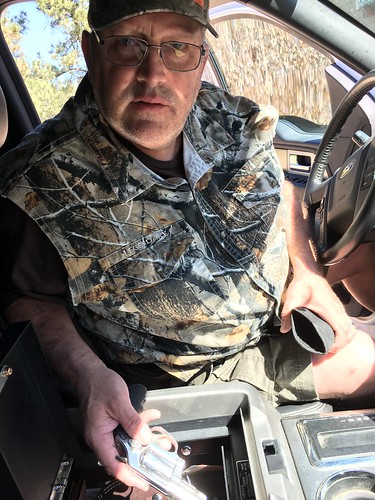 Security
The type of security and what technology the console safe uses will matter a lot. You don't want robbers to easily have access to them. Some of the most reliable and common security features that you might be interested in are:
Lock and key: probably the most reliable when it comes to consistency. Lock and key won't need power so if your console safe runs out of power, you can easily open it with a key. However, it will take you time to open up.
Keypad combination: keypad combinations are the most common security feature console safes use. It is simple and easy and won't require power. In case when you run out of power, you can still access your guns. However, other people might be able  to see you input the code so  you have to be stealthy about it.
Biometric – the fastest way to access your gun since it only needs your fingerprint. However, it is reliant on power. Therefore if you run out of power, you might find yourself unable to access your console safe (unless it has a backup lock and key feature).
Choosing the security feature depends on what type of security feature you want. Any of the console safe on this list will do since  they have excellent security features. If I were to pick one, VAULTEK offers the best two-way gun safe security since it has both digital (electronic) and analog (key).
Visibility
If you want something that can be easily hidden, you want your console safe to be lightweight, small, and simple. However, prioritizing this feature might also compromise other qualities like durability.
Lightweight or portable console safes will tend to be less durable. Meaning thieves can just bring it with them and break it when it is safe to do. If you're confident you can hide your console safe easy then pick one that is suitable for it.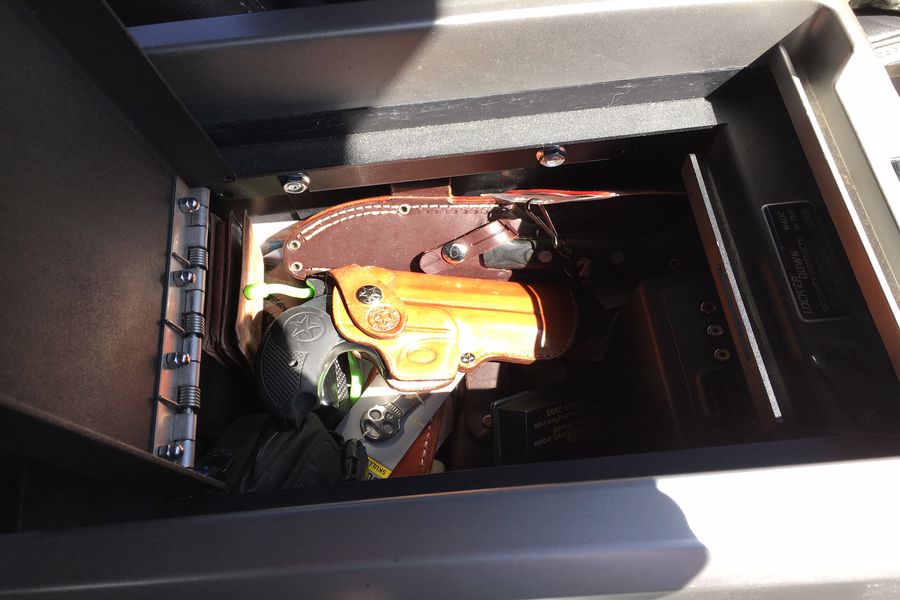 For this, the awesafe Gun Safe being the smallest and lightweight build quality is perfect for your needs. It looks plain and is lightweight. If people were to see it, it would look just like an ordinary storage.
Durability
Durability is important for console safes. You don't want thieves to easily break into your console safe with ease. Hence, the material for your console safe should be looked into to determine if it will be durable.
Console safes should use steel for its main material. Other materials are questionable and should be researched over if its more durable than steel. Steel has always been reliable for its durability and toughness.
Fortunately, all of the console safes on this list are all made with steel. However, I found the Lock'er Down Console Safe to be the most durable among them.
Frequently Asked Questions
Is a Console Safe Considered Concealed Carry?
It depends  on what state or country you are in. make sure to check the regulations and laws regarding firearms when visiting another country or state.
Are Console Safes Easy to Break Into?
It depends on the quality. Some console safes are hard to break into while poorly made ones can be easily broken into. However, a console safe could never compare to a gun safe for home use since the steel is much thicker.
Conclusion
Console safes are a great way to ensure your guns are safe and protected every time you travel in your car with your guns. Getting your gun stolen in your car could hold you liable in some states so it's better to get a console safe to be safe.