If you buy something through a link in our posts, we may get a small share of the sale.
There are several modern solutions for gun bluing. Each of these methods involves the use of specialized kits to increase the efficiency and durability of the gun. In this buying guide, we will help you find the best gun bluing kit for your specific needs and budget. Towards the end, we discuss some factors to keep in mind when buying
Our Top Gun Bluing Kits
After doing plenty of research and analyzing customer reviews, we found the following gun bluing kits to be the best fit for most gun owners.
Brand
Best Overall
Birchwood Casey Super Blue
Best for the Money
Birchwood Casey Perma Blue Liquid Gun Blue Finishing Kit
Best Cheap Pick
Birchwood Casey Aluminium Black Touch Up
Product
Used For
For bluing highly polished steel parts
For stock finishing and gun bluing
To blacken aluminum parts
Best Overall
Brand
Birchwood Casey Super Blue
Product
Used For
For bluing highly polished steel parts
Best for the Money
Brand
Birchwood Casey Perma Blue Liquid Gun Blue Finishing Kit
Product
Used For
For stock finishing and gun bluing
Best Cheap Pick
Brand
Birchwood Casey Aluminium Black Touch Up
Product
Used For
To blacken aluminum parts
Best Overall Gun Bluing Kit: Birchwood Casey Super Blue
The Birchwood Casey Super Blue bluing kit packs so many components that it easily became our top recommendation. These include a rust remover, a walnut stain, a degreaser, a seen, oil remover, cloth, and sponge.
This kit boasts of a double-strength bluing solution and is ideal for bluing finely polished steel guns, especially those that contain chrome and nickel alloys. Since the solution is very strong, it will significantly affect the existing blue so you need to be careful and only work on areas that need to be re-blued.
The cloth and cotton materials are for wiping the metallic surfaces after applying the liquid. The best part is, you don't have to buy any gun cleaning component separately making it an ideal choice for new gun owners. This is because buying the cleaning components separately might be confusing especially if you don't know what to look for.
In case you use a cleaner before applying the blue, use a wet cloth to wipe any remaining cleaner. This is to ensure the blue does a perfect job at the end of the process. To get better results, combine the stock cleaner with some polyurethane.
The Birchwood Casey Super Blue consists of high-quality materials and components to give you an easy time and experience in the bluing process. The blue is ideal for cleaning smoke residue on the stainless steel surface of the gun.
Overall, this product is easy to use especially with its fast-acting bluing liquid. The liquid is non- streaky and requires fewer coats on the steel surface. Moreover, it's durable and easy to use on any gun, making it ideal for beginners.
What We Like
Easy to use
Versatile
Dries very fast
The bluing kit is suitable for touch up jobs
Comes with all the cleaning components
What We Don't Like
Does not work well with oily surfaces
Slightly expensive
Sale
Best Gun Bluing Kit for the Money: Birchwood Casey Perma Blue Liquid Gun Blue Finishing Kit
Another kit from Birchwood Casey, the Birchwood Casey Perma Blue Liquid Gun Blue Finishing kit outshines other kits by focusing on quality and ease of use. This bluing kit includes 3 fl Oz plastic containers. The bottles are enough to last for months regardless of how often you use them.
This bluing kit is ideal for touch-ups, scratches, and worn out spots on the metallic surface of the gun. Just like the previous Birchwood Casey Super Blue kit, it also results in a non-streaky blue finish with a shiny look. The blue on the metal surface lasts for a long time so you won't have to repeat the process after a short period.
We recommend this kit for use on both small and large firearms.
We found this bluing kit easy to use even for beginners. It comes with a 3- ounce Perma Blue liquid, 3- ounce blue, a rust remover, and a degreaser. You will also get a bluing indicator, a sponge, gun wipes, service cloth, and a steel wool pad.
The bluing liquid is enough and can last for several years. Most old guns require at least 34- 40 coats to bring out a shiny-metallic look. Newer guns need approximately 25-30 coasts to maintain their metallic look. However, with this bluing kit, you only need to apply up to a maximum of 10 coats to see the results.
There are several instructions on the bottle which are easy to follow thus making the bluing process easier. Moreover, there is a troubleshooting section on the container that helps you get rid of metal surfaces with too much rust and debris. To get better results, you can use a brake cleaner or a gun scrubber and make sure to apply the liquid evenly on the gun surface.
What We Like
Easy to use
Long-lasting
Dries quickly
Can eliminate rust within a short period
Offers the best value for money
What We Don't Like
The bluing kit does not work well on surfaces with oil
Sale
Best Cheap Gun Bluing Kit: Birchwood Casey Aluminium Black Touch Up
The Birchwood Casey Aluminium Black Touch Up gun bluing kit is a multipurpose option that maintains and cleans all kinds of modern firearms. One of the things that make the kit stand out is its ability to offer an organized and tactical approach towards keeping your gun clean and operational. This not only makes the whole process painlessly, it also helps to save plenty of time
The Birchwood Casey Aluminium Black Touch Up is easy to use and acts fast to keep rust at bay. It comes with a heavy-duty nylon case and a durable bluing solution. The components are well organized making it easier to access all the tools you will require.
Also, the kit is compatible with both PALS and MOLLE webbing systems. Inside the kit, there is a lens pen in case you will be cleaning guns with scopes.
Some of the aspects that make the gun bluing kit to stand apart include its ease of application and impressive results. After bluing your gun with the kit the metallic surfaces are left without leaving any blotches or scratches.
The kit requires little preparation before its application thus saving you time. It can be used on old guns to cover up tough scratches and refresh the gun's look. For the best results apply many coats.
This kit is also ideal for touch-ups on new guns that require little maintenance. With its high-quality liquid, you can expect impressive results after application.
What We Like
Impressive bluing results
Affordable
It can be used to clean both rifles and pistols
It is ideal for touch up and restoring beauty on old guns
Easy to carry
The kit has sections that are used to place the components in an organized manner
Easy to use
What We Don't Like
Unsuitable for use on shotguns
Not suitable for wood surfaces
Sale
Best Durable Gun Bluing Kit: Blue Wonder Gun Blue Kit
The Blue Wonder Gun Bluing kit is uniquely great for cleaning steel surfaces. After bluing with the kit, the surface is left with a deep lustrous finish that guarantees effective protection from rust. And while most of the recommendations in this guide are durable we think this option takes the lead if you are looking for a blue with long-lasting results.
Its coloring action works by penetrating into the metallic surface and leaves a bright long-lasting finish. The kit can easily clean non-steel parts including wooden areas of the gun. This makes it a versatile option especially if you have guns made from different materials.
The Blue Wonder bluing kit has the ability to restore old guns into their original finish and form. It offers great bluing to metallic surfaces that have rust and stubborn scratches.
This kit is very effective when it comes to penetrating through steel surfaces. It leaves a shiny metallic look that lasts for a longer time. We also love the Blue Wonder Gun Blue Kit for the fact that it effortlessly blends with the original color on the metal surface to make it durable without losing its authentic aesthetics.
Due to its effective nature, you do not have to apply multiple coats for it to work. You only need to polish your gun three to five times to achieve the desired results. Before applying the blue, first, degrease all parts of the gun. You can apply the grease with a piece of cotton or soft cloth.
What We Like
Results to a high-quality finish
A single bluing process can last for a long time making it a durable option
You can apply it even with ordinary towels making it cost-effective
Can work with different surfaces thus very versatile
Has a deep penetration ability
Easy to apply on the gun
What We Don't Like
Cannot work with degreasing parts
Expensive making it unsuitable for gun owners on a budget
Types of Gun Bluing Kits
Before we look at the factors to consider when buying a bluing kit, it is important that we understand the different types that exist. This is because we will be inevitably mentioning these methods in the following section and might be confusing if you don't know what they mean.
Below are three of the most common gun bluing methods.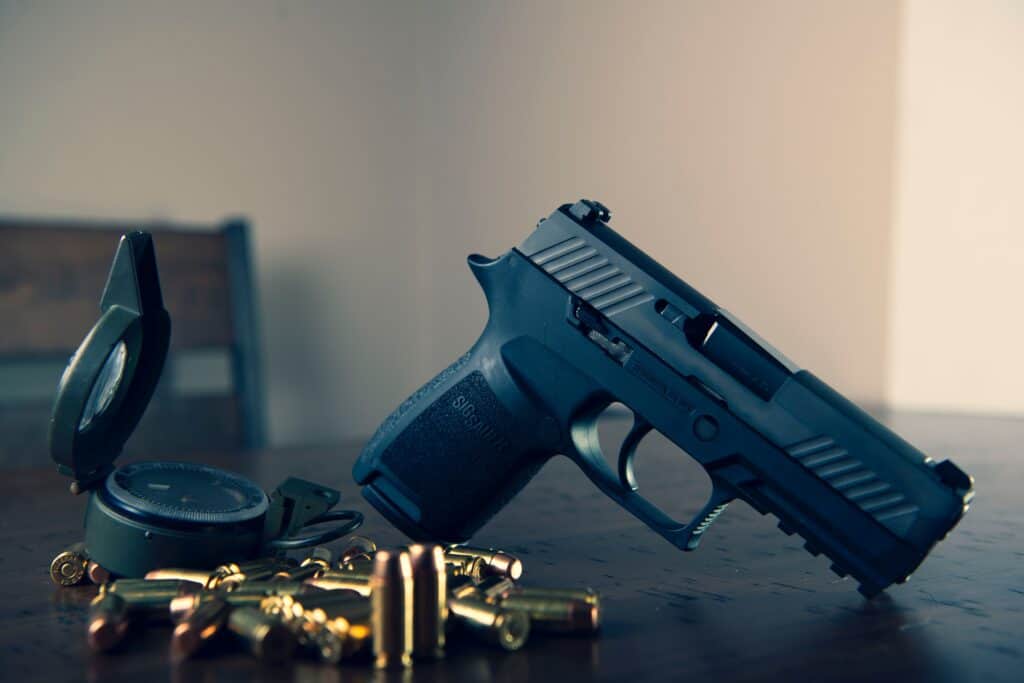 Hot Bluing
Hot bluing is the most preferred method of gun bluing due to its effectiveness. The bluing utilizes a heated alkaline solution. This is the reason why many people know it as hot bluing. It protects the steel from rust and gives a long-lasting look.
Cold Bluing
Unlike the Hot Bluing method, cold bluing involves the use of the cold alkaline solution.
This method is ideal for touching up scratches and on surfaces that have already been blued. You can also apply this method on larger metal surfaces including those that have small amounts of rust.
The kits come with small bottles with solutions in them and a brush-type applicator for applying the liquids on the metal surface. While the method is not as effective as the hot bluing one, it is perfect in case you need to carry out touch-ups on the gun.
Rust Bluing
Rust bluing is a method that involves the use of both hot bluing and cold bluing solutions. This is a method that is preferred mostly for removing stubborn scratches and rust. Rust bluing is mainly used on double barrels or old guns that have a lot of rust on the metal surface. The chemicals used contain salts and in some cases cyanide.
What to Look for in the Best Gun Bluing Kit
Below are some of the factors to keep in mind when buying a bluing kit in order to make the most educated purchasing decision.
Variety of Components
We recommend that you get a bluing kit that comes with all the necessary components in it. This means you can get to work right away without having to buy the other components separately. However, if you already have everything you need for bluing then you may opt to buy gun bluing kits with lesser components.
Durability
The main reason behind applying bluing your gun is so that it can keep the rust away and last longer. It is, therefore, crucial that you focus on durability when buying the bluing kit.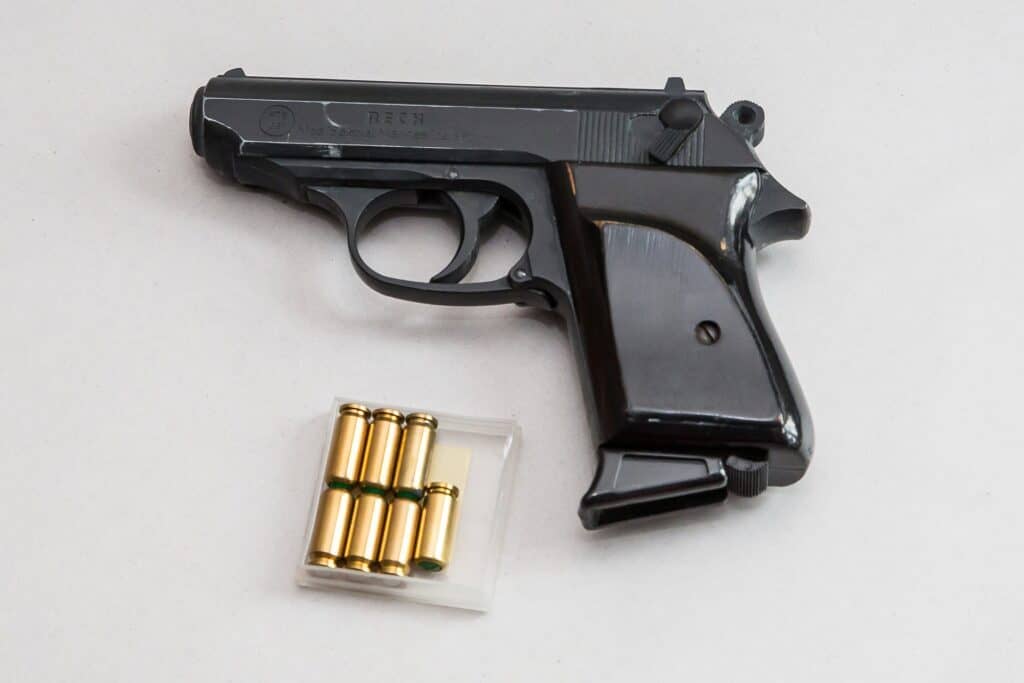 In other words, how long will the bluing last when applied to the gun? Some bluing kits last longer than others. If you do not use your gun often then you would probably use a bluing solution that is longer on your gun. If your gun is not a collectible you can apply a cold bluing solution.
Current State of the Gun
Bluing kits are most suitable when the gun has lost its original bluing. If the original bluing is still there then you can easily use cold bluing. Cold bluing is still applicable even for small nicks, dents, and scratches on the metallic surface. If the original bluing is broken and worn away, hot bluing would be the best solution.
How to Apply the Bluing Liquid
Before using any kit, ensure to read and follow every step provided on the bluing kit. This is mainly because each solution contained in the kit has its specific application instructions for the best results.
Below are easy to follow steps when bluing a gun
1. Remove The Original Bluing
While this is not absolutely necessary, it helps to remove worn-out bluing so that the fresh coat is more effective. The process involves applying a phosphoric acid-based remover on a cloth or cotton and rubbing it on the metallic surface.
2. Polish The Gun
To remove the scratches and rust on the metal surface, you can polish it up using sandpaper or steel wool. This will make the whole gun bluing process easier and much faster.
When polishing the surface, you should be careful not to remove the original painting or color on the metal surface. Also, if you use a polishing liquid on the surface, ensure it does not stain on the metal surface.
3. Clean The Metal
Cleaning the metallic surface comes immediately after polishing it. You can either clean the surface with a cloth or cotton material that has been soaked in a suitable cleaning agent.
You can also use cleaning oil to replace the cleaning solution. The cleaning solution should be able to remove any remaining rust and scratches on the surface and dry quickly without leaving any stains.
4. Heat The Metal Surface
You can easily heat the metal surface using a blow dryer, a heat gun, or a torch. The whole process is meant to help the metal surface to absorb the bluing liquid easily and get a shiny finish. Heating also helps the gun cleaning solution to dry up faster on the metal surface.
5. Apply The Gun Bluing Liquid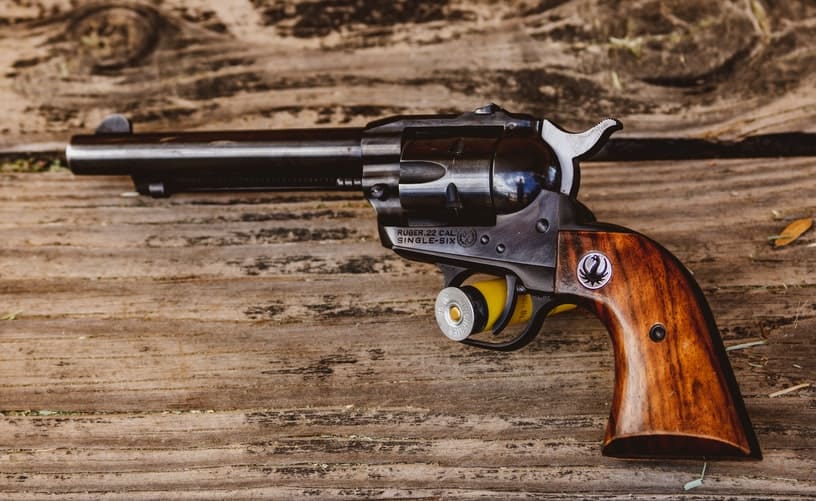 This is where you apply the bluing liquid based on the required number of coats. Older guns may require between 30- 40 coats to attain a shiny look. On the other hand, newer guns require 25- 30 coats to attain the shiny metallic luster. You should apply every coat with a new applicator and smooth them out with steel wool.
6. Apply Gun Oil
This is the last step of the gun bluing process. Applying gun oil is necessary for seasoning the final finish. You can apply the oil after a few hours of the gun bluing process.
Before beginning the whole bluing process, ensure you have all the necessary supplies needed. This includes a cleaning cloth and the bluing liquid. The cleaning cloth can be either wool or cotton material.
The cleaning liquid used should not stain on the surface after use. Also, you should do the whole process on a workbench, following all safety procedures.
The room in which you'll carry out the bluing process should be well-ventilated and, for safety reasons, should not have any children around. Some of the cleaning agents used to clean can emit fumes when exposed to high temperatures thus the reason for good ventilation in the room.
Conclusion
The most important thing in using a gun bluing kit is following the instructions given on each kit. Each kit has its components and instructions that differ from others. Some kits provide all the necessary components while others do not.
We hope that this guide will help you find a bluing kit that will effectively keep the rust away from your gun. Remember to work within your budget and get a bluing a kit that offers the best value for money.