As an Amazon Associate we earn from qualifying purchases.
If you are venturing into a gunsmithing business or want to make your gun barrels, then there's that one essential tool you need; a gunsmithing lathe. Without this tool, you will not work with accuracy, and the best results can only be achieved by having the best gunsmithing lathe.
Our Top Gunsmithing Lathe Reviews
Gunsmithing lathe is a tool that rotates the gun, and the rotation allows you to cut, turn and drill the gun. It's a challenge to select the best gunsmithing lathe since there are many in the market.
Product
Product Dimension
49.25 x 22.25 x 21.25 inches
Product
Product Dimension
49.25 x 22.25 x 21.25 inches
Product
Product
Best Overall Gunsmithing Lathe: Grizzly Industrial G0602-10″ x 22″
The Grizzly Industrial G0602 can turn any hard metal into a metal craft, just like gun barrels. This is made possible with the help of powerful motors that are inbuilt in the lathe.
Unlike the Erie Tools Precision Metal lathe with a speed range from 50-2500 RPM, the Grizzly G0602 has six-speed ranges of 150,300,560,720,1200 and 2400 RPM that is found in the engine.
The Grizzly G0602 has an oil-bath gearbox with a backsplash guard that prevents the oil from reaching the work area. The gearing system makes sure the spindle rotates at a constant speed by averting speed fluctuations that may affect the quality of your work.
It's designed in a way that isn't complicated, and a beginner can use it.
All its controls are easily accessible, and you can speed up the tool. It's user-friendly since it offers a hardened and ground V-Way bed that supports any future use.
It's made from an iron cast that makes it durable and vibration-resistant.
Pros
It is movable due to its lightweight, just like the Shop Fox M1015.
It has a one-inch bore that can turn any metal into massive projects.
Beginners can operate it without too much complexity.
It can run on six variables of speed ranges.
It offers accurate cuts and finishes.
Cons
The paint job on the tool is not good, and it wears off quickly.
The Grizzly G0602 doesn't have a lathe stand, and you must have a workbench in your workshop to use the machine.
It only has an emergency stop button and lacks other safety features. You will be required to buy a protective guard and any additional safety tools.
Best Gunsmithing Lathe for the Money: Erie Tools Precision Metal Lathe
The Erie Tools precision metal lathe is good with metals, especially gunsmithing. It has a 4-inch chuck diameter that enables it to have precise cuts and also enables it to hold the workpieces tightly and securely in place.
Its jaws are numbered, thus making it easier to put the workpieces into order. You can adjust tools even if you are working with a lathe due to the auto-feed supported by the chuck.
It has a 50-2500 RPM speed, unlike the Shop Fox M1015, whose speed is 2000 RPM of turning power for cutting metals. It has reverse and forward functions, just like the Shop Fox M1015. It has a speed motor that runs from 50 to 2500 RPM in a rotational direction.
Its digital readout is easy to read, especially when adjusting the RPM, a feature that the Grizzly Industrial G0602-10″ x 22″ does not have.
It has plastic gears; hence they are resistant to rust and absorb shock. This also makes them durable.
Pros
It has a Digital RPM readout that allows the left-hand threading option.
It has a multi-jaw chuck with an auto-feed that helps to hold the workpieces into place.
It has a multiple cutting tools mount option which is helpful if you have ongoing projects.
Has versatile metalworking.
Cons
Its plastic gears are not sturdy.
It has motor-burning issues.
It's sensitive to rust, so you should rustproof your work area surface before using it.
Erie Tools 7 x 14 Precision Bench Top Mini Metal...
Includes the lathe, chuck key, five-piece carbide tipped cutter kit, internal chuck jaws and...
Drill, cut and turn metal, wood and plastic parts with precision.
Erie Tools variable speed 7 in. x 14 in. benchtop mini metal lathe creates precision parts.
Best Cheap Gunsmithing Lathe: Shop Fox M1015
The Shop Fox M1015 is perfect for you if you're looking for a long-lasting machine that occupies a smaller area. It enables gunsmiths to have a way to produce small precision parts economically.
It has an auto and manual feed handwheel, whereas the Erie Tools Precision Metal Lathe lacks the manual feed handwheel, which moves the carriage from left to right along with the beg. It is helpful when setting up the machine for turning or when manual movements happen during the turning operations.
It has a cutting thread of 16,18,19,20,24 threads per inch, enabling you to establish which gears you will use to acquire your desired threads per inch. Its swing over the bed is 6 inches, and the distance between centers is 10 inches.
It has a single-phase motor with a spindle speed of 100-2000 RPM, unlike the Grizzly Industrial G0602-10″ x 22″, which has six ranges.
Pros
It has an automatic and manual feed that helps the carriage's movement.
It's easy to transport from one location to the other.
It can fit anywhere you want to put it.
It is economical compared to the Erie Tools Precision Metal Lathe and the Grizzly Industrial G0602-10″ x 22″.
Cons
Suitable for beginners and hobbyists only.
It has a weak and chunky design.
Its equipped with some poor components.
Features to Consider for the Best Gunsmithing Lathe
Before buying a gunsmithing lathe, you need to consider the following features to ensure you buy the best gunsmith lathe you want to use.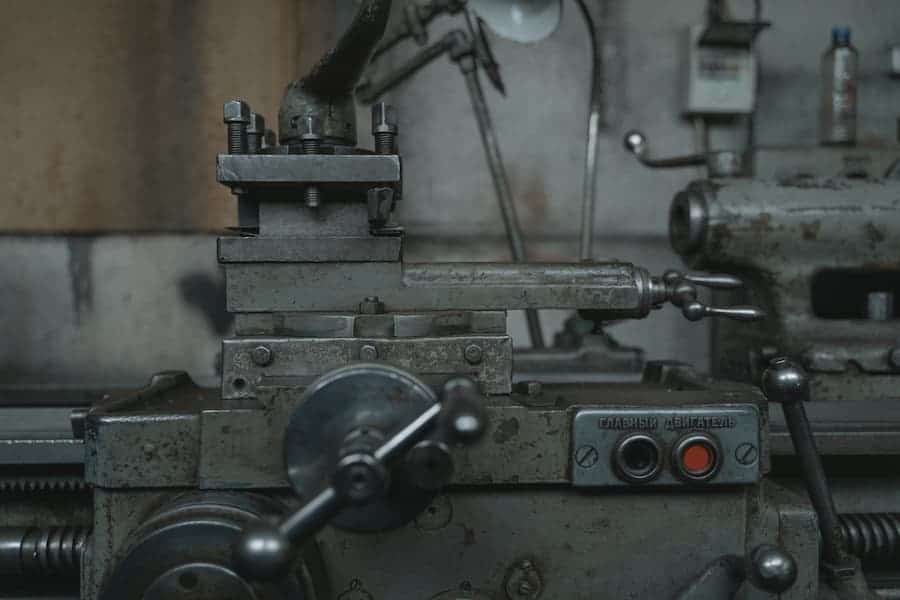 Size
You need to consider the size of the lathe that you will need to complete your gunsmithing projects. Ensure that the lathe size is compatible with your work area and the size of guns you want to work on.
Speed
When it comes to speed in lathes, it is measured in revolutions per minute. The more comprehensive the RPM range a lathe has, the more flexible it is, and the more work projects it can handle. With a broader RPM, you'll also have a more accurate lathe.
Erie Tools Precision Metal Lathe is the recommended gunsmithing lathe for speed since it has a wide range of 50-2500PRM.
| | | | |
| --- | --- | --- | --- |
| | The Grizzly Industrial G0602 | Erie Tools Precision Metal Lathe  | Shop Fox M1015  |
| Speed | Has six speeds; 150,300,560,720,1200,2400 RPM | 50-2500 RPM | 100-2000 RPM |
| Size | 10 Inches x 22 Inches | 7 Inches x 14 Inches | 6 inches X 10 Inches |
| Feed handwheel | Manual | Manual | Auto and manual |
Ease of Use
Lathes are complicated, and at times they look straight-up intimidating. If you are a beginner in the gunsmithing game and even if you have smithed hundreds of barrels, you will always want a lathe that is straightforward to operate.
The Grizzly Industrial G0602-10″ x 22″ is the best recommendation if you are looking for a gunsmithing lathe that is easy to operate.
Narrow Headstock
A narrow headstock is the best for most of the work, and it also consumes less space. It allows you to fix a shotgun barrel and the lathe's RPM range holds it into place for you.
Budget
Since you are aware of the usage and workspace size, you should consider the budget too. Get a gunsmith lathe that is pocket-friendly, like the Shop Fox M1015. It would be good to go for the trusted company known for its quality products.
Space
It's good you think of the convenient space in your workspace for your machine. It would be best to go for a lathe that takes less space in your working area.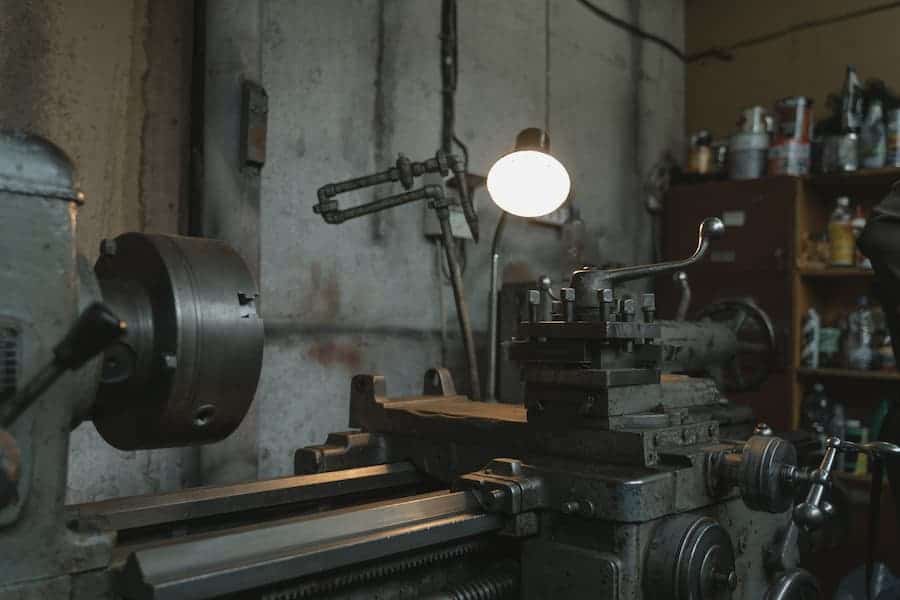 Frequently Asked Questions
How Much Do Gunsmith Lathes Weigh?
There are extensive ranges in the weight depending on which lathe you are working with. The size of the lathe and its internal materials determine the overall weight of the lathe.
How Big Are Gunsmith Lathes?
Gunsmith lathes range in size depending on the size of the gun barrel that you intend to work with. The most common gunsmith lathe size is 13 inches by 40 inches, enabling you to have enough space to work on a standard gun project.
How Can I Center on a Gunsmith Lathe?
You can center a gunsmith lathe using a centering bar, a long steel bar with slots at every end. You attach the bar to your lathe, place a test indicator in one end of the slots and begin turning; by doing this, you will be able to know if the lathe is centered or not.
Conclusion
If you want to make your gun barrels, then you know that gunsmithing lathes are a necessity. Ensure you invest in a lathe of the right size and fits in your workspace that will help you produce the best gun barrels with enough oil inside for protection.